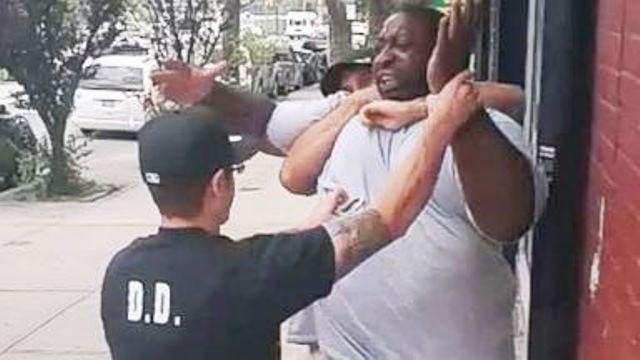 Eric Garner about seven minutes before he is strangled by a choke hold…
Certainly, the Congress is giving the Covid-19 news coverage a run for it's money and it should. Our two political parties are now jabbing back and forth over choke holds and police violence. I have friends and family who are police and they are good, honest, hard working people who make America better for doing the job they do.  Thing is, digging around about crime, social justice and police brutality in America doesn't leave a heap of papers that should be burned but rather, read.
The news on police brutality in America isn't good. Worse, a quick review of just a FEW of the facts related to this issue is mind-boggling; a head shaking awakening that should bring one to their knees in wonderment. How can any of this be true?
Apparently, white men formed working patrols back in the days of slavery to ensure slaves remained on the plantations they were bought to work.  Stepping out of line was not tolerated by these gangs and slaves were often hung if they did.  Going forward in time brings us to the Jim Crow Laws that furthered these gang's involvement in policing black men and their families—none of that was good. By this time, these gang members were part of America's police forces.
It's easy to believe that the advent of Martin Luther King, his marches and speeches, brought a fair amount of civility to race relations in America but they didn't. No, they didn't. In fact, today, right here in America, one in a thousand children born as black men can expect to be shot by police!  So the first thing a black baby boy gets when he's born in America is a sorta lotto type of a ticket—will they be the one shot by police.
Listen, I'm white and I get the shading white people use over their eyes and ears when it comes to minority issues in America.  It's time now to lift those shades and become human once again. As Nancy Pelosi said today in a talk on Capital Hill, George Floyd's 8 minute and 46 second long murder is not a tipping point, but a precipice before America. There have been so many other murders committed by police like Eric Garner's death* that we all saw made no sense. Really. Little, if anything, has been done to right these wrongs.
Even with all the history of how the police formed and performed over the history of America, it's time to not look back but forward to change when it comes to our American Police.
Police have to change.
This is a link to a most informative study on the history of police violence in America and much of it is shocking. Thing is, like any informative writing, it's so much more than one sentence long. So here is the link to the entire piece** but also some very pertinent quotes from the article, a few brief highlights…
**https://www.thepublicdiscourse.com/2020/06/65309/?fbclid=IwAR3EIinsob8i0Y7LIl8nPc4hrm0BmugpxnDC7GS25kNENw_ITTo8k9P6OQ
Just wow on theses three points alone:
"Police violence in America is extraordinary in its intensity. It is disproportionate to the actual threats facing police officers, and it has risen significantly in recent years without apparent justification. Its effects are felt across all racial groups, with non-Hispanic whites making up half of all people killed by police officers, even as African Americans are killed at disproportionately high rates compared to any reasonable baseline…."
"The people police kill are mostly not actual or likely murderers. They are more likely to be people whose police interaction began as a DUI, speeding ticket, public intoxication citation, or domestic disturbance call…"
"Police officers kill about 1,700 Americans every year. In other words, police killings have made up about one out of every twelve violent deaths of Americans between 2010 and 2018. That's including American military deaths in Afghanistan, Iraq, and elsewhere during that window. Indeed, more Americans died at the hands of police officers during that period (about 14,400) than died while on active military duty (about 9,400)."
I grew up respecting the police and still do. But, now, we need to overhaul who is actually on the force, how they got there, what they believe and what have they done in the past. Police have to change.
America has to jump, and in the right direction. Ending choke holds by police on civilians once and for all is that first leap.
Franque23
*
*https://www.youtube.com/watch?v=U0Y3FH9Nb3I