You are currently browsing the category archive for the 'children' category.
This post is back from 2013.  Readership has gone up to 65 countries now, and more than twice as many people read the glob than did six years ago. I saw someone read this post today, I re-read it and decided to re-post for fun…Plus, I still have these questions?!?!?
(Avatar Magic, by Gerald Franquemont, is out on Kindle and it can be downloaded onto most readers.) *Now, a completed trilogy.
Why do swim suits most often look like fishing lures?
Why are garden hoses so often made to look like snakes?
If men never hear what women are saying why do women keep talking?
If money is the root of all evil why does everyone work for it?
Cain Killed Abel, but most people fear snakes more than politicians.
Here's some food for thought–if you can afford it. $1 of 1960 dollars would be worth: $7.87 in 2013. $1 of 2013 dollars would be worth $0.13 in 1960.  Shouldn't the dollar shrink in size in accordance with its real buying power? Think of the money we'd save when buying wallets or printing money!
This well-known saying is part of a phrase often attributed to Benjamin Disraeli and popularized in the U.S. by Mark Twain: "There are three kinds of falsehoods: lies, damned lies, and statistics."  The odds are even that this is true.
Why are size ten shoes in Japan equal to size six shoes in America? Why can't one country or the other be happy to be either a ten or six and call it good.
In fact, the sound of one hand clapping can be heard. Try the Clam clap.
Recently, I thought I might have had a tick on my back but I'd fallen asleep and then gone to work the next day forgetting to check on it.  I worried all day about that tick! Turned out when I checked in the mirror that night that I had a nose strip suck to my back.  What a relief, sort of.
You can't go that extra mile. You either do it or you don't. Show me an extra mile and I'll show you an extra dollar.
NO one who was scheduled to retire at 65 for most of their life but then had their retirement age moved to sixty-six should think of retiring at age 65 as an "early" retirement. Dude! Do you want more S.S. money or what you thought you'd get most of your life at age 65?
Statistics boggle the mind while History teaches.
Gary Friend and Sue Patterson know lots of stuff.
Why does the same girl who looks good in a bikini on the beach cause car accidents by wearing shorts while walking on a sidewalk in town?
The following numbers seem right after looking over a number of recent polls: 1/3 of our population, 34%, believe in Ghosts and UFOS; 74% believe in the Devil and 92% believe in God. Have you ever wished upon a star?
Consider: for every shark-related human death, we kill 10 million of them.*
*http://www.discovery.ca/article.aspx?aid=18384
Cheers!
Franque23
Merry Christmas and Happy Holidays…this is my seasonal bulletin board and seasonal card to you!
I remember too well the moment I entered my parents Christmas party to sing, Jingle Balls, Jingle balls, to a fit of laughing cocktail holding adults. This was to be my big debut (but why is this spelled like what it was for me?) Anyway, I was too young to take anything to heart, and I left knowing I sang the heck out of that song.
There were so many warm Christmas mornings at the Franquemont household on Long Island. I never lacked for anything; my eyes only looked out with hope, curiosity and with acceptance that I was given by my parents and siblings.  It was an easy breezy life as I ran down the stairs first in line ahead of my brother and sister to race to a present laden Christmas tree. Blocks, coloring books and rocket launchers were the stuff of Christmas. The stockings were stuffed with candy but for that one stupid apple Mom always put in the bottom. Then, I never understood that Mom had been raised on her father's mission in Recife, Brazil,  and an apple was a treasure to hoard for her. Of course, I'd give anything to find an apple put there by Mom in my stocking now, but she is seven years gone. She's a smile in the clouds, the rolling waves at any beach, the diamond stars up north at Lake Bonaparte on a clear, crisp night and the warmth of the beach sand that conforms to my body as seagulls call from above. She is so much of every Christmas.
I remember Dad torturing me by making my ten-year old hands shovel three feet deep to start a new garden. It seemed so wrong to be digging around Christmas, but now I've had gardens here in Florida for the past 40 years. And when I dig dad's eyes are looking through mine and his voice rings my ears with, "That a boy." I hear the eagle call from high above and I know he is there gliding, swooping, free.
Part of getting older is hording a ton of memories. Thoughts of years gone by and the people who stayed with them and left as well are a treasure chest buried deep within, one locked for safety by the heart. I've still journeys ahead, and so many behind. I'd like to think that I've grown wiser with the passing years–certainly I know Jingle Bells now. But, for whatever reason this Christmas day, I found myself walking through our garden and thinking about all the division the world over is experiencing today.
It may surprise you to know that I am several things beyond a library worker, a neighbor, a father, grandfather,gardener, writer of this glob and books on Kindle,a fisherman, builder, but also a minister who was lucky enough to marry my niece.  I have a favorite passage in the Bible I try to follow,
Proverbs 3:6
Living Bible (TLB)
6 In everything you do, put God first, and he will direct you and crown your efforts with success.
If all of humanity were to take this message to heart the world would change. I'm certain it is in every  kind religious teachings; if only we could listen. I try to never forget these words as I thank God for every little thing I take time to notice as I go about my day.* Of course, I've fallen as short of this instruction as any could many times, but I try.
So this Christmas, the fertile garden, Mom's gentle smile and Father's certain voice led me to consider what my personal message might be this Christmas.
Here it is:
Being whatever gender or preference you are is a part of the natural passage of humans throughout our existence. We need to stop this fight of exclusion. This is Christmas, and it's a great time for everyone to come to this realization. The stars remind us that the light is within us-if we'd only let it shine. Acceptance feels good; expressing hate or rejection is bad for the soul. We need to let people be.
Sometimes I think the worst word in our language is, 'No.' Using no is quick and sometimes needed, but often it is used when taking the time to teach proactively why whatever is being asked or done is not a good idea would otherwise move the mind forward. The best word in our language is, 'Yes.' I'm going to try to use it more in 2019. I hope you join me. Cast aside hate. Raise hope and acceptance.
Cheers… hugs, and Merry Christmas!
Franque23
I most concur with the, 'God however known,' concept.
They next few minutes will amaze your mind.
The next few minutes will make you question your hearing.
The next few minutes will warm your heart.
How's this for starting off the season right?
Just listen….
Thanks to Barbara for sharing this with me…
Season's Greetings
Franque23 oh wait….now I see they have another and several more…this one's neat
*
A very blue wave.
A couple of thoughts to light up the season.
It's no secret Republicans took a whippin' in the 2018 mid-terms. The House of Representatives flipped blue by a large margin and likewise Republicans lost State representatives seats across the country. This was much more than a ,'standard,' mid-term correction vote. This vote was a cry heard loud and clear by both party's. Republicans were able to hold Texas, slip by Florida and out-right cheat to win Georgia, but over all, the party took a slogging at the polls.
What appeals to me most is this blue wave came about via standard rich donors as well as grass root donations. The tide is more than turning blue, the presence of foreign donations via secret PACS may be washing away, and gerrymandering will be re-whittled in many states. I'd say new people running for office—so many women—(Right? :-))along with Pelosi's help kept most races on point: on healthcare concerns, medicare and social security.  But there's still a lot of fog surrounding these issues and how best to drive them home in 2020.
2) The charge for climate change is well meaning but poorly framed for those hoping to gain a political leg up in 2020. It's a discussion that can't be won by scientifically based facts or mouth foaming, delusional thinking. Nope, the world has spun too many times for any of us to prove warming trends that spell disaster are part of natural course within the World's environmental history or not.
Nope, arguing over climate change is exactly what Trump wants his opponents to do.
If you like Trump, argue climate change.
If you hope Trump falls into an oil slick laden with Red Tide, argue pollution.
In fact, if you want to win in 2020 steer clear of climate change. Instead, ask voters to raise their hands if they want toxic drinking water? Do they want to swim in oil slick oceans? Let's count the hands. Do people want to bathe in fracking industrial waste or not? Let's hear ye! These are issues Trump's policies fail to address, worse, they add to the pollution of our living environment.  The beauty of focusing on pollution instead of harping about climate change is that IF we  get control over pollution we will actually be doing all Mankind can do to stem climate change. No, controlling pollution may not solve climate change, but attacking and ending pollution is the best we can do about it. Point: sidestep climate change in 2020.( Put a small boat in your backyard instead.)
Now, a prayer. I pray for wisdom we haven't seen when dealing with the marching South Americans. Some politicians are starting to ask why we are sending soldiers when we could have been sending help? Yes, the policies of Trump on this issue are plain wrong. If you see a problem coming there may be another way to solve it other than fighting it.
We need more Zen in our leadership.
America, BTW, is huge and loaded with tons of money and power.  America can and should have mobilized a huge peace force sort of coalition to march on down to our boarder via govt. funded fare to build housing for these people who flee for their lives and march to the U.S. If you're getting checks from the U.S. for not working, I say you're on the planes. We're going to use as many U.S. products as possible to build communities where these people can stay until entirely vetted, politically and health wise.  Bingo American industries of every sort—you just struck it rich by a huge government demand for every commodity you produce! They need food? Bingo, mid-west farmers! Your load of customers just arrived and our tax dollars will buy your food and ship it to where it's needed.
But where will the money come from to support a Hoover Dam type project to turn an unused place into a living space? It's called tax dollars—you know the ones our government wastes every day in about every way.
Idea! We could start finding the money needed to house these immigrants by dropping 50% less bombs around the world every day.  If we did stop our morbid need to bomb the world, our government coffers would be raining money instead of death and destruction.
Think about it: imagine. The U.S. actually accepts a large immigrant population wisely, securely, without shooting or jailing a single kid! America shows what must be done to support and help our migrating populations the world over!!! How neat it would be for America to become world leaders, the ones who saved the world once again!
There it is: thoughts and prayers done right, without guns but with brain power, might, will, huge amounts of money and a willing workforce. There it is: a booming economy led by successful life giving policy. There would be wrinkles to iron out, but this should have been our focus, not walls, closed boarders and an army.
The up and coming new lot of Democratic politicians understand that thinking straight is easy to do. Here's five examples of women who schooled together, stuck together and all won seats in Colorado  state Legislature in 2018.  This article is quite a read; a map to political success and strength.
https://people.com/politics/five-female-friends-state-senate-colorado-won/
Cheers
Franque23….Om
Please note…this ocean shot is from that ,'sh*t hole,' country, Mexico.
(Click the pic to enlarge.)
A thread on Face book today got this going. The points went back and forth about whether or not American's should be off work on Election day. Would this help bring out voters? Is it necessary to close businesses when we have early voting or mail-in with even prepaid postage in some states?
You know what? Screw work on election day.
Either call-in on Election Day, take the day off or have it off as a National Holiday. It doesn't matter if being off on Election Day would increase voting tun-out.  We have to stop the madness in America; we have to throw off this, 'work until you drop,' yoke American Big business has used to harness American workers.
American companies and big business have come to value profit more than life, and it's wrong.
American's should be off on Election Day–it shows and teaches respect for the process; the same for President's Day. Businesses should close and Americans should use President's Day to remember the leaders that have helped shape our country and World. Someone once said that actions speak louder than words. It's true, our children watch what we do at least as much as they listen to what we say. Look both ways; it's bed time; eat your veggies: how's all that jabbering working for you as a parent? No, leaders, parents, teachers, workers and politicians should show the way, walk the walk as well as talk the talk. We all need to stop making work the point.
The work ethic in America is bonkers, and we should keep all our Holidays and add Election Day and President's day to them. We should also throw in four, ' the weather is too nice to work,' days to boot. Farmer's knew their horses needed to rest; American workers need a rest, too.
What's nuts about having election Day off? Here's what's nuts: we used to not have just President's Day off when I was young, but Jefferson's, Washington's and Lincoln's birthdays off! It's true! These three days used to be school holidays and many businesses closed as well. More, every business, but for a very few, closed EVERY Sunday! That's right—just about no one worked on any Sunday—not ever.
The sky will not fall if America stops the madness and gives workers more time off during each work year.
The workers will drop if we don't give them more rest, not the sky.
Think! Our American society used to give workers more days off than it does now and what happened? America boomed; that's what happened. American workers were happier, they were better educated and they enjoyed our society.
Sixty years of decreased earnings (when adjusted for inflation), multitasking nightmares, skinnier staffs with additional work to do, the loss of pensions and less time off has reduced American workers to what we are now: an over worked under paid discontented work force.
The rulers, owners and greedy big businesses have been flushing American workers down the toilet for over sixty years now and it needs to stop.
Let's turn things and us around.
Let's take Election Day off so we can elect the right people to office. It's often said that change comes slowly. You know what? Maybe not.  Maybe change is right around the corner; maybe the sun will come up on America. Maybe American voters can stop the madness.
I hope so.
Franque23
Pumpernickel was the most foreign thing around the neighborhood back in my childhood days. A salted Frito was the a vanguard chip and guacamole remained a word hard to pronounce or spell. Now? That long ago time resides on the far side of a poorly mark rut in the road of life.
Certainly, I grew up in a part of America awash in feel good innocence. Then, it was a time of hope for those who lived under the disappearing shadow of World War II. We were the champions of the free world; the winners.
Grandpa was proud of his four boys who all fought in WW II (Dad is second from left.)
Flash: think no computers, no cordless phones of any kind, no internet, no chat, no what's up, no what's anything but for phones in phone booths or in homes that featured a brand new item: a tube TV  with about 3 to 13 channels. Now, I wonder what we all did all day?
Morality was a given…
Every kid knew to cross their fingers if they were going to lie; every guy knew girls were not only softer than boys, but annoyingly smarter as well. Still, none of us perceived a battle of the sexes or a societal wrong that had to be righted. Heck no, elementary school years were filled with just people—guys I palled around with and girls I was thinking about getting to know.
Things started to change in Junior High. (1960ish). The fall out of line and get hung out to dry clicks appeared. Guys and gals mostly formed into three groups: the hoods, the sport rats and the way smart what's up with that group.
Now, the hoods were bad people because some of them smoked cigarettes and they often wore black shirts. (Really not kidding, and I could almost add, they chewed gum in school) The sport rats, the group I belonged to, never smoked cigarettes and we wore saddle shoes.
Clearly, these huge differences were cause for great concern and animosity. Oddly this huge division between the Hoods and Sport Rats meant the gals had to decide which group to belong to and those lines once drawn rarely, if ever, changed through High School. I once ,'hit it off,' with a gal from the hoods in history class and we became fast buddies. But, when I suggested a soda, she told me, terrified, "Oh no, I could never do that. My group would go nuts. Plus, you don't know what I do." So, I realized she smoked cigarettes….sad.
It was an innocent time compared to the likes of today.
Of course, I was young, free to smell the dandelions as I ran across our neighbors' yard. I was free to imagine that near about everything America stood for and did was good and right. I was free of a bombardment of contraptions that now give us real-time access to things that are happening beyond our sight!
Please, if you are semi-young, like under 40, Imagine this: there was no news until the six o'clock T.V. broadcast; there was no minute-by-minute news of your friends, no daily breaking political sirens. Even the stock market could rally or crash without a peep until evening. Every thing, every day, was on hold until evening. People went to work without worry or care about daily events until nighttime, until they'd gone home and had a cocktail, a smoke or rest.
In many ways, the multitasking, tied to your smart phone generation is cursed with too much information.
Call me old fashion? Maybe try hiking or camping and leaving, God forbid, your smart phone at home. There's a world waiting for you to discover, one I grew up in, a world of be here now without interruption from things you can't change anyway.  There's a world of freedom waiting for you but for one thing: you can't put that smart phone down.
If the world today were to sculpt a representative statue of Mankind it wouldn't be, The Thinker.
No, it would be a person looking down at their smart phone or taking a, 'Selfie.'
The interactions that sooo many studies show are healthy for us—the eye contact, the smiles, the greetings—are now lost to bent heads looking at smart phones…
No, I'm not old fashion: I'm right. Put your phone down for at least one day per week and see how many eyes look your way. The worlds' presence will once again be yours to see, and it is amazing.
Franque23 dares you to do it…
Simply amazing.
My wife recently told  a news story on T.V. to "Go Fund Yourself." It broke me out in fits of laughter….as my wife often does. She's smart, a wit-full companion that keeps me thinkin'. Thing is, my first editor of everything you've ever read from me is also sharp, and more helpful than you know…. Barbara sent me this tonight,, and I thought in our time of strife it might do us all good to take a look at the,'Will  to Survive'. It's in all of us, to fight for existence, and that we shall prevail…just look at the trees: they lead the way.
Enjoy, and thanks again to Barbara for the link.
Peace, Franque23
Trees have been around for about 370 million years, and as you can see from these incredible pictures, there's a good reason why they've survived for so long.  Whether they're growing in the middle of gale-force winds, on the tops of rocky platforms, inside concrete tunnels, or even growing out of each other, trees know how to survive in places that few living organisms can, which explains why the planet is host to around 3 trillion adult trees that cover an estimated 30% of the earth's land.  Considering that plants produce the vast majority of the oxygen that we breathe, we should all think ourselves very fortunate that trees are as resilient as they are.  We wouldn't even be here if they weren't.
#1  A Place Of Enchantment

#2  This Palm Tree Fell Over And Curved Right Back Up

#3  This Tree Fell Over And Grew 4 More Trees Out Of Itself

#4  The Only Tree That Survived The Tsunami In Japan Between 70,000 Trees. Now Protected And Restored.

#5  Tree Of Life – Olympic National Park, Washington

#6   A Tree's Root Spill Over The Sidewalk

#7   Nature FTW

#8   A Tree Growing Through Speed Limit Sign

#9  This Tree That Refuses To Die

#10  This Tree Still Has Its Leaves Because Of The Light Shining On It

#11  Life Finds A Way

#12  Tree Roots Extend Across A Gap To The Mainland For Nutrients

#13  Life Finds A Way

#14  Ta Promh Temple In Cambodia

#15  Striving

#16  Someone Hung His Skates On A Small Tree When He Was Younger. He Forgot He Had Left Them There And Found Them Years Later
#17  A Tree Growing On Another Tree

#18 This Tree Is Growing Out Of Another Tree

#19 This Tree Grew Out Of The Stump Of A Dead Tree And Then The Stump Rotted Away

#20 A Tree Grows From Third Floor Window

#21 Life Finds A Way

#22 I Spent Ages Staring At This Tree Before Taking This Pic. I Hope You Find It As Fascinating As I Did

#23 This Floating Island That Grew At The End Of A Partially Sunken Tree

#24 This Wooden Chair My Parents Bought Started Sprouting Leaves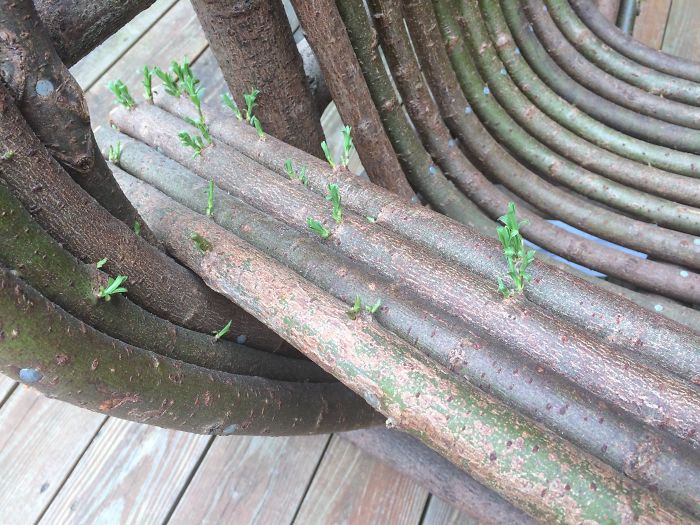 #25 The Old Piano Tree

#27 One Tree On My Street Refused To Accept Winter

#28 My Sister's Tree Is Eating Her Fence

#29 This Tree Growing Through A Fence

#30 Life,Uh… Finds A Way

It is a prideful mid-term election this time around in America. People, all full of pride, have stood up in numbers representing their position to their friends, neighbors, communities, America and to the World. America hasn't had the marches we've seen across the country in the last two years since the 1970's. And no, none of this dissent from any side has been entirely peaceful—some have died for what they believed, or for who they were or due to where they were. Upheaval never comes without cost and the past two years in America have sadly borne witness to this truism.
"I'm proud to be  American!"
"I'm proud to be gay, a woman, white, black, tall, good-looking, smart, richer or powerful!"
"I'm proud to hate!"
Theologians often place pride above the other so-called seven deadly sins: lust, envy, anger, greed, gluttony and sloth. Yep, Pride is said to be the ,'Root of all evil.' How. To. Deal. With. That. This discussion could be an, 'All-nighter.'
This is a 1913 meeting between North and South civil war survivors. Each was proud to serve.
I am proud.
Toss pride anyway you want: I'm proud of Dale, and she happens to be my wife.  I'm proud of her 40 years of effort during her nursing career to help young and old alike to heal or accept their situation and make the best of that. Most of those 40 years she has helped new born's while working in NICU; some of her patients weigh three or less pounds. Imagine. Of course, I take no credit for any of Dale's achievements; I'm proud to know her.  And, this election cycle has been no different.
I'm proud of Dale and anyone like her who has jumped in feet first into the mayhem of this 2018 mid-term election.  Dale has worked the phone lines for her party; she has written, talked and text until her fingers were sore, her voice hoarse and her wit's at wit's end. Trump may not know it, but he's been barbed enough to fill a pin cushion.
Dale is one of millions of Americans who have taken it upon themselves to get off their cushy couches and 300 dollar computer chairs and work to turn their beliefs into action. She is one of millions who are busy doing the,'stuff,' the real hard work of America. Tomorrow, Dale will be driving people to the polls all day. I think this is great.
Hat's off to all of you who have persevered over the course of the past two years while trying to right the wrongs they see taking place in America today. It's not certain how our 2018  mid-terms will turn out, but for all of those who have worked to make the world a better place please remember this: no one, nothing, can ever take away your effort and the solace that comes from a job well done. Win or lose, if you have walked door to door, called number after number and marched when you could and filled out every poll you wanted to, congratulations.
Now, we wait for tomorrow's election outcome, and it may take weeks to know?
It's no secret that I'm hoping for a, 'Blue Wave.' But, even if I have to go to the beach to see one again, I know I did what I could to make it happen.
I have a word of head's up though for those of you who favor my political position. Please, don't think that if the, 'Blue Wave,' does come in 2018 and then again in 2020 that the battle to right the wrongs in America will be anywhere near over. No, the seed(s) of hate and division have been well planted in our society and these two elections will not be enough to weed them out.
Every morning gives us all a chance for a new day—I'm hoping tomorrow gives America one of those kinds of great vista's.
Good luck, America.
Cheers.
Franque23