You are currently browsing the category archive for the 'family' category.
 As my dear friends, Marc and Ali, named it, today is Blursday. It's not a day like another, it is the other day.
It's all about retirement in a locked down Nation full of people equipped with the skill of the steel ball that's trapped in a pin-ball machine.
Work life stopped and America went on tilt. Yikes, "Mask or ventilator; mask or ventilator… hmmmm, so many choices."
Thing is retirement can bring many things but time is not one of them! Heck, I'm retired and don't have much time left! My fuse is burning fast as the clock ticks double time while I dribble on my shirt what food doesn't manage to get down my sporting turkey neck.
Vultures wear stop watches as they circle above.
Something's flying overhead so I'm wearing my hat….
Mail persons knock to see if they still need to deliver to my address.
The good news is a Wednesday morning can feel like a Saturday and a Monday like Friday. Tuesday usually sucks retired or not. Tuesday has very little to say about anything; it's not Friday, no better than a Monday and  not related to any weekend at all whether you're moth balled or under the work master's lash. Nope, I'm telling ya, I've looked at Tuesday from both side now and Tuesday's a dump of a wannabe day. Maybe this is why I picked Tuesday to post this glob—what could go wrong? Or worse….actually, it's Blursday.
Anyway…
While working, I never answered the home phone when at home. I told people to text me because, well, I don't text.
Now? I answer so many calls from travel agents offering deals that might kill me if I go on them I feel I know the solicitors personally. "Hey, you're the person who offered me that trip to see Head Hunters last week aren't you? Well, hows the kids?" Okay, honestly, I feel sorry for anyone calling trying to sell travel packages right now… "Hey! We have a great deal for you driving from Gainesville to  Orlando in your own car! Free coupons on the interstate at the interstate stop!!!"
Okay, no ones going anywhere if you live in Florida unless you're extremely suicidal or just count on your co-pilot, God, a bit much.
Life couldn't be better for me. Telemarketers call all day long and some campaigning phone calls are starting to light up our dial. Everyone is so sweet. The Fed Ex man rings the bell and stares as I answer wondering if I'm dead or alive. My dog sounds viscous and I swear the delivery people look like they'd rather be attacked than to have to stand near me for another minute.
I stopped by a take out window and the food nearly flew in my face as I signed the receipt  Alfred E. and drove off.
Seriously, I have a friend who is a grave digger part time. Does Randy think this might be some sort of bonanza year?
I mean, I guess there's a bright side to even in the worst happenstance. Like I'm on the track and that train's coming but my wife divorced me, I'm about to lose my house, I have covid-19 , syphilis and I think a coral snake just bit me, the Sahara dust full of pathogens is upon us and the hurricane season is here…maybe, just sit tight and wait for that train? BTW, why are trains in America never on time? In Japan, where they outlawed suicide, the trains are always on time? So, what's up with that?
Here's to the Blursday's of retirement and frankly, my dear, I'm hoping for a hell of a lot more of them. I don't care how blurry.
Franque23 is retired and continually never bored. In truth.. I'm Lovin it… Cheers.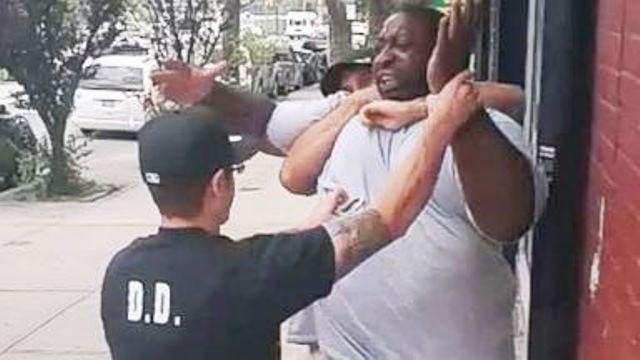 Eric Garner about seven minutes before he is strangled by a choke hold…
Certainly, the Congress is giving the Covid-19 news coverage a run for it's money and it should. Our two political parties are now jabbing back and forth over choke holds and police violence. I have friends and family who are police and they are good, honest, hard working people who make America better for doing the job they do.  Thing is, digging around about crime, social justice and police brutality in America doesn't leave a heap of papers that should be burned but rather, read.
The news on police brutality in America isn't good. Worse, a quick review of just a FEW of the facts related to this issue is mind-boggling; a head shaking awakening that should bring one to their knees in wonderment. How can any of this be true?
Apparently, white men formed working patrols back in the days of slavery to ensure slaves remained on the plantations they were bought to work.  Stepping out of line was not tolerated by these gangs and slaves were often hung if they did.  Going forward in time brings us to the Jim Crow Laws that furthered these gang's involvement in policing black men and their families—none of that was good. By this time, these gang members were part of America's police forces.
It's easy to believe that the advent of Martin Luther King, his marches and speeches, brought a fair amount of civility to race relations in America but they didn't. No, they didn't. In fact, today, right here in America, one in a thousand children born as black men can expect to be shot by police!  So the first thing a black baby boy gets when he's born in America is a sorta lotto type of a ticket—will they be the one shot by police.
Listen, I'm white and I get the shading white people use over their eyes and ears when it comes to minority issues in America.  It's time now to lift those shades and become human once again. As Nancy Pelosi said today in a talk on Capital Hill, George Floyd's 8 minute and 46 second long murder is not a tipping point, but a precipice before America. There have been so many other murders committed by police like Eric Garner's death* that we all saw made no sense. Really. Little, if anything, has been done to right these wrongs.
Even with all the history of how the police formed and performed over the history of America, it's time to not look back but forward to change when it comes to our American Police.
Police have to change.
This is a link to a most informative study on the history of police violence in America and much of it is shocking. Thing is, like any informative writing, it's so much more than one sentence long. So here is the link to the entire piece** but also some very pertinent quotes from the article, a few brief highlights…
**https://www.thepublicdiscourse.com/2020/06/65309/?fbclid=IwAR3EIinsob8i0Y7LIl8nPc4hrm0BmugpxnDC7GS25kNENw_ITTo8k9P6OQ
Just wow on theses three points alone:
"Police violence in America is extraordinary in its intensity. It is disproportionate to the actual threats facing police officers, and it has risen significantly in recent years without apparent justification. Its effects are felt across all racial groups, with non-Hispanic whites making up half of all people killed by police officers, even as African Americans are killed at disproportionately high rates compared to any reasonable baseline…."
"The people police kill are mostly not actual or likely murderers. They are more likely to be people whose police interaction began as a DUI, speeding ticket, public intoxication citation, or domestic disturbance call…"
"Police officers kill about 1,700 Americans every year. In other words, police killings have made up about one out of every twelve violent deaths of Americans between 2010 and 2018. That's including American military deaths in Afghanistan, Iraq, and elsewhere during that window. Indeed, more Americans died at the hands of police officers during that period (about 14,400) than died while on active military duty (about 9,400)."
I grew up respecting the police and still do. But, now, we need to overhaul who is actually on the force, how they got there, what they believe and what have they done in the past. Police have to change.
America has to jump, and in the right direction. Ending choke holds by police on civilians once and for all is that first leap.
Franque23
*
*https://www.youtube.com/watch?v=U0Y3FH9Nb3I
( some pictures enlarge by clicking…like the papaya tree.. Oh my)
Dale wants to know why I count everything? Well, clearly I was once an Australian Shepherd—she must not know?
Anyway, I am a counter; I count on good luck, good friends, good times, good weather and good reads. The beautiful thing about being an optimist is I'm never disappointed. Life is a roller coaster and every bottom leads to the top of the next plateau—that"s what I count on.
But what could this have to do with these 48 tomatoes in our kitchen today? (There's a few more you can't see…really about 61 in all.)
Well, that's simple. A few weeks ago I counted over 314 tomatoes in our garden and hoped the crop would make it—note: I refuse to count cherry tomatoes. Anyway, the tomatoes started becoming randomly ripe here or there without rhyme or reason throughout the garden. In that the plants are often over 6 feet tall, I had to hunt for tomatoes as if they were Easter eggs.  Eventually, after boiling down about 31 tomatoes to freeze into 3 or 4 quart baggies of sauce per day, I think the tomato bunny is leaving my yard.
Today's pick included a 17 green beans, a mess of collard greens and about 18 1/2 tomatoes.
However, please note the six large brown bags on the table behind today's hunt. These bags are the secret to reaping in ripe tomatoes in Florida's early heat and before the 4,129* bugs here that use infrared spyware and well coordinated attack plans can sting the fruit…Dang, I dislike everyone last one of them…(NOTE: for the first time in, no joke, 42 and 1/2 years of gardening in North Florida, I haven't seen but two fruit stinging insects in my garden! I'm not sure if this is due to the air quality improvement, the normal season we are having weather wise here for the first time in ten and 1/4 years or random luck. But, for whatever the reason, I'm getting worried about not seeing the insects I hate to see… so I'm going to a shrink about this,)…
This is our first child and my wife, Dale, back in 1982 in our Micanopy home. The garden is about 27 feet left of her.
Bonus picture: this papaya grew as a volunteer from our compost I spread last August. It's about 25 feet tall; so far, it has had 33 papaya's on it. In all, 17 papaya's grew in the garden from our compost but I transplanted the others thinking, "Who needs 17 papaya's growing in a veggie garden?" Good thing. Apparently the trees live up to five years.
Anyway,,, back to those 6 brown bags—they held 56 (plus three rotten) tomatoes in different stages of ripening and four papayas… So, the deal is to pick most of the tomatoes in the garden as they just start to ripen, especially if the tomato has splits or rings on its top which means they're likely to split open or rot on the vine if you leave them outside. There's a trick to this picking called timing, but why go into that when your mind is already blown by the  128 tomatoes I've made into sauce and frozen in 18 baggies so far? Plus, every recipe leaves something out.
Above: 73 tomatoes plus three rotten ones.
The three rotten ones….
Here's the fifty-six tomatoes from the brown bags.
Of the 56 tomatoes in the bags, 36 were ripe.
It can take up to four or five days for tomatoes pulled from the garden less than green but turning white or red in spots to ripen in the bags. I check them every day as one that goes bad in the bags makes a mess. Some tomatoes may ripen in one to two days,,, it all depends on how ripe they are when you pick them.
I hope this helps. But here's the thing: you don't need hardly any space at all to grow tomatoes. You can grow them in pots on a balcony if that's what you have to use. Or, since tomatoes are the best thing coming out of just about any garden, if you have a 3 foot wide, ten or 15 foot long space that gets at least 1/2 day sun, dig that soil up. Add good soil, put up a straight fence down the middle of that row supported well by stakes that are at least four feet high. Now, buy 9 starter tomatoes from Lowes (if you only have a ten foot row–one planted every 3 feet on either side of the fence) and plant them. Be sure you have a watering source… hose, sprinkler… something….
This type of set-up might yeild you 100 tomatoes…!?!?
One more thing,,, stay away  from Big Boy or Better Boy tomatoes if planting in Florida. They're size is spectacular to see but the top ridges in these varieties tend to split open in Florida's heat.  Plant around Feb. 15th or August 15th in Gainesville and cover if we get a weird cold night or two.
And, if you have a backyard, plop a pool in it if you can—there's nothing like a swim after a day of picking 18 and 1/2 tomatoes.
Cheers from tomato land.
Franque23 is counting on you.
*I will admit to having never counted the insects…maybe.
(some picture enlarge when clicked , others don't) ..working on this.
Hippies, who needs them? Imagine, all stoned and thinking we shouldn't hate anyone for their color of skin, that pot should be legal and that war should end—a bunch of crazy losers, right?
And Hippies believed women were equal to men, and if they didn't want to wear a bra, okay…. just crazy stuff…right?
I was home on Christmas break about 1970 watching the Nixon/Nam reports with long hair that reached my shoulders or more. I was a musician at heart and singing the protest songs when I could, but my dad was a staunch Nixon supporter…basically, I was an alien in my own home ideologically, but Dad never leaned on me; Dad gave me space.
As lost I was in those struggles to right the wrongs of humanity I felt sure were the savior of mankind, I never once noticed how much my dad had given me without the back of his hand. No, Dad, to my unsuspecting delight had given the love of flowers, the birds, the trees and love of life to me.  I never knew…
I'd hauled in a gardenia bush for Dad from outside and in upon the season while we lived on Long Island because Dad was crazy. Oh my gosh…that planter got to be a hundred pounds and the plant filled a ten by 8 high room on the window side….What on earth…?
Likewise, Dad had those mysterious asparagus patches…those were poison if eaten—I knew.
His basic replica of mid west apple orchards stood in our 1/4 acre back yard to torture me with the picking… but, I admit, I ate about 4 apples per day at least.
Now, of course, Dad is long gone. The last time I held his hand was in 2001…He passed as I sat near by laughing about old times with my sister and mom. In a second, he died.
Now, I grow a gardenia we inherited when we bought our home in 2000. The bush is a monster… about ten feet long and 6 feet high, at least… this year we have had over 300 blooms on it…
I've no secret about this bush…it just grows,,, but maybe our neighbor's friendly chicken, Lucy , who loves to live underneath it can't hurt?
It makes a great way to reach our front door…I always say "hello" to this bush because, yeah, I love the plant.
In fact, Dad taught me to not only notice flowers, the roses and planting he had around our yard on Long Island, he taught me to love them as he loved me. There was something huge about my Dad I never really understood but somehow took inside.
I'd like to think that all the prejudices that passed so easily among white Americans born in 1911 as he was have not stuck to me. Times have to change. I think I've shed those bad marks and raced ahead with the good points. Certainly, the love of flowers has bloomed within me…Go ahead, ask the flowers in our yard who I say hello to as they bloom…they will tell you.
The shrimp plant will spread and fall to the ground unless you stake it—butterflies of all kinds and hummingbirds love it.
There's nothing like taking a early spring drive out to Alachua north of Gainesville to see the roadside flowers the county hasn't insanely mowed down:-0
This year, Alachua didn't mow roadside flowers and as a result there was about 5 miles of beautiful flowers along 331 north see as we drove by…
Here, at home, I plant marigolds along our garden fence line and in the garden to help with aphids…but dang, if the birds didn't help me plant this beautiful Sunflower!
We just love flowers here.  And the red, single hibiscus, though not as flashy as other hibiscus, is a strong, reliable and hearty bloomer.
There's nothing like having a papaya volunteer out of the compost we spread in our garden launch twenty five feet high…
yummmm papaya…
I really don't know if Dad liked papaya… but he would have loved all of this…
Thanks to Dad, I do know how to garden. It was a torturous lesson back then while 14 years of age,,,, but how could I know it would lead me all my life? Dad's can give us so much when they just do take the time.
It's been a great year here in North Florida for growing a garden. I think we have seen normal weather patterns for our area for the first time in ten years! Odd.
I have to go; Shadow wants to run after the ball.
And then swim in the pool
You know, energies, knowledge and love, all of it transfers many times in ways we don't know. Dad, thanks for everything…and for those living in Alachua county who want to grow food, I will come help you do it…
It's about loving life. So thanks Dad, for all that you hated, you taught me how to love so much more. Born in my time, you would've been a hippie. I feel certian.
Franque23
Some are interested in fishing advice when it comes to Lake Bonaparte…I've fished the lake for 70 years, maybe, if you count me as a baby in my dad's arms who's fishing off the dock.  I've fished every time of day and in every kind of weather during the summer up at the lake over the years. I've been a "up and at em' 4 am fisherman" and a late at night fisherman until the mosquitoes took me home.
Thing is, there is a science to fishing—it's not a matter of luck, but timing and skill…
My Grandson has a perfect approach to the methodology of fishing few can match.
Your ears need to hear the fish, and then you wiggle them.
Okay, forget that, It comes to this—though any rule can and is broken when it comes to fishing—the fish in Bonaparte sleep in. The mornings bring waters as still as glass.
I don't blame the fish for sleeping in. What's the rush when it comes to eating your buddies? Bonaparte fish have all day and all night to nibble on their neighbors so why waste good morning sleeping hours on that? The mornings bring the light, the exposure to birds and whatnot. The quiet of the evening and night before is soon disturbed by those who think they should fish early and wake the lake residence up with the motors built by Cape Canaveral.  Who needs that when there's soft sea-weed and lure snagging stumps to sleep by?
Another question: why do I ever leave this sight?
But, I do.
Sure, I'll still get up early in my lifetime to fish. This is absolute fact. Thing is, I'll be trolling the sun-up as much as anything else. I'll be hunting the morning fog as it lifts from the lake to the sky, as the Heron silently swings by on their way to a distant shore. The sunlight will streak the sky into unimaginable colors as found on my lures not yet snagged on that awaiting log—may these lures rest in peace. The chill will vanish and soon I'll find myself plugin' a shore line full of empty water. Maybe, a beaver will swim across my view as the night's last bug bites my ass. This is why people say, "He's caught the fishing bug." The point is the bug; not the fishing.
Anyway. I've some stories to tell, too many because I love to write, or talk. But hear this: I once sat on our bluff looking out at Birch Island as a soft afternoon rain began to fall. My mom came up to me and said, "Go fish…" I went right out to Birch Island in that drizzle and landed the most unusual fish I've ever caught. Off rocks with a red/orange hue( a fungus?) I landed a 4 1/2 pound small mouth that is on our wall, and it's belly was as red as a sunfish to match the color of the rocks. Unfortunately, the taxidermy never got to see that color as the fish was frozen by my parents before they got it to him…One large mouth I've caught in Lake Bonaparte is more than 8 pounds and also hangs on our camp's wall. That fish I caught in a driving wind of a storm about 1 PM in a protected shallows…I was, yes, crazy to be out, but the storm came up and I had headed for protection from the wind and had decided if I was about to die, I might as well fish.
You might as well fish. No matter morning, noon or night. Thing is, no fish bite a dry lure. I never found one in my tackle box wiggling on a hook. We might as well have fun.
I would love to fish with some of you and I'd planned on being up almost all summer as I retired this May 15th, but Covd-19 (making the trip up) has changed that plan..maybe next summer?
Call me Loony, but I know where some big ones are…maybe,…like 1/2 of the time:-)
Oh, and one more piece of advice: don't fish off a high profile boat. You'll catch plenty that way; most pros do it. You get a great view sitting high off the water but guess who can also see you? I'm not talking about your neighbors. Nope; native Americans had it figure out best: stay low, and quiet. Try to match that, and I know, this is bad news for boat sales. Thing is, sometimes I cut my small horse power engine 30 yards out and row in as if cane poling in..what's the rush, right?
Paul Daugherty has been my fishing' buddy for like ever.
Paul taught me Mud Lake.
The key is low to the water for the biggest fish. What do you want? Plenty of fish, or the biggest fish? Think about that.
cheers
Franque23 loves Lake Bonaparte.
We all know about Sundowners syndrome, but what about Sun-uppers syndrome? My wife has this and it's a beast of a condition.
Oh, I know, there's a zillion conditions to worry about or contract, like the dreaded, Water Allergy, of which there are 30 known cases. (Yes, these people are/were allergic to water?) Or, there's the Foreign Accent syndrome with 60 known cases, a condition that renders its victims talking in unrecognizable dialects but I have to ask: isn't this then just gibberish, or realpolitik? Maybe, none of these are as bad as the dreaded, Laughing Death, or KURU, found in New Guinea exclusively and known to lead to people falling down laughing for months until they actually die in fits of laughter. Privately, I do wonder what the joke was, but aren't these people an answer to a comedian's prayer…for a while?
Let's move on.
Remember, this post is about my wive's case of Sun-uppers—the worst possible condition.
Believe or not, there's some debate about whether or not the expression, 'Top of the Morning to You!' is truly an Irish tradition! To me, the premise that any way too early of a morning could have a top is ridiculous.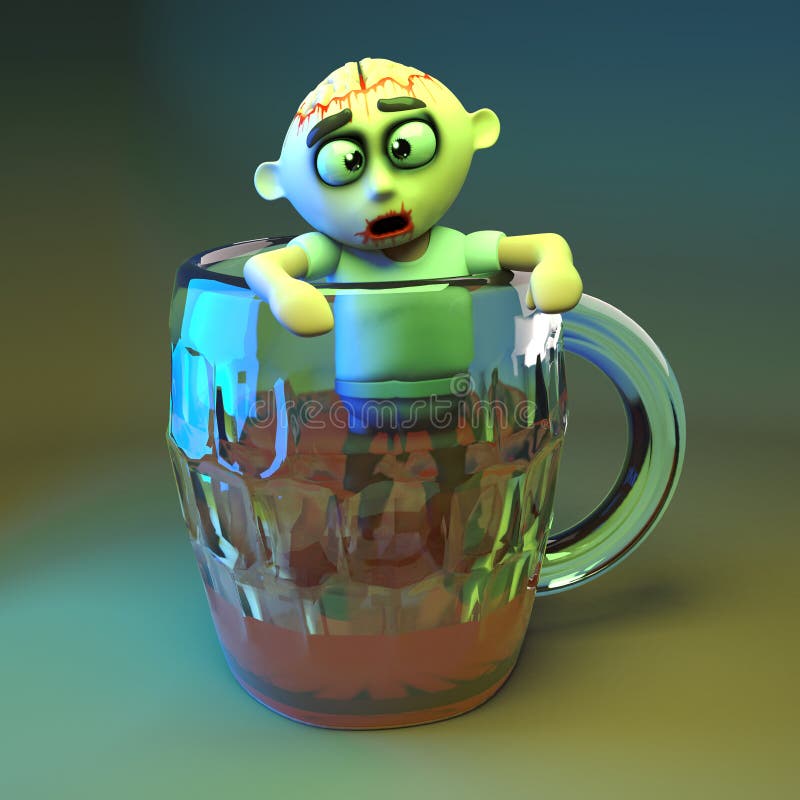 But, after opening up my morning sleepy eyes and peering through one zillion posts on the subject, I think the saying does date back to around 1684 and as found in Irish literature. Though, to be fair,  others claim the spread of this far fetched assumption may have sprung from stage performances here in the States during the 1900 hundreds. The thinking is the phrase became an easy way for actors on stage to make the audience buy in to their character's Irish ancestry, if not their madness.
Thing is, I don't care where the top of the morning came from on any given morning—just don't let it come to soon. That's right, I'm retired now and sleeping in is something I've worked for my entire life.
Face it: I wake up to take a nap.
Sun, wind, clouds or even pelting hail, I don't care, mornings are for sleeping in. Any good fellow exactly like me can tell you that.  There's an ol' expression never used that any farmer wouldn't tell you: what you don't get done in the morning can wait until afternoon.  That's the key. This famous expression is based on little and has been the making of many great lives we never read much about. Count me in!
Anyway, about Sun-uppers…. It starts with way too little coffee, a comfy couch and boring TV shows. All this renders the syndrome's victim sprawled out on the couch in their living room, mouth open, snoring, speechless and basically catatonic by eight or nine PM.
Even pets can catch it…
Worse, this condition leads to the this same afflicted individual awakening with the first glint of sunlight before even worms are crawling—birds are sound asleep; the moon is dancing and owls still hunt.
But, no, Sun-uppers don't care about the sleep to noon body rhythm of natural man. It's, 'Up and at em,' as my dad used to proclaim on Saturday mornings. Somehow, I think the war never ended for him. Anyway, I can tell you as a true humanoid, mornings were meant for sleeping in followed by coffee and rest.
Sure, I've gotten up early and called psychiatrists and whatnot's to get help about my wife's Sun-upper's condition. Who hasn't done that, right? But when I do I always get the same message: call later. This sends me sinking into a kaleidoscopic nightmare image of a toilet flushing as I run back to bed to dive beneath the sheets. It's stinking bad. I'm telling you: this problem is baaad.
If you are a victim like me, if you live with a spouse severely affected with Sun-uppers take solace: there's no cure.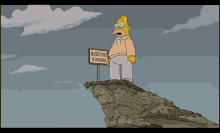 So, don't bother. just try to sleep through the racket, the doors opening, closing, opening, closing, banging shut, the phone ringing and a loud TV being turned on by 7 AM. You can do it; good luck.
Soon, someone will develop and Sun-uppers Deniers group we might join on line in the late afternoon, or 8ish as our mates fall asleep on the couch. We might explore new mythologies, weird new systems that may keep those afflicted with Sun-uppers from falling asleep too early in the evening. Who knows, some of us might become famous for inventing techniques the world has yet to try?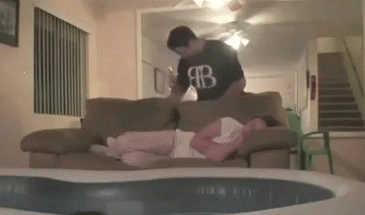 Bye for now; it's a beautiful start to the the day! Top of the Afternoon to you!
Franque23
Why not plant a seed and watch yourself grow!
Welcome to a two year  long gift:-)…
Hi! It's easy to grow a pineapple and you can do it here in Alachua County, Florida ,and just about anywhere else in the country if you pot it and bring it in and out according to the weather! The process is almost the same for growing one pineapple in a pot as it is to grow more than one in a small or larger space outdoors.
Pineapple growing takes a pineapple top, soil, a good amount of sunlight, warm temperatures and water—that's about it.
The pineapple:
First, you need a pineapple—you know , the one you hope to eat:-)  Then, you cut the top off the pineapple. Get help to do this if you need to because your knife will be sharp! (We want the pineapple top sans any fingers.) Okay, if the pineapple top looks a bit withered, put it in a bowl of water for about two days before planting. If the pineapple top looks green and healthy, just put it right in the soil.
(Hint: Grocery stores usually core pineapples for sale and then throw out the pineapple tops. I called Wards grocery in Gainesville and got 30 pineapple tops for free already cut and ready to plant. )
I took the tops, weeded an area and planted them.
The soil and water:
Use soil you might use in a garden. Pineapples will not grow in sand, but a medium soil is fine. I don't fertilize my pineapples BUT I do sprinkle them almost daily with a small amount of water from a hose. Generally, the more sunlight and water your pineapple gets they larger the fruit will be.
One year later they looked like this.
The  red camellia has the symmetry of a rose and a touch as soft.
And, the bright yellow bloom that holds promise of  a squash could lead any garden parade.
But the pineapple flower is certainly as cute.
The pineapples start coming up during the second year.
Temperature control:
Pineapples don't like cold weather. The plants will wither and die in freezing temperatures. I cover my outside pineapples if the temperature is going to be 38 degrees or below. But you can grow pineapples in pots and bring them inside when it gets cold if you want.
Thing is, a pineapple plant can take up to two years to yeild fruit so consider this when deciding how and where to plant your pineapple.
There's just nothing like growing plants, especially ones that give you food. Home-grown pineapples are fun to grow and delicious to eat! And, every pineapple you pick has a top that can be cut off and planted so one pineapple grows another without end!
Pineapples turn bright yellow and slightly lean away from the plant when totally ripe.
Yummy.
Cheers!  This is what I think: plant a seed and watch yourself grow!
Franque23 loves to garden.
Next: Papayas:-)