You are currently browsing the category archive for the 'future' category.
"Though this be madness, yet there is method in't." (Hamlet Act 2, scene 2, 193–206.)
The years have passed but reality still begs the question in my head: who was Eleanor?
The year was  about 1977 and the  Waldo Farmer's and Flea market was operational. I recall a bigger horse standing at its entrance than the one they use now, pictured here.
But, the ads, "Look for the Big Horse," were already running on T.V.
It was the start of a profitable 14 year-long  leather crafting career, a path filled with lean times that would eventually get lucrative. At the time, I crammed all I could into back packs and used my thumb to hitch the 13 miles from Gainesville to Waldo to rent five dollar per day tables to display my wares.
It's true, I went for the money but in the process I learned the lingo needed to attract customers. I was from up North so I entered the realm of southern dialect from another world's banter: slow worked better than NYC Jewish Deli ordering speed; a friendly greeting was mandatory; conversations about the weather were important. Selling leather as real leather fell flat compared to saying, "It's Pure leather." Items could not be broken but were ,'Subject to wear.' Nothing lasted forever, but they could last for a ,"Good while." These terms people believed.
There was another advantage to speaking slowly and taking my time when selling leather goods. I actually got to meet my customers and know their stories. This is how I got to know Eleanor…
Eleanor and her husband seemed to be from old money, English I gathered, and so proper. Age was the only thing that would've ever gotten the best of her. She often stopped by my table and bought hair barrettes. She'd talk about any improvements she noticed in my tooling,  better prices, or variety. It felt that they both liked to see a young man in his early twenties trying to make a go of it. I always believed they bought things to help me out. That was good, but there was another part to this seller/buyers deal that took place.
Inevitably, as I bantered with Eleanor she'd ramble a bit longer than her husband had patience for . He'd thump his cane, "Now, Eleanor, that's enough now."  Eleanor would clutch her purse, "Why, I'm just making conversation on this lovely day. " Thump, thump, thump went her husband's the cane. " Come on, Eleanor, your wasting this man's time and mine!" This difference of opinion would lead to quicker paced phrasing not so much of the agreeable sort until they both offered that being married too long was, well too long. Finally the pleasantly warring couple would move on having helped me out once more.
But there was another day, another conversation, one you need to read about.
Eleanor and her husband came strolling up to my booth on a weekend day like every other. Her husband had this annoying habit of whistling poorly as Eleanor picked up a few items to buy from my table. It was a surprise when Eleanor paid me and then pulled out an item I'd never seen…"Do you know what this is." Eleanor asked with a gleam in her eye. "Eleanor, where did you get that?" Her husband seemed to laugh, but through the side of his mouth, as though this was not a laugh at all. Thump! went his cane. "Oh dear, you know I have these items." Then Eleanor turned to me," Well, do you know what this is?"
I took the item in hand. It was a clasp of sorts that opened and closed on either end all joined by an elaborate beaded straight 4 inch long center piece. The entire piece was no wider than five inches and it was heavily laden with small Amethyst looking stones throughout. "Well, it's too heavy , too large to be a barrette?" I marveled at an object I couldn't identify.
"Eleanor, leave this man alone. Now take that back and let's go. I told you not to do this sort of thing." The husband motioned to me that Eleanor was losing it—I figured their daily squabble was not far off.
"Eleanor smiled as she took back the object. "Well, one day this is something you will need. And," Eleanor paused, "I think it's the right color, too."
"That's it!" Stomped her husband. " Go, Eleanor, go!" The husband push guided Eleanor away but then he turned and came back to me. "She just a bit nuts; pay no attention to her." I watched him leave and take with him this memory forever, or so I thought.
Thing is, twenty-five years later, in 2000,  my wife and I bought house in Gainesville that featured fine Levonor blinds to cover the two front living room windows. They worked great until about 2008 when the apparatus seemed to break down. Soon, we just left them open and my wife added beautiful drapes we might close at night or open by day. Things went along fine until about 2012 when I noticed how much I disliked the two drapes remaining spread apart at the top when I tried to close them at night.
Bingo.  I looked at the color scheme of the drapes and remembered: "This is something you'll need…and I think it's the right color, too." Eleanor's words hit me like a cold arctic blast blowing on a hot summer day.
"There's no way…." I stared in disbelief stunned by a memory that now stared me in the face. The butterfly clip Eleanor had showed me was for the purpose of holding the two tops of split curtains together when you spread them apart in the day.
Thing is, it's been six years since that day. I've waited to tell this story, one I've thought often to not tell because it is too wild, not reasonable, undocumented, and also I'd waited so long tell it. Why? Well for 25 years the remembrance of the conversation meant nothing, it remained like an unmatched soggy sock in my head mixed in with so many other memories of selling over the years. Then, the match to the experience appeared before me in these curtains. It brought the conversation to my head as though a pin had pierced my brain.
"Something you will need one day…" Eleanor was certain.
"I told you not to do this sort of thing." Eleanor's husband.
"I think it's the right color, too." Eleanor had been right.
"Don't pay attention to Eleanor; she's a bit nuts." Really?
I watched Eleanor and her husband walk away that day but now I wonder—did they? What is time, and how can someone see the future if it doesn't already exist? There are thousand, maybe more, recorded situations where people have known the future, but how?
As to Eleanor? Perhaps, she was a bit nuts, I don't know. But Shakespeare wrote it right: "Madness, but there is a method in't"
Eleanor knew, but how? Who was she?
Franque23
Tell me, how did so many people know before hand not to board the Titanic? (look that up). What is time…?
"Just keep the drapes open during the day and we're good!" (Shadow…)
Democrats have held the white house 25 years over the past 50 plus years; Republican 28.  During those years Republicans have far more arrests and convictions among White House Republican staff and party members than do Democrats. But how many more?
25 to 1…..
That's the ratio of those within Republican White House Administration who have been convicted of crimes when compared to the number of Democrat staff members arrested during  Democrat White House Administrations….just wow!
It's just a ghastly fact; a lump sum correct figure that bears witness to the fact Republican administrations are far more corrupt than Democratic ones.
This gives pause to wonder why this astonishing ratio, the vast difference between criminals in these two party's, is true? Maybe, since the figure spans 50 years or more, the reasons don't matter while the numbers do. Fact: the Republican party tends to be a corrupt party.
But don't take my word for it: here's a quick quote and then link so you can read it and believe it for yourself..
"So, let's see where that leaves us. In the last 53 years, Democrats
have been in the Oval Office for 25 of those years, while Republicans
held it for 28. In their 25 yrs in office Democrats had a total of
three executive branch officials indicted with one conviction and one
prison sentence. That's one whole executive branch official convicted
of a crime in two and a half decades of Democrat leadership.
In the 28 yrs that Republicans have held office over the last 53 yrs
they have had a total of (a drum roll would be more than appropriate),
120 criminal indictments of executive branch officials. 89 criminal
convictions and 34 prison sentences handed down. That's more prison
sentences than years in office since 1968 for Republicans. If you want
to count articles of impeachment as indictments (they aren't really
but we can count them as an action), both sides get one more. However,
Clinton wasn't found guilty while Nixon resigned and was pardoned by
Ford (and a pardon carries with it a legal admission of guilt on the
part of the pardoned). So those only serve to make Republicans look
even worse."
https://www.sheilakennedy.net/2017/07/corruption-by-the-numbers/
Vote the Republican cheaters out in 2020. Trump can dance and sing his praises all he likes, but in 2020 we need to put his lying butt out on the street, if not sooner.
Facts show the Democrats rarely break laws while in power. The Republicans lie, cheat, steal, commit felonies and cast a ,'Damn the Constitution,' glare over our country when they are in power.
This is why I don't vote Republican: they work for the upper class only, and cheat their asses off as they do it.
Cheers. (Please share…)
Franque23
This is all a sham. Special counsel Robert Mueller is out to get him — as is the entire FBI. Trump claims they've got nothing from Mueller's investigation. Ha! (The 192 criminal counts, 36 people and entities charged, seven people who have pleaded guilty, the four people sentenced to prison and the one person convicted at trial as a result of the Mueller probe make clear, of course, that Trump is wrong.)
Americans,
and especially our military,
every person who lives in America, we need to call off Trump's hostage situation.
Trump is endangering us all, but don't take my word for it…listen to this short clip if you doubt me- https://www.facebook.com/NowThisPolitics/videos/1031709520353754/UzpfSTExMDA5NDExNjY6MTAyMTcyNDE0MjcxMjMzMjc/
Please share this link for the good of America… thanks.
America needs to stop Trump in his tracks; he's gone too far. His ego is nothing compared to the need for the safety of our country and fellow workers, to ensure the safety of our lives….This Trump guy should be held without bond under military arrest until we find out what he is all about, why he attacks American interests at home and abroad. I smell a rat… a big, over weight, yellow-haired coward of a rat.—Trump. His method is no less than extortion in its worst form. Trump is holding our country hostage by shutting down the government until we give him what he wants, a wall the best experts say won't help that much at all?!?!?
Extortion is a crime no matter who does it.
Trump's offer to open OUR government only if he gets money for his wall is pure extortion—there's no mystery about this. This is what extortion is. He should be held behind bars for this act alone if not for others many suspect he is guilty of arranging or plotting.
Ask yourself: why did Trump order the only person who transcribed the minutes of his meeting with Putin to tear up the minutes they took? Why?
Ask yourself: why is Trump not putting the sanctions against Russia as voted for by our congress into place?*
This man Trump is the crook we all hoped he would not turn out to be. I once wrote a blog/glob shortly after Trump's election stating that he still had the opportunity to do great things, that the time for change was here in America with great leadership, things like high-speed rails, solar power and a need for new infrastructure were placed in his lap by timing. But, it turns out, the man is nothing but a con-man, one who uses extortion as if that's politics, as if that's how a President leads.
I'll admit it; I'm proud to own it, Trump. I consider you an idiot. Your supporters? There are no words for anyone who'd back this lying, snake oil selling extortionist.
Here's to 2020 that can't come soon enough. Here's to a Blue tidal wave in that election that sweeps Trump and his miserable GOP backing representatives right out of office. Here's to American Democracy. Don't just shake your head; drum up support against this crew of pure evil doers. NO joke, Trump's attack on our environment, our society, American values and Reason is pure evil.
Trump has gone way beyond politics. Our military should do their duty and arrest this man before he brings our country to its knees. Our military should protect us from Trump.
franque23
*https://www.newsweek.com/trump-required-russia-sanctions-no-deadline-1304549?fbclid=IwAR1TL0HYKBbgZvdvW6xhsXHl-GZeoA0O7CN1uUu8ezUQnGFvJuHPqcIsybM
This post is back from 2013.  Readership has gone up to 65 countries now, and more than twice as many people read the glob than did six years ago. I saw someone read this post today, I re-read it and decided to re-post for fun…Plus, I still have these questions?!?!?
(Avatar Magic, by Gerald Franquemont, is out on Kindle and it can be downloaded onto most readers.) *Now, a completed trilogy.
Why do swim suits most often look like fishing lures?
Why are garden hoses so often made to look like snakes?
If men never hear what women are saying why do women keep talking?
If money is the root of all evil why does everyone work for it?
Cain Killed Abel, but most people fear snakes more than politicians.
Here's some food for thought–if you can afford it. $1 of 1960 dollars would be worth: $7.87 in 2013. $1 of 2013 dollars would be worth $0.13 in 1960.  Shouldn't the dollar shrink in size in accordance with its real buying power? Think of the money we'd save when buying wallets or printing money!
This well-known saying is part of a phrase often attributed to Benjamin Disraeli and popularized in the U.S. by Mark Twain: "There are three kinds of falsehoods: lies, damned lies, and statistics."  The odds are even that this is true.
Why are size ten shoes in Japan equal to size six shoes in America? Why can't one country or the other be happy to be either a ten or six and call it good.
In fact, the sound of one hand clapping can be heard. Try the Clam clap.
Recently, I thought I might have had a tick on my back but I'd fallen asleep and then gone to work the next day forgetting to check on it.  I worried all day about that tick! Turned out when I checked in the mirror that night that I had a nose strip suck to my back.  What a relief, sort of.
You can't go that extra mile. You either do it or you don't. Show me an extra mile and I'll show you an extra dollar.
NO one who was scheduled to retire at 65 for most of their life but then had their retirement age moved to sixty-six should think of retiring at age 65 as an "early" retirement. Dude! Do you want more S.S. money or what you thought you'd get most of your life at age 65?
Statistics boggle the mind while History teaches.
Gary Friend and Sue Patterson know lots of stuff.
Why does the same girl who looks good in a bikini on the beach cause car accidents by wearing shorts while walking on a sidewalk in town?
The following numbers seem right after looking over a number of recent polls: 1/3 of our population, 34%, believe in Ghosts and UFOS; 74% believe in the Devil and 92% believe in God. Have you ever wished upon a star?
Consider: for every shark-related human death, we kill 10 million of them.*
*http://www.discovery.ca/article.aspx?aid=18384
Cheers!
Franque23
I'd found this note in a most unusual place.
Dusty and draped by a cobweb or two, the note obviously hadn't been read in some time. How long would that be? We'd moved into our house over eighteen years ago and others had enjoyed the house before us-how could it have been in place for so long without being noticed? I think it all a miracle!
It wasn't even a full piece of paper but just a part of a larger whole. Folded, yellowed and without line, it seemed marked, creased on its outside, by someones' firm handwriting.
There was no reason to not unfold the paper and read the note; curiosity would clutter my head until I did-I knew. Scanning the words gave me pause.
I fell in love with you at first sight. I knew it then. Nothing was going to keep me from being at your door until you opened it so I might stand by your side. Our faces remained lip-locked for most of that first year, and when we laughed we could feel each others warm breath.
We had no guarantees but for us. Still, that was enough. 
We began our journey into space without boundaries and time no clock could keep. We held hands in super markets-remember? We both loved the beach, the waves, sky and wind in our hair. We ran for miles together almost daily without fail; so much young energy poured from our souls, tingled our fingers and itched our legs that we just had to move. And, all the while, a love for you grew inside me that could never be moved.
You became my home.
Nothing much mattered when it came to things, whether we rented or eventually bought a house remained trappings to the core of us that I held on to so tightly. That soft, core place of love within me burned a fire that warmed each day and night. I worked with you in mind and slept easy with you by my side. 
Years, so many, have passed, and though we'll eventually leave here and find a new place I wanted to take this moment to thank you for being you. I want to thank you for those smiles you flash, that small laugh you often sport, for that all-seeing way you guide us to better places, and for your touch that means so much. And, I should mention the chocolate-chip cookies. 
I'm so glad I wrote you this note; now, if I can just keep track of it until I give it to you!
There was no signature…
I marveled at the words in this note. Who knows how many years it took this person to finally write them down? Had the other person ever read them? It's amazing how something this large in meaning might rest for so long inside a person. So much can be buried beneath a life-time of obligation, jobs, bills, some call it progress, beneath all those words that must be said on a daily basis. It seemed I understood it all; life has a way of moving people around their true meaning, the things that really drive them on.
I turned to bring this found treasure to share with my wife but realized that, of course, she was in Japan-a zillion miles away helping and visiting family. I had just me, my dog, and this note.  I began to fold the note for safe keeping to share later but the note had vanished! I looked everywhere! It hadn't fallen to the floor, slid under the kitchen table or scooted under a nearby tattered chair. No, the note had disappeared.
That's when I found the note in a most unusual place: the one place I hadn't thought to look.
Of course, the note was back deep inside of me.
Dale, I've loved you for forty-five years.
Happy New Year to all of you. Maybe, write a note this New Year's Day, and never put it away.
Peace and Love
Franque23
If you still support Trump I ask you: can all the people listed below be wrong?!?!?
Trump's references read like a SNL skit:
McMaster: called him a dope.
Mattis: called him a 5th grader.
Mnuchin: called him an idiot.
Priebus: called him an idiot.
John Kelly: called him a fucking idiot.
Tillerson: called him a fucking moron.
Cohn: called him dumb as shit.
McGahn: called him a fucking idiot.
Mueller: called him individual 1.
McRaven: called him the biggest threat to our democracy.
Bannon: called him a fucking moron.
John Dowd: called him a fucking liar.
Rupert Murdoch: called him a fucking idiot.
William T. Kelley: (Professor at Penn) called him the dumbest goddamn student he ever had.
Tony Schwartz: (the ghostwriter of "The Art of the Deal,") called him a man with a stunning level of superficial knowledge and plain ignorance.
Me? I'd have to say this means Trump really is a, 'No brainer!'
So, I'm just asking, would you hire a man with these references? Of course not, and America can't afford to,'hire,' him again by-election in 2020.
Trump has so many shady spots during his current administration it's amazing he's still visible.
Trump just placed the man who ran a plea deal for Epstein ( Epstein  was running an underage sex ring) to be head of America's Women(girls) illegal trafficking bureau?
So far, there are three things that are constant with Trump: he lies; he blurs the line when it comes to the emoluments clause, also called the foreign emoluments clause. This clause is a provision of the U.S. Constitution (Article I, Section 9, Paragraph 8) that generally prohibits federal officeholders from receiving any gift, payment, or other thing of value from a foreign state or its rulers, officers, or representatives; and he has cheated on all three of his wives.
Model claims she saw Trump cheat on pregnant Marla Maples 
May 7, 2018 – 

A German model claims to have been in the same room with Donald Trump during an alleged romp he had with Playboy Playmate Barbara Moore. She spoke to the Daily Mail about the tryst, which supposedly went down while Trump's second wife and then-fiancee Marla Maples was pregnant 
2.
We all know trump cheated on Melania just after she gave birth to his child.
3.
​Don't feel sorry for Trump; he's a dog of a man.
I do feel a bit off for the Americans who voted for this man.  No one deserves a President like Trump—not even those who voted for him.
There are too many reasons to sort out why some people still support Trump. Why support a man who has not turned our economy around, who has not drained but polluted Washington and who has unleashed the banks so another crash like 2008 is possible? Clearly, Trump is raping America's National Parks in exchange for big Oil Payola. And about that wall of a wet-dream Trump had and claimed Mexico would pay for? It's a stupid, useless wall, and now Trump is wanting to spend 5 billion of our tax dollars to build it!
Listen up America: no one is invading our country but for Trump's current administration. It's becoming clearer everyday that the Russians helped elect Trump. Why would that be?
In the end, there's this: most certainly Mueller has a sealed indictment on Trump that will prohibit the statute of limitations to run out on those charges. These charges can be filed on Trump once he is removed from office no matter how loooong that takes. Nobody knows if those charges will stick but here's the beauty—we all will find out one day.
Franque23
(Click the pic to enlarge.)
A thread on Face book today got this going. The points went back and forth about whether or not American's should be off work on Election day. Would this help bring out voters? Is it necessary to close businesses when we have early voting or mail-in with even prepaid postage in some states?
You know what? Screw work on election day.
Either call-in on Election Day, take the day off or have it off as a National Holiday. It doesn't matter if being off on Election Day would increase voting tun-out.  We have to stop the madness in America; we have to throw off this, 'work until you drop,' yoke American Big business has used to harness American workers.
American companies and big business have come to value profit more than life, and it's wrong.
American's should be off on Election Day–it shows and teaches respect for the process; the same for President's Day. Businesses should close and Americans should use President's Day to remember the leaders that have helped shape our country and World. Someone once said that actions speak louder than words. It's true, our children watch what we do at least as much as they listen to what we say. Look both ways; it's bed time; eat your veggies: how's all that jabbering working for you as a parent? No, leaders, parents, teachers, workers and politicians should show the way, walk the walk as well as talk the talk. We all need to stop making work the point.
The work ethic in America is bonkers, and we should keep all our Holidays and add Election Day and President's day to them. We should also throw in four, ' the weather is too nice to work,' days to boot. Farmer's knew their horses needed to rest; American workers need a rest, too.
What's nuts about having election Day off? Here's what's nuts: we used to not have just President's Day off when I was young, but Jefferson's, Washington's and Lincoln's birthdays off! It's true! These three days used to be school holidays and many businesses closed as well. More, every business, but for a very few, closed EVERY Sunday! That's right—just about no one worked on any Sunday—not ever.
The sky will not fall if America stops the madness and gives workers more time off during each work year.
The workers will drop if we don't give them more rest, not the sky.
Think! Our American society used to give workers more days off than it does now and what happened? America boomed; that's what happened. American workers were happier, they were better educated and they enjoyed our society.
Sixty years of decreased earnings (when adjusted for inflation), multitasking nightmares, skinnier staffs with additional work to do, the loss of pensions and less time off has reduced American workers to what we are now: an over worked under paid discontented work force.
The rulers, owners and greedy big businesses have been flushing American workers down the toilet for over sixty years now and it needs to stop.
Let's turn things and us around.
Let's take Election Day off so we can elect the right people to office. It's often said that change comes slowly. You know what? Maybe not.  Maybe change is right around the corner; maybe the sun will come up on America. Maybe American voters can stop the madness.
I hope so.
Franque23
Pumpernickel was the most foreign thing around the neighborhood back in my childhood days. A salted Frito was the a vanguard chip and guacamole remained a word hard to pronounce or spell. Now? That long ago time resides on the far side of a poorly mark rut in the road of life.
Certainly, I grew up in a part of America awash in feel good innocence. Then, it was a time of hope for those who lived under the disappearing shadow of World War II. We were the champions of the free world; the winners.
Grandpa was proud of his four boys who all fought in WW II (Dad is second from left.)
Flash: think no computers, no cordless phones of any kind, no internet, no chat, no what's up, no what's anything but for phones in phone booths or in homes that featured a brand new item: a tube TV  with about 3 to 13 channels. Now, I wonder what we all did all day?
Morality was a given…
Every kid knew to cross their fingers if they were going to lie; every guy knew girls were not only softer than boys, but annoyingly smarter as well. Still, none of us perceived a battle of the sexes or a societal wrong that had to be righted. Heck no, elementary school years were filled with just people—guys I palled around with and girls I was thinking about getting to know.
Things started to change in Junior High. (1960ish). The fall out of line and get hung out to dry clicks appeared. Guys and gals mostly formed into three groups: the hoods, the sport rats and the way smart what's up with that group.
Now, the hoods were bad people because some of them smoked cigarettes and they often wore black shirts. (Really not kidding, and I could almost add, they chewed gum in school) The sport rats, the group I belonged to, never smoked cigarettes and we wore saddle shoes.
Clearly, these huge differences were cause for great concern and animosity. Oddly this huge division between the Hoods and Sport Rats meant the gals had to decide which group to belong to and those lines once drawn rarely, if ever, changed through High School. I once ,'hit it off,' with a gal from the hoods in history class and we became fast buddies. But, when I suggested a soda, she told me, terrified, "Oh no, I could never do that. My group would go nuts. Plus, you don't know what I do." So, I realized she smoked cigarettes….sad.
It was an innocent time compared to the likes of today.
Of course, I was young, free to smell the dandelions as I ran across our neighbors' yard. I was free to imagine that near about everything America stood for and did was good and right. I was free of a bombardment of contraptions that now give us real-time access to things that are happening beyond our sight!
Please, if you are semi-young, like under 40, Imagine this: there was no news until the six o'clock T.V. broadcast; there was no minute-by-minute news of your friends, no daily breaking political sirens. Even the stock market could rally or crash without a peep until evening. Every thing, every day, was on hold until evening. People went to work without worry or care about daily events until nighttime, until they'd gone home and had a cocktail, a smoke or rest.
In many ways, the multitasking, tied to your smart phone generation is cursed with too much information.
Call me old fashion? Maybe try hiking or camping and leaving, God forbid, your smart phone at home. There's a world waiting for you to discover, one I grew up in, a world of be here now without interruption from things you can't change anyway.  There's a world of freedom waiting for you but for one thing: you can't put that smart phone down.
If the world today were to sculpt a representative statue of Mankind it wouldn't be, The Thinker.
No, it would be a person looking down at their smart phone or taking a, 'Selfie.'
The interactions that sooo many studies show are healthy for us—the eye contact, the smiles, the greetings—are now lost to bent heads looking at smart phones…
No, I'm not old fashion: I'm right. Put your phone down for at least one day per week and see how many eyes look your way. The worlds' presence will once again be yours to see, and it is amazing.
Franque23 dares you to do it…
Simply amazing.
My wife recently told  a news story on T.V. to "Go Fund Yourself." It broke me out in fits of laughter….as my wife often does. She's smart, a wit-full companion that keeps me thinkin'. Thing is, my first editor of everything you've ever read from me is also sharp, and more helpful than you know…. Barbara sent me this tonight,, and I thought in our time of strife it might do us all good to take a look at the,'Will  to Survive'. It's in all of us, to fight for existence, and that we shall prevail…just look at the trees: they lead the way.
Enjoy, and thanks again to Barbara for the link.
Peace, Franque23
Trees have been around for about 370 million years, and as you can see from these incredible pictures, there's a good reason why they've survived for so long.  Whether they're growing in the middle of gale-force winds, on the tops of rocky platforms, inside concrete tunnels, or even growing out of each other, trees know how to survive in places that few living organisms can, which explains why the planet is host to around 3 trillion adult trees that cover an estimated 30% of the earth's land.  Considering that plants produce the vast majority of the oxygen that we breathe, we should all think ourselves very fortunate that trees are as resilient as they are.  We wouldn't even be here if they weren't.
#1  A Place Of Enchantment

#2  This Palm Tree Fell Over And Curved Right Back Up

#3  This Tree Fell Over And Grew 4 More Trees Out Of Itself

#4  The Only Tree That Survived The Tsunami In Japan Between 70,000 Trees. Now Protected And Restored.

#5  Tree Of Life – Olympic National Park, Washington

#6   A Tree's Root Spill Over The Sidewalk

#7   Nature FTW

#8   A Tree Growing Through Speed Limit Sign

#9  This Tree That Refuses To Die

#10  This Tree Still Has Its Leaves Because Of The Light Shining On It

#11  Life Finds A Way

#12  Tree Roots Extend Across A Gap To The Mainland For Nutrients

#13  Life Finds A Way

#14  Ta Promh Temple In Cambodia

#15  Striving

#16  Someone Hung His Skates On A Small Tree When He Was Younger. He Forgot He Had Left Them There And Found Them Years Later
#17  A Tree Growing On Another Tree

#18 This Tree Is Growing Out Of Another Tree

#19 This Tree Grew Out Of The Stump Of A Dead Tree And Then The Stump Rotted Away

#20 A Tree Grows From Third Floor Window

#21 Life Finds A Way

#22 I Spent Ages Staring At This Tree Before Taking This Pic. I Hope You Find It As Fascinating As I Did

#23 This Floating Island That Grew At The End Of A Partially Sunken Tree

#24 This Wooden Chair My Parents Bought Started Sprouting Leaves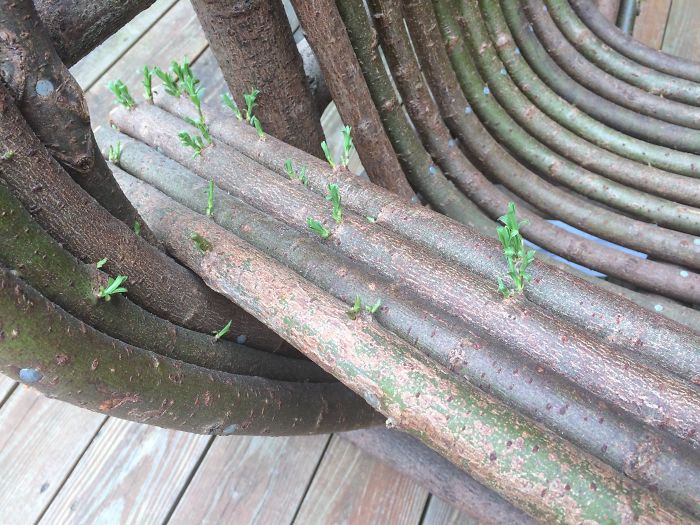 #25 The Old Piano Tree

#27 One Tree On My Street Refused To Accept Winter

#28 My Sister's Tree Is Eating Her Fence

#29 This Tree Growing Through A Fence

#30 Life,Uh… Finds A Way