You are currently browsing the category archive for the 'grandchildren' category.
Well, my dad would be 109 today so it's not a great surprise he isn't here to celebrate the day. Thing is, he taught me how to start a garden from a raw hard ground on Long Island, how to spread anything with just a shovel, how to grow food and when to pick and what to do when the crop comes in. He taught me to grow fruit trees though on Long Island he grew apples, several kinds, while in Florida we grow a varity of oranges and figs, papayas, pineapples and lemons….
Later on in life, I used to fly up in May to Lake Bonaparte, New York, to plant dad a garden. The soil there is much like Long Island's, hard packed and rock filled. but, amazingly, that garden up at the lake grew like crazy and by mid July it was a huge force of fresh food.
Anyway….
I mulched the garden here in Floirda today with intentions to wait until mid to late August to plant once again. We're still picking some green peppers, collard greens and several kinds of herbs but this is the fallow time of year for my garden here in Florida. Mind you, some here plant a varity of beans, okra and other stuff that does well during the summer in Florida, but I take this six weeks off  to rest myself and the soil.  I mulch now to keep the weeds from growing from now til then.  Today I spread 30 wheel barrels full of leaves over the garden as dad's voice rattled my head.
"Ye God's and little dill pickles." Dad would call this out often enough as I grew up and most likely for good reason. Today, now, the saying fits perfectly….
I can't imagine what my dad would think about people claiming Russia is in bed with our President, or, is it the other way around or does it matter? "Honey, I swear I wasn't in bed with her; she was in bed with me!" Me? I'll let that all shake out in time—truth has a way of winning out.
Dad might just forget the mess we're in and garden that super asparagus patch he had…and he might have been better off for it. Dad was a silent worker who never complained that I remember but for President Nixon's removal—He hated that.
Dad was there for my very first day home—I'm all spanking new from the hospital.
Bonus picture: Bonaparte Lodge way before( I think) my dad was born on July 18th, 1911.
I love old pictures of our past.
(Back to story)
Dad fought in WW II along with his brothers way before my time,.
I don't believe the war was upon my dad, his father or his three brothers at the time of this picture…(Dad is second from the left.)
But, by the time this picture below was taken the men had seen war first hand and women had done their part at home. Dad isn't in this picture but his sister my, Aunt Virginia,( now a Morgan), and Uncle MO Morgan of Natural Bridge, NY are here…
My dad's sister, Virginia Morgan, is top left row, then his parents, his brother, Rolan, and Aunt Donna; bottom row is Uncle Mo Morgan who owned the Morgan Store and the Natural Bridge Caverns in Natural bridge, next to him is a cousin, maybe Ginny Mae Morgan,, Aunt Lola, more cousins, Jim?, and Uncle John is bottom right. We were so lucky that all four brothers survived fighting in the war.
My Full Colonel, Max R Franquemont, dad…..
It's thrilling to note that upon my Dad's passing just after 9/11 that the army flew a Missing Man formation for him over Lake Bonarpate where he first had trained as a soldier. There was also a full taps and flag presentation to my mom. The flag is still in the camp at Bonaparte. My dad was a big deal in the war—yes, I am proud of dad.
I love to know dad had many great memories up at the lake in his elder years….
Dad and mom with the Shermans up at, Lake Bonaparte. Joey and Mary are still our best friends at the Lake. What a time it has been!
But to me, dad was never an officer, a man who'd been over seas and risked his life for America. No, Dad was a gentle father who never once raised his voice to me—not ever, though I gave him good reason to, he just didn't. He taught me how to fish during years of my life when I was the "Go fishing with you dad," kid who couldn't stop asking. Think while traveling with children: are we there yet?
By the Morgan Boat House on Lake Bonaparte about  1978…
Dad was an opera star with no voice.  I'm sure birds died just from hearing him sing; cetainly dogs went suicidal. But, Dad was famous, never-the-less, for his special rendition of, Sweet Ivory Soap…a tune he only sang well blasted while wearing a towel he branished as a Matrodor's cape as he walk to and fro through the room. The bar of soap in hand, dad would rouse the room filled of family to tears of laughter and some peed on pants—this, I think, is why he actually brought a bar of soap whenever he sang this tune.
Dad a few years before he died singing, Sweet Ivory Soap. By then we'd all learned the words.
I do wish the generations might span a few more than we do now. Dad never got to see my first daughter's three and my second daughter's five boys and one girl…I can only tell them about dad as they grow.
Isaiah with his brand new sister, Annalise—does dad know?
It seems every generation will have it's share of wars to fight; I just want dad to know I stepped up to mine as I could. There haven't been bombs dropping or too many bullets I've had to dodge or clubbing of heads, but I do feel as though my life has a been a war, a constant battle where life and death, if not instantly, is on the line for so many.
Gainesville, Florida…
So I plant; I remember dad. I remember a dad who was so easy to touch and listen to as he spoke. I remember him so long gone as one who still lives inside of me.
"Ye God's and little dills pickles!" My memory of dad is a soft pillows for my days. The memory of a good dad is a bridge you can always count on as you go your way through life. There's so much to say to those good people who have gone before us.
Me? I just keep planting hoping the seeds will grow.
Franque23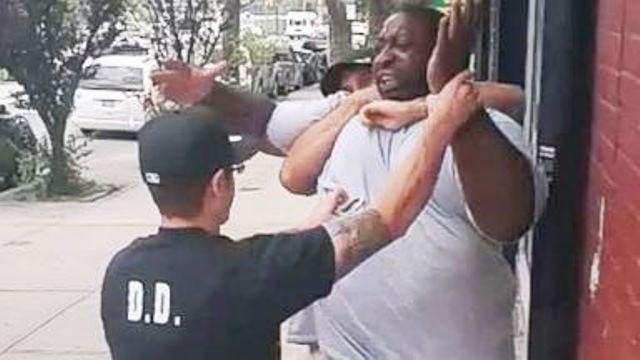 Eric Garner about seven minutes before he is strangled by a choke hold…
Certainly, the Congress is giving the Covid-19 news coverage a run for it's money and it should. Our two political parties are now jabbing back and forth over choke holds and police violence. I have friends and family who are police and they are good, honest, hard working people who make America better for doing the job they do.  Thing is, digging around about crime, social justice and police brutality in America doesn't leave a heap of papers that should be burned but rather, read.
The news on police brutality in America isn't good. Worse, a quick review of just a FEW of the facts related to this issue is mind-boggling; a head shaking awakening that should bring one to their knees in wonderment. How can any of this be true?
Apparently, white men formed working patrols back in the days of slavery to ensure slaves remained on the plantations they were bought to work.  Stepping out of line was not tolerated by these gangs and slaves were often hung if they did.  Going forward in time brings us to the Jim Crow Laws that furthered these gang's involvement in policing black men and their families—none of that was good. By this time, these gang members were part of America's police forces.
It's easy to believe that the advent of Martin Luther King, his marches and speeches, brought a fair amount of civility to race relations in America but they didn't. No, they didn't. In fact, today, right here in America, one in a thousand children born as black men can expect to be shot by police!  So the first thing a black baby boy gets when he's born in America is a sorta lotto type of a ticket—will they be the one shot by police.
Listen, I'm white and I get the shading white people use over their eyes and ears when it comes to minority issues in America.  It's time now to lift those shades and become human once again. As Nancy Pelosi said today in a talk on Capital Hill, George Floyd's 8 minute and 46 second long murder is not a tipping point, but a precipice before America. There have been so many other murders committed by police like Eric Garner's death* that we all saw made no sense. Really. Little, if anything, has been done to right these wrongs.
Even with all the history of how the police formed and performed over the history of America, it's time to not look back but forward to change when it comes to our American Police.
Police have to change.
This is a link to a most informative study on the history of police violence in America and much of it is shocking. Thing is, like any informative writing, it's so much more than one sentence long. So here is the link to the entire piece** but also some very pertinent quotes from the article, a few brief highlights…
**https://www.thepublicdiscourse.com/2020/06/65309/?fbclid=IwAR3EIinsob8i0Y7LIl8nPc4hrm0BmugpxnDC7GS25kNENw_ITTo8k9P6OQ
Just wow on theses three points alone:
"Police violence in America is extraordinary in its intensity. It is disproportionate to the actual threats facing police officers, and it has risen significantly in recent years without apparent justification. Its effects are felt across all racial groups, with non-Hispanic whites making up half of all people killed by police officers, even as African Americans are killed at disproportionately high rates compared to any reasonable baseline…."
"The people police kill are mostly not actual or likely murderers. They are more likely to be people whose police interaction began as a DUI, speeding ticket, public intoxication citation, or domestic disturbance call…"
"Police officers kill about 1,700 Americans every year. In other words, police killings have made up about one out of every twelve violent deaths of Americans between 2010 and 2018. That's including American military deaths in Afghanistan, Iraq, and elsewhere during that window. Indeed, more Americans died at the hands of police officers during that period (about 14,400) than died while on active military duty (about 9,400)."
I grew up respecting the police and still do. But, now, we need to overhaul who is actually on the force, how they got there, what they believe and what have they done in the past. Police have to change.
America has to jump, and in the right direction. Ending choke holds by police on civilians once and for all is that first leap.
Franque23
*
*https://www.youtube.com/watch?v=U0Y3FH9Nb3I
(some picture enlarge when clicked , others don't) ..working on this.
Hippies, who needs them? Imagine, all stoned and thinking we shouldn't hate anyone for their color of skin, that pot should be legal and that war should end—a bunch of crazy losers, right?
And Hippies believed women were equal to men, and if they didn't want to wear a bra, okay…. just crazy stuff…right?
I was home on Christmas break about 1970 watching the Nixon/Nam reports with long hair that reached my shoulders or more. I was a musician at heart and singing the protest songs when I could, but my dad was a staunch Nixon supporter…basically, I was an alien in my own home ideologically, but Dad never leaned on me; Dad gave me space.
As lost I was in those struggles to right the wrongs of humanity I felt sure were the savior of mankind, I never once noticed how much my dad had given me without the back of his hand. No, Dad, to my unsuspecting delight had given the love of flowers, the birds, the trees and love of life to me.  I never knew…
I'd hauled in a gardenia bush for Dad from outside and in upon the season while we lived on Long Island because Dad was crazy. Oh my gosh…that planter got to be a hundred pounds and the plant filled a ten by 8 high room on the window side….What on earth…?
Likewise, Dad had those mysterious asparagus patches…those were poison if eaten—I knew.
His basic replica of mid west apple orchards stood in our 1/4 acre back yard to torture me with the picking… but, I admit, I ate about 4 apples per day at least.
Now, of course, Dad is long gone. The last time I held his hand was in 2001…He passed as I sat near by laughing about old times with my sister and mom. In a second, he died.
Now, I grow a gardenia we inherited when we bought our home in 2000. The bush is a monster… about ten feet long and 6 feet high, at least… this year we have had over 300 blooms on it…
I've no secret about this bush…it just grows,,, but maybe our neighbor's friendly chicken, Lucy , who loves to live underneath it can't hurt?
It makes a great way to reach our front door…I always say "hello" to this bush because, yeah, I love the plant.
In fact, Dad taught me to not only notice flowers, the roses and planting he had around our yard on Long Island, he taught me to love them as he loved me. There was something huge about my Dad I never really understood but somehow took inside.
I'd like to think that all the prejudices that passed so easily among white Americans born in 1911 as he was have not stuck to me. Times have to change. I think I've shed those bad marks and raced ahead with the good points. Certainly, the love of flowers has bloomed within me…Go ahead, ask the flowers in our yard who I say hello to as they bloom…they will tell you.
The shrimp plant will spread and fall to the ground unless you stake it—butterflies of all kinds and hummingbirds love it.
There's nothing like taking a early spring drive out to Alachua north of Gainesville to see the roadside flowers the county hasn't insanely mowed down:-0
This year, Alachua didn't mow roadside flowers and as a result there was about 5 miles of beautiful flowers along 331 north see as we drove by…
Here, at home, I plant marigolds along our garden fence line and in the garden to help with aphids…but dang, if the birds didn't help me plant this beautiful Sunflower!
We just love flowers here.  And the red, single hibiscus, though not as flashy as other hibiscus, is a strong, reliable and hearty bloomer.
There's nothing like having a papaya volunteer out of the compost we spread in our garden launch twenty five feet high…
yummmm papaya…
I really don't know if Dad liked papaya… but he would have loved all of this…
Thanks to Dad, I do know how to garden. It was a torturous lesson back then while 14 years of age,,,, but how could I know it would lead me all my life? Dad's can give us so much when they just do take the time.
It's been a great year here in North Florida for growing a garden. I think we have seen normal weather patterns for our area for the first time in ten years! Odd.
I have to go; Shadow wants to run after the ball.
And then swim in the pool
You know, energies, knowledge and love, all of it transfers many times in ways we don't know. Dad, thanks for everything…and for those living in Alachua county who want to grow food, I will come help you do it…
It's about loving life. So thanks Dad, for all that you hated, you taught me how to love so much more. Born in my time, you would've been a hippie. I feel certian.
Franque23
(Click the pic for a larger view.)
Anyone who knew me as a kid knows it's an astoundingly, flabbergasting, jaw-dropping, stupefying surprise that I'm a father. Sure, I had a future even a wrong turn could help back then, but it also was clear from the get-go that another planet was, in fact, my home. I lived spaced out most of the time.
Still, there has always been a Father in me.
A fishing Grandpa….who knew?
Basically, my kid-self was a walking brain dent.
School was torture, a work around looking to happen, though girls were annoyingly interesting. Sports became my ticket to skate by on in high school. Next came a spin as class VP.  I spent a zillion hello's on friends passing in school halls like a pseudo-millionaire with no money.
The politician in me continued to thrive through my non-formative years of college.
As a sophomore, the college paper deemed me, Apple Gerry, with a front page picture that showed me ranting about student dorm rights. Soon, I was appointed by the graduating head of , Group X, to be this organization's next President. Now, Group X had two major agendas. First, our group wanted , 'open,' dorms with visiting rights for both men and women 24/7. (Seems my younger interests stuck with me). Secondly, we wanted visiting rights for women in the men's dorms.  I know, these two agendas seem the same, but agenda two left men out of female dorms. Underlying our two hot pulsing agenda's were rumors I made sure spread that Group X would host off campus beer parties. It all worked great until those beer parties took effect which is why I don't remember how long Group X survived and when or why it ended…
Not to be detoured, my free-fallin', dancing, singing self landed me a membership pre-facto of Phi-Kappa-Phi since I refused to go thru hazing but was made an off-the-record member of the fraternity house anyway. It was a great, wild , short year of being reprimanded by the College Administration. Before our house knew it, women weren't allowed in our second story where the beds were, so, yeah, we moved all the beds down to the basement and slept there and stuff. This pissed Admin off but it wasn't until we held a beer-bed floating party in the basement with strippers from Baltimore as hosts that our house got shut down! I mean, completely closed for a year!!! Can you imagine?!?! Of course, I had very little to do with any of this that I remember.
My successful political days weren't over, but it was time for those college days to fog into post college days of running naked in the Ocala National Forest, jumping naked off lime pits east of Gainesville with 300 hundred others on any given Saturday afternoon and strolling by police cars while at a nude block party on NE 1st street here in Gainesville.  I know, I know, you're thinking I was a nudist but, no, I wore clothes to job interviews and stuff all the time.
(Clothes on! This is the site of many Bonaparte late night ,'Chunky-dunks,' but we can't beat Ireland's recent Guinness book world record-breaking 2500 nude swimmers at once!)*
All that college,'Fog,' cleared into pot smoke that guided my way for a few more zillion years as I grew older without growing up. There's a pill to take for that, but I forget the color!
Next thing I knew, my ears pretty much got too long for my face and my children stole my hair.
I remember waking up one day and staring into the mirror realizing very little.
I'd set down my principles and forgotten where they were unless I tripped over them while changing diapers. It was nifty earning money that was really other people's money if I made it to the power company on time to keep the lights on. I was consumed with successful failure without notice or care but for my family. I have to say, that bunch got my attention.
I suppose it's true to say one baby led to another and then another which led to seven others—so far.
(Here's five of them being still all at once!?!?!)
But through it all I maintained my hat wearing image with uniquely obtuse discernment, a finesse of in-depth leadership and control.
Clearly, this is not me , but a look-a-like! Aaron is, however, wearing my glasses!!! Have you ever noticed children love to wear glasses, but that's never good for the glasses?
As it turns out, I like to grow things, whether it be debates on issues (have you noticed), babies, grand children, properties, gardens and wrinkles….
Click the pic to see the start of hat construction and the  wrinkle lines I spent hours, days, weeks, heck, years putting on my face!!
I'm not sure what ticket I would have been on if you told me back in high school that I'd end up a  paper bag hat wearing, wrinkled eared, laughing Grandpa. Maybe, the one to the fast train to Berkeley or the over-life sleeper to the deep woods of Canada.
Yep. Throughout the laughs there was a Father in me after all. Man, this is great; a nice surprise, indeed. Who knew I had a plan all along? Me!
(This is my brother-in-law and his wife and me with my wife standing in front of what we believe was the location of my wife's ancestor's home. They were hat makers in Denton, England. I was making leather hats in a barn in Gainesville in the 1970's when my wife first moved in with me! See? That's called a plan:-)
Franque23
*https://www.cnn.com/2018/06/11/europe/irish-women-record-breaking-skinny-dip-intl/
When you can eat it all now? But wait! The Weight! The weight gain, that is. Yes, the holidays are a smorgasbord of food for pounds.
It is Thanksgiving, a time to give thanks to all the hard work that went into bringing the birds to so many tables in America.
(this is Norma Jeane Mortenson doing the hard work–later known as Marillyn Monroe.)
Thanks to all you hunters and farmers.
I'd hardly put down the last remaining Thanksgiving Turkey drum stick when the Christmas' lamb (who may eat ivy-not sure) mairzy doats into my mouth.*  A person's body can only take so much stuffing, and I was about to find out exactly how much. About that stuffing-orange wedges, cinnamon apple slices and almond slivers helped.
A mosh of smashed candied yams smothered in marshmallow, steamed, salted asparagus, ripe olives, cranberry sauce, too many Hawaiian rolls way over come by how many pies(I forget- burp) -all the remains from Bird Day- had cleared out of my pie hole just enough to make room for the next feast. I think three types of ice cream, homemade orange jam and lemonade helped wash it all down.
This is when my scale started going screwy. "Nah, it can't be!" To be fair, the cold does affect those floor step on scales, and our floor doesn't appear to be exactly flat, as it was last week. "Do these things run on batteries?"
So the lamb dinner did a do-si-do  into my life. The gravy thick, chunked chock full of garlic, peppers, onion-eastern Mediterranean sea salt, parsley, rosemary, thyme, pepper, orange peel, paprika-more-clung to the herb crusted  meat. Mashers, creamy, so good ask my daughter how, a salad made of everything, fresh frozen garden green beans from last fall, the loaves of garlic bread and don't forget the olives, applesauce and the green mint jelly or the carrots and sweet potatoes cooked alongside the lamb basted in the hot juice-it all decorated my plate. Two for one Edward's pies was a no brainer-an all appetite type of thing-covered in mounds of ice cream seemed so logical.
Have you ever noticed there are more types of chocolates on your table than grains of sand on a beach during the Holiday of Light?
people do stuff with chocolate
Light, Dark, 30% to 90% cocoa, round, square, kisses, triangular shapes next to chocolate Santa's, reindeer, orange chocolate balls, I love the coconut filled mounds, and the foreign jobs-those real creamy chocolates, Ferrero's, more. Not that I ate any of these, but all of them.
You'd think my scale would self correct like computers reset if you unplug them,,,,but not mine. "Stupid thing has me five pounds too heavy!"
Because I could still roll over and get out of bed, still stand and open my mouth, the New Year's Eve dinner celebration jollied its way  through my palate next.
New Year's dinners only come once per year, and why-oh-why so soon after Thanksgiving and Christmas meals?!?!?!See? Someone got this all wrong-we need to spread these meals out a bit more throughout the year.
A rare Roast Beef is a pure joy-and Vegan's hell, I know, but this is all part of the Yin-Yang of life. A thinner gravy is called for, and this time the sweet potatoes needed chopped up Nestle crunch bars mixed into the marshmallow topping…Vegetables? I'm sure there were some, but those, the cakes, pies, breads and drinks all mix together in my jumbled head.
The Holiday so long to come and too soon over; the loved ones gone and some so far away.
The laughter, cheers, smiles, hugs and hopes we shared rattle my skull. My brain chases the images as if they were shadows in the night in hopes of experiencing them once more. But the shorter days are growing longer. Time has a way of saying goodbye and hello all at once.
Funny thing-even with the new coming light of day, my scale is still completely out to lunch.?!?! "This scale is 7 pounds off if not a slim ounce more!"
I weigh my alternatives and realize some things need replacing this New Year. Thank goodness I'd lost 14 pounds over the course of last year!  Thing is, I found a few of them back, and I know just how and where.
More is less-my new year resolution.
Cheers and Beers
Franque23
I always enjoyed that Mares eat oats… thingy song.
** other ideas for chocolate.
or…keep clean with chocolate
It's fitting this first post of 2017 should be about the enriching world of children's books. But first, here's a picture of one of my grandson's showing us all how to greet the New Year!
Oh yeah and Yay!
Moving on-
Written by  Scotswoman,  Helen Bannerman, and first published by Grant Richards in October 1899, Little Black Sambo is not only one of the very first books I remember being fascinated by as a kid, it did the same for children all over the world for nearly 50 years. Then, the  book attracted uproars from those who had issues with the text and pictures.
Things is, was Helen Bannerman a lifetime ahead of herself? Why do I ask? That's simple.
It's a simple story: a boy with fancy clothes is caught by tigers who accept his clothes in lieu of eating the boy. The lions argue over who looks better in the new clothes, chase one another around a pole to get a different piece of clothing from the other and turn into a goo during the process. The tigers run so fast they heat up and melt.**
What Bannerman is describing is energy heat transfer-a solid becoming a liquid as a result. It's a simple but remarkable thought. Of course, the boy  bringing the goo home so his mom can make pancakes out of it rockets the book up to yummy.
Today, this story just isn't the warm and fuzzy book it was once thought to be. Time's change and what we need to be thinking and reading about as people changes along with it.
Moving on—
Bonus picture:
Books will never cease to surprise us if we can only find the time to read. Here's one I've recommended before that will be well worth your effort: Collector of Moments. In my head it's the Kafkaesque of easy on up to adult books. That's right, you'll find this book most often shelved in the children's Easy section-a picture book- but it reads right on up to adult.
An illustration from the book-did this picture help inspire the Life of Pi story?
"The unexpected details in the pictures demand equally imaginative acts of explanation. In addition, Buchholz often shows people looking at objects behind walls or through doors or even beyond the frame of the paintings — objects that viewers can't literally see and must therefore envisage for themselves.
As the creator of images most interesting for what they don't in fact show, Buchholz is himself an accomplished collector of moments. Not only does his book tell young readers things worth knowing about how to look at pictures, but the pictures themselves delightfully repay the kind of attention they invite viewers to give them."
Enjoy.
Cheers–Moving on to 2017-it's all ahead of us now.
Franque 23*
*I've been a Library Specialist in the Alachua County Library District for the past 21 years.
Oh my!
** The version I was read had the boy and the tigers running around the tree….different takes.
It wasn't that long ago…
Okay, maybe it was a long time ago.  For me, it's a blink of a memory comprised of forever.
Change started massing energy when the Beatle's sang on Ed Sullivan-those tunes soon morphed into a mud bath called, Woodstock. There were the teachings of tolerance,,, justice, right and wrong, but I think most of all we were taught to hold within each of us a dignity of spirit. Once these ideas were in place, the new world could arrive.
Looking back, the festival announcement that the brown acid was bad made the assumption some listeners were still able to discern brown from white, black, green. purple, polka-dotted or blue. We'd stripped  bare to prove the old ways were gone, basic change was here, as fundamental ways of behaving and thinking were dead and gone. The lines between us all had vanished for good.
It's easy to wonder why any of us thought smoking pot might help the situation we enthusiastically fought to change. You'd think we might have been savvy enough to vote for change, but we'd given up on that. Millions in my generation decided taking it to the streets was the best if not the only way to make change happen. Were we right?
I sang on stage back in the day all about the message-peace, love, freedom and equality.
So, my wheel turns way back, runs through the middle of so much history and arrives here in the closing days of 2016. To be clear-I remember dad getting our first TV, a thing still new to everyone on our block. I went to college when there were no computers, no cells phones but, yes, short dresses and pot but no Aids that we knew. I began to work as a Library Specialist 21 years ago when the Alachua County Library District had acquired only a few computers. My reference work for patrons was done entirely out of books or through phone calls in those earlier years. All the while, I prayed for peace along with so many other Americans.
Today, many feel political drifts forecast a turning away from the sun shining in as we all hoped it might in the 70's, from the environmental concerns many of us have held for so many years, and from our hope for peace.
It was once easy for hundreds of Gainesville's people to strip naked at lime pits and swim with others.
We shared the understanding that to find the truth of our existence it was necessary to shed the barriers between us and the earth. Open, accepting, and always understanding-Peace was the message. We wanted the naked truth.
Now? We need to revisit the messages of my generation, to create a solidarity of purpose that keeps America on the right path.  My generation didn't want the Nam war to go on and we stopped it. Today, we can stop anything as well. The key is to really try, never give up and work harder.
If not 'Bare Ass' time, its bare knuckle time. Environmentalists,  humanitarians and lovers of life, it's time to dress down our opponents. We have to tune up and sing our song louder than false claims, disingenuous motives and misguided hearts can yell. It's time to dive in and win again.
Franque23
When I was young, I dreamt I was an Indian. Not once or twice, but often. No one used the term, Native American, not back then, not that I knew. Us white folks simply called the red skinned tent dwelling people, Indians. I held these people in admiration, so swift, one with nature, self sufficient and efficient, they were a people worthy of my fondest thoughts.
I was always a scout. Sleek, sure footed but with the lightest step, I'd climb into a sweet smelling pine to perch high above. There I'd feel the wind with my heart. I'd hear the hawks, the hoot of an owl and squawks of crow.  The blue sky seemed a blanket; the sun laughed.  Leaves rustled while distant hills resembled multi-colored twisted taffy.  The green grasses bent and showed trails of white tailed deer, buffaloes and rabbit runs. The land was clear of danger, resiliently, so peaceful. Scouting was my duty; there were many loved ones back home. Odd, but I never, not ever, saw the end of this dream-I never even climbed down.
This November bulletin board is to reach out to my dreams..
It was only fitting, a magical loop, that brought a pure-blood Cherokee to my side during my college years.  Jana's father had been a scout in World War II; scrap-metal scars remained on his face. They had horses. At a nearby horse show I stood in a circle that included Jackie Kennedy, all by chance, and that seems a dream now. What doesn't seem a dream are words Jana spoke one day as we drove back to college after a spring vacation.
"When I was young, " Jana confided, " I used to wish I was black, not Indian."
"Black?" I had to have sounded dumbfounded.
"Yes. Blacks were much better liked in grade school." I glanced at Jana- her head was bent down.
Years later, it strikes me that Jana couldn't even dream of being white as a child-she dare not; that would be too much to even wish.
How different our childhood dreams had been.
 another view…
That she became second in charge of Washington's Native America bureau under  President Reagan is a credit to her keen efforts, endurance and focus to help her native people. Maybe, this is America at it's best: if you really try, and never give up, good things can happen.
Thing is, as I heard slanderous words spit this election cycle at people because of their ethnicity it gave me pause, a pain. We were all children once. Children with dreams and hopes-most adults never truly forget those wondrous moments. To have those aspirations sliced apart by loose-lipped fools is more than problematic, it's wrong on so many levels and in so many ways.
America, we can do so much better. Yes, we can. One day children will not dream of being another color. One day, children's hearts will soar above the tree tops because of who they are and for what they may become- leaders, inventors, mangers, representative and yes, even President.  People my age, older and younger, we must all remember that dream.
In a way, I'm still a scout in my heart.
I'm looking for that dream to come back. Maybe, Trump is right? We do need to make America great again, but not with arrows of division, looks that could kill or with minds full of hate. Not by tearing apart our environment.
It's time for America to dream and to make those dreams come true. Time will tell.
Now? It's Native American Month, and Native Americans from many tribes are being pepper sprayed-so much worse- at Standing Rock. Sometimes, the truth seems too much to bear. That's the bare facts. If only it could stop.
Franque23
In many ways- Native Americans are still showing us the way.
We have such a long way to go.
Keep the faith –
Franque23
ya know…..The Standing Rock protest is super important…
At Woodstock, my friends and I were young, not yet strapped by so much obligation–we could go there at the drop of a hat to speak our minds, to express ourselves.
Thing is, people who are about my age today are most likely wrapped in bills and a job they can't afford to skip out on for a few days-a week-and lose.  Or, we're just too dang old. Plus, we've already been cracked over the head, jailed, spit on and frowned upon during the ever-changing 1960's. Yes, I'd guess my generation's spirits haven't changed but it does seem it's the younger generation's turn to make a difference, to take one for the team, to band together to right this wrong that is taking place at Standing Rock.
Maybe, the younger generations don't really know how much effort it took for my generation to turn Nam around and to end that bloody mess. It took plenty.
One day while attending Gettysburg college I joined about eight of my classmates and gathered in two cars to drive to Washington D. C. for what we'd heard was to be a massive protest against the Vietnam war. It was-maybe one hundred thousand gathered to march in D.C. that day. If tear gas, clubs and charging horses is peaceful, then this was a Peaceful demonstration.
Here's my point: if two sides meet with opposing views and one side is peaceful while the other isn't, is that a peaceful demonstration? Ask the supporters of Standing rock who are being dragged down, beaten, gassed, arrested and striped searched if this is a 'peaceful ' demonstration.
It takes two to tango; two to talk.
No, the Nam years were battle years both abroad and here at home. Three of the group I went to Washington with didn't make it back to campus until they'd been released from jail (I think we went to D.C.  on a Saturday and we didn't see these three again until the following Wednesday-one had been clubbed on the head.)  One college friend had flunked out by Christmas our Freshman year and gone to Vietnam. Three months later, by late Spring, he returned to visit missing a leg. It was horrifying; I spent at least a week smoking my brains out trying to forget John's fate.
My whole generation fought the Nam war one way or another. We didn't send Memes. We got in the streets and marched as an unarmed army of what was right and good.
All across the nation members of my generation fought and were bloodied , even killed, for what we thought was right.
My generation served our time. And we learned, Love has a down side.
So, I'm wondering…why aren't the 18 to 21 year old's going to Standing Rock to stop this pipeline? You have the ability-some of you-like maybe 500 thousand, right? And yet, you aren't joining our Native American people to fight for your right to live in a clean, healthy environment. Somewhere, somehow, between the protests of the Nam Era and the rattle, smoke, shake, rock-in-roll days of Woodstock my generation's spirit to join in mass to fight what's wrong for what is right has gotten lost; the ball got dropped.
Maybe the environmental movement just isn't fun enough? I don't know…
In the rub lies the ointment, and in there are the flies. Sometime, somewhere, I feel certain the next generation will have had enough, and chose to fight  in the streets rather than type on a computer as I am. Both are good; both actions can bear results-but getting out in the streets in mass has worked before. It can work again.
It's still not too late to join the protester's at Standing Rock. In the end, Life becomes a memory. You'll want to know you did what's right. Good luck.
Here's a Drone video and update on Standing rock https://vimeo.com/189876726
Franque23
Here's the dirt on the proposed pipeline and how and why it was redirected….
It got me thinking…
Of course, the grass always looks greener-back then there was no internet and maybe three stations on TV. Calls were made through operators; there were no fancy coffees but for Maxwell house which  even Millionaires couldn't buy …
But some things don't change…like having babies and keeping that eternal on going string of humanity going, or not… Lots of great people, some we base our thinking upon, chose for whatever reason not to have children—* Way too numerous to list,,we can just remember Newton, Mother Teresa, both Wright Brothers, Beethoven ,Chekhov and Poe to name a few who didn't have children.  It's not mandatory that a person have children, but how people have avoided that  DNA driven push to go on I haven't a clue–I couldn't.(of course, some couldn't have children) I was 30ish when a brick like feeling hit my head and said, "Have children," so I proposed and, thankfully, my wife did have three.
It was back in 1750 when the man who lived in this castle sired all the Von Franquemonts/ Franquemonts that are in the world today—err, I bear the name. He liked having babies…and his 50  or so kept women gave him plenty. His name was Karl Eugen, and at the time, I guess his legitimate wife(s) didn't mind the flock.
I'll be going to this castle soon,,,and then to the outer rubble of what is left of the Von Franquemont castle–something to look forward too.
Thing is, and why this post is about children,, is my first-born just had her second born, Kai Louis Bhaca Shiohira was born yesterday 8/15/16 in Cape Town…He's our 7th Grandchild.
The string of humanity is amazing…and the push all parents make to get children grown up is even more mind-boggling. Children are a worry and love that is never forgotten. It was when our children reached 12ish that I realized,,Hey-this isn't for 18 or 21 years-this is forever… and it's  great, the forever.
Trouble is, America completely misses the point. Ruled by most businesses who seemingly care not one iota for life, families, children and education of the young, American's struggle to raise families with shrinking incomes, devalued dollars and the poorest of Family leave benefits when children are born…
In fact….as my cousin's son flies through the skies,, his photos remind me that this family benefit/leave policy prevalent in the US is upside down….
 Ross does a flip in the air.
Thing is, if you look at this world-wide graph of benefits given to new moms and dads, you'll see American's get the short shaft when it comes to having time off, paid time off mind you, to bring their children into this world in a loving, home giving environment..
http://www.sun-sentinel.com/business/ct-paid-maternity-leave-around-the-world-20160815-story.html
So, Basically, America as it is now stands to give no credence to the new family, the new child, the new life-the one the entire world depends upon if we are to continue.
The laws in place for Family Leave after birth in America, or more aptly put, not in place, are just sick. Personally, I find this more than appalling as an American-it's disgusting. Big business only cares for money; why work for them; why support anything they want when they don't even give a hoot about new life, the life that will push us forward when we are gone?
Here's to the children, our new hope for humanity. Right now, I hope maternity leave for both parents changes here in America…isn't that due?
Franque23 loves his children and Grandchildren…don't we all.?
The Avatar Magic series is out on Kindle now….here are the three links to each book..I do hope you'll spread the word and enjoy these writings.