You are currently browsing the category archive for the 'humor' category.
It started about five months ago when the decision was made to re-do our puppet show production of Rumpelstiltskin. It had been about six years since we last performed this adaptation I was happy to write, direct and play a part in. This time frame means the audience has turned over and a new set of children are mostly not using walking feet in our department.  It's all good!
After organizing the scripts, some remaining props and some pieces of the set, it was time to begin planning the bulletin board that would advertise the puppet show. Building this bulletin board had a time frame that slipped in between two twenty foot long displays I was to do for our story hour room and the puppet show itself that will take place two weeks from now. In all, the displays and show will cap-off 5 months of planning on my part. The board is up tonight but for a front runner frame at its base so tomorrow starts the work on the puppet set and props.
Flat out, I love design work, crafts, art, writing, directing and playing puppet show parts and working puppets. So, I've been busy, yes, but it has also been rewarding to this date.
Here's the bulletin board…what fun….In all this board took about 14 hours of work.
Maybe a better view of my mascot, the squirrel….
I have a work order in for a bigger idea on this board but don't know if it will get done. I wanted a slow turning motor attached to back of spinning wheel so it might rotate around about once per minute…..we'll see.  I'll have to deconstruct some of the board if I get the motor… but it's all fun…rumpling paper and supplies together is a big part of the effort and enjoyment.
In case you missed last week's glob, here's a shot of one twenty foot board finished last week.
I hope you days are full of happy times, fun times and full of meaningful events.
cheers!
If only I had his spinning wheel!
Franque23
People often say, "It's a zoo out there!"  And though people can be crazy, the pace hectic, traffic horrendous, the hour late and manners dead on arrival, zoo is the wrong word to use to describe the chaos that is our lives. Zoo's are full of caged animals, a far cry from the free animal world or that of most people. Thing is, in the usage of the word lies an undermining human trait many of us exhibit. We seem to hold little regard for wild species when it can be mowed over by that slippery-slope-of-a-term development. Developers have an unhinged sense of the word ,'Progress,' when it comes to the fate of anything but money. This is why so many species have vanished from the face of this earth in the recent past. "It could be a scary future indeed, with as many as 30 to 50 percent of all species possibly heading toward extinction by mid-century. "* It's all sad, and the method and madness of our growth as a species reveals a strong vein of stupidity in our making.
The signs of human stupidity are everywhere we look; there are so many it's not possible to list them.  Example:  Florida's developers, county planners and politicians ignoramus thinking since 1945 when it comes to Florida's entire east coast line. Welcome to a pile of soggy, tilted thinking. Hotels go up on the sea-side of major roads that block the view and devalue buildings on the west side of the same road! It's great for the buildings built on the east shore side of the road! But, is it!! What we have in Florida are high priced hotels that have replaced the entire sand dune network of a natural beach that is inherently designed to provide the land safety during hurricanes and major storms.  Who cares, right? Wrong. The result is major financial loss from hurricanes that in turn raises insurance rates for EVERY Floridian whether they live on the shore or not! More, If Florida had only developed on the west side of major sea-side roads, those building would incur much less loss during storms AND provide a World-Renown view of a vast sand dune expanse people would pay zillions to see and experience! Just imagine Florida's entire east coast line being a natural beach, full of dunes, sea oats, sea grape vines, birds, wild life. See? Ka-ching!  It's a no-brianer no one could envision. Kaput goes the register.
But let's move on…wow….Why would people be feeding gators by the side of the road on Payne's Prairie in Florida?!?!?
**This is a current picture taken at the prairie where some people fish and others, well, I guess, feed gators? Peek-a-boo….I've got an idea; run away! This is a huge gator. The gator's head may be eight times the size of whatever you're thinkin'.
**Okay, this isn't enlarged for viewing. The estimate is a 12 foot or bigger gator. Again, recent picture from road embankment at Payne's prairie where people stand and fish.
You have to wonder. Question: is the lack of knowledge a form of stupidity, the quest of laziness, the curse of low-curiosity or just bad luck?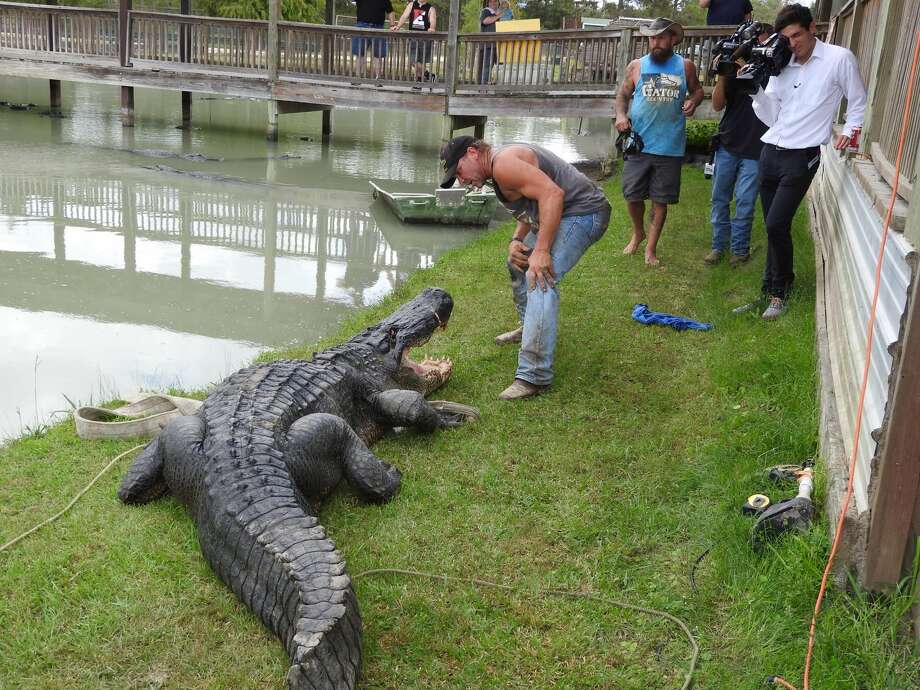 Sometimes, I think the term, 'Human Intelligence,' is much like the term, jumbo shrimp! It's an oxymoron for the human species.
I once owned a leather shop inside the Silver Springs attraction and watched some tourist stand about fifteen feet from a gator who was sunning as they took pictures. None of them knew gators can run 30 miles per hour for short periods (bursts) of time.  If any had asked me, I would have told them their lives were in danger. NO one did since, I guess, the entire world must be a zoo to them? Gators bite fast, roll the victim, and drag—say something like deer—back into water to drown them all the time. Have you ever seen a deer run? Still, I've seen enough of what's left of deer carcass along swamp shorelines to know many deer wish they'd been a bit faster. And, gators can spring out of the water a good ways….While fishing a local swamp my buddy and I were admiring the plumage on a wild bird resting on the water… It took off but a gator came from beneath it and lifted a good six feet out of the water and nailed the bird mid-air….The huge gator splashed back down and only feathers were left to float in the air.
Believe it or not, gators have the strike of a snake.
Parts of the world are still not zoos, and it's good to know. I always root for wild life, and often question the brights of many of our fellow humans, myself included. Remember, I was fishing in a ten foot John Boat watching a huge gator bust out of the water my boat was floating on.  I need to think about something else. I'm outta here. See ya!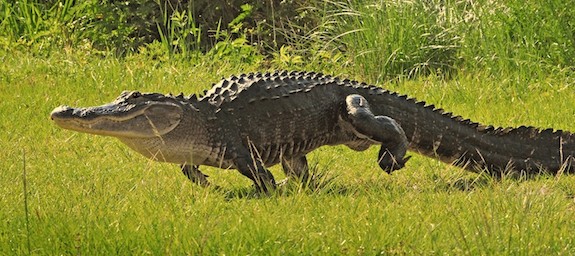 Franque23
*https://www.biologicaldiversity.org/programs/biodiversity/elements_of_biodiversity/extinction_crisis/
** these two pictures taken by Jan Johnson as posted on a Micanopy web-site. Thanks, Jan!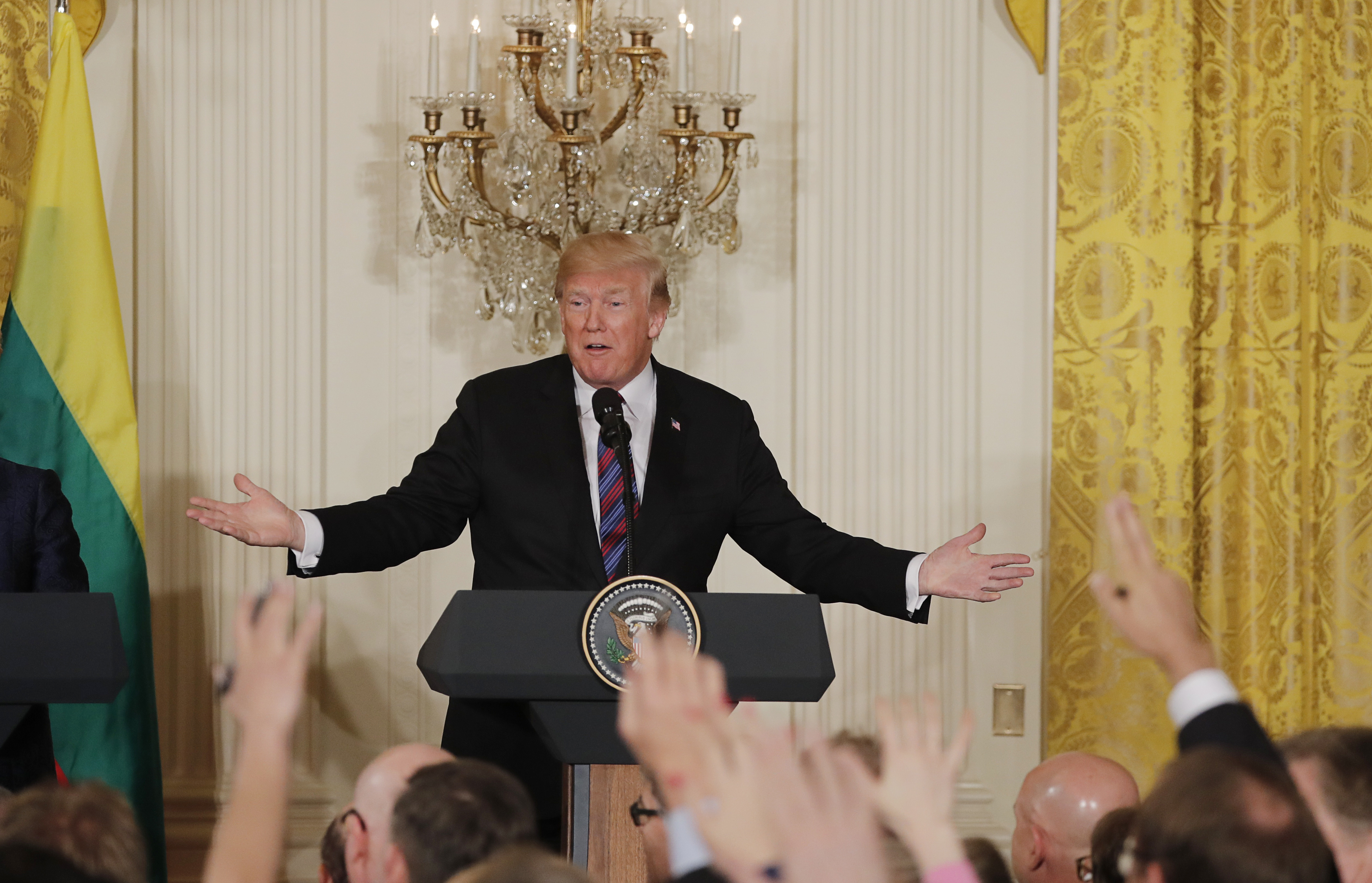 One of the first things you learn in library service is to ask good questions—this can save so much time when it comes to helping patrons. So, in the spirit of helping America, here's 30 questions I wish someone would ask before the press core is drummed out of the White House.
Trump golfs so much, why is he fat?
If Trump has nothing to hide, why does he hide everything?
Why does Trump lie so much?
Will Trump be arrested before or after he is out of Office?
Why didn't Trump want to have fun at making money rather than losing it?
Why has Trump gone bankrupt so many times?
What is Trump's waist size?
Did Trump get a STD from sleeping with a porn star without using a rubber?
Has Trump stopped grabbing women by the pussy?
Why Is Trump in love with Putin?
Is Trump really bisexual?
Why did Trump tell his first medical physician what to write in his health exam medical report?
Why is Trump a bad speller?
Is Trump stupid like people say?
What were Trump's real grades in college and why does he keep them secret?
Why has Trump and his businesses been sued over 3500 times?
Did Trump really kiss a man?
Is it true that Trump was caught in a bathroom stall with another man?
Why did Trump make-up fake news?
Why did Trump call radio shows and pretend to be someone else?
Why doesn't Trump believe in God?
Why does Trump live in fear?
Why does Trump hire so many foreigners?
Why is Trump so over weight?
Trump gives athletes fast food hamburgers; is this what he likes to suck down his pie hole?
Why does Trump cry so often?
How much money has Trump stolen from his 2016 campaign funds?
Why was Trump afraid to fight in our military?
Does anyone know why Trump hasn't been arrested?
Why hasn't Trump been arrested?
Just asking to help clear the air…
Franque23
why is a cheap SOB to sport athletes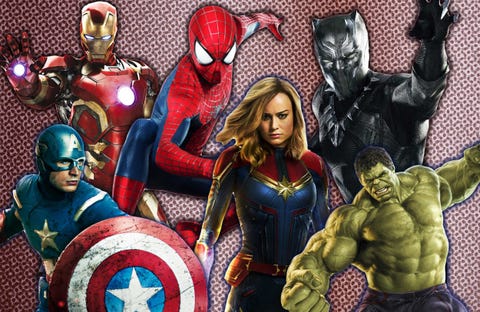 The reason few people talk about this movie's end is no one knows what the hell happened! That's about it for my spoiler alert but for anything that could've happened did, and still might. Christians consider Death the ultimate beginning while Hinduism, Jainism, Buddhism, and Sikhism (and other religions)think we come back around over and over again. If you ask me, this movie was produced by all of these religions during an all night drankin' party. Whatever, I recommend the party and the viewing. But what's this all about a "weird loop"?
The Weird Loop.
Okay, the Weird Loop as promised, but first about, Stan Lee. To me, there are few people in the history of Mankind who have touched as many lives as this comic book creator, writer, editor and publisher. Along with the help of two associates, Stan Lee gave the world superheroes—Spider–man, X-men, Iron Man, Thor, the Hulk, the Fantastic four, Black Panther, Daredevil, Doctor Strange, Scarlet Witch and lovable the Ant-man. There are a few generations of kids who have grown up believing they might be as great as these superheroes in their own way! Really, only the entire network of Disney can rival the success and influence of Stan Lee when it comes to his impact upon our children and, I think, society. These superhero's have woven our dreams, our hopes and aspirations.
It's also important to note with regard to my interest, I spent the past 13 years distributing the comics throughout our Library district on a monthly basis, as well as shelving and maintaining this collection at the branch where I work. So call me dialed up when it comes to Marvel superheroes.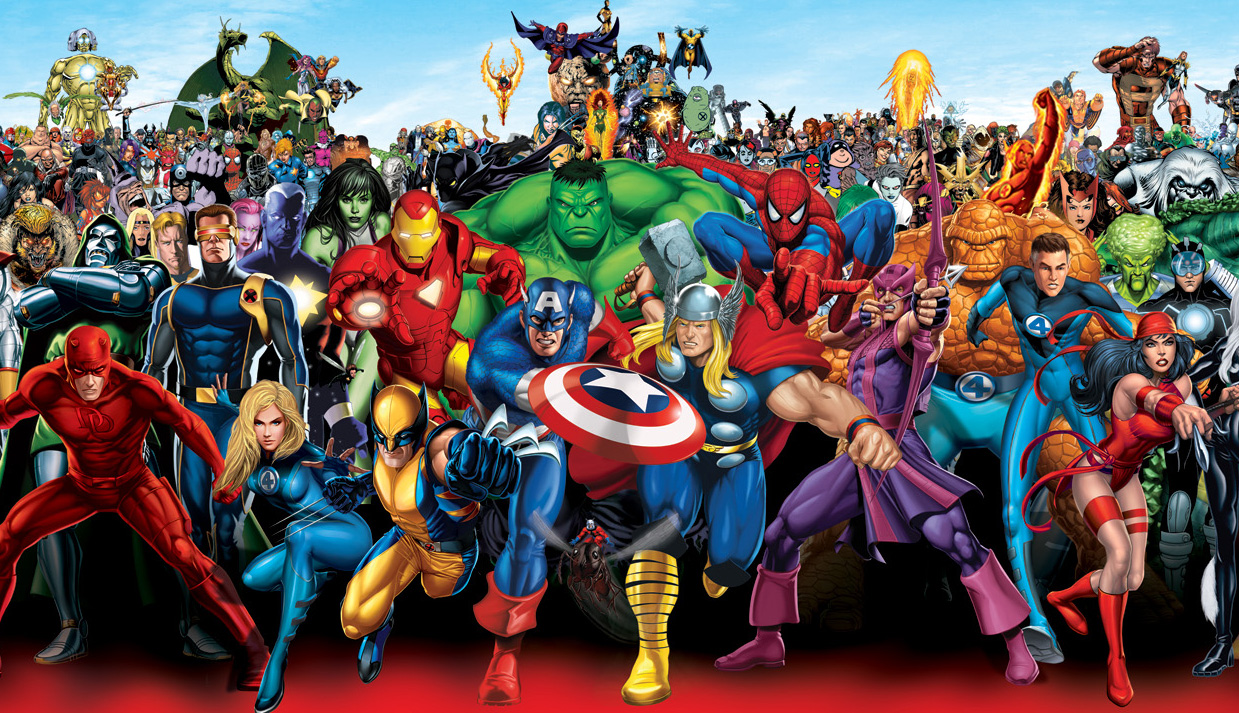 Well, almost randomly, by luck, my wife and I planned to go see the new Avenger movie this afternoon along with my wife's half-brother, Jim, and his wife, Cindy.  By the end of this movie, I'd guess most viewers were left with a euphoric smile on their face and a body that felt like a truck had run it over. I was no different as we waited for Jim to pull his car up to the curb to save us a dash through the rain.  We shared idle chat while waiting.
"I  met and knew, Stan Lee." I heard the words but thought it must have been a thunder-clap. Did Cindy, a person I've known for over thirty years, just casually mention she knew Stan Lee?
"Wait! What? (Kapow!) You've met Stan Lee?" This was rattlin' my Skrull!  Holy Kree! I'm the one who's met by chance or otherwise a plethora of famous people, not Cindy!* "What the hell?" My open mouth caught rain drops.
"Yes. I was in college in the 70's at New Port, California and took class from, Professor Townsend, author of, Boundaries." Quiet Cindy continued. "They threw a dress-up, surprise party for Professor Townsend for his birthday. Jim and I dressed up as(something like Romeo and Juliette—mind you, my mind was blown) and in walks Stan Lee!"
Oh how I wished I'd asked what Stan Lee had dressed up as…can you imagine?!?!?
"So wait, the real Stan Lee was in the room, at the party and stuff?"
Cindy casually went on not realizing I'd melted into the side-walk of alternative reality. "He stayed all night, laughing, sharing jokes and other stuff…"( "Other stuff,' is code for whatnot's at parties in the 70'S.)
Okay, 'I'm standing next to someone who has spent time with one of the most influential people on earth and I never knew it until now?' Cindy kept talking about the party but I was wondering how I might rub my shoulder into hers! When would Uatu arrive and cease my endless watch for reality? I was in hyperspace warp yelling, "You wouldn't like me when I'm angry!"
I pretty much blabbed gibberish(my readers are nodding, Yes!)the rest of the drive home. I thought about jumping on the car hood and yelling, "Why did I not know this, Cindy!!!" Zap! Blam! Would I ever piece together what was left of my former self?
Nope.
But then I remembered: "Just because someone stumbles and loses their path, doesn't mean they can't be saved." I had to re-group and note,, 'you can find friends in super unexpected places.' Cindy's experience and interest in Marvel characters had come from ,'left field.' Her story had only proved, 'The door is more open than it appears…we can walk through it, and sometimes run.'***
Have a super flight through Life….
Franque23
*Here's the deal on some of my history.  Seeing the Avenger's: End Game with someone who knew Stan Lee without me knowing it is much like the rest of my life. For one example, walking randomly down East Hampton's Beach with a  new gal friend and having Paul McCartney drive a dune buggy up with his wife and say hello. Of course , it turned out my new gal-friend was seeing Simon….so much more of this in my life, but that's for another glob.
** https://www.amazon.com/Boundaries-Henry-Cloud/dp/0310241804
*** These are just Seeing the Avenger'sof good quotes in Marvel Comics…
The movie version…
The day was perfect but for what wasn't. A nagging sinus infection(or is it a tooth?)came to the local vicinity of my head.  I've had this before and gargling salt water often seems to alleviate the symptoms.
I've read yoga can help.
Butt, being a Library Specialist in our Children's department kept this ditty ringing thru my ears.
Maybe, this was on my mind as I hurried out the door on my way to work this morning. Then, it happened.
'Why isn't my car door opening?'
I had my work lanyard and building pass on, my second pair of glasses in hand, my two meals of food for the day in my igloo container, my coffee cup, my emergency asthma meds just in case, my eye drops for pollen season, my cough drops, loose change, license, charge card and food discount card in pocket….
'Whoops, I didn't pick up my key off the key rack—dang, left it inside; worse, I'm locked out!'
Crap usually comes in bunches, right? Unless, of course, you need a laxative….anyway, I had several 'backed up' plans. Sorry….anyway, backup plan number one was our neighbor has our house key in her house. Backup plan, 'number two,' was another stored key in a secret location with her just as we have her key secretly stored. Perfect!!!! Her car was in the driveway as I made my way to her door.
'This will be simple—I'll knock on her door, get the key and voila! Everything will come out fine!'
Thing is, I'd no idea the freight-train of Fate was about to pass through! Remember those pennies you left on the train-tracks to get flattened like a watery pancake? I was about to resemble those.
'Okay, no answer from my neighbor, but this is just what the number two 😉 backup scenario, the so-called "secret outside key location," was all about! Don't worry.'
Well yeah, not to worry was timely but not to find the key in any secret location was also the moment….Drat! And, splat! I had to go! (…to work.)
I briskly walked back to the house to check for any window that might not be locked. Gosh, are we diligent on that! Every window was locked; are we anal? I crawled through the dog door in the back room to find the huge sliding doors were locked tight as well…Poop!
'Sometimes Life seems less than perfect.'
But, as luck came my way ( haha…as if!) one strangely shaped, two foot wide, four foot high window in the downstairs bedroom was not locked!!! My Eureka! would soon become a freak show.
Imagine, if you will, a seventy year old guy trying to crawl into a two-foot wide space that is half-blocked inside by a heavy piece of furniture.
Well, it didn't happen because after a futile attempt to bend into a pretzel, I thought trying my neighbor's hidden key location again was a better idea. I looked everywhere with NO luck.
My stupid phone had fried two weeks earlier after I'd recharged it for three straight days? Go figure? So, I found a neighbor home at the fourth house I tried who had a phone I could use. I called my wife somewhere in the universe to tell her about my situation….she didn't pick up. BUT!!! There was backup plan number three; I just had to go into relax-ative mode.
'Hey, my other neighbor has the key to the neighbor's house that has my key in it! Yay! I'll call her, open up my neighbor's house with that spare key, get my key and open my home up with that!'
Backup plan number three would save me until it didn't…
Of course, the other neighbor I needed wasn't home.
'Here's the beauty—being this deflated has to mean I'm losing weight.'
It's the same principle that's in play when you sit on the pot for three days with a stomach flu of some sort. Those pounds are drippin' off! Anyway, this was a great thinking moment!
I headed home and looked more at the skinny one foot opening in that two foot window and knew this wonder boy could do it! I'm not sure what my ass looked like as I headed face first through that opening.
'Getting stuck half in and half out this window with no phone could be bad.' Double splat.
My legs hung outside with my butt wiggling over the bottom windowsill as I strained with my arms to pull myself into the room. Oh, to be twenty again. Visions of all those sugar plums I shouldn't have eaten danced in my head.
I got into the downstairs bedroom before remembering this room had a steel door between it and the rest of our house. I stepped through the room up to the door.
'Sometimes we lock it from the inside; other times we don't.'
Yikes! We are SUPER diligent about locking things up tight! I was almost starting to think I was having a bad day!
Two and 1/2 hours later I decided my luck was flat-out, plain out to lunch. Of course, I'd called my wife again, no luck there. What is luck, anyway? Some sort of fiend that runs a muck to splatter my day with ruinous platitudes of down on your luck, the creek plum run dry and swimming upstream metaphors? Yes; exactly.
'Well, if Luck's out to lunch, I might as well eat mine.'
This was my last thought before my wife came home and saved the day! Here's the best news: I'd missed most of a staff meeting at work!?!?!How cool was that?
It's a lock—my luck had turned around!
Franque23
This post is back from 2013.  Readership has gone up to 65 countries now, and more than twice as many people read the glob than did six years ago. I saw someone read this post today, I re-read it and decided to re-post for fun…Plus, I still have these questions?!?!?
(Avatar Magic, by Gerald Franquemont, is out on Kindle and it can be downloaded onto most readers.) *Now, a completed trilogy.
Why do swim suits most often look like fishing lures?
Why are garden hoses so often made to look like snakes?
If men never hear what women are saying why do women keep talking?
If money is the root of all evil why does everyone work for it?
Cain Killed Abel, but most people fear snakes more than politicians.
Here's some food for thought–if you can afford it. $1 of 1960 dollars would be worth: $7.87 in 2013. $1 of 2013 dollars would be worth $0.13 in 1960.  Shouldn't the dollar shrink in size in accordance with its real buying power? Think of the money we'd save when buying wallets or printing money!
This well-known saying is part of a phrase often attributed to Benjamin Disraeli and popularized in the U.S. by Mark Twain: "There are three kinds of falsehoods: lies, damned lies, and statistics."  The odds are even that this is true.
Why are size ten shoes in Japan equal to size six shoes in America? Why can't one country or the other be happy to be either a ten or six and call it good.
In fact, the sound of one hand clapping can be heard. Try the Clam clap.
Recently, I thought I might have had a tick on my back but I'd fallen asleep and then gone to work the next day forgetting to check on it.  I worried all day about that tick! Turned out when I checked in the mirror that night that I had a nose strip suck to my back.  What a relief, sort of.
You can't go that extra mile. You either do it or you don't. Show me an extra mile and I'll show you an extra dollar.
NO one who was scheduled to retire at 65 for most of their life but then had their retirement age moved to sixty-six should think of retiring at age 65 as an "early" retirement. Dude! Do you want more S.S. money or what you thought you'd get most of your life at age 65?
Statistics boggle the mind while History teaches.
Gary Friend and Sue Patterson know lots of stuff.
Why does the same girl who looks good in a bikini on the beach cause car accidents by wearing shorts while walking on a sidewalk in town?
The following numbers seem right after looking over a number of recent polls: 1/3 of our population, 34%, believe in Ghosts and UFOS; 74% believe in the Devil and 92% believe in God. Have you ever wished upon a star?
Consider: for every shark-related human death, we kill 10 million of them.*
*http://www.discovery.ca/article.aspx?aid=18384
Cheers!
Franque23
Ah cranberries! Life is too short! Soon, I'll be rollin' out of here so I butter have fun before it's gravy time. Eventually, I'll be nothing but soggy leftovers wattling my way to de-boned. Life isn't a piece of cake no matter how it's sliced.  But can I have seconds?
On second thought….
The more years pass, the more I look like a Thanksgiving turkey.
I've grown a turkey neck and a nice plump belly along with a nibble, gobble face. Gizzards! Life is moving at break-neck speed. I'm still walkin', but maybe without my head! (My dad used to talk about seeing chickens and turkeys run around after their heads got chopped off!)
If I'm not gobbling while stuffin' my face, I'm wobbling on ancient toes—the ones attached to what my wife used to call,'perfect feet.' Please pass the bunion; I'll have another: two just isn't enough.
Ever see a turkey's knees? Never mind, just look at mine in beach shots for a quick overview. Turkeys like me are essentially bald but they have feathers. Me? I have a feather duster.
Racing to the bathroom is when I strut my stuff.
And about that famous roasted turkey smell as it wafts through the house. Here's the yin-yang of this turkey-talk: if only a whiff of me smelled that good after doing garden work!
Nope, my flowering youth has been turned upside down and slowly roasted in the sun by years looking for scratch.  My young self has been basted and tented; my clock has been cleaned but for a smidgen of a second left before that big timer in the sky goes off. But, is there pie in the sky? Yep, soon I'll be car-soul-rolled and placed into a container to be stored until moldy.
Wait! I'd like more seasoning! Another sprig of a spring with more summering would do nicely.
Cheers-I hope you had a good one!
Franque23
Can you spare a minute?
This post may have started with the 9:09 PM starting time of the Milwaukee Brewer's and Dodger's game on Oct 16th. Why, for the love of anything you pick, would a game start at 9:09? Googling the question reveals that the TV time slot actually starts at 9 PM but announcers (and it's got to be ads) have stuff to say for, like, 9 minutes. Okay, but 9:09 still seems a bit random to me. Why not have announcers fart around for another 6 minutes to reach that even 9:15 PM time or, better yet, could they just shut the hell up and talk after the 9 PM game starts?
The Babe knew how to 'time' his swing…
Little things matter. People, fans, have enough to do work-wise and drinking-wise (This is , after all a Brewer game) to nail a 9:09 time slot. It's all wrong, but it gets worse. It turn's out a local High School has lunch scheduled at 12:17 PM and its normal school day ends at 2:37 PM. There's one for all you driven crazy by parenting driving pick-up moms to focus on. "I pick up the kids at 2:37; at 2:37; at 2:37." All over town mother's and dad's stare into a mirror and repeat this over and over the night before every school day.
Me and my guitar along time ago….
When did our ,'Minute Madness,' start? It vaguely seems correct to think minute madness origins can be found in airplane schedules. They always had weird departure and arrivals times but have you ever seen a plane land or takeoff ,'ON Time,' no matter what weird time they picked for either event? Me neither. Thing is, this every minute matters approach filtered down into our society like a fungus on tree bark. We're consumed by bizarre time punctuation. And here we are, a society semi-sprung from parts world-wide where the afternoon breaks for nappy's, wine or chatter used to be 3-ish or 4-ish to five-ish.
I guarantee Napoleon did not invade Paris at 3:13 PM. No, our paid, fired, hired or hounded by the minute life is not the stuff of history.  I've never read that Isaac Newton's brain-dent from an apple happened precisely at 1:02 PM.  Nope, survivors of the World now gone minute-mad call that an, "aha moment," and leave it at that. Can we just walk away, call a time-out, and avoid being hit by another apple in time?
Time-out. Now time for this or that, not enough time, time lost, time gained, saved or wasted, time spent, time-in, time forgotten, time can be so many things—that's the good news. The bad news is time is the task master of us all now-a-days. Worse, time not only exists in our heads, on phones, watches and punch-in clocks at work but it's especially adorned by Cuckoo clocks, and rightfully so. Never has a true unknown ever ruled over the world like our vague concept of time.
Salvador Dahi painted melting clocks
To be fair, man does have an AC/DC timeline in place… whoops,, I mean a BC/AD time line in place. ( BC=Before Christ and AD=After the Crucifixion)So sure, we know stuff happened before Christ was born and then lots after, but the trouble is when he was born can slide back and forth by ten years, some say twenty, others say up to sixty years or more! I ask you, how much of what we do today can be off by, like, thirty years? " I build houses and yours will be up sometime within the next thirty years.-That's a promise!" A man runs to catch his train but he's two minutes late getting to the station. The train is nowhere in sight so he asks the train station attendant, "Did the train leave?" The Train attendant looks over his records. " Yep. That train left about a week ago-sorry."
Time is based on nothing but agreement formed in the backrooms of history. Time truly denotes nothing but has the power of the leash and lash we've given to its practice. And wouldn't you know it, I asked one of our many volunteers at work tonight when she was leaving. "8:12," was her answer. I stared ahead in disbelief, knowing I'd write this glob and not ask her why, '8:12′?
You know, I finished this post in the nick-of-time….whew. That's called ,'split second timing.'
TV aired a show about people living off the grid and one fellow, a man with an engineering degree who'd been well employed as such, said the greatest thing about his life in the boonies was that he didn't wear a watch, and he had no idea what day, month or time it was.
My brother, Ed Franquemont,(Harvard Grad.) lived in Peru for ten years with his wife and children. Ed once told me the best thing about living as he did was that there was no specific time, only day and night, and the passing of the sun and moon in between.
once upon a time at our home on Long Island, Ed and I shoveled a lot of snow…
Hurry here; hurry there: this time thing is a madness, and we are all bound to this fever. Sad. Can we have a re-do and think this thing out one more time over a four-ish nappy and bottle of wine? We might find we get less done but we are much happier with all that progress.
Franque23 doesn't wear a watch , or have a, 'smart.' phone. I'm still dancing.
Please, everyone who wants to, go burn every shoe you have then take a hike.
The question is simple. Is there any kind of war that's not happening now in America? Randomly, I'd say the only thing most American's agree upon is that ice cream is at least okay.
All the rest, the North, the South, the Bread Basket zones and Coastal cities, the whites, blacks, minorities against minorities or not, the radical right, left, with the melting pot Brillo-ed out, the rich against the poor, the old in the way of the young, the war on fat or too thin, the what kind of man are you?, what bathroom to use or slate to clean?, no guns or fire away, it's all up in air lifted and swirled by misunderstanding, hate, fear, mockery and assault.
We're yelling at ourselves!?!?
Some days, I sit and listen to this song and dance in the living room just to get away from the mess of our society, never mind what I'm wearing. https://www.youtube.com/watch?v=JiQIisyncY0
(Want to feel better? Listen to Fogerty's song in the link in this glob and watch the fall clip at the end…cheers! And oh, please forward! Thanks.)
Is America being undone? Or, is American being re-tooled by internal disorder that will lead to a more perfect union? Don't ask me—I asked you!
Me? I might be in favor of how the Democratic party seems to be changing while I flat-out hate the way the Republican party is heading. Currently, cramming the hearing making process of a Supreme Court nominee down the throats of legislators who in the recent past couldn't get their guy a hearing for almost a year feels wrong.  It brings to mind warm poop for breakfast. (or anything else as disgusting-use your imagination.)
Yum.. (please tell me this is ice cream.)
On a side, just a thought, has anyone noticed that Trump keeps saying Mueller's investigation is a , "Witch Hunt," but only Warlocks have been arrested? So, maybe, Trump should leave women out of this—just saying.
Who else thinks herding teams of lawyers into a padded cell won't help America out of our grid lock-and-load? How about using a bunch of pandering gerrymandering partisan warring politicians? Yeah, not that either. What to do?
Idea!
We eat ice cream, like all together. American's should declare a huge Eat Ice Cream day; just do it, and gain weight.
Don't give up, no matter what, eat the ice cream. Let the ice cream wars begin!
Then we could have a long, 1/2 of a day when we all diet together for a moment. We could skip afternoon snacks, maybe. The bonding we need would begin!
This might not work, but then again think about this: what if American's saved whatever they could over the course of one year (whahahha, this a funny thought.) and spent it on buying stock in ice cream companies. Then, we all could agree to buy ice cream stocks over the course of one week just prior to Universal Ice Cream Day! Boom! The stocks rocket up; American's sell their ice cream stock and buy our representatives brooms so they can fly away higher than the stocks before they crash!?!?! Okay, this won't work either. Why? The plan is perfect but for 1/3 of all working American's have no savings at all, while another 1/3 of working Americans have 1000 dollars saved.
Basically, American's have been screwed for so long nails might go out of business.
Bonus picture shows the Beatles traveling in a van doing gigs before anyone knew they liked ice cream too.
Oh sigh, it's time to study our problems in this country and find solutions. But, it must be hard being a teacher now-a-days. Imagine going from teaching one year that anyone can be president to the next and having to explain why the president is a compulsive liar.
But, change isn't new in America. Women couldn't vote at one time and now they get groped by preachers on national T.V.* This sort of change is part of my life, too. I used to drive through a tunnel going to New York City and I marveled at the cops standing on the underground walkways by the road. It all made me feel safe; protected.
Years later, I went back to the city and drove through the same tunnel only to find the cops had been replaced by hookers! It was as if Mad Magazine had come alive. I now have a case of bad tunnel vision.
Oddly, I can't find a single picture of prostitutes walking these isles as I saw later on…go figure? Thing is, I wondered right then, how did people stop to pick them up?  It never made sense to me.
Relax-eat some ice cream and dream you've gone to heaven, or maybe we're in heaven and meant to enjoy the glitches? If you're old enough, you might recall a popular song that asked, "What if God were one of us?
But, what if God is all of us?
Even Trump likes ice cream.//wait? What?
Anyway-have the best days you can. And, maybe, chill with the video below. Fall's a-coming!
Cheers,
Franque23