You are currently browsing the category archive for the 'makeing your mark' category.
Democrats have held the white house 25 years over the past 50 plus years; Republican 28.  During those years Republicans have far more arrests and convictions among White House Republican staff and party members than do Democrats. But how many more?
25 to 1…..
That's the ratio of those within Republican White House Administration who have been convicted of crimes when compared to the number of Democrat staff members arrested during  Democrat White House Administrations….just wow!
It's just a ghastly fact; a lump sum correct figure that bears witness to the fact Republican administrations are far more corrupt than Democratic ones.
This gives pause to wonder why this astonishing ratio, the vast difference between criminals in these two party's, is true? Maybe, since the figure spans 50 years or more, the reasons don't matter while the numbers do. Fact: the Republican party tends to be a corrupt party.
But don't take my word for it: here's a quick quote and then link so you can read it and believe it for yourself..
"So, let's see where that leaves us. In the last 53 years, Democrats
have been in the Oval Office for 25 of those years, while Republicans
held it for 28. In their 25 yrs in office Democrats had a total of
three executive branch officials indicted with one conviction and one
prison sentence. That's one whole executive branch official convicted
of a crime in two and a half decades of Democrat leadership.
In the 28 yrs that Republicans have held office over the last 53 yrs
they have had a total of (a drum roll would be more than appropriate),
120 criminal indictments of executive branch officials. 89 criminal
convictions and 34 prison sentences handed down. That's more prison
sentences than years in office since 1968 for Republicans. If you want
to count articles of impeachment as indictments (they aren't really
but we can count them as an action), both sides get one more. However,
Clinton wasn't found guilty while Nixon resigned and was pardoned by
Ford (and a pardon carries with it a legal admission of guilt on the
part of the pardoned). So those only serve to make Republicans look
even worse."
https://www.sheilakennedy.net/2017/07/corruption-by-the-numbers/
Vote the Republican cheaters out in 2020. Trump can dance and sing his praises all he likes, but in 2020 we need to put his lying butt out on the street, if not sooner.
Facts show the Democrats rarely break laws while in power. The Republicans lie, cheat, steal, commit felonies and cast a ,'Damn the Constitution,' glare over our country when they are in power.
This is why I don't vote Republican: they work for the upper class only, and cheat their asses off as they do it.
Cheers. (Please share…)
Franque23
I'd found this note in a most unusual place.
Dusty and draped by a cobweb or two, the note obviously hadn't been read in some time. How long would that be? We'd moved into our house over eighteen years ago and others had enjoyed the house before us-how could it have been in place for so long without being noticed? I think it all a miracle!
It wasn't even a full piece of paper but just a part of a larger whole. Folded, yellowed and without line, it seemed marked, creased on its outside, by someones' firm handwriting.
There was no reason to not unfold the paper and read the note; curiosity would clutter my head until I did-I knew. Scanning the words gave me pause.
I fell in love with you at first sight. I knew it then. Nothing was going to keep me from being at your door until you opened it so I might stand by your side. Our faces remained lip-locked for most of that first year, and when we laughed we could feel each others warm breath.
We had no guarantees but for us. Still, that was enough. 
We began our journey into space without boundaries and time no clock could keep. We held hands in super markets-remember? We both loved the beach, the waves, sky and wind in our hair. We ran for miles together almost daily without fail; so much young energy poured from our souls, tingled our fingers and itched our legs that we just had to move. And, all the while, a love for you grew inside me that could never be moved.
You became my home.
Nothing much mattered when it came to things, whether we rented or eventually bought a house remained trappings to the core of us that I held on to so tightly. That soft, core place of love within me burned a fire that warmed each day and night. I worked with you in mind and slept easy with you by my side. 
Years, so many, have passed, and though we'll eventually leave here and find a new place I wanted to take this moment to thank you for being you. I want to thank you for those smiles you flash, that small laugh you often sport, for that all-seeing way you guide us to better places, and for your touch that means so much. And, I should mention the chocolate-chip cookies. 
I'm so glad I wrote you this note; now, if I can just keep track of it until I give it to you!
There was no signature…
I marveled at the words in this note. Who knows how many years it took this person to finally write them down? Had the other person ever read them? It's amazing how something this large in meaning might rest for so long inside a person. So much can be buried beneath a life-time of obligation, jobs, bills, some call it progress, beneath all those words that must be said on a daily basis. It seemed I understood it all; life has a way of moving people around their true meaning, the things that really drive them on.
I turned to bring this found treasure to share with my wife but realized that, of course, she was in Japan-a zillion miles away helping and visiting family. I had just me, my dog, and this note.  I began to fold the note for safe keeping to share later but the note had vanished! I looked everywhere! It hadn't fallen to the floor, slid under the kitchen table or scooted under a nearby tattered chair. No, the note had disappeared.
That's when I found the note in a most unusual place: the one place I hadn't thought to look.
Of course, the note was back deep inside of me.
Dale, I've loved you for forty-five years.
Happy New Year to all of you. Maybe, write a note this New Year's Day, and never put it away.
Peace and Love
Franque23
*
A very blue wave.
A couple of thoughts to light up the season.
It's no secret Republicans took a whippin' in the 2018 mid-terms. The House of Representatives flipped blue by a large margin and likewise Republicans lost State representatives seats across the country. This was much more than a ,'standard,' mid-term correction vote. This vote was a cry heard loud and clear by both party's. Republicans were able to hold Texas, slip by Florida and out-right cheat to win Georgia, but over all, the party took a slogging at the polls.
What appeals to me most is this blue wave came about via standard rich donors as well as grass root donations. The tide is more than turning blue, the presence of foreign donations via secret PACS may be washing away, and gerrymandering will be re-whittled in many states. I'd say new people running for office—so many women—(Right? :-))along with Pelosi's help kept most races on point: on healthcare concerns, medicare and social security.  But there's still a lot of fog surrounding these issues and how best to drive them home in 2020.
2) The charge for climate change is well meaning but poorly framed for those hoping to gain a political leg up in 2020. It's a discussion that can't be won by scientifically based facts or mouth foaming, delusional thinking. Nope, the world has spun too many times for any of us to prove warming trends that spell disaster are part of natural course within the World's environmental history or not.
Nope, arguing over climate change is exactly what Trump wants his opponents to do.
If you like Trump, argue climate change.
If you hope Trump falls into an oil slick laden with Red Tide, argue pollution.
In fact, if you want to win in 2020 steer clear of climate change. Instead, ask voters to raise their hands if they want toxic drinking water? Do they want to swim in oil slick oceans? Let's count the hands. Do people want to bathe in fracking industrial waste or not? Let's hear ye! These are issues Trump's policies fail to address, worse, they add to the pollution of our living environment.  The beauty of focusing on pollution instead of harping about climate change is that IF we  get control over pollution we will actually be doing all Mankind can do to stem climate change. No, controlling pollution may not solve climate change, but attacking and ending pollution is the best we can do about it. Point: sidestep climate change in 2020.( Put a small boat in your backyard instead.)
Now, a prayer. I pray for wisdom we haven't seen when dealing with the marching South Americans. Some politicians are starting to ask why we are sending soldiers when we could have been sending help? Yes, the policies of Trump on this issue are plain wrong. If you see a problem coming there may be another way to solve it other than fighting it.
We need more Zen in our leadership.
America, BTW, is huge and loaded with tons of money and power.  America can and should have mobilized a huge peace force sort of coalition to march on down to our boarder via govt. funded fare to build housing for these people who flee for their lives and march to the U.S. If you're getting checks from the U.S. for not working, I say you're on the planes. We're going to use as many U.S. products as possible to build communities where these people can stay until entirely vetted, politically and health wise.  Bingo American industries of every sort—you just struck it rich by a huge government demand for every commodity you produce! They need food? Bingo, mid-west farmers! Your load of customers just arrived and our tax dollars will buy your food and ship it to where it's needed.
But where will the money come from to support a Hoover Dam type project to turn an unused place into a living space? It's called tax dollars—you know the ones our government wastes every day in about every way.
Idea! We could start finding the money needed to house these immigrants by dropping 50% less bombs around the world every day.  If we did stop our morbid need to bomb the world, our government coffers would be raining money instead of death and destruction.
Think about it: imagine. The U.S. actually accepts a large immigrant population wisely, securely, without shooting or jailing a single kid! America shows what must be done to support and help our migrating populations the world over!!! How neat it would be for America to become world leaders, the ones who saved the world once again!
There it is: thoughts and prayers done right, without guns but with brain power, might, will, huge amounts of money and a willing workforce. There it is: a booming economy led by successful life giving policy. There would be wrinkles to iron out, but this should have been our focus, not walls, closed boarders and an army.
The up and coming new lot of Democratic politicians understand that thinking straight is easy to do. Here's five examples of women who schooled together, stuck together and all won seats in Colorado  state Legislature in 2018.  This article is quite a read; a map to political success and strength.
https://people.com/politics/five-female-friends-state-senate-colorado-won/
Cheers
Franque23….Om
Please note…this ocean shot is from that ,'sh*t hole,' country, Mexico.
Pumpernickel was the most foreign thing around the neighborhood back in my childhood days. A salted Frito was the a vanguard chip and guacamole remained a word hard to pronounce or spell. Now? That long ago time resides on the far side of a poorly mark rut in the road of life.
Certainly, I grew up in a part of America awash in feel good innocence. Then, it was a time of hope for those who lived under the disappearing shadow of World War II. We were the champions of the free world; the winners.
Grandpa was proud of his four boys who all fought in WW II (Dad is second from left.)
Flash: think no computers, no cordless phones of any kind, no internet, no chat, no what's up, no what's anything but for phones in phone booths or in homes that featured a brand new item: a tube TV  with about 3 to 13 channels. Now, I wonder what we all did all day?
Morality was a given…
Every kid knew to cross their fingers if they were going to lie; every guy knew girls were not only softer than boys, but annoyingly smarter as well. Still, none of us perceived a battle of the sexes or a societal wrong that had to be righted. Heck no, elementary school years were filled with just people—guys I palled around with and girls I was thinking about getting to know.
Things started to change in Junior High. (1960ish). The fall out of line and get hung out to dry clicks appeared. Guys and gals mostly formed into three groups: the hoods, the sport rats and the way smart what's up with that group.
Now, the hoods were bad people because some of them smoked cigarettes and they often wore black shirts. (Really not kidding, and I could almost add, they chewed gum in school) The sport rats, the group I belonged to, never smoked cigarettes and we wore saddle shoes.
Clearly, these huge differences were cause for great concern and animosity. Oddly this huge division between the Hoods and Sport Rats meant the gals had to decide which group to belong to and those lines once drawn rarely, if ever, changed through High School. I once ,'hit it off,' with a gal from the hoods in history class and we became fast buddies. But, when I suggested a soda, she told me, terrified, "Oh no, I could never do that. My group would go nuts. Plus, you don't know what I do." So, I realized she smoked cigarettes….sad.
It was an innocent time compared to the likes of today.
Of course, I was young, free to smell the dandelions as I ran across our neighbors' yard. I was free to imagine that near about everything America stood for and did was good and right. I was free of a bombardment of contraptions that now give us real-time access to things that are happening beyond our sight!
Please, if you are semi-young, like under 40, Imagine this: there was no news until the six o'clock T.V. broadcast; there was no minute-by-minute news of your friends, no daily breaking political sirens. Even the stock market could rally or crash without a peep until evening. Every thing, every day, was on hold until evening. People went to work without worry or care about daily events until nighttime, until they'd gone home and had a cocktail, a smoke or rest.
In many ways, the multitasking, tied to your smart phone generation is cursed with too much information.
Call me old fashion? Maybe try hiking or camping and leaving, God forbid, your smart phone at home. There's a world waiting for you to discover, one I grew up in, a world of be here now without interruption from things you can't change anyway.  There's a world of freedom waiting for you but for one thing: you can't put that smart phone down.
If the world today were to sculpt a representative statue of Mankind it wouldn't be, The Thinker.
No, it would be a person looking down at their smart phone or taking a, 'Selfie.'
The interactions that sooo many studies show are healthy for us—the eye contact, the smiles, the greetings—are now lost to bent heads looking at smart phones…
No, I'm not old fashion: I'm right. Put your phone down for at least one day per week and see how many eyes look your way. The worlds' presence will once again be yours to see, and it is amazing.
Franque23 dares you to do it…
Simply amazing.
My wife recently told  a news story on T.V. to "Go Fund Yourself." It broke me out in fits of laughter….as my wife often does. She's smart, a wit-full companion that keeps me thinkin'. Thing is, my first editor of everything you've ever read from me is also sharp, and more helpful than you know…. Barbara sent me this tonight,, and I thought in our time of strife it might do us all good to take a look at the,'Will  to Survive'. It's in all of us, to fight for existence, and that we shall prevail…just look at the trees: they lead the way.
Enjoy, and thanks again to Barbara for the link.
Peace, Franque23
Trees have been around for about 370 million years, and as you can see from these incredible pictures, there's a good reason why they've survived for so long.  Whether they're growing in the middle of gale-force winds, on the tops of rocky platforms, inside concrete tunnels, or even growing out of each other, trees know how to survive in places that few living organisms can, which explains why the planet is host to around 3 trillion adult trees that cover an estimated 30% of the earth's land.  Considering that plants produce the vast majority of the oxygen that we breathe, we should all think ourselves very fortunate that trees are as resilient as they are.  We wouldn't even be here if they weren't.
#1  A Place Of Enchantment

#2  This Palm Tree Fell Over And Curved Right Back Up

#3  This Tree Fell Over And Grew 4 More Trees Out Of Itself

#4  The Only Tree That Survived The Tsunami In Japan Between 70,000 Trees. Now Protected And Restored.

#5  Tree Of Life – Olympic National Park, Washington

#6   A Tree's Root Spill Over The Sidewalk

#7   Nature FTW

#8   A Tree Growing Through Speed Limit Sign

#9  This Tree That Refuses To Die

#10  This Tree Still Has Its Leaves Because Of The Light Shining On It

#11  Life Finds A Way

#12  Tree Roots Extend Across A Gap To The Mainland For Nutrients

#13  Life Finds A Way

#14  Ta Promh Temple In Cambodia

#15  Striving

#16  Someone Hung His Skates On A Small Tree When He Was Younger. He Forgot He Had Left Them There And Found Them Years Later
#17  A Tree Growing On Another Tree

#18 This Tree Is Growing Out Of Another Tree

#19 This Tree Grew Out Of The Stump Of A Dead Tree And Then The Stump Rotted Away

#20 A Tree Grows From Third Floor Window

#21 Life Finds A Way

#22 I Spent Ages Staring At This Tree Before Taking This Pic. I Hope You Find It As Fascinating As I Did

#23 This Floating Island That Grew At The End Of A Partially Sunken Tree

#24 This Wooden Chair My Parents Bought Started Sprouting Leaves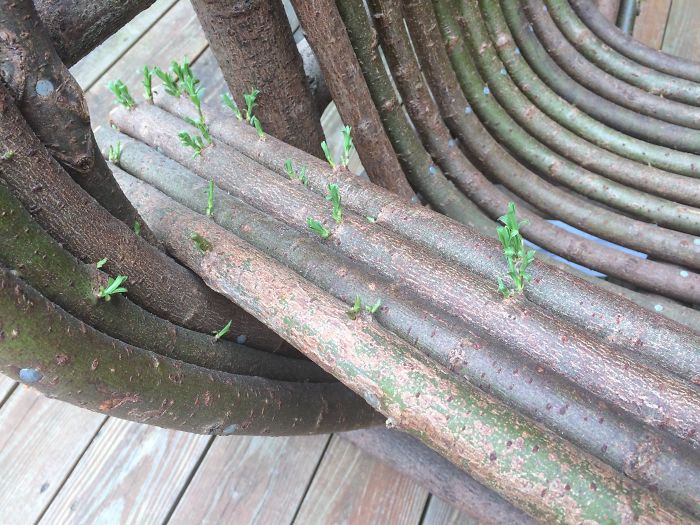 #25 The Old Piano Tree

#27 One Tree On My Street Refused To Accept Winter

#28 My Sister's Tree Is Eating Her Fence

#29 This Tree Growing Through A Fence

#30 Life,Uh… Finds A Way

This is the winning 2020 presidential ticket. In fact, the more Republicans and right of center groups claim this idea is preposterous, the more Left leaning voters should realize it's true!
Trump's election set precedent that a person not directly experienced with holding office can be elected President. The 2018 mid-terms have more than shown voters are agreeable to female candidates, and even female, Black candidates in the South!! Yikes! I wouldn't have thought this to be the case, but it is. The 2018 mid-term election has proven the American electorate is ready for women of any faith or color. Now is the time for Michelle Obama.
We all know President Obama brought America out of the brink of collapse, along with perhaps saving the entire world economy, so who better to associate with how to truly Make America the shining beacon of hope and posterity it once was under President Obama?  Michele Obama, that's who can lead the charge in 2020. Michele is the one who can break through that invisible male ceiling the presidency of the U.S. still supports; she is the one who can unite and bring out so many difference Democratic voters.
And what of Bernie Sanders as V.P. on the ticket with Michelle Obama for 2020? This is a slam dunk yes! Bernie calls for a health plan most Americans have come to favor; Bernie calls for living wages and real tax cuts American workers deserve. Any notion that Bernie's too old, or too socialist, or that, 'Michelle won't run,' is just bull crap being thrown from the Right, a group who literally trembles in fear of this Democratic ticket.
Get Michelle and Bernie on the ticket and America wins.
Elect Michelle and Bernie and Education gets a huge increase in spending; America's humanitarian efforts resume throughout the world; a living wage comes to fruition; real infrastructure rebuilding programs commence; renewable energy takes off in America and sparks a mass up-swing in employment and prosperity; health care becomes part of our society and not a leech upon on government and our worker's backs. These are all things American's want by massive majority numbers.
Get rid of illegal gerrymandering across America and the new world dawns through America's growth and undeniable will to succeed.
Listen up. Cast fear aside and get Michelle and Bernie on the same ticket for 2020.
Let's cast aside the party that has once again deregulated banks putting the U.S. in danger of another ,'bubble burst, ' as we had Under Bush . Jr. Let's dump the party that has striped America of much-needed environmental controls, who now drills in our National Parks threatening our famous, Heritage sites. We can beat back Republican corruption and the radical hate groups this party embraces; we can end the hate mongering President Trump seems so happy to spew on a nearly daily basis. We can end the seemingly endless stream of lies now being forced upon the American people from this current Republican administration.
It's a new day, baby. Democrats! Let's bring it home.
Franque23
It is a prideful mid-term election this time around in America. People, all full of pride, have stood up in numbers representing their position to their friends, neighbors, communities, America and to the World. America hasn't had the marches we've seen across the country in the last two years since the 1970's. And no, none of this dissent from any side has been entirely peaceful—some have died for what they believed, or for who they were or due to where they were. Upheaval never comes without cost and the past two years in America have sadly borne witness to this truism.
"I'm proud to be  American!"
"I'm proud to be gay, a woman, white, black, tall, good-looking, smart, richer or powerful!"
"I'm proud to hate!"
Theologians often place pride above the other so-called seven deadly sins: lust, envy, anger, greed, gluttony and sloth. Yep, Pride is said to be the ,'Root of all evil.' How. To. Deal. With. That. This discussion could be an, 'All-nighter.'
This is a 1913 meeting between North and South civil war survivors. Each was proud to serve.
I am proud.
Toss pride anyway you want: I'm proud of Dale, and she happens to be my wife.  I'm proud of her 40 years of effort during her nursing career to help young and old alike to heal or accept their situation and make the best of that. Most of those 40 years she has helped new born's while working in NICU; some of her patients weigh three or less pounds. Imagine. Of course, I take no credit for any of Dale's achievements; I'm proud to know her.  And, this election cycle has been no different.
I'm proud of Dale and anyone like her who has jumped in feet first into the mayhem of this 2018 mid-term election.  Dale has worked the phone lines for her party; she has written, talked and text until her fingers were sore, her voice hoarse and her wit's at wit's end. Trump may not know it, but he's been barbed enough to fill a pin cushion.
Dale is one of millions of Americans who have taken it upon themselves to get off their cushy couches and 300 dollar computer chairs and work to turn their beliefs into action. She is one of millions who are busy doing the,'stuff,' the real hard work of America. Tomorrow, Dale will be driving people to the polls all day. I think this is great.
Hat's off to all of you who have persevered over the course of the past two years while trying to right the wrongs they see taking place in America today. It's not certain how our 2018  mid-terms will turn out, but for all of those who have worked to make the world a better place please remember this: no one, nothing, can ever take away your effort and the solace that comes from a job well done. Win or lose, if you have walked door to door, called number after number and marched when you could and filled out every poll you wanted to, congratulations.
Now, we wait for tomorrow's election outcome, and it may take weeks to know?
It's no secret that I'm hoping for a, 'Blue Wave.' But, even if I have to go to the beach to see one again, I know I did what I could to make it happen.
I have a word of head's up though for those of you who favor my political position. Please, don't think that if the, 'Blue Wave,' does come in 2018 and then again in 2020 that the battle to right the wrongs in America will be anywhere near over. No, the seed(s) of hate and division have been well planted in our society and these two elections will not be enough to weed them out.
Every morning gives us all a chance for a new day—I'm hoping tomorrow gives America one of those kinds of great vista's.
Good luck, America.
Cheers.
Franque23
I've always loved seeing movie footage of the past. It makes this short film below that more special in that I was born and raised just outside of The Big Apple and considered it my stompin' grounds during my High School days.
More, I've had a couple of odd coincidencedinks in life that revolve around my early years spent in New York City. I'd often spent time in  New York City, The Village,  roaming the walk down shops after munching on a seventy-five cent pizza slice. By far, the Leather shops were my favorite to visit. I was immediately attracted to the smell of finished leather goods, their shine, polished to deep warm browns or beige and tan colors.  One shop owner in particular was a bit more out going than most, and that was wrapped by a quick sense of humor all tied together by tremendous wit. His name was, Byan. He stood tall with penetrating dark eyes that glowed above the flash of  his smile. Our conversations were never long but they played in my head usually throughout the following days. Mysterious, that was the word for this fellow.
Fast forward eight or so years and I'm attending a bluegrass festival in Hog Town Creek, just outside Gainesville, Florida. I was singing lead for an agent at that time, traveling to gigs with one of the three bands he managed. I'm thinking my pay was about a flat 75 dollars per week. The music drew me to the festival and there the smell of leather goods at a nearby booth attracted my attention. Sure enough, it was, Byan, running a leather stand. It turned out his parents owned a ranch nearby and he'd left NYC to return to his family's home. He wanted to learn how to play guitar and I was intrigued with leather work… We traded skills and I ended up being a leather worker running three shops for the next 14 years.
Of course, there's more. I got to know my wife of 38 years while  learning the leather trade from, Byan. We made items for the local leather shops in Gainesville—there were about four of them in town. I often worked on sewing leather hats of all shapes and sizes. A few years later found my wife and I working into all hours of the night sewing wallets and visors as we started our first leather business. It was years later when all of this came to circle.
Thirty years later, my wife and I visited Denton, England, along with her Brother and his wife. It was there that my wife's family were once hatters. It turns out they started in Denton and finally made it to New York City and I suspect made ,'a killing,' as they say in retail. Why? Well just look at what everyone is wearing in the film below. Wow. The story of my wife's ,'Hatters,' family is also amazing, but that's for another time.
Enjoy this glimpse into another era; a time gone by.
One more thing: the air seems much more polluted in this film than it appears to be in New York City now. Maybe too much,'Clean,' coal back then?
Franque23