You are currently browsing the category archive for the 'politics' category.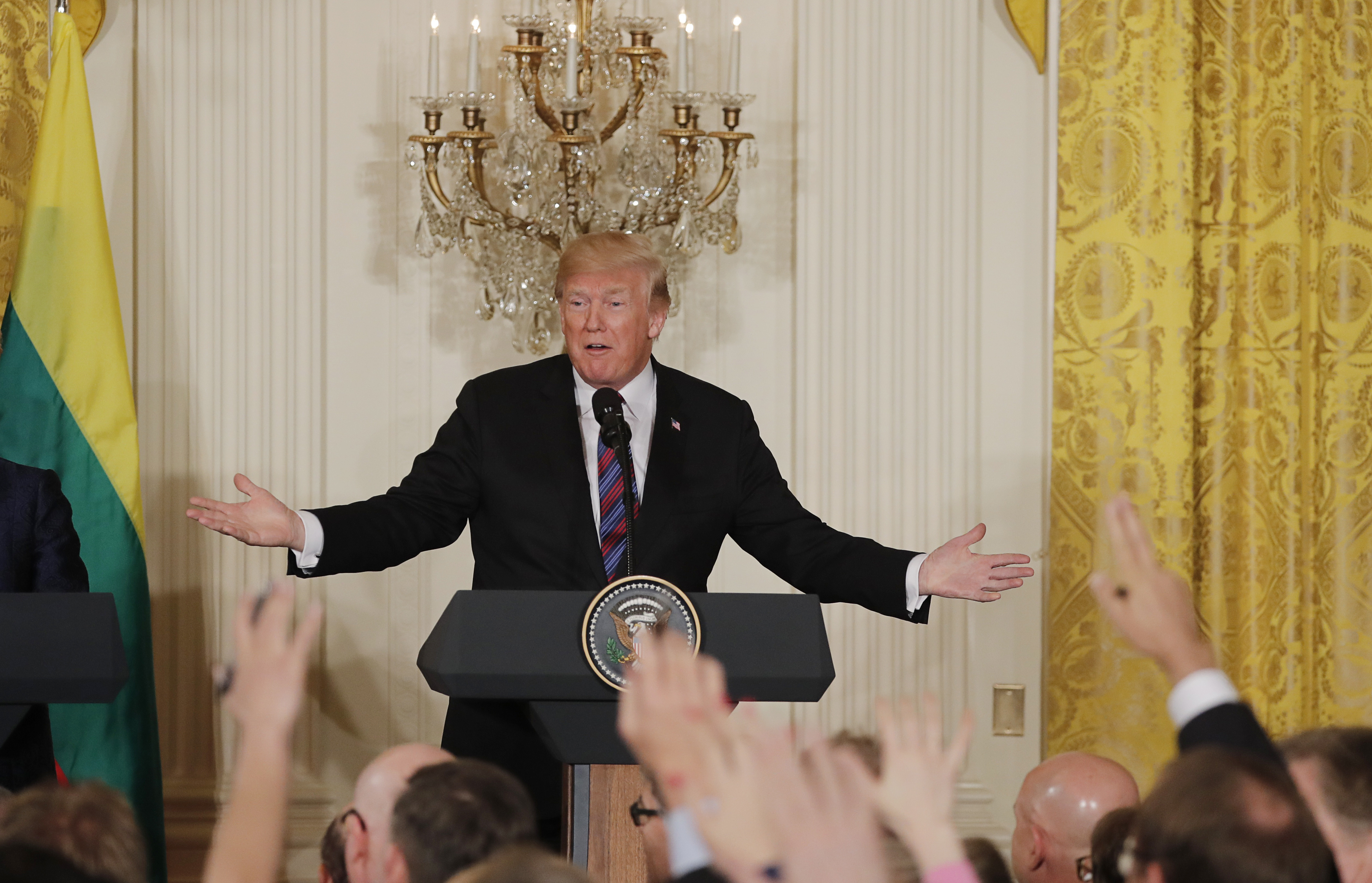 One of the first things you learn in library service is to ask good questions—this can save so much time when it comes to helping patrons. So, in the spirit of helping America, here's 30 questions I wish someone would ask before the press core is drummed out of the White House.
Trump golfs so much, why is he fat?
If Trump has nothing to hide, why does he hide everything?
Why does Trump lie so much?
Will Trump be arrested before or after he is out of Office?
Why didn't Trump want to have fun at making money rather than losing it?
Why has Trump gone bankrupt so many times?
What is Trump's waist size?
Did Trump get a STD from sleeping with a porn star without using a rubber?
Has Trump stopped grabbing women by the pussy?
Why Is Trump in love with Putin?
Is Trump really bisexual?
Why did Trump tell his first medical physician what to write in his health exam medical report?
Why is Trump a bad speller?
Is Trump stupid like people say?
What were Trump's real grades in college and why does he keep them secret?
Why has Trump and his businesses been sued over 3500 times?
Did Trump really kiss a man?
Is it true that Trump was caught in a bathroom stall with another man?
Why did Trump make-up fake news?
Why did Trump call radio shows and pretend to be someone else?
Why doesn't Trump believe in God?
Why does Trump live in fear?
Why does Trump hire so many foreigners?
Why is Trump so over weight?
Trump gives athletes fast food hamburgers; is this what he likes to suck down his pie hole?
Why does Trump cry so often?
How much money has Trump stolen from his 2016 campaign funds?
Why was Trump afraid to fight in our military?
Does anyone know why Trump hasn't been arrested?
Why hasn't Trump been arrested?
Just asking to help clear the air…
Franque23
why is a cheap SOB to sport athletes
Come on, we haven't had crap like this since the game was invented. Officially, Crap was invented in 1125 A.D., but many historian's say the game of crap was brought to Europe at that time from Egypt, where it may have been played since God knows when. Still, here, this DOJ appointment by Trump is nothing but crap's purest form.
Come on….Trump fires DOJ Whitaker, then DOJ Dana Boente, then DOJ Sally Yates and then DOJ Sessions, until he finds, Barr-the -fixer, who will fix anything Trump asks him to fix. You think I'm blowing smoke?
read this link if you want to know the truth about Barr… http://www.wbdaily.com/big-government/22994/
here's a quote from the article…
"However, as a result of doing business with Clinton, the Feds needed a fixer. That fixer would become Barr, who went by the CIA code name of Robert Johnson.
Bush and Clinton Needed a BIG Fix"…(that was Barr, our current so-called DOJ)
That answer, the man Trump needed was Barr. He has no moral ground….just a fixer from the get-go for either party. What bothers me, maybe most, is that most of those congressmen and women who vetted Barr for the postilion of DOJ knew all of this. They still confirmed this man to clear Trump and about anyone else involved with any possible Russian interference in our election or any obstruction done by Trump.???
Trump is a maze of firing to numb us to the reality that the only person who really mattered was the DOJ. He fired so many people, and at the time I never realized it was to smoke screen the important one.
This is a link to the zillion people Trump has so-called fired. But, mind you, this was to smoke screen the big move, the firing of the DOJ.. https://en.wikipedia.org/wiki/List_of_Trump_administration_dismissals_and_resignations
Trump is  a scum bag, we all know it. His propensity to grab,'pussy.' when he likes is enough to earn him the title. But there is so much more. He is a bully, a man who hates minorities, a disgusting liar, a greedy man who has no soul. Thing is, these are his good qualities.
Support who you like, but this man, Trump , vowed with Bannon to bring down American democracy…go look it up..
"Bannon framed much of Trump's agenda with the phrase, "deconstruction of the administrative state," meaning the system of taxes, regulations and trade pacts that the president says have stymied economic growth and infringed upon U.S. sovereignty."https://www.washingtonpost.com/politics/top-wh-strategist-vows-a-daily-fight-for-deconstruction-of-the-administrative-state/2017/02/23/03f6b8da-f9ea-11e6-bf01-d47f8cf9b643_story.html?utm_term=.3e7d19528fa0
People slough this off as a correction to big cats in Government,, but is it? Trump has dismantled an amazing amount of our morals, laws, customs and governmental over sight. And what change did Trump bring to taxes???? All for the upper 1%, that's where his so -called tax reform went,. Why.. To break our back, to break American workers and society.
Trump means to dismantle the American way of life.
Trump thinks Russian Pr is more correct than our own FBI and Intl. community. This is no mistake by Trump. Just like his constant attack on our FBI people and the Media, Trump is out to break the back of American society….Let's break him instead.
2020 isn't that far away. Republican or Democrat…vote in 2020 like America depends upon your vote….it does.
Franque23
Here's an interesting, reflective post by a family member. I love her use of observation and reasoning to reach her conclusion. All of us need to reflect and observe more: how were things and how are they now.  Why have things changed for the worse and how can we make things better?  Well founded conclusions need to be followed up with effective action. America, we can do this. I think a posting by the famous actress, Jennifer Lawrence,*(linked here and below https://www.youtube.com/watch?v=pr5BPRYp8Mw) offers a glimpse into a successful process to bring about change.
Meanwhile, a family member, Cassie Anderson, wrote:
"I remember very clearly when I first noticed this. I was a home health nurse, in a patient's house and they were watching the news. I hadn't had cable tv for 14 years and back then the news consisted of the local Portland news stations. I remember my jaw dropping in disbelief as I heard FOX news in the background as I was doing wound care. I couldn't believe the utter disrespect and tactless comments the people were saying about the president, (at that time, Obama). They were accusing him of being a Muslim (like it was a bad thing) and talking about his birth certificate, it was crazy to me! This patient was so engulfed in this channel that he had it on almost 24 hours a day. To him, this was normal and to me it was surreal. I thought news reporters reported unbiased facts and it was then I realized that this was clearly not the case. I continued to observe this pattern as I worked as an impatient nurse at the hospital. People would turn on their tv, directly to these "news" stations. They were used to this background noise of people arguing and debating fact less theories or the most recent gossip. Now it appears as though people are normalized to the blatant disrespect in the media and they don't demand facts or evidence, false statements are forgotten and forgiven as soon as they are said. it's still crazy to me. Now we have a President, The Leader of the United States, that is a walking example of this blatant lack of respect & dignity. Sadly, this is ok to many because they call it courage. To me, courage is the ability to filter yourself. Courage is the ability to do the research before you blabber. Courage is looking at all sides of a situation and seeking guidance from your cabinet and using your resources to seek truth and facts (not firing everyone around you that opposes you). Courage is taking that pause to do what's ethically right and I think we have the media to blame for this shift on respect. Turn off your TV people! Save money and stop paying those ridiculous cable bills. It's all propaganda and a form of brainwashing. Teach your kids respect, be kind to strangers and those that are less fortunate. Be thankful for what you have and actually try to improve the world around you. Go to Church or find some form of spiritual healing. It will change your perspective, for the better. This is what we need to focus on and stop buying into the crap on tv!"
Thanks again , Cassie, for posting.
Cheers
Franque23
This post is back from 2013.  Readership has gone up to 65 countries now, and more than twice as many people read the glob than did six years ago. I saw someone read this post today, I re-read it and decided to re-post for fun…Plus, I still have these questions?!?!?
(Avatar Magic, by Gerald Franquemont, is out on Kindle and it can be downloaded onto most readers.) *Now, a completed trilogy.
Why do swim suits most often look like fishing lures?
Why are garden hoses so often made to look like snakes?
If men never hear what women are saying why do women keep talking?
If money is the root of all evil why does everyone work for it?
Cain Killed Abel, but most people fear snakes more than politicians.
Here's some food for thought–if you can afford it. $1 of 1960 dollars would be worth: $7.87 in 2013. $1 of 2013 dollars would be worth $0.13 in 1960.  Shouldn't the dollar shrink in size in accordance with its real buying power? Think of the money we'd save when buying wallets or printing money!
This well-known saying is part of a phrase often attributed to Benjamin Disraeli and popularized in the U.S. by Mark Twain: "There are three kinds of falsehoods: lies, damned lies, and statistics."  The odds are even that this is true.
Why are size ten shoes in Japan equal to size six shoes in America? Why can't one country or the other be happy to be either a ten or six and call it good.
In fact, the sound of one hand clapping can be heard. Try the Clam clap.
Recently, I thought I might have had a tick on my back but I'd fallen asleep and then gone to work the next day forgetting to check on it.  I worried all day about that tick! Turned out when I checked in the mirror that night that I had a nose strip suck to my back.  What a relief, sort of.
You can't go that extra mile. You either do it or you don't. Show me an extra mile and I'll show you an extra dollar.
NO one who was scheduled to retire at 65 for most of their life but then had their retirement age moved to sixty-six should think of retiring at age 65 as an "early" retirement. Dude! Do you want more S.S. money or what you thought you'd get most of your life at age 65?
Statistics boggle the mind while History teaches.
Gary Friend and Sue Patterson know lots of stuff.
Why does the same girl who looks good in a bikini on the beach cause car accidents by wearing shorts while walking on a sidewalk in town?
The following numbers seem right after looking over a number of recent polls: 1/3 of our population, 34%, believe in Ghosts and UFOS; 74% believe in the Devil and 92% believe in God. Have you ever wished upon a star?
Consider: for every shark-related human death, we kill 10 million of them.*
*http://www.discovery.ca/article.aspx?aid=18384
Cheers!
Franque23
If you still support Trump I ask you: can all the people listed below be wrong?!?!?
Trump's references read like a SNL skit:
McMaster: called him a dope.
Mattis: called him a 5th grader.
Mnuchin: called him an idiot.
Priebus: called him an idiot.
John Kelly: called him a fucking idiot.
Tillerson: called him a fucking moron.
Cohn: called him dumb as shit.
McGahn: called him a fucking idiot.
Mueller: called him individual 1.
McRaven: called him the biggest threat to our democracy.
Bannon: called him a fucking moron.
John Dowd: called him a fucking liar.
Rupert Murdoch: called him a fucking idiot.
William T. Kelley: (Professor at Penn) called him the dumbest goddamn student he ever had.
Tony Schwartz: (the ghostwriter of "The Art of the Deal,") called him a man with a stunning level of superficial knowledge and plain ignorance.
Me? I'd have to say this means Trump really is a, 'No brainer!'
So, I'm just asking, would you hire a man with these references? Of course not, and America can't afford to,'hire,' him again by-election in 2020.
Trump has so many shady spots during his current administration it's amazing he's still visible.
Trump just placed the man who ran a plea deal for Epstein ( Epstein  was running an underage sex ring) to be head of America's Women(girls) illegal trafficking bureau?
So far, there are three things that are constant with Trump: he lies; he blurs the line when it comes to the emoluments clause, also called the foreign emoluments clause. This clause is a provision of the U.S. Constitution (Article I, Section 9, Paragraph 8) that generally prohibits federal officeholders from receiving any gift, payment, or other thing of value from a foreign state or its rulers, officers, or representatives; and he has cheated on all three of his wives.
Model claims she saw Trump cheat on pregnant Marla Maples 
May 7, 2018 – 

A German model claims to have been in the same room with Donald Trump during an alleged romp he had with Playboy Playmate Barbara Moore. She spoke to the Daily Mail about the tryst, which supposedly went down while Trump's second wife and then-fiancee Marla Maples was pregnant 
2.
We all know trump cheated on Melania just after she gave birth to his child.
3.
​Don't feel sorry for Trump; he's a dog of a man.
I do feel a bit off for the Americans who voted for this man.  No one deserves a President like Trump—not even those who voted for him.
There are too many reasons to sort out why some people still support Trump. Why support a man who has not turned our economy around, who has not drained but polluted Washington and who has unleashed the banks so another crash like 2008 is possible? Clearly, Trump is raping America's National Parks in exchange for big Oil Payola. And about that wall of a wet-dream Trump had and claimed Mexico would pay for? It's a stupid, useless wall, and now Trump is wanting to spend 5 billion of our tax dollars to build it!
Listen up America: no one is invading our country but for Trump's current administration. It's becoming clearer everyday that the Russians helped elect Trump. Why would that be?
In the end, there's this: most certainly Mueller has a sealed indictment on Trump that will prohibit the statute of limitations to run out on those charges. These charges can be filed on Trump once he is removed from office no matter how loooong that takes. Nobody knows if those charges will stick but here's the beauty—we all will find out one day.
Franque23
Can you spare a minute?
This post may have started with the 9:09 PM starting time of the Milwaukee Brewer's and Dodger's game on Oct 16th. Why, for the love of anything you pick, would a game start at 9:09? Googling the question reveals that the TV time slot actually starts at 9 PM but announcers (and it's got to be ads) have stuff to say for, like, 9 minutes. Okay, but 9:09 still seems a bit random to me. Why not have announcers fart around for another 6 minutes to reach that even 9:15 PM time or, better yet, could they just shut the hell up and talk after the 9 PM game starts?
The Babe knew how to 'time' his swing…
Little things matter. People, fans, have enough to do work-wise and drinking-wise (This is , after all a Brewer game) to nail a 9:09 time slot. It's all wrong, but it gets worse. It turn's out a local High School has lunch scheduled at 12:17 PM and its normal school day ends at 2:37 PM. There's one for all you driven crazy by parenting driving pick-up moms to focus on. "I pick up the kids at 2:37; at 2:37; at 2:37." All over town mother's and dad's stare into a mirror and repeat this over and over the night before every school day.
Me and my guitar along time ago….
When did our ,'Minute Madness,' start? It vaguely seems correct to think minute madness origins can be found in airplane schedules. They always had weird departure and arrivals times but have you ever seen a plane land or takeoff ,'ON Time,' no matter what weird time they picked for either event? Me neither. Thing is, this every minute matters approach filtered down into our society like a fungus on tree bark. We're consumed by bizarre time punctuation. And here we are, a society semi-sprung from parts world-wide where the afternoon breaks for nappy's, wine or chatter used to be 3-ish or 4-ish to five-ish.
I guarantee Napoleon did not invade Paris at 3:13 PM. No, our paid, fired, hired or hounded by the minute life is not the stuff of history.  I've never read that Isaac Newton's brain-dent from an apple happened precisely at 1:02 PM.  Nope, survivors of the World now gone minute-mad call that an, "aha moment," and leave it at that. Can we just walk away, call a time-out, and avoid being hit by another apple in time?
Time-out. Now time for this or that, not enough time, time lost, time gained, saved or wasted, time spent, time-in, time forgotten, time can be so many things—that's the good news. The bad news is time is the task master of us all now-a-days. Worse, time not only exists in our heads, on phones, watches and punch-in clocks at work but it's especially adorned by Cuckoo clocks, and rightfully so. Never has a true unknown ever ruled over the world like our vague concept of time.
Salvador Dahi painted melting clocks
To be fair, man does have an AC/DC timeline in place… whoops,, I mean a BC/AD time line in place. ( BC=Before Christ and AD=After the Crucifixion)So sure, we know stuff happened before Christ was born and then lots after, but the trouble is when he was born can slide back and forth by ten years, some say twenty, others say up to sixty years or more! I ask you, how much of what we do today can be off by, like, thirty years? " I build houses and yours will be up sometime within the next thirty years.-That's a promise!" A man runs to catch his train but he's two minutes late getting to the station. The train is nowhere in sight so he asks the train station attendant, "Did the train leave?" The Train attendant looks over his records. " Yep. That train left about a week ago-sorry."
Time is based on nothing but agreement formed in the backrooms of history. Time truly denotes nothing but has the power of the leash and lash we've given to its practice. And wouldn't you know it, I asked one of our many volunteers at work tonight when she was leaving. "8:12," was her answer. I stared ahead in disbelief, knowing I'd write this glob and not ask her why, '8:12′?
You know, I finished this post in the nick-of-time….whew. That's called ,'split second timing.'
TV aired a show about people living off the grid and one fellow, a man with an engineering degree who'd been well employed as such, said the greatest thing about his life in the boonies was that he didn't wear a watch, and he had no idea what day, month or time it was.
My brother, Ed Franquemont,(Harvard Grad.) lived in Peru for ten years with his wife and children. Ed once told me the best thing about living as he did was that there was no specific time, only day and night, and the passing of the sun and moon in between.
once upon a time at our home on Long Island, Ed and I shoveled a lot of snow…
Hurry here; hurry there: this time thing is a madness, and we are all bound to this fever. Sad. Can we have a re-do and think this thing out one more time over a four-ish nappy and bottle of wine? We might find we get less done but we are much happier with all that progress.
Franque23 doesn't wear a watch , or have a, 'smart.' phone. I'm still dancing.
I'm thinking eating an apple and then a banana could make a person fart? This could be trouble. I'm working the public service desk for the nest 5 hours and I just consumed both! If the answer to my first important question of the day is,'Yes,' I can only hope some service dogs come in. The good news? I'll be the first to find out the validity of the premise so I can quickly leave my area in search of a book or some other task.
Question two for today: Has our Supreme Court always been strictly a partisan affair and corrupted by outside interests? I didn't believe so as a child, but , then again, I also believed in Santa Clause.
My take of the Kavanaugh selection? The vote was 48 NO to 50 YES for confirmation. This means there were 48 correct votes and 50 wrong—that's about it. For liberals, the future for Supreme Court decisions looks bleak; that the Supreme Court no longer appears to have a swing voter might wreak havoc as decisions come down during the years ahead.
Third question: Why is the suffix, 'Jerry or Gerry,' such a derogation? We have the, 'Jerry's' (the German soldiers during world War 11) and, Gerrymandering, (Pretty much the sole corrupt political device that secured the election for many candidates throughout our country.) If something has been Jerry-rigged it won't work for long—we all know that. But did you know, "Jerry,' is another name for Chamber Pot!?!?!OH I know, a chamber pot was well received when needed, but it still seems to be a bottom-of-the-barrel sorta thing.
So why does all this matter? My name is Gerald, often turned to, Gerry, by family and friends, so I'm a bit sensitive to having a name associated with, 1)the enemy, 2)corruption, 3)something that won't be any good or, 4) a piss-pot and worse. This is why being called,'Franque,' by friends on athletic teams in High School was such a relief!
Fourth question: Since 1996, Medical Cannabis sales tax collection in states that have deemed the drug legal for medical use has totaled over, One billion, two hundred eighty-five thousand dollars. These are the medical sales. Imagine if the illegal usage sales and the tax charged were added to this figure? Why in any Capitalist's, rational head would it seem good to not legalize Pot?* Folks—we have a bunch of seeds and stems running our DOJ (Department of Justice). (Sessions is a jerk).
Fifth question: Why do so many men seem to hate women? Last time I looked, read or have been told, every man on the planet came by way of a woman. Or, is this alternative fact?
So many men lust for the same-sex they hate, demean, exclude from human rights that our world seems a whirling dervish of septic brain rot. For now, unfortunately, this is the good news. The over-all history of men's atrocities toward women makes our current societal condemnation of women an improvement of epic proportions. I've always had a,'soft-spot,'(meaning I care?) for the plight of the Native American's and for all indigenous people. Thing is, take any total number of any single group who has been wronged in history and put that figure against the number of over one-half of the world's population throughout history—that would be female—and imagine which number is larger. See? Women make up the largest group number of people tortured, used, abused, slaughtered and misaligned in the history of Mankind. And I do wonder about the term, 'Mankind.' Divide the word, Mankind,(Man—kind) and see that each half of the term is kinda off.
Sixth question: Why are so few patrons coming to the service desk? Hmmm. And no, that was a burp-I swear.
Franque23 loves bananas and apples.
*https://www.forbes.com/sites/andrewdepietro/2018/05/04/how-much-money-states-make-cannabis-sales/#28e12c8df181
(Please note the book recommendation below this post.)
Of course, the President's so-called tax breaks are simply theft from the American workers to give more money to the already super wealthy—everyone knows this. And dropping controls on pollution dumping into our streams and rivers is completely stupid. Everyone knows this as well, even if they drink the, "Kool-aid." But,  why do some people support agenda's that they know are wrong?
Definition of brainwashing 
1: a forcible indoctrination to induce someone to give up basic political, social, or religious beliefs and attitudes and to accept contrasting regimented ideas(Merriam-webster)
That's right. People support ideas and practices that they know are wrong because they have been brainwashed to think differently about what they know is true. This is what has happened to the Trump supporters. And, really, I don't blame Trump's supporters for their beliefs as much as I want them to understand what has happened to them.  We need Trump's supporters to, 'Snap out of it.' We need our republican counterparts in this society to  wake up and smell the coffee; we need to understand that many of us have been indoctrinated to vote against our own well-being.
The GOP regime has relentlessly assaulted the American voters with a barrage of fear-loaded slogans that aren't true, (Immigrants are taking your jobs—not true.)slide-of- mouth motto's (America, love it or leave it—against all American principles!) Make America great again!—ha!, and the famously flawed,'Trickle Down theory'.) It's all a lie told over and over again,.
The verbose reiterated barrage against pollution controls, banking regulation, the U.N, the Gay, the Woman and less fortunate are all lies propelled into the minds of so many. And all of them by means of one simply truth: say anything well enough, long enough and often enough and it doesn't matter whether it's true or not—people will believe what they have been taught to believe through repetition.
But is Trump a fool? Many point to his mid-range popularity and say, "It ain't so." But here's the thing: Trump's standings, polling, none of that changes what he is: wrong in just about everything.
Trump's poor vision with regard to pursuing fossil fuel development verses renewable exploration and expansion, his disregard for increasing pollution, human rights, specifically women's rights and minorities, his attack on EAP standards and lack of support for science advancement are a few hot spots to focus on when it comes to thinking Trump a fool.
So much about this man is wrong and stupid, yet so many cheer him on??? I'm thinking a fool can win at cards, but not at life. I hope I'm right. Right now, we're in the mists of a Russian(and others) financed brain-washing campaign of the American people. The results aren't pretty.
Like it or not, our population has been worked on by powerful interests so that we've become divided from one another. We've been told that the under educated cannot reason or fend for themselves(not true); we've been told that 'Southerner's,' are racists and that blacks and minorities are somehow inferior(not true). And to what gain? Remember, United we stand; divided we fall. This is why some American's have been taught to hate and disregard reason. The powerful want to control us, use us, and all to their own gain at our cost.
The first thing to teach an indoctrinated, brainwashed person is that they have been. This is the first step back to reason.
Marching, yelling and sign holding might help identify our difference of opinion, but teaching and informing our populace about the tools being used in our society to cause us to work against our own interest is of utmost importance. We need to identify those mechanisms present in America that work to divide us and cause us to not protect our own welfare and root them out.
Now is a great time to understand we have been brainwashed as a people. Now is a great time for us to trump this brainwashing and get back together.
Franque23
History can teach us a lot and, Revolution is not a dinner Party, by Compesti, gives good insight into China's Mao zedong revolution..maybe at your local library…too.
https://www.amazon.com/Revolution-Dinner-Party-Chang-Compestine/dp/0312581491