You are currently browsing the category archive for the 'politics' category.
And there's more—so much more.
America and our allies were the 'Good Guys' who had dropped more than 2.3 million tons of food during the Berlin-airlift.
We'd beaten back an army of huge proportions.
My grandpa with four soldier sons.
And, when this generation went to war their lives were not only routed from the routine but full of uncertainty.
My dad,( Far left) his brothers and all his friends became soldiers
Of course, his sister married a soldier.
It was long ago, after WW II had ended, when my family lived in South Park (yes, really ) Long Island, a Levitt built neighborhood full of soldier survivors who teamed and beamed with confidence and pride. Weekend house parties were routine in my neighborhood and kitchen tables that abound in liquor bottles, if not a focal point, were at least always present. Laughter and celebration ruled the hours; these were the victors of a great emancipating War: these were the ones who defeated Hitler, the Nazi's and an ideology of hate, division and  prejudice.  What could be better than that?
These were days of economic expansion in America, days to relax in or to go fishing.
Thing is, my Harvard graduating, South American traveling brother, Ed Franquemont, was at home for one of these rip-roaring party events. Bluntly, I can't imagine a worse match: heavy drinking, WW II soldiers and my brother.
Ed (this picture long after the party in question) had just started growing a beard that he would sport the rest of his life—none of this change in how a person looked was acceptable back then.
Anyway, before long at this party, Ed had taken note of drinkin' Denny's slobbering denunciation of minorities and other spineless ne'er- do-wells… Tension mounted as Ed slipped in a few facts on how America was undercutting sovereign rulers in South America so U.S. companies might collect minerals, oil and other products for themselves.  Well, the roof didn't come off our home that night, but certainly a few friendships and feelings of regard for those present slipped out our windows. That regard never came back.
On May Forth, 1970, Ohio State's National Guard took a knee and fired upon war protesters…In a way, the clouds of this shooting were gathering in our kitchen that night..
Thing is, there's more….
It's been well over 60 years since the fight that night in our kitchen took place, and in retrospect I do believe much of what my liberal Harvard educated brother said was true. Listen, I always loved my dad and do to this day, though he is long gone. He was a great dad, a flower growing, hard working, happy, successful man; he'd was a Full Colonel, one who Fort Drum in New York State FLEW A MISSING MAN FORMATION for when he died. He was an honored soldier. So, I've been thinking a lot about my dad and the fight that night.
Dad going to war….
With all the good qualities my dad held within his nature, he also had a few blemishes.
Dad hated blacks; lets just get that out there. In fact, our entire community tried to stop the first black family from moving into South Park. But, he also warned me, accepted but didn't like, anything about Jews. (He took me out to dinner before I went to Gettysburg College and advised me to never marry a Jew. My objection was over heard by a waiter who came to our table side and backed me up. Thinking, that waiter got no tip.) Flat out, Dad didn't like minorities, those down-and-out, he didn't like Mexicans or Latino's. IN FACT, MY DAD, LIKE EVERY MAN AT THAT WW ll PARTY LONG AGO, DIDN'T LIKE ANYONE WHO DIDN'T LOOK EXACTLY LIKE HIM.  So where did all this hate and lack of acceptance come from? Well, all I can say is my dad was born and raised in Des Moine, Iowa, and his mom used to say: "Iowa would have great weather if it weren't for the neighboring states that stir up the storms." Go figure–grandma, like my Dad, was a college grad.
Grandma: "Bad weather comes from other states."
Much of our returning WW II soldiers were staunch Americans who viewed anyone but a white, American born man with suspicion at best.  They didn't care for other countries; they didn't want minorities cluttering-up the work place. Yes, it's an odd realization to have; an odd way to hug the past. BUT, when you get right down to it, many Americans at the time of WW II really held much the same values purported and believed by the Nazi's they fought! And far too many American's still do to this day.
Of course, America was slow to get involved in WW II. Perhaps, it wasn't the advent of Jewish concentration camps but rather the movement of Hitler's forces toward the Middle East Oil fields that spurred the U.S. into action. I get that. But, the thought that American soldiers shared so much in common with the evil Nazi ideology makes for an uncomfortable companion today.
Today, here in America, every ideology 'hat' is still in the ring.
In what ring would my father's hat fall today—I would so like to know?
And there's more—so much more.
Hating minorities and those different looking or different thinking is still all the rage in much of America. That long ago war of killing stopped, but the war of WW II ideologies never ended.  Not ever.
Franque23
This isn't a political coup but a chicken coop. That's right, so far our GOP representatives who we desperately need to uphold the ideologies of a true conservative party are only interested in scratch—money that is, and what appears to be 'dirty' money as well. Money and the power it brings, basted with a heavy handed load of chicken-shit fear is what drives most of our GOP Senators and House members.
How low can you go to be elected to uphold the constitution and turn it into a verbiage of meaningless mosh-pit misdirection's as though it was used toilet paper from another era? The clucking never stops from our GOP representatives. Lindsey Graham alone has demonstrated how two faced a politician—a politician mind you!—could ever be.
Fact:
Now, Lindsey Graham blows all of Trump's crimes off as though they are nothing burgers, (his words,) but this wasn't always the case with Graham when it came to a president committing high crimes and misdemeanors.
How in the world can Lindsey twist out of his skin at night to sleep well and then twist back into it to be the slimy snake of a man he is by day?
Claim: U.S. Sen. Lindsey Graham argued in 1999 that a crime wasn't necessary for presidential impeachment.
Claimed by: Multiple Sources
Fact check by Snopes.com: True
To hear Lindsey Graham's own words on this subject. https://www.msn.com/en-us/video/t/lindsey-graham-once-said-not-complying-with-congressional-oversight-was-an-impeachable-offense/vp-BBWkoQQ
Now, according to Graham, trump can't be held accountable for any offense.
And, as astonishing as it might seem, Moscow Mitch McConnell out plays Lindsey Graham when it comes to being a two-bit liar wearing a Russian suit.
There isn't a prison cell small enough for the two of them. They are both traitors. They spit in the face of our constitution and relish living the lavish lifestyles they reap from their hoodwinked constituents.  Moscow Mitch often responds to questions about why he has held up over one hundred bills from coming to a vote on the Senate floor with: 'Because I can.' You see? Moscow Mitch doesn't even entertain the notion that he is motivated by a sense of duty to America and our constitution. Moscow Mitch and Lindsey-the- slippery are so far down in Russian pockets a dry cleaner couldn't get them out.
It's tempting to think the followers of these GOP chicken-shit leaders who tremble at the mere notion of having to endure Trump's scorn are worse than these non-leaders, but they aren't. No, voters get tricked, lied to, misled, dissed and crapped upon by elected officials all the time. Thing is, the lying elected officials do know what they're doing and saying; their corruption is in their mirror every morning for them to see.
Moscow Mitch and a side-kick on a good day.
No one can count on these chickens to hatch anything but money for themselves.
The corruption within this current GOP Senate and House of Representatives makes the Tea Pot Dome scandal look like a tea party. Basically, these GOP representatives who fail to rebuke Trump are akin to whores serving us chicken gumbo: they take trump's appointments, as well as the appointment of their wives to other positions, and then do whatever he wants in return for position and money.  Trump's unconstitutional obstruction of justice, his willingness to incite riots or worse in America, his wanton sidestep of the emolument clause and obscene bullying and alienation of America from the world is beyond repugnant.
Talk about a rotten egg—trump has made a killing in causing business and personal bankruptcies.
As ex-GOP Senator, Jeff Flake, said this week*…. "he (Flake) wrote: "Trust me when I say that you can go elsewhere for a job. But you cannot go elsewhere for a soul." Flake entitled his op-ed, "There's still time to save your souls."  This pronouncement should ring a bell in the minds of Christians and pseudo-Christians alike: it's time for all of us to stop dancin' with the devil and run to a higher, moral ground.
Googling ,'Trump and ganster,' brings up 21 million hits.
Chicken-crap politicians need to be plucked from Congress and put in a cell with a cot and pot. Vote these lying chicken-cluckers out of office in 2020. America has lost jobs, lost food production, is selling nuclear secrets to the Saudi's and is now polluting our drinking water and rivers.  This administration and GOP Congress is not a nothing' burger, but simply one big splattered chicken-egg of failure and lies.
We don't deserve this chicken-shit stew Trump has put us in.
Take a leap of faith and vote in 2020 like America depends upon this upcoming election: it does.
Cheers-have a nice day. GOP=chicken gumbo.
Franque23.
*https://www.foxnews.com/media/jeff-flake-republicans-save-soul-trump-impeachment
(Click the pic for a larger view)
It made perfect sense back in the day to be awash at the beach by women wearing two piece suits.  Men wore the needed one piece while women wore all sorts of variations of single and two piece suits.
Really from 1960—
None of the suits turned see-through when wet and it seemed society remained relatively sane. Coppertone was widely used so actually I laid out in the sand in a vat full of people developing different forms of skin cancer. It was all good, like cigarettes, as far as we knew.
The two rules I recall at the beach was that there'd be no drinking and no female nipples showing. Not that my young self noticed any of those more risque two piece bonanzas.."Hey dad, can we go to the beach?" "Hey dad , can we go to the beach?" " Hey, dad….."
It seemed a no brainer, too, when our college bound hippie movement ushered in the bra-less, see my nipples under my shirt look. Not that any of us guys noticed. Ha! We were talkin' straight studying of the Humanities or the science of it.
Anyway, today, just now, the news reported that six states currently will allow topless bathing (Is it just bathing?) -in Utah, Colorado, in please take me home, Kansas, New Mexico, even in Muskogee, Oklahoma and in beautiful, wide-open Wyoming. This is very embarrassing for my hippie counter parts: we defeated the bra but never thought outside the entire complex—the shirt, too. Sure, we had naked love-ins, parties, skinny dipping and whatnot, but I never heard anyone say, "Lets legalize topless ladies!"
But this new law didn't happen over lust, but freedom. And the timing of today's, "Free the Nipple" campaign is exactly 100 years after men fought to free their own nipples!  That's right. Newspapers in the 1920 and 1930's reported the nearly naked outlaws, and denounced the public display of  male nipples on beaches. Men were to cover up those evil nipples for the sake of, well, madness but no one seemed to know it back then.
"If only we could swim in our church suits!' Said no one.
A semi-sorta prison outfit was a harbinger of things  to come for those guys who 'freed' their nipples at beaches!
Soon after the practice jail break beach-suit time, there were reports that indicated men were arrested left nipple and right nipple as they appeared nipple free at beaches…. As the New York Times reported :" No shirtless bather will be allowed "to mar the high standard and fine appearance" of Long Island's newly created Ocean Beach Park, said resolute local Police Chief Philip B. Kohut, after the trial of three men arrested for swimming topless."
But men would have none of this scandalously, ridiculous law that bogged them down from showing their nipples on beaches. Arrests were continuously made until 1937. What happened then?  Tarzan came out as a swinger.(Hee-hee)
That was it: men's nipples were all the rage. The 'top' was blown off that stagnate, no male-nipple showing thought and it's possible men started to think about how to get larger nipples at this time?!!? I'm not sure—just projecting by having the grace of knowledge about our history since this famous date.
Yep, Tazan went swinging and the world went crazy with this news: "'Bareback' bathing for men, heretofore taboo in Atlantic City, broke down the last line of official resistance today and will be allowed this Summer," the New York Times reported on March 29, 1937."
Women, however, were to remain in one piece bathing suits that only lacked a Chasity belt to be fully correct. So what freed the woman's belly button? (Lord no, no one was thinking topless…)
Micheline Bernardini, a French nude dancer, was the only model swimsuit designer Louis Réard could find to wear his bikini when it debuted July 5, 1946, in Paris. (AFP/Getty Images)
To this point, here is the heroine of the modern day two-piece female swim-suit…It's like she deserved the, Noble 'Piece' Prize…:-) Yep, leave it to a dancer to strip away antiquated opinions. Can't you hear it now? All the men across America yelling, "Put your clothes back on! Put your clothes back on!" I gotta admit, I haven't come across any article about marches of men who were outraged over women wearing a bikini taking place at this time. Weird, huh?
Does time change anything as much as it does fashion? I have to think.
Anyway, now-a-days plenty of women have been arrested for barring their souls and bosoms. It's to America's credit that six of our states have caught up to Germany who started their first nude beach in 1920. I'm mean that's only, okay, about 100 years—that's all it took for American society to almost catch up to Germany's freedom of expression. So grading on a one one to ten basis, when it comes being able to be partially naked on beaches, America gets about, what, a one?
Yay! We get a one and maybe done for being a leader in not very much at all. I love this country: it's the one I was born in. It's just when it comes to so much, we seem so slow to catch on, to make a difference and to lead. Right now, this isn't the country I grew up in. This is a country that still wants those one piece women swim suits, to dictate how those so different from one another should live by another's standard. Listen, we fought to be free from the get-go. It ain't gonna stop.  Women will be topless if they want; gays will marry and have equal rights. Big oil will lose it's shirt if it doesn't shift to solar and renewable energies and lying politicians who hate Homosexuality while keeping a closet full of young boys will pass. This is America, and we will right ourselves.
I learned in Boy Scouts how to tie and untie knots…we all did, and can. America is moving forward, not backward.
Cheers.
Franque23 has always been a skinny dippin', fun loving guy 🙂
(Click to enlarge the pic!)
That's how we watched the TV series back in the day: in black and white. Thing is, we can argue about the color of Jesus all centuries long but The Lone Ranger, the real deal, was a black man named, Bass Reeves.
Reeves is on the left—the real Lone Ranger.
This revelation started when I couldn't get the theme music of the Lone Ranger TV series, William Tell Overture, out of my head while at work! It took another day of brain churning for me to figure out why. As a kid, I believed in this masked man who sought to right the wrongs in the world. My white hero in his white hat, guns blazing while riding a huge, white horse was sorta like a horse ridin' Superman. Now, I suspect the music came back to me due to all the troubles we have in our country, and from an internal longing that someone other than Mighty Mouse( come on—he's not real!) would come save the day!
Anyway, This pestering racket of a theme song lead me to look into the history of the show.
Just wow… I was amazed to find this….
"What Reverend Haskell James Shoeboot, the 98-year-old part-Cherokee Indian, was about to tell Burton(the man researching the Lone Ranger) would persuade Burton he'd stumbled upon one of the greatest stories never told.
Born in 1838, Bass Reeves was a former slave-turned-lawman who served with the US Marshals Service for 32 years at the turn of the 20th century in part of eastern Oklahoma and western Arkansas known as Indian Territory. Though he was illiterate, Reeves became an expert tracker and detective…"*
Reeves as a slave took his owner's name. Near the end of the war (he fought for the south) Reeves traveled to Oklahoma doing odd jobs and learned several Native American languages.(I suspect this is when he learned to track.) The government appointed 300 marshal's to tame the west and—Reeves was one of them…
Reeves, you guested it, is in the red circle.
"…Federal law dictated that deputy US marshals had to have at least one posseman with them whenever they went out in the field and often, the men who assisted Reeves were native Americans".*
Soon, it became evident that this Reeves fella could out shoot, out ride and captured criminals better than any lawman in the west. He wore a white hat unlike most other marshals and beneath him galloped a huge white horse.
He gained a swagger as his arrests piled up. How many arrests? It's written this one man captured over three thousand men who'd gone bad out west. In one day, as the history goes, he arrested thirteen men at one time!
These three thousand criminals all went to Chicago's prison and it's there guards learned about Reeves from the inmates. The first radio show about, The Lone Ranger, was produced in Chicago in 1933.
But how did Reeves become so successful?!?! We all have heard about how, Tonto, the Lone Ranger's sidekick helped him track criminals.  Well, 'Yes Virginia, there is a Santa Claus!'
This is the only magnificent picture I could find of the real Lone Ranger and Tonto together. Tonto was said to be a Potawatomi Indian – the same tribe that was forced to move to Oklahoma.
Bass Reeves was famous for wearing disguises to help in his investigations and arrests. He dressed as beggars, hobos, farmers, city slickers and lunatics to get his men and it paid off. One night, he walked 28 miles to a homestead where two wanted men were said to be staying. For authenticity's sake, Bass dressed as a man who'd been robbed at gun point and lost everything. He put three bullet holes in his hat, wore worn out shoes and scuffed up clothing. The mother of the two wanted men answered her door and Reeves quickly got inside with his story and stayed for dinner. Soon, the women's two sons returned and they all had a time talking. Reeves was asked to stay the night.  He handcuffed the two criminals while they slept and walked them 28 miles back to his camp with their mom yelling and cussing at Reeves all the time. But, why did Reeves go to so much trouble!!! The reward for these two men was Five-Thousand dollars….a huge sum back then, and Reeves left nothing to chance.
This is Reeves with his wife; he spent his money wisely on her attire, don't you think?
So there was a Lone Ranger and a Tonto…
But they never looked like this. They may, however, had conversations like this IF the nicknames used on the TV show were fact based.
Loosely translated, Tonto might mean, 'You don't know much…' and Kimosabe,… "In Apache, it means "white shirt." Who knows — maybe Tonto also had to do the Ranger's laundry and was actually constantly reminding him to avoid grass stains. In Navajo, on the other hand, "kemosabe" translates as "soggy shrub."**
Of course, TV producers heard the stories and wanted a show. Thing is, Reeves was the wrong color for a TV hero back then. The solution was to introduce him in black face, which they did. The original black mask worn by the first actor portraying, The Lone Ranger, nearly covered his entire face. It was policy at the time for a white man to wear a 'black face' or black mask of some kind when portraying a black man on stage.
The whiter The lone Ranger became by legend, they smaller his black mask.
There it is! Bass Reeves was a truly extraordinary hero for law enforcement in the history of the west.  And, oh, one more thing—about those silver bullets the Lone Ranger was said to leave as calling cards. Actually, Bass Reeves left silver dollars. Really! Bass had that much money.
Hi-Ho Silver… Bass made a killing at law enforcement. He died a peaceful death in 1910. I suspect, as a master of disguise, he never cared that no one knew who he was. He got the criminals, the gal and the money—that had to be enough.
This statue honoring Bass Reeves was recently put up in Fort Smith, Arkansas. The statue is bronze, but our 'white' hero, the Lone Ranger, was definitely Black.
Franque23 rides away until another day!
*https://www.telegraph.co.uk/culture/film/10131675/Was-the-real-Lone-Ranger-black.html
**http://www.word-detective.com/2011/07/kemosabe/
"Concentration camp, internment center for political prisoners and members of national or minority groups who are confined for reasons of state security, exploitation, or punishment, usually by executive decree or military order."*
I'd like the word play discussions so often frequenting social media about what is or isn't a concentration camp to end. This discussion, after all, is just a diversion from truth and a means to dilute the meaning of what is happening in America under Trump.
America IS running concentration camps at our southern boarder.
The camps holding immigrants on our southern broader are concentration camps, in fact the buildings being used are WW II camps designed to 'concentrate' America's Japanese population into one area. Thing is, if you look the word up there are often references to Hitler's camps, but the gassing of people is not inherently held within the definition of concentration camps. But let's be 'frank'—the abuse happening right now on America's southern boarder qualifies as concentration camps: over two thousand children have been,' lost!' Where did they go? Some have actually died in these camps! Hundreds are kept in places designed to hold up to twenty. Now, children and adults are being punished by being denied outside exercise-it isn't enough that we have penned them in mass….
A recent article pointed out that thousand of the incarcerated claim to have been sexually assault while in our concentration camps!** This brings to mind that Texas recently passed a LAW stating that police officers weren't allowed to have sex with, or rape, those who are held in custody in the back seat of their patrol car. I'm like….WTHECK? We needed this law?  Thing is, many states do not disallow this behavior but deem it a misconduct issue….***
I'm thinking a low can always get lower.
We, as Americans, as citizens of the world, have to do better than running concentration camps in America. I've got a great idea! Vote out this bastard administration in 2020… that should do it, or at least be a giant step back in the right direction for America and the world!
You don't think we should vote Trump and his cronies out in 2020? Well, there's this:
You can turn a blind eye as Germans did in the time of Hitler and for the same reason: they loved Hitler,  you love the GOP and Trump, no matter how abhorrent the party or man is. But, if you do, you are no better than the people who allowed the mass killing of 6 million during Hitler's reign of cruelty: you're no better; you're no different—you are the same, a mindless, heartless mass of people who should know better but don't. Concentrate on this.
Franque23
*https://www.britannica.com/topic/concentration-camp
** https://www.nytimes.com/2019/02/27/us/immigrant-children-sexual-abuse.html
***https://truthout.org/articles/in-35-states-cops-can-legally-have-sex-with-someone-in-custody/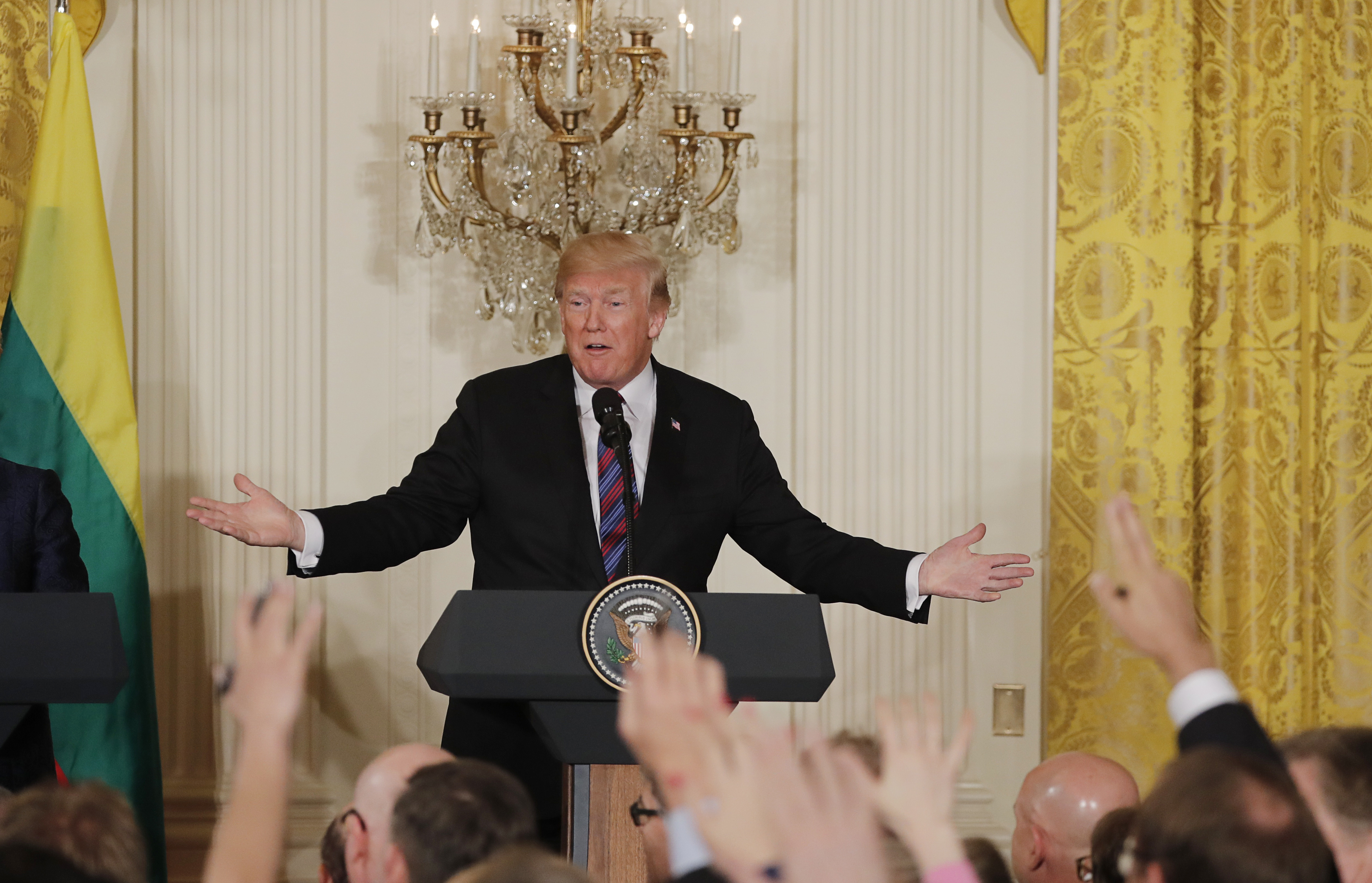 One of the first things you learn in library service is to ask good questions—this can save so much time when it comes to helping patrons. So, in the spirit of helping America, here's 30 questions I wish someone would ask before the press core is drummed out of the White House.
Trump golfs so much, why is he fat?
If Trump has nothing to hide, why does he hide everything?
Why does Trump lie so much?
Will Trump be arrested before or after he is out of Office?
Why didn't Trump want to have fun at making money rather than losing it?
Why has Trump gone bankrupt so many times?
What is Trump's waist size?
Did Trump get a STD from sleeping with a porn star without using a rubber?
Has Trump stopped grabbing women by the pussy?
Why Is Trump in love with Putin?
Is Trump really bisexual?
Why did Trump tell his first medical physician what to write in his health exam medical report?
Why is Trump a bad speller?
Is Trump stupid like people say?
What were Trump's real grades in college and why does he keep them secret?
Why has Trump and his businesses been sued over 3500 times?
Did Trump really kiss a man?
Is it true that Trump was caught in a bathroom stall with another man?
Why did Trump make-up fake news?
Why did Trump call radio shows and pretend to be someone else?
Why doesn't Trump believe in God?
Why does Trump live in fear?
Why does Trump hire so many foreigners?
Why is Trump so over weight?
Trump gives athletes fast food hamburgers; is this what he likes to suck down his pie hole?
Why does Trump cry so often?
How much money has Trump stolen from his 2016 campaign funds?
Why was Trump afraid to fight in our military?
Does anyone know why Trump hasn't been arrested?
Why hasn't Trump been arrested?
Just asking to help clear the air…
Franque23
why is a cheap SOB to sport athletes
Come on, we haven't had crap like this since the game was invented. Officially, Crap was invented in 1125 A.D., but many historian's say the game of crap was brought to Europe at that time from Egypt, where it may have been played since God knows when. Still, here, this DOJ appointment by Trump is nothing but crap's purest form.
Come on….Trump fires DOJ Whitaker, then DOJ Dana Boente, then DOJ Sally Yates and then DOJ Sessions, until he finds, Barr-the -fixer, who will fix anything Trump asks him to fix. You think I'm blowing smoke?
read this link if you want to know the truth about Barr… http://www.wbdaily.com/big-government/22994/
here's a quote from the article…
"However, as a result of doing business with Clinton, the Feds needed a fixer. That fixer would become Barr, who went by the CIA code name of Robert Johnson.
Bush and Clinton Needed a BIG Fix"…(that was Barr, our current so-called DOJ)
That answer, the man Trump needed was Barr. He has no moral ground….just a fixer from the get-go for either party. What bothers me, maybe most, is that most of those congressmen and women who vetted Barr for the postilion of DOJ knew all of this. They still confirmed this man to clear Trump and about anyone else involved with any possible Russian interference in our election or any obstruction done by Trump.???
Trump is a maze of firing to numb us to the reality that the only person who really mattered was the DOJ. He fired so many people, and at the time I never realized it was to smoke screen the important one.
This is a link to the zillion people Trump has so-called fired. But, mind you, this was to smoke screen the big move, the firing of the DOJ.. https://en.wikipedia.org/wiki/List_of_Trump_administration_dismissals_and_resignations
Trump is  a scum bag, we all know it. His propensity to grab,'pussy.' when he likes is enough to earn him the title. But there is so much more. He is a bully, a man who hates minorities, a disgusting liar, a greedy man who has no soul. Thing is, these are his good qualities.
Support who you like, but this man, Trump , vowed with Bannon to bring down American democracy…go look it up..
"Bannon framed much of Trump's agenda with the phrase, "deconstruction of the administrative state," meaning the system of taxes, regulations and trade pacts that the president says have stymied economic growth and infringed upon U.S. sovereignty."https://www.washingtonpost.com/politics/top-wh-strategist-vows-a-daily-fight-for-deconstruction-of-the-administrative-state/2017/02/23/03f6b8da-f9ea-11e6-bf01-d47f8cf9b643_story.html?utm_term=.3e7d19528fa0
People slough this off as a correction to big cats in Government,, but is it? Trump has dismantled an amazing amount of our morals, laws, customs and governmental over sight. And what change did Trump bring to taxes???? All for the upper 1%, that's where his so -called tax reform went,. Why.. To break our back, to break American workers and society.
Trump means to dismantle the American way of life.
Trump thinks Russian Pr is more correct than our own FBI and Intl. community. This is no mistake by Trump. Just like his constant attack on our FBI people and the Media, Trump is out to break the back of American society….Let's break him instead.
2020 isn't that far away. Republican or Democrat…vote in 2020 like America depends upon your vote….it does.
Franque23