You are currently browsing the category archive for the 'society' category.
(Click the pic to enlarge.)
A thread on Face book today got this going. The points went back and forth about whether or not American's should be off work on Election day. Would this help bring out voters? Is it necessary to close businesses when we have early voting or mail-in with even prepaid postage in some states?
You know what? Screw work on election day.
Either call-in on Election Day, take the day off or have it off as a National Holiday. It doesn't matter if being off on Election Day would increase voting tun-out.  We have to stop the madness in America; we have to throw off this, 'work until you drop,' yoke American Big business has used to harness American workers.
American companies and big business have come to value profit more than life, and it's wrong.
American's should be off on Election Day–it shows and teaches respect for the process; the same for President's Day. Businesses should close and Americans should use President's Day to remember the leaders that have helped shape our country and World. Someone once said that actions speak louder than words. It's true, our children watch what we do at least as much as they listen to what we say. Look both ways; it's bed time; eat your veggies: how's all that jabbering working for you as a parent? No, leaders, parents, teachers, workers and politicians should show the way, walk the walk as well as talk the talk. We all need to stop making work the point.
The work ethic in America is bonkers, and we should keep all our Holidays and add Election Day and President's day to them. We should also throw in four, ' the weather is too nice to work,' days to boot. Farmer's knew their horses needed to rest; American workers need a rest, too.
What's nuts about having election Day off? Here's what's nuts: we used to not have just President's Day off when I was young, but Jefferson's, Washington's and Lincoln's birthdays off! It's true! These three days used to be school holidays and many businesses closed as well. More, every business, but for a very few, closed EVERY Sunday! That's right—just about no one worked on any Sunday—not ever.
The sky will not fall if America stops the madness and gives workers more time off during each work year.
The workers will drop if we don't give them more rest, not the sky.
Think! Our American society used to give workers more days off than it does now and what happened? America boomed; that's what happened. American workers were happier, they were better educated and they enjoyed our society.
Sixty years of decreased earnings (when adjusted for inflation), multitasking nightmares, skinnier staffs with additional work to do, the loss of pensions and less time off has reduced American workers to what we are now: an over worked under paid discontented work force.
The rulers, owners and greedy big businesses have been flushing American workers down the toilet for over sixty years now and it needs to stop.
Let's turn things and us around.
Let's take Election Day off so we can elect the right people to office. It's often said that change comes slowly. You know what? Maybe not.  Maybe change is right around the corner; maybe the sun will come up on America. Maybe American voters can stop the madness.
I hope so.
Franque23
Pumpernickel was the most foreign thing around the neighborhood back in my childhood days. A salted Frito was the a vanguard chip and guacamole remained a word hard to pronounce or spell. Now? That long ago time resides on the far side of a poorly mark rut in the road of life.
Certainly, I grew up in a part of America awash in feel good innocence. Then, it was a time of hope for those who lived under the disappearing shadow of World War II. We were the champions of the free world; the winners.
Grandpa was proud of his four boys who all fought in WW II (Dad is second from left.)
Flash: think no computers, no cordless phones of any kind, no internet, no chat, no what's up, no what's anything but for phones in phone booths or in homes that featured a brand new item: a tube TV  with about 3 to 13 channels. Now, I wonder what we all did all day?
Morality was a given…
Every kid knew to cross their fingers if they were going to lie; every guy knew girls were not only softer than boys, but annoyingly smarter as well. Still, none of us perceived a battle of the sexes or a societal wrong that had to be righted. Heck no, elementary school years were filled with just people—guys I palled around with and girls I was thinking about getting to know.
Things started to change in Junior High. (1960ish). The fall out of line and get hung out to dry clicks appeared. Guys and gals mostly formed into three groups: the hoods, the sport rats and the way smart what's up with that group.
Now, the hoods were bad people because some of them smoked cigarettes and they often wore black shirts. (Really not kidding, and I could almost add, they chewed gum in school) The sport rats, the group I belonged to, never smoked cigarettes and we wore saddle shoes.
Clearly, these huge differences were cause for great concern and animosity. Oddly this huge division between the Hoods and Sport Rats meant the gals had to decide which group to belong to and those lines once drawn rarely, if ever, changed through High School. I once ,'hit it off,' with a gal from the hoods in history class and we became fast buddies. But, when I suggested a soda, she told me, terrified, "Oh no, I could never do that. My group would go nuts. Plus, you don't know what I do." So, I realized she smoked cigarettes….sad.
It was an innocent time compared to the likes of today.
Of course, I was young, free to smell the dandelions as I ran across our neighbors' yard. I was free to imagine that near about everything America stood for and did was good and right. I was free of a bombardment of contraptions that now give us real-time access to things that are happening beyond our sight!
Please, if you are semi-young, like under 40, Imagine this: there was no news until the six o'clock T.V. broadcast; there was no minute-by-minute news of your friends, no daily breaking political sirens. Even the stock market could rally or crash without a peep until evening. Every thing, every day, was on hold until evening. People went to work without worry or care about daily events until nighttime, until they'd gone home and had a cocktail, a smoke or rest.
In many ways, the multitasking, tied to your smart phone generation is cursed with too much information.
Call me old fashion? Maybe try hiking or camping and leaving, God forbid, your smart phone at home. There's a world waiting for you to discover, one I grew up in, a world of be here now without interruption from things you can't change anyway.  There's a world of freedom waiting for you but for one thing: you can't put that smart phone down.
If the world today were to sculpt a representative statue of Mankind it wouldn't be, The Thinker.
No, it would be a person looking down at their smart phone or taking a, 'Selfie.'
The interactions that sooo many studies show are healthy for us—the eye contact, the smiles, the greetings—are now lost to bent heads looking at smart phones…
No, I'm not old fashion: I'm right. Put your phone down for at least one day per week and see how many eyes look your way. The worlds' presence will once again be yours to see, and it is amazing.
Franque23 dares you to do it…
Simply amazing.
My wife recently told  a news story on T.V. to "Go Fund Yourself." It broke me out in fits of laughter….as my wife often does. She's smart, a wit-full companion that keeps me thinkin'. Thing is, my first editor of everything you've ever read from me is also sharp, and more helpful than you know…. Barbara sent me this tonight,, and I thought in our time of strife it might do us all good to take a look at the,'Will  to Survive'. It's in all of us, to fight for existence, and that we shall prevail…just look at the trees: they lead the way.
Enjoy, and thanks again to Barbara for the link.
Peace, Franque23
Trees have been around for about 370 million years, and as you can see from these incredible pictures, there's a good reason why they've survived for so long.  Whether they're growing in the middle of gale-force winds, on the tops of rocky platforms, inside concrete tunnels, or even growing out of each other, trees know how to survive in places that few living organisms can, which explains why the planet is host to around 3 trillion adult trees that cover an estimated 30% of the earth's land.  Considering that plants produce the vast majority of the oxygen that we breathe, we should all think ourselves very fortunate that trees are as resilient as they are.  We wouldn't even be here if they weren't.
#1  A Place Of Enchantment

#2  This Palm Tree Fell Over And Curved Right Back Up

#3  This Tree Fell Over And Grew 4 More Trees Out Of Itself

#4  The Only Tree That Survived The Tsunami In Japan Between 70,000 Trees. Now Protected And Restored.

#5  Tree Of Life – Olympic National Park, Washington

#6   A Tree's Root Spill Over The Sidewalk

#7   Nature FTW

#8   A Tree Growing Through Speed Limit Sign

#9  This Tree That Refuses To Die

#10  This Tree Still Has Its Leaves Because Of The Light Shining On It

#11  Life Finds A Way

#12  Tree Roots Extend Across A Gap To The Mainland For Nutrients

#13  Life Finds A Way

#14  Ta Promh Temple In Cambodia

#15  Striving

#16  Someone Hung His Skates On A Small Tree When He Was Younger. He Forgot He Had Left Them There And Found Them Years Later
#17  A Tree Growing On Another Tree

#18 This Tree Is Growing Out Of Another Tree

#19 This Tree Grew Out Of The Stump Of A Dead Tree And Then The Stump Rotted Away

#20 A Tree Grows From Third Floor Window

#21 Life Finds A Way

#22 I Spent Ages Staring At This Tree Before Taking This Pic. I Hope You Find It As Fascinating As I Did

#23 This Floating Island That Grew At The End Of A Partially Sunken Tree

#24 This Wooden Chair My Parents Bought Started Sprouting Leaves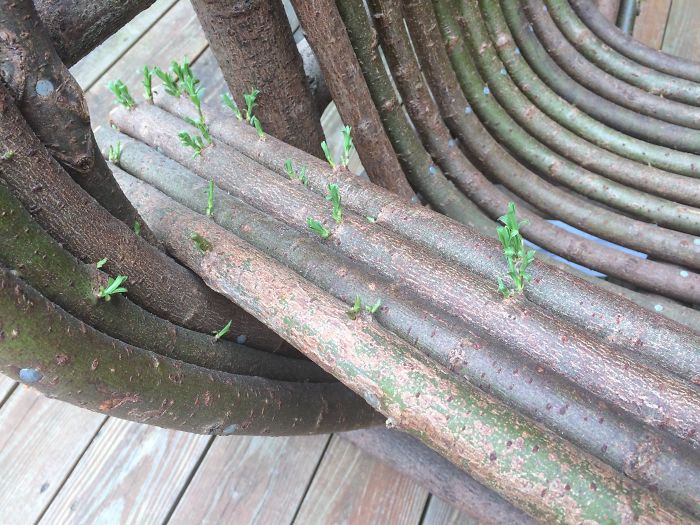 #25 The Old Piano Tree

#27 One Tree On My Street Refused To Accept Winter

#28 My Sister's Tree Is Eating Her Fence

#29 This Tree Growing Through A Fence

#30 Life,Uh… Finds A Way

This is the winning 2020 presidential ticket. In fact, the more Republicans and right of center groups claim this idea is preposterous, the more Left leaning voters should realize it's true!
Trump's election set precedent that a person not directly experienced with holding office can be elected President. The 2018 mid-terms have more than shown voters are agreeable to female candidates, and even female, Black candidates in the South!! Yikes! I wouldn't have thought this to be the case, but it is. The 2018 mid-term election has proven the American electorate is ready for women of any faith or color. Now is the time for Michelle Obama.
We all know President Obama brought America out of the brink of collapse, along with perhaps saving the entire world economy, so who better to associate with how to truly Make America the shining beacon of hope and posterity it once was under President Obama?  Michele Obama, that's who can lead the charge in 2020. Michele is the one who can break through that invisible male ceiling the presidency of the U.S. still supports; she is the one who can unite and bring out so many difference Democratic voters.
And what of Bernie Sanders as V.P. on the ticket with Michelle Obama for 2020? This is a slam dunk yes! Bernie calls for a health plan most Americans have come to favor; Bernie calls for living wages and real tax cuts American workers deserve. Any notion that Bernie's too old, or too socialist, or that, 'Michelle won't run,' is just bull crap being thrown from the Right, a group who literally trembles in fear of this Democratic ticket.
Get Michelle and Bernie on the ticket and America wins.
Elect Michelle and Bernie and Education gets a huge increase in spending; America's humanitarian efforts resume throughout the world; a living wage comes to fruition; real infrastructure rebuilding programs commence; renewable energy takes off in America and sparks a mass up-swing in employment and prosperity; health care becomes part of our society and not a leech upon on government and our worker's backs. These are all things American's want by massive majority numbers.
Get rid of illegal gerrymandering across America and the new world dawns through America's growth and undeniable will to succeed.
Listen up. Cast fear aside and get Michelle and Bernie on the same ticket for 2020.
Let's cast aside the party that has once again deregulated banks putting the U.S. in danger of another ,'bubble burst, ' as we had Under Bush . Jr. Let's dump the party that has striped America of much-needed environmental controls, who now drills in our National Parks threatening our famous, Heritage sites. We can beat back Republican corruption and the radical hate groups this party embraces; we can end the hate mongering President Trump seems so happy to spew on a nearly daily basis. We can end the seemingly endless stream of lies now being forced upon the American people from this current Republican administration.
It's a new day, baby. Democrats! Let's bring it home.
Franque23
It is a prideful mid-term election this time around in America. People, all full of pride, have stood up in numbers representing their position to their friends, neighbors, communities, America and to the World. America hasn't had the marches we've seen across the country in the last two years since the 1970's. And no, none of this dissent from any side has been entirely peaceful—some have died for what they believed, or for who they were or due to where they were. Upheaval never comes without cost and the past two years in America have sadly borne witness to this truism.
"I'm proud to be  American!"
"I'm proud to be gay, a woman, white, black, tall, good-looking, smart, richer or powerful!"
"I'm proud to hate!"
Theologians often place pride above the other so-called seven deadly sins: lust, envy, anger, greed, gluttony and sloth. Yep, Pride is said to be the ,'Root of all evil.' How. To. Deal. With. That. This discussion could be an, 'All-nighter.'
This is a 1913 meeting between North and South civil war survivors. Each was proud to serve.
I am proud.
Toss pride anyway you want: I'm proud of Dale, and she happens to be my wife.  I'm proud of her 40 years of effort during her nursing career to help young and old alike to heal or accept their situation and make the best of that. Most of those 40 years she has helped new born's while working in NICU; some of her patients weigh three or less pounds. Imagine. Of course, I take no credit for any of Dale's achievements; I'm proud to know her.  And, this election cycle has been no different.
I'm proud of Dale and anyone like her who has jumped in feet first into the mayhem of this 2018 mid-term election.  Dale has worked the phone lines for her party; she has written, talked and text until her fingers were sore, her voice hoarse and her wit's at wit's end. Trump may not know it, but he's been barbed enough to fill a pin cushion.
Dale is one of millions of Americans who have taken it upon themselves to get off their cushy couches and 300 dollar computer chairs and work to turn their beliefs into action. She is one of millions who are busy doing the,'stuff,' the real hard work of America. Tomorrow, Dale will be driving people to the polls all day. I think this is great.
Hat's off to all of you who have persevered over the course of the past two years while trying to right the wrongs they see taking place in America today. It's not certain how our 2018  mid-terms will turn out, but for all of those who have worked to make the world a better place please remember this: no one, nothing, can ever take away your effort and the solace that comes from a job well done. Win or lose, if you have walked door to door, called number after number and marched when you could and filled out every poll you wanted to, congratulations.
Now, we wait for tomorrow's election outcome, and it may take weeks to know?
It's no secret that I'm hoping for a, 'Blue Wave.' But, even if I have to go to the beach to see one again, I know I did what I could to make it happen.
I have a word of head's up though for those of you who favor my political position. Please, don't think that if the, 'Blue Wave,' does come in 2018 and then again in 2020 that the battle to right the wrongs in America will be anywhere near over. No, the seed(s) of hate and division have been well planted in our society and these two elections will not be enough to weed them out.
Every morning gives us all a chance for a new day—I'm hoping tomorrow gives America one of those kinds of great vista's.
Good luck, America.
Cheers.
Franque23
Can you spare a minute?
This post may have started with the 9:09 PM starting time of the Milwaukee Brewer's and Dodger's game on Oct 16th. Why, for the love of anything you pick, would a game start at 9:09? Googling the question reveals that the TV time slot actually starts at 9 PM but announcers (and it's got to be ads) have stuff to say for, like, 9 minutes. Okay, but 9:09 still seems a bit random to me. Why not have announcers fart around for another 6 minutes to reach that even 9:15 PM time or, better yet, could they just shut the hell up and talk after the 9 PM game starts?
The Babe knew how to 'time' his swing…
Little things matter. People, fans, have enough to do work-wise and drinking-wise (This is , after all a Brewer game) to nail a 9:09 time slot. It's all wrong, but it gets worse. It turn's out a local High School has lunch scheduled at 12:17 PM and its normal school day ends at 2:37 PM. There's one for all you driven crazy by parenting driving pick-up moms to focus on. "I pick up the kids at 2:37; at 2:37; at 2:37." All over town mother's and dad's stare into a mirror and repeat this over and over the night before every school day.
Me and my guitar along time ago….
When did our ,'Minute Madness,' start? It vaguely seems correct to think minute madness origins can be found in airplane schedules. They always had weird departure and arrivals times but have you ever seen a plane land or takeoff ,'ON Time,' no matter what weird time they picked for either event? Me neither. Thing is, this every minute matters approach filtered down into our society like a fungus on tree bark. We're consumed by bizarre time punctuation. And here we are, a society semi-sprung from parts world-wide where the afternoon breaks for nappy's, wine or chatter used to be 3-ish or 4-ish to five-ish.
I guarantee Napoleon did not invade Paris at 3:13 PM. No, our paid, fired, hired or hounded by the minute life is not the stuff of history.  I've never read that Isaac Newton's brain-dent from an apple happened precisely at 1:02 PM.  Nope, survivors of the World now gone minute-mad call that an, "aha moment," and leave it at that. Can we just walk away, call a time-out, and avoid being hit by another apple in time?
Time-out. Now time for this or that, not enough time, time lost, time gained, saved or wasted, time spent, time-in, time forgotten, time can be so many things—that's the good news. The bad news is time is the task master of us all now-a-days. Worse, time not only exists in our heads, on phones, watches and punch-in clocks at work but it's especially adorned by Cuckoo clocks, and rightfully so. Never has a true unknown ever ruled over the world like our vague concept of time.
Salvador Dahi painted melting clocks
To be fair, man does have an AC/DC timeline in place… whoops,, I mean a BC/AD time line in place. ( BC=Before Christ and AD=After the Crucifixion)So sure, we know stuff happened before Christ was born and then lots after, but the trouble is when he was born can slide back and forth by ten years, some say twenty, others say up to sixty years or more! I ask you, how much of what we do today can be off by, like, thirty years? " I build houses and yours will be up sometime within the next thirty years.-That's a promise!" A man runs to catch his train but he's two minutes late getting to the station. The train is nowhere in sight so he asks the train station attendant, "Did the train leave?" The Train attendant looks over his records. " Yep. That train left about a week ago-sorry."
Time is based on nothing but agreement formed in the backrooms of history. Time truly denotes nothing but has the power of the leash and lash we've given to its practice. And wouldn't you know it, I asked one of our many volunteers at work tonight when she was leaving. "8:12," was her answer. I stared ahead in disbelief, knowing I'd write this glob and not ask her why, '8:12′?
You know, I finished this post in the nick-of-time….whew. That's called ,'split second timing.'
TV aired a show about people living off the grid and one fellow, a man with an engineering degree who'd been well employed as such, said the greatest thing about his life in the boonies was that he didn't wear a watch, and he had no idea what day, month or time it was.
My brother, Ed Franquemont,(Harvard Grad.) lived in Peru for ten years with his wife and children. Ed once told me the best thing about living as he did was that there was no specific time, only day and night, and the passing of the sun and moon in between.
once upon a time at our home on Long Island, Ed and I shoveled a lot of snow…
Hurry here; hurry there: this time thing is a madness, and we are all bound to this fever. Sad. Can we have a re-do and think this thing out one more time over a four-ish nappy and bottle of wine? We might find we get less done but we are much happier with all that progress.
Franque23 doesn't wear a watch , or have a, 'smart.' phone. I'm still dancing.
I've always loved seeing movie footage of the past. It makes this short film below that more special in that I was born and raised just outside of The Big Apple and considered it my stompin' grounds during my High School days.
More, I've had a couple of odd coincidencedinks in life that revolve around my early years spent in New York City. I'd often spent time in  New York City, The Village,  roaming the walk down shops after munching on a seventy-five cent pizza slice. By far, the Leather shops were my favorite to visit. I was immediately attracted to the smell of finished leather goods, their shine, polished to deep warm browns or beige and tan colors.  One shop owner in particular was a bit more out going than most, and that was wrapped by a quick sense of humor all tied together by tremendous wit. His name was, Byan. He stood tall with penetrating dark eyes that glowed above the flash of  his smile. Our conversations were never long but they played in my head usually throughout the following days. Mysterious, that was the word for this fellow.
Fast forward eight or so years and I'm attending a bluegrass festival in Hog Town Creek, just outside Gainesville, Florida. I was singing lead for an agent at that time, traveling to gigs with one of the three bands he managed. I'm thinking my pay was about a flat 75 dollars per week. The music drew me to the festival and there the smell of leather goods at a nearby booth attracted my attention. Sure enough, it was, Byan, running a leather stand. It turned out his parents owned a ranch nearby and he'd left NYC to return to his family's home. He wanted to learn how to play guitar and I was intrigued with leather work… We traded skills and I ended up being a leather worker running three shops for the next 14 years.
Of course, there's more. I got to know my wife of 38 years while  learning the leather trade from, Byan. We made items for the local leather shops in Gainesville—there were about four of them in town. I often worked on sewing leather hats of all shapes and sizes. A few years later found my wife and I working into all hours of the night sewing wallets and visors as we started our first leather business. It was years later when all of this came to circle.
Thirty years later, my wife and I visited Denton, England, along with her Brother and his wife. It was there that my wife's family were once hatters. It turns out they started in Denton and finally made it to New York City and I suspect made ,'a killing,' as they say in retail. Why? Well just look at what everyone is wearing in the film below. Wow. The story of my wife's ,'Hatters,' family is also amazing, but that's for another time.
Enjoy this glimpse into another era; a time gone by.
One more thing: the air seems much more polluted in this film than it appears to be in New York City now. Maybe too much,'Clean,' coal back then?
Franque23
I'm thinking eating an apple and then a banana could make a person fart? This could be trouble. I'm working the public service desk for the nest 5 hours and I just consumed both! If the answer to my first important question of the day is,'Yes,' I can only hope some service dogs come in. The good news? I'll be the first to find out the validity of the premise so I can quickly leave my area in search of a book or some other task.
Question two for today: Has our Supreme Court always been strictly a partisan affair and corrupted by outside interests? I didn't believe so as a child, but , then again, I also believed in Santa Clause.
My take of the Kavanaugh selection? The vote was 48 NO to 50 YES for confirmation. This means there were 48 correct votes and 50 wrong—that's about it. For liberals, the future for Supreme Court decisions looks bleak; that the Supreme Court no longer appears to have a swing voter might wreak havoc as decisions come down during the years ahead.
Third question: Why is the suffix, 'Jerry or Gerry,' such a derogation? We have the, 'Jerry's' (the German soldiers during world War 11) and, Gerrymandering, (Pretty much the sole corrupt political device that secured the election for many candidates throughout our country.) If something has been Jerry-rigged it won't work for long—we all know that. But did you know, "Jerry,' is another name for Chamber Pot!?!?!OH I know, a chamber pot was well received when needed, but it still seems to be a bottom-of-the-barrel sorta thing.
So why does all this matter? My name is Gerald, often turned to, Gerry, by family and friends, so I'm a bit sensitive to having a name associated with, 1)the enemy, 2)corruption, 3)something that won't be any good or, 4) a piss-pot and worse. This is why being called,'Franque,' by friends on athletic teams in High School was such a relief!
Fourth question: Since 1996, Medical Cannabis sales tax collection in states that have deemed the drug legal for medical use has totaled over, One billion, two hundred eighty-five thousand dollars. These are the medical sales. Imagine if the illegal usage sales and the tax charged were added to this figure? Why in any Capitalist's, rational head would it seem good to not legalize Pot?* Folks—we have a bunch of seeds and stems running our DOJ (Department of Justice). (Sessions is a jerk).
Fifth question: Why do so many men seem to hate women? Last time I looked, read or have been told, every man on the planet came by way of a woman. Or, is this alternative fact?
So many men lust for the same-sex they hate, demean, exclude from human rights that our world seems a whirling dervish of septic brain rot. For now, unfortunately, this is the good news. The over-all history of men's atrocities toward women makes our current societal condemnation of women an improvement of epic proportions. I've always had a,'soft-spot,'(meaning I care?) for the plight of the Native American's and for all indigenous people. Thing is, take any total number of any single group who has been wronged in history and put that figure against the number of over one-half of the world's population throughout history—that would be female—and imagine which number is larger. See? Women make up the largest group number of people tortured, used, abused, slaughtered and misaligned in the history of Mankind. And I do wonder about the term, 'Mankind.' Divide the word, Mankind,(Man—kind) and see that each half of the term is kinda off.
Sixth question: Why are so few patrons coming to the service desk? Hmmm. And no, that was a burp-I swear.
Franque23 loves bananas and apples.
*https://www.forbes.com/sites/andrewdepietro/2018/05/04/how-much-money-states-make-cannabis-sales/#28e12c8df181
(Please note the book recommendation below this post.)
Of course, the President's so-called tax breaks are simply theft from the American workers to give more money to the already super wealthy—everyone knows this. And dropping controls on pollution dumping into our streams and rivers is completely stupid. Everyone knows this as well, even if they drink the, "Kool-aid." But,  why do some people support agenda's that they know are wrong?
Definition of brainwashing 
1: a forcible indoctrination to induce someone to give up basic political, social, or religious beliefs and attitudes and to accept contrasting regimented ideas(Merriam-webster)
That's right. People support ideas and practices that they know are wrong because they have been brainwashed to think differently about what they know is true. This is what has happened to the Trump supporters. And, really, I don't blame Trump's supporters for their beliefs as much as I want them to understand what has happened to them.  We need Trump's supporters to, 'Snap out of it.' We need our republican counterparts in this society to  wake up and smell the coffee; we need to understand that many of us have been indoctrinated to vote against our own well-being.
The GOP regime has relentlessly assaulted the American voters with a barrage of fear-loaded slogans that aren't true, (Immigrants are taking your jobs—not true.)slide-of- mouth motto's (America, love it or leave it—against all American principles!) Make America great again!—ha!, and the famously flawed,'Trickle Down theory'.) It's all a lie told over and over again,.
The verbose reiterated barrage against pollution controls, banking regulation, the U.N, the Gay, the Woman and less fortunate are all lies propelled into the minds of so many. And all of them by means of one simply truth: say anything well enough, long enough and often enough and it doesn't matter whether it's true or not—people will believe what they have been taught to believe through repetition.
But is Trump a fool? Many point to his mid-range popularity and say, "It ain't so." But here's the thing: Trump's standings, polling, none of that changes what he is: wrong in just about everything.
Trump's poor vision with regard to pursuing fossil fuel development verses renewable exploration and expansion, his disregard for increasing pollution, human rights, specifically women's rights and minorities, his attack on EAP standards and lack of support for science advancement are a few hot spots to focus on when it comes to thinking Trump a fool.
So much about this man is wrong and stupid, yet so many cheer him on??? I'm thinking a fool can win at cards, but not at life. I hope I'm right. Right now, we're in the mists of a Russian(and others) financed brain-washing campaign of the American people. The results aren't pretty.
Like it or not, our population has been worked on by powerful interests so that we've become divided from one another. We've been told that the under educated cannot reason or fend for themselves(not true); we've been told that 'Southerner's,' are racists and that blacks and minorities are somehow inferior(not true). And to what gain? Remember, United we stand; divided we fall. This is why some American's have been taught to hate and disregard reason. The powerful want to control us, use us, and all to their own gain at our cost.
The first thing to teach an indoctrinated, brainwashed person is that they have been. This is the first step back to reason.
Marching, yelling and sign holding might help identify our difference of opinion, but teaching and informing our populace about the tools being used in our society to cause us to work against our own interest is of utmost importance. We need to identify those mechanisms present in America that work to divide us and cause us to not protect our own welfare and root them out.
Now is a great time to understand we have been brainwashed as a people. Now is a great time for us to trump this brainwashing and get back together.
Franque23
History can teach us a lot and, Revolution is not a dinner Party, by Compesti, gives good insight into China's Mao zedong revolution..maybe at your local library…too.
https://www.amazon.com/Revolution-Dinner-Party-Chang-Compestine/dp/0312581491