You are currently browsing the category archive for the 'society' category.
(Click to enlarge the pic!)
That's how we watched the TV series back in the day: in black and white. Thing is, we can argue about the color of Jesus all centuries long but The Lone Ranger, the real deal, was a black man named, Bass Reeves.
Reeves is on the left—the real Lone Ranger.
This revelation started when I couldn't get the theme music of the Lone Ranger TV series, William Tell Overture, out of my head while at work! It took another day of brain churning for me to figure out why. As a kid, I believed in this masked man who sought to right the wrongs in the world. My white hero in his white hat, guns blazing while riding a huge, white horse was sorta like a horse ridin' Superman. Now, I suspect the music came back to me due to all the troubles we have in our country, and from an internal longing that someone other than Mighty Mouse( come on—he's not real!) would come save the day!
Anyway, This pestering racket of a theme song lead me to look into the history of the show.
Just wow… I was amazed to find this….
"What Reverend Haskell James Shoeboot, the 98-year-old part-Cherokee Indian, was about to tell Burton(the man researching the Lone Ranger) would persuade Burton he'd stumbled upon one of the greatest stories never told.
Born in 1838, Bass Reeves was a former slave-turned-lawman who served with the US Marshals Service for 32 years at the turn of the 20th century in part of eastern Oklahoma and western Arkansas known as Indian Territory. Though he was illiterate, Reeves became an expert tracker and detective…"*
Reeves as a slave took his owner's name. Near the end of the war (he fought for the south) Reeves traveled to Oklahoma doing odd jobs and learned several Native American languages.(I suspect this is when he learned to track.) The government appointed 300 marshal's to tame the west and—Reeves was one of them…
Reeves, you guested it, is in the red circle.
"…Federal law dictated that deputy US marshals had to have at least one posseman with them whenever they went out in the field and often, the men who assisted Reeves were native Americans".*
Soon, it became evident that this Reeves fella could out shoot, out ride and captured criminals better than any lawman in the west. He wore a white hat unlike most other marshals and beneath him galloped a huge white horse.
He gained a swagger as his arrests piled up. How many arrests? It's written this one man captured over three thousand men who'd gone bad out west. In one day, as the history goes, he arrested thirteen men at one time!
These three thousand criminals all went to Chicago's prison and it's there guards learned about Reeves from the inmates. The first radio show about, The Lone Ranger, was produced in Chicago in 1933.
But how did Reeves become so successful?!?! We all have heard about how, Tonto, the Lone Ranger's sidekick helped him track criminals.  Well, 'Yes Virginia, there is a Santa Claus!'
This is the only magnificent picture I could find of the real Lone Ranger and Tonto together. Tonto was said to be a Potawatomi Indian – the same tribe that was forced to move to Oklahoma.
Bass Reeves was famous for wearing disguises to help in his investigations and arrests. He dressed as beggars, hobos, farmers, city slickers and lunatics to get his men and it paid off. One night, he walked 28 miles to a homestead where two wanted men were said to be staying. For authenticity's sake, Bass dressed as a man who'd been robbed at gun point and lost everything. He put three bullet holes in his hat, wore worn out shoes and scuffed up clothing. The mother of the two wanted men answered her door and Reeves quickly got inside with his story and stayed for dinner. Soon, the women's two sons returned and they all had a time talking. Reeves was asked to stay the night.  He handcuffed the two criminals while they slept and walked them 28 miles back to his camp with their mom yelling and cussing at Reeves all the time. But, why did Reeves go to so much trouble!!! The reward for these two men was Five-Thousand dollars….a huge sum back then, and Reeves left nothing to chance.
This is Reeves with his wife; he spent his money wisely on her attire, don't you think?
So there was a Lone Ranger and a Tonto…
But they never looked like this. They may, however, had conversations like this IF the nicknames used on the TV show were fact based.
Loosely translated, Tonto might mean, 'You don't know much…' and Kimosabe,… "In Apache, it means "white shirt." Who knows — maybe Tonto also had to do the Ranger's laundry and was actually constantly reminding him to avoid grass stains. In Navajo, on the other hand, "kemosabe" translates as "soggy shrub."**
Of course, TV producers heard the stories and wanted a show. Thing is, Reeves was the wrong color for a TV hero back then. The solution was to introduce him in black face, which they did. The original black mask worn by the first actor portraying, The Lone Ranger, nearly covered his entire face. It was policy at the time for a white man to wear a 'black face' or black mask of some kind when portraying a black man on stage.
The whiter The lone Ranger became by legend, they smaller his black mask.
There it is! Bass Reeves was a truly extraordinary hero for law enforcement in the history of the west.  And, oh, one more thing—about those silver bullets the Lone Ranger was said to leave as calling cards. Actually, Bass Reeves left silver dollars. Really! Bass had that much money.
Hi-Ho Silver… Bass made a killing at law enforcement. He died a peaceful death in 1910. I suspect, as a master of disguise, he never cared that no one knew who he was. He got the criminals, the gal and the money—that had to be enough.
This statue honoring Bass Reeves was recently put up in Fort Smith, Arkansas. The statue is bronze, but our 'white' hero, the Lone Ranger, was definitely Black.
Franque23 rides away until another day!
*https://www.telegraph.co.uk/culture/film/10131675/Was-the-real-Lone-Ranger-black.html
**http://www.word-detective.com/2011/07/kemosabe/
(Click the pic for larger view)
Have you ever noticed the Jimmy Durante* size nose on the front of your dog's snout?
That dog nose has it all over your nose; a dog can smell perfume from two miles away!
But what has this to do with Lake Bonaparte dog days? Well, it's true I've bragged plenty about the time three years ago when my dog, Shadow, leaped 28 feet off our dock for a ball!
This is the moment; a twenty-eight foot leap that we measured.
But I think this year Shadow took being a dog at the lake to a whole new level. Actually, it's scary. I mean he turned my four grandsons into dogs with a simple flick of his tail.
I've got them just where I want them….Shadow.
The next thing I knew, the boys were crawling around inside and out as if they were dogs! They were rolling around on the lawn, on all fours, barking and pointing like a bird dog…(Shadow, as a  Catahoula Leopard dog, is 1/4 blue tick hound).
I'll teach them my pointing tail trick...What happened to their tails, anyway?
I'm hoping they omitted the butt sniffing thingy dogs do—not sure, I mean these are boys!
Shadow is about 100% of the time guarding us, or is he keeping us in place?
Does Shadow imagine he's going to church?!?!
Who's the real captain of this boat?
I've got them reading…..
Okay, timeout for a hug…..
Wait, Isaiah's got it! Time to hug AND read!!! Shadow, the Great.
It can be tiring training four boys to be dogs.
Okay, this is my, 'They are really screwed up,' tail…..Shadow.
There's this magic allure that emanates from dogs even when they're drooling for your hot dog. Shadow is our dog, but sometimes I really have to wonder. Heck, he's got me scratching his belly night and day and holding doors open for him whenever he wants. I panic if his water bowl gets low and I've about sold my soul for all natural dog treats and food.
You are now under my power…like forever, dude. Shadow
I only carry your socks in my mouth because you think it's cute.
Guess how many times I've absolutely decided that this time, THIS TIME, I was going to drive away on an errand without him and then changed my mind?
Nope, your guess was waaay off…Start thinking about the figures in America's National debt and you're getting close.
Orange you gonna take me? Dude, I'm going with you, now get the keys…
Sure, I sleep in some days…when Shadow lets me. Who can sleep with a cold nose on your cheek? Unfortunately, I thought it was funny the first time I didn't budge from bed once awake and Shadow hiked up on the bed to trample my face. Now, I've got two choices in the morning—either I lie comatose in bed without opening an eye, keeping my breathing pattern sleep-like while daring not wiggling a toe the slightest bit OR I get face-dog-paw trampled until I get up.
I'm not gonna admit to being in the rain while walking Shadow or waiting for him to come back home. I know that person looked a lot like me, your honor, but it's a case of mistaken dog food, no, I mean identity.(Am I low on dog food?)
I do think dogs love to stick their heads out a moving car window for the rush or air, but they also are taking in an entire universe of smells as we speed along.  The book, Nubs,** is one of many amazing true stories about dogs who traveled unreal distances to reunite with their loved people—dogs have a uncanny sense about direction and life in general.
Of course, there's more…..
"Interactions between people and dogs can be beneficial for both species. Increases in β-endorphin (beta-endorphin), oxytocin and dopamine—neurochemicals associated with positive feelings and bonding—have been observed in both dogs and people after enjoyable interactions like petting,"https://www.scientificamerican.com/article/is-the-gaze-from-those-big-puppy-eyes-the-look-of-your-doggie-s-love/
Maybe one more doggie fact for those lake lovers who follow their dogs around…
"Accordingly, behavioral studies of dog cognition have revealed similarities of dog behavioral traits to humans. Dogs have been found to engage in gaze following similarly to human babies , exhibit selective imitation  similarly to human infants, (Dogs)….observe photos of faces roughly similarly to human adults and to link photos of objects to objects themselves .
https://www.ncbi.nlm.nih.gov/pmc/articles/PMC3641087/
This last finding in bold is why we have Shadow's picture on a magnet on the refrigerator at his eye level…I thought this picture made him happy when I first put it up and now I know it does.
There's no place like the lake for Bonaparte dogs, so I guess 'us people' followed?
Cheers
Franque23
*Jimmy Durante
*
How do you like me, now?
Bonus picture of us building the dock about 10 years ago…Sherman cool dock in background
It's impossible to miss the beauty. It was more than the three day drive up to the lake that split my head open as I looked at the lake during our first moment getting there. The colors of the lake displayed a vibrancy seldom seen in any urban center or sprawl. The  sky paled above the lake's deepest blue waters; the green landscape never appeared so inviting. The warming earth beneath my felt felt like home.
Every day, no, every hour up at the lake shakes out a different tone as the breeze rustles the trees. Each day features an ongoing exchange of wind and water that forces waves near and far to rise and fall or, at other times, and mostly at morning or night, flattens the lake's surface to the look of a mirror. This is when reflections take the lake's tapestry over and commands attention to every watery detail so neatly bound to the look of the shore.
Thanks to Susan  for this picture…
A crane lazily cuts across the sky; a school of nipping brown trout dot our bay's surface water as a darkened circle that moves left to right. A hawk whistles from above and turns my head up where I see the white wispy clouds streaming from the west are gaining size. The shoreline cedars blast scent and contrast to the whitest black and grey birch. The humming bird wings by to dot the, "Oh My!"
Aptly put, Lake Bonaparte is an onslaught of beauty to behold for the jumping young, strapping aged or the resting old. The lake is always game for the viewing. The sun-twinkled waters or rain laden storms that move across the lake spark the imagination and ignite an internal yearning to be closer to the nature of our life. The peace of the place seems all so easy to attain but so far away, and all at once. Do a cannon ball on that thought. I don't care who you are—a cannon ball into the lake will do you good; it'll put a smile upon your face.
We're facing the sunset…taken her down. a nightly ritual.
This shot seemed to burn the camera lens!
Sometimes, I just have to laugh. How could I be so lucky to be at Lake Bonaparte? How could all of us who abide by these shores be so fortunate? Life is a weave and there's a spin to it, a stitch of fate that sets us where we are. I'm so glad this thread is part of my life. For almost seventy years now via my parent's or my own footfalls I've made it here.  There's so much to be thankful for, right? There's so much to take in.
This has to be one of my favorite shots of Bonaparte…and I don't remember if I clipped this off another's posting or not? Forget.
I love the light in the clouds above.
From a few years back….
There are endless postcards of Lake Bonaparte to send, right? And all of them are kept safe inside—there's a comfort to this, trust me.
cheers
Franque23
"Concentration camp, internment center for political prisoners and members of national or minority groups who are confined for reasons of state security, exploitation, or punishment, usually by executive decree or military order."*
I'd like the word play discussions so often frequenting social media about what is or isn't a concentration camp to end. This discussion, after all, is just a diversion from truth and a means to dilute the meaning of what is happening in America under Trump.
America IS running concentration camps at our southern boarder.
The camps holding immigrants on our southern broader are concentration camps, in fact the buildings being used are WW II camps designed to 'concentrate' America's Japanese population into one area. Thing is, if you look the word up there are often references to Hitler's camps, but the gassing of people is not inherently held within the definition of concentration camps. But let's be 'frank'—the abuse happening right now on America's southern boarder qualifies as concentration camps: over two thousand children have been,' lost!' Where did they go? Some have actually died in these camps! Hundreds are kept in places designed to hold up to twenty. Now, children and adults are being punished by being denied outside exercise-it isn't enough that we have penned them in mass….
A recent article pointed out that thousand of the incarcerated claim to have been sexually assault while in our concentration camps!** This brings to mind that Texas recently passed a LAW stating that police officers weren't allowed to have sex with, or rape, those who are held in custody in the back seat of their patrol car. I'm like….WTHECK? We needed this law?  Thing is, many states do not disallow this behavior but deem it a misconduct issue….***
I'm thinking a low can always get lower.
We, as Americans, as citizens of the world, have to do better than running concentration camps in America. I've got a great idea! Vote out this bastard administration in 2020… that should do it, or at least be a giant step back in the right direction for America and the world!
You don't think we should vote Trump and his cronies out in 2020? Well, there's this:
You can turn a blind eye as Germans did in the time of Hitler and for the same reason: they loved Hitler,  you love the GOP and Trump, no matter how abhorrent the party or man is. But, if you do, you are no better than the people who allowed the mass killing of 6 million during Hitler's reign of cruelty: you're no better; you're no different—you are the same, a mindless, heartless mass of people who should know better but don't. Concentrate on this.
Franque23
*https://www.britannica.com/topic/concentration-camp
** https://www.nytimes.com/2019/02/27/us/immigrant-children-sexual-abuse.html
***https://truthout.org/articles/in-35-states-cops-can-legally-have-sex-with-someone-in-custody/
I don't know what's with me when it comes to photographs of  people and places from times gone by. I'm certainly fascinated by the viewing. Maybe, these pictures put a softer edge on my seventy-year-old mirrored image? That reflection is a far cry from my thirty- year-old look I remember being so well!
Or, it could be that having a Grandma whose first cousin was, Edward Curtis, put a special interest in my heart.  He was famous photographer of history. He took it upon himself to capture by lens the last images of many Native American tribes before their way of life was forever changed by the hordes of white settlers moving west.  Early prints of his work, some hand signed, hung about our home as I grew up. I'd stare into the faces of those Native Americans and speak to their eyes in private. Did they answer? I think so.
I hope you enjoy looking this over as I have; the images are from all around the world and many from 1880 or so.
June is the month for fun! Schools out! Though, lets hope not forever:-)
Cheers, Franque23 (disregard the ads run by CNN after this link–they just can't be dumped…..from the link.)
https://www.cnn.com/style/article/louvre-album-of-the-world/index.html
A day like any other.
Anyone might agree, it's a dull day. The rain came early and it seems to have no intention of leaving. Hedging all bets, the weather men say there's a good 100% Chance of rain…not sure, but does this mean it may not rain at all? Nah, they got it right today. Rain drips from every flower petal, the deck railings and the roofs tops. You gotta know the earth is loving the drenching. And I'm not sure why birds would enter the bird bath in the rain but they do, maybe some sort of double your pleasure.
Have you ever noticed how we all love to see light? Holiday lights come to mind, and the lights of a huge city as seen from a distance remain fascinating to behold.
Dale and me are caught in a glass reflection as we look over the lights of Nagasaki.(Thanks to our daughter's sharp eye.)
There are so many moments when the vision of light moves us—  disco lights, fired up logs on a dark night…
We keep the fireplace going most nights up at the lake.
There are fireflies to chase and flashlights to make faces over. Have you ever watched the snow as it drifts through a street light's glow? There is the first morning's light…
And the silent last glimpse of the sun as it goes down.
We gathered to say goodbye to David Morgan in passing as the sun slipped down.
Our lives are about light.
The rain means we won't see the sky here as we seek it, so full of light, but only as it is—a mass of low hung grey to darker clouds, twisted as multicolored taffy that appears as fluff balls that float above. Yes, when we seek the sky we seek the light.
Lake Bonaparte East Shore cloud says hello.
Lake Bonaparte dazzles sunlight in so many ways.
We want to see that burning globe above us turning on the earth's light switch so shadows abound as birds sing and butterflies flutter in the wind.
Always, it's the light; the light in the sky, or as it reflects on the sea foam or clouds above.
Thing is, today, this wet, drizzly moment, brings other thoughts to mind. Who doesn't sleep in better on a rainy morning not meant for having to go to work?  And, maybe, a rainy day is good for offering a glimpse of a new prospective, a new way to count those clock hours often so busily rushed by task and obligation during a day like any other.
An early morning mist hugged Lake Bonaparte as the morning sun touched several tree tops.
I'm thinking about the sky; the one we long to see and the one we often don't.
The beautiful daylight with it's streaking wisps of clouds, meandering white billowed clouds or crisp clear blue without a cloud in sight hides so much in plain view. It's odd to think, but the daytime that lights our way is also a veil. That sparkling luster above reflects our hopes when we look to it but that light is the bottom of the truth above. The truth lies in the stars above our daylight sky, in the darker canopy that lingers beyond what our eyes can ever see.
Looking up to Lake Bonaparte's night sky.
This is Mud Lake, Bonaparte. And, it's time to hurry home.
The universe's light is shielded from our view by the daylight. Those bazillion stars shine overhead whether it be day or night but that vision is often swept past our sleeping heads as we dream of better days. We nestle to sleep beneath the ever present reality of our place in the universe, beneath the map stars create that speaks to our existence.
Both taken from Bull Rush bay, Lake Bonaparte. Credit I believe goes to, Ross Franquemont, our retired U-2 pilot in our family. Check out another of his….from the U-2.
So we hurry in the daylight and sleep at night. Oddly, it's the night time stars that show a greater light. If we could just wake up each day and take a moment to understand how small and yet interrelated our place is in the universe. There's the thought that people should take time to envision what they hope for the day before it kicks off in order to have some sense of control over their day's purpose. Perhaps, if each of us were to think of ourselves as no better than the ants that march by but also no less than the stars over head we'd come to an understanding that might yeild a peace to our lives and the world. I'm not sure.
I'm not sure why we love to see the light that shields the panoramic spectacle of our universe from our eyes. What if we saw both during every waking hour?
From Bull Rush bay, Bonaparte sundown.
So, as the rain falls and thunder rumbles, I've dreamed of the starlight, of cooler nights warmed by the light of a campfire. I've thought about us, and how we all wish life was better but none of us seem to see a way to make it happen. There's so much to see each day. Maybe, if there was less to see. Maybe, if we at least saw the stars every night things might get straight. Call me a dreamer, but I'll wish upon a star any time—they're always there.
It's just a day like any other? I don't think so, not ever.
Franque23
It started about five months ago when the decision was made to re-do our puppet show production of Rumpelstiltskin. It had been about six years since we last performed this adaptation I was happy to write, direct and play a part in. This time frame means the audience has turned over and a new set of children are mostly not using walking feet in our department.  It's all good!
After organizing the scripts, some remaining props and some pieces of the set, it was time to begin planning the bulletin board that would advertise the puppet show. Building this bulletin board had a time frame that slipped in between two twenty foot long displays I was to do for our story hour room and the puppet show itself that will take place two weeks from now. In all, the displays and show will cap-off 5 months of planning on my part. The board is up tonight but for a front runner frame at its base so tomorrow starts the work on the puppet set and props.
Flat out, I love design work, crafts, art, writing, directing and playing puppet show parts and working puppets. So, I've been busy, yes, but it has also been rewarding to this date.
Here's the bulletin board…what fun….In all this board took about 14 hours of work.
Maybe a better view of my mascot, the squirrel….
I have a work order in for a bigger idea on this board but don't know if it will get done. I wanted a slow turning motor attached to back of spinning wheel so it might rotate around about once per minute…..we'll see.  I'll have to deconstruct some of the board if I get the motor… but it's all fun…rumpling paper and supplies together is a big part of the effort and enjoyment.
In case you missed last week's glob, here's a shot of one twenty foot board finished last week.
I hope you days are full of happy times, fun times and full of meaningful events.
cheers!
If only I had his spinning wheel!
Franque23
(Click for larger view)
You know I'm loving life in Florida. This fall, winter and spring have reverted to mostly weather patterns we used to always have in the past years. This has brought about a few oddities to the growing  garden.
This shot is about two weeks old, the lettuce and green beans are done, this accounts for the large places of only mulch.
Here you can clearly see a collard greens and several kale plants. Thing is, these have been growing since last August and have yielded since Oct, 1st! The relatively mild winter allowed them to keep on trucking leafy veggies to our kitchen through the winter and spring. We had, collards, lettuce, kale, too much eggplants(they too have been growing since last year) herbs-thyme,rosemary, sage(huge plant) basil,dill- green beans, yellow squash, zucchini,, potatoes, yellow peppers, green peppers, cherry and full size tomatoes. For the tomatoes only, I do use a green light organic spray to discourage the stink bug stings…
The pineapples have a hard time taking any weather below 40 degrees,,, but with occasional coverings, they made it thru  the winter months and I've four coming on strong with fruit. The other 26 pineapples all look great and several others will bear this summer as well.
This gardenia and plumbago make a good side-by-side match for our house front. The gardenia is about seven feet tall and around ten feet wide. More than 300 blooms hang this year, and all about within two weeks of one another. We cut many for house use…fun stuff.
On the other side of the walk from the gardenia is our bird bath. I like this shot, full of shrimp plant blooms, four o'clocks and an odd bloom like an iris….thing is, the bird bath reflects the light coming through the Old Man's Beard tree that stands high above….
Out back in the pineapple garden stands a potted indigenous rose.
The pool walking steps divides the rose from our Mexican tulip hedge.
I'm busy at work putting up two, twenty foot long displays about medieval days and Summer Reading at our Library. We all had fun in our department selecting pieces to color or design as we liked… Then, I set the Background up and placed the pieces…The boarder isn't done at the time of this shot, and the other board not up yet… both are finished now….
Here's the full view…
So yes, my wife and I are loving the greens, the tomatoes, the birds, flowers and wild doggie, Shadow,  who follows us everywhere!
I hope your seasons have been excellent this past year! And, get ready—we're gonna melt down here this summer. This week we have 99 at least for 5 days in a row during late May.. Wow.
Of course, this plant gets to have the last word: peace.
Cheers
Franque23
People often say, "It's a zoo out there!"  And though people can be crazy, the pace hectic, traffic horrendous, the hour late and manners dead on arrival, zoo is the wrong word to use to describe the chaos that is our lives. Zoo's are full of caged animals, a far cry from the free animal world or that of most people. Thing is, in the usage of the word lies an undermining human trait many of us exhibit. We seem to hold little regard for wild species when it can be mowed over by that slippery-slope-of-a-term development. Developers have an unhinged sense of the word ,'Progress,' when it comes to the fate of anything but money. This is why so many species have vanished from the face of this earth in the recent past. "It could be a scary future indeed, with as many as 30 to 50 percent of all species possibly heading toward extinction by mid-century. "* It's all sad, and the method and madness of our growth as a species reveals a strong vein of stupidity in our making.
The signs of human stupidity are everywhere we look; there are so many it's not possible to list them.  Example:  Florida's developers, county planners and politicians ignoramus thinking since 1945 when it comes to Florida's entire east coast line. Welcome to a pile of soggy, tilted thinking. Hotels go up on the sea-side of major roads that block the view and devalue buildings on the west side of the same road! It's great for the buildings built on the east shore side of the road! But, is it!! What we have in Florida are high priced hotels that have replaced the entire sand dune network of a natural beach that is inherently designed to provide the land safety during hurricanes and major storms.  Who cares, right? Wrong. The result is major financial loss from hurricanes that in turn raises insurance rates for EVERY Floridian whether they live on the shore or not! More, If Florida had only developed on the west side of major sea-side roads, those building would incur much less loss during storms AND provide a World-Renown view of a vast sand dune expanse people would pay zillions to see and experience! Just imagine Florida's entire east coast line being a natural beach, full of dunes, sea oats, sea grape vines, birds, wild life. See? Ka-ching!  It's a no-brianer no one could envision. Kaput goes the register.
But let's move on…wow….Why would people be feeding gators by the side of the road on Payne's Prairie in Florida?!?!?
**This is a current picture taken at the prairie where some people fish and others, well, I guess, feed gators? Peek-a-boo….I've got an idea; run away! This is a huge gator. The gator's head may be eight times the size of whatever you're thinkin'.
**Okay, this isn't enlarged for viewing. The estimate is a 12 foot or bigger gator. Again, recent picture from road embankment at Payne's prairie where people stand and fish.
You have to wonder. Question: is the lack of knowledge a form of stupidity, the quest of laziness, the curse of low-curiosity or just bad luck?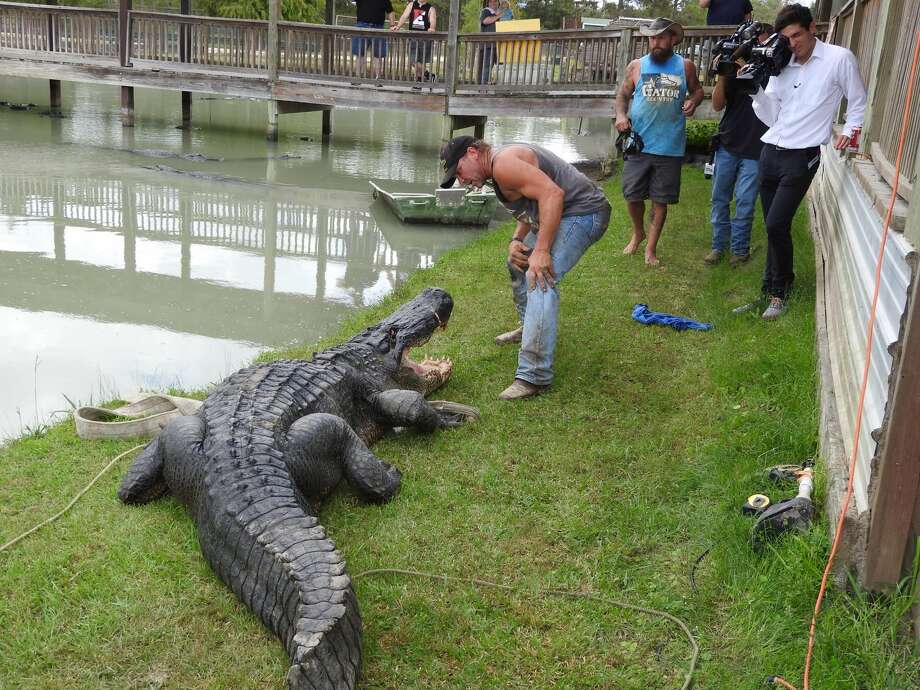 Sometimes, I think the term, 'Human Intelligence,' is much like the term, jumbo shrimp! It's an oxymoron for the human species.
I once owned a leather shop inside the Silver Springs attraction and watched some tourist stand about fifteen feet from a gator who was sunning as they took pictures. None of them knew gators can run 30 miles per hour for short periods (bursts) of time.  If any had asked me, I would have told them their lives were in danger. NO one did since, I guess, the entire world must be a zoo to them? Gators bite fast, roll the victim, and drag—say something like deer—back into water to drown them all the time. Have you ever seen a deer run? Still, I've seen enough of what's left of deer carcass along swamp shorelines to know many deer wish they'd been a bit faster. And, gators can spring out of the water a good ways….While fishing a local swamp my buddy and I were admiring the plumage on a wild bird resting on the water… It took off but a gator came from beneath it and lifted a good six feet out of the water and nailed the bird mid-air….The huge gator splashed back down and only feathers were left to float in the air.
Believe it or not, gators have the strike of a snake.
Parts of the world are still not zoos, and it's good to know. I always root for wild life, and often question the brights of many of our fellow humans, myself included. Remember, I was fishing in a ten foot John Boat watching a huge gator bust out of the water my boat was floating on.  I need to think about something else. I'm outta here. See ya!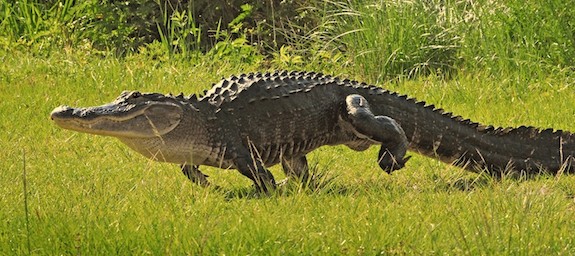 Franque23
*https://www.biologicaldiversity.org/programs/biodiversity/elements_of_biodiversity/extinction_crisis/
** these two pictures taken by Jan Johnson as posted on a Micanopy web-site. Thanks, Jan!
( Click the pics for larger view)
I hate to think about those gone, but love to do it just the same.
The old pictures come out and there they are, mother's eyes shining above knowing smiles and all so comforting over a distance too great to fathom. The memories of people flood a mind and it's easy to wish they might come back as the ocean tide so we could talk with them again, if just for a minute—some would say, if just for a second.
Thanks Mom, for holding me on my first day home. You did a great job.
It doesn't feel exactly right to have Mom gone, not living here anymore, not anywhere to be found, and not like that missing shoe worn so well, but like an eternity of holding, helping, a loving so unique that she had no business to leave. Where's that lap, that knee, the one who tied my shoes while assuring me I was doing fine. The smell of hot apple pies, cakes, and always the lemon cookies and the music that filled our household I'd mistakenly imagined was found in any home, where did it all go? How could so much have vanished as I grew?
Sometimes, I think I fished Lake Bonaparte to see the joy in my Mother's eyes over the catch. It's hard to give enough back to a mom for all she has done.
The day I cried over a sink, sobbing without defense and Mom pat my back, "She broke your heart…" It was good to know Mom understood. In an instant, I was not alone, but on a journey with my closest companion, the one who first helped me see, to first understand and think that another day would be so much better. The heart is such an easy target, but mom's know how to repair them; always.  Mom's own the master's touch. Mom's bring forth and retain the spiritual essence of their children. A good mom paints by word and deed a portrait of Life their child is able to enter and understand.
Mom's are the garden of life.
There are very few things in life a person can gain that can't be taken away. Educational degrees are one of them. Jobs, lovers, spouses, homes, money, social standing, friends, ideas, opinions, looks and health, all of these can be taken in an instant. Mom's words, her leadership, her advice and love never leave a child no matter if they were good or bad; right or wrong. No, everything about a mom stays inside each of us who have experienced theirs.
We were so happy to give Mom a Granddaughter.
Mom's own a lock box in the heart; the child has the only key to it. So, Motherhood is the hardest and most meaningful of all jobs and the most enduring. There is no end to a mother's love. Death can not claim to own that love. Maybe, this is why pictures of moms means so much to us.
You'd seen and done so much before I was ever born, Mom. Now, I wish I'd asked one million questions, no, more.
An old, worn out picture of mother catches it all in a single view. She has passed, but there she is in the picture to see in full view.
The experience of seeing mom again in pictures is just like her love, that endless gift of the heart from mother to each of us never lets go. The picture you can see, the love you feel forever.
Have you ever touched a picture to see if you could feel mom touching you back? I have.
Happy Mother's day
Franque23