You are currently browsing the tag archive for the 'beauty' tag.
My father loved flowers; I've never left his shade.
There's so much to write about this week—it's completely mind-blowing!!!! So rather than grouse about cover-up DOJ reports, constant injustices in our tax codes, rampant, illogical behavior by large groups of Americans, I thought taking a quick look at the 'Spring' in Life's force might do us all wonders! Thanks to my good friend and editor of this glob for ten years-Barbara. ( She's responsible for corrections; I get the credit for errors.)
Meanwhile, please take a moment to view the incredible strength of the living force we all belong to on our planet. Truly, life is a wonder.
Cheers, and happy Spring! Keep blooming!
Franque23
Merry Christmas and Happy Holidays…this is my seasonal bulletin board and seasonal card to you!
I remember too well the moment I entered my parents Christmas party to sing, Jingle Balls, Jingle balls, to a fit of laughing cocktail holding adults. This was to be my big debut (but why is this spelled like what it was for me?) Anyway, I was too young to take anything to heart, and I left knowing I sang the heck out of that song.
There were so many warm Christmas mornings at the Franquemont household on Long Island. I never lacked for anything; my eyes only looked out with hope, curiosity and with acceptance that I was given by my parents and siblings.  It was an easy breezy life as I ran down the stairs first in line ahead of my brother and sister to race to a present laden Christmas tree. Blocks, coloring books and rocket launchers were the stuff of Christmas. The stockings were stuffed with candy but for that one stupid apple Mom always put in the bottom. Then, I never understood that Mom had been raised on her father's mission in Recife, Brazil,  and an apple was a treasure to hoard for her. Of course, I'd give anything to find an apple put there by Mom in my stocking now, but she is seven years gone. She's a smile in the clouds, the rolling waves at any beach, the diamond stars up north at Lake Bonaparte on a clear, crisp night and the warmth of the beach sand that conforms to my body as seagulls call from above. She is so much of every Christmas.
I remember Dad torturing me by making my ten-year old hands shovel three feet deep to start a new garden. It seemed so wrong to be digging around Christmas, but now I've had gardens here in Florida for the past 40 years. And when I dig dad's eyes are looking through mine and his voice rings my ears with, "That a boy." I hear the eagle call from high above and I know he is there gliding, swooping, free.
Part of getting older is hording a ton of memories. Thoughts of years gone by and the people who stayed with them and left as well are a treasure chest buried deep within, one locked for safety by the heart. I've still journeys ahead, and so many behind. I'd like to think that I've grown wiser with the passing years–certainly I know Jingle Bells now. But, for whatever reason this Christmas day, I found myself walking through our garden and thinking about all the division the world over is experiencing today.
It may surprise you to know that I am several things beyond a library worker, a neighbor, a father, grandfather,gardener, writer of this glob and books on Kindle,a fisherman, builder, but also a minister who was lucky enough to perform the marriage of my niece.  I have a favorite passage in the Bible I try to follow,
Proverbs 3:6
Living Bible (TLB)
6 In everything you do, put God first, and he will direct you and crown your efforts with success.
If all of humanity were to take this message to heart the world would change. I'm certain it is in every  kind religious teachings; if only we could listen. I try to never forget these words as I thank God for every little thing I take time to notice as I go about my day.* Of course, I've fallen as short of this instruction as any could many times, but I try.
So this Christmas, the fertile garden, Mom's gentle smile and Father's certain voice led me to consider what my personal message might be this Christmas.
Here it is:
Being whatever gender or preference you are is a part of the natural passage of humans throughout our existence. We need to stop this fight of exclusion. This is Christmas, and it's a great time for everyone to come to this realization. The stars remind us that the light is within us-if we'd only let it shine. Acceptance feels good; expressing hate or rejection is bad for the soul. We need to let people be.
Sometimes I think the worst word in our language is, 'No.' Using no is quick and sometimes needed, but often it is used when taking the time to teach proactively why whatever is being asked or done is not a good idea would otherwise move the mind forward. The best word in our language is, 'Yes.' I'm going to try to use it more in 2019. I hope you join me. Cast aside hate. Raise hope and acceptance.
Cheers… hugs, and Merry Christmas!
Franque23
I most concur with the, 'God however known,' concept.
They next few minutes will amaze your mind.
The next few minutes will make you question your hearing.
The next few minutes will warm your heart.
How's this for starting off the season right?
Just listen….
Thanks to Barbara for sharing this with me…
Season's Greetings
Franque23 oh wait….now I see they have another and several more…this one's neat
(Click the pic to enlarge.)
A thread on Face book today got this going. The points went back and forth about whether or not American's should be off work on Election day. Would this help bring out voters? Is it necessary to close businesses when we have early voting or mail-in with even prepaid postage in some states?
You know what? Screw work on election day.
Either call-in on Election Day, take the day off or have it off as a National Holiday. It doesn't matter if being off on Election Day would increase voting tun-out.  We have to stop the madness in America; we have to throw off this, 'work until you drop,' yoke American Big business has used to harness American workers.
American companies and big business have come to value profit more than life, and it's wrong.
American's should be off on Election Day–it shows and teaches respect for the process; the same for President's Day. Businesses should close and Americans should use President's Day to remember the leaders that have helped shape our country and World. Someone once said that actions speak louder than words. It's true, our children watch what we do at least as much as they listen to what we say. Look both ways; it's bed time; eat your veggies: how's all that jabbering working for you as a parent? No, leaders, parents, teachers, workers and politicians should show the way, walk the walk as well as talk the talk. We all need to stop making work the point.
The work ethic in America is bonkers, and we should keep all our Holidays and add Election Day and President's day to them. We should also throw in four, ' the weather is too nice to work,' days to boot. Farmer's knew their horses needed to rest; American workers need a rest, too.
What's nuts about having election Day off? Here's what's nuts: we used to not have just President's Day off when I was young, but Jefferson's, Washington's and Lincoln's birthdays off! It's true! These three days used to be school holidays and many businesses closed as well. More, every business, but for a very few, closed EVERY Sunday! That's right—just about no one worked on any Sunday—not ever.
The sky will not fall if America stops the madness and gives workers more time off during each work year.
The workers will drop if we don't give them more rest, not the sky.
Think! Our American society used to give workers more days off than it does now and what happened? America boomed; that's what happened. American workers were happier, they were better educated and they enjoyed our society.
Sixty years of decreased earnings (when adjusted for inflation), multitasking nightmares, skinnier staffs with additional work to do, the loss of pensions and less time off has reduced American workers to what we are now: an over worked under paid discontented work force.
The rulers, owners and greedy big businesses have been flushing American workers down the toilet for over sixty years now and it needs to stop.
Let's turn things and us around.
Let's take Election Day off so we can elect the right people to office. It's often said that change comes slowly. You know what? Maybe not.  Maybe change is right around the corner; maybe the sun will come up on America. Maybe American voters can stop the madness.
I hope so.
Franque23
My wife recently told  a news story on T.V. to "Go Fund Yourself." It broke me out in fits of laughter….as my wife often does. She's smart, a wit-full companion that keeps me thinkin'. Thing is, my first editor of everything you've ever read from me is also sharp, and more helpful than you know…. Barbara sent me this tonight,, and I thought in our time of strife it might do us all good to take a look at the,'Will  to Survive'. It's in all of us, to fight for existence, and that we shall prevail…just look at the trees: they lead the way.
Enjoy, and thanks again to Barbara for the link.
Peace, Franque23
Trees have been around for about 370 million years, and as you can see from these incredible pictures, there's a good reason why they've survived for so long.  Whether they're growing in the middle of gale-force winds, on the tops of rocky platforms, inside concrete tunnels, or even growing out of each other, trees know how to survive in places that few living organisms can, which explains why the planet is host to around 3 trillion adult trees that cover an estimated 30% of the earth's land.  Considering that plants produce the vast majority of the oxygen that we breathe, we should all think ourselves very fortunate that trees are as resilient as they are.  We wouldn't even be here if they weren't.
#1  A Place Of Enchantment

#2  This Palm Tree Fell Over And Curved Right Back Up

#3  This Tree Fell Over And Grew 4 More Trees Out Of Itself

#4  The Only Tree That Survived The Tsunami In Japan Between 70,000 Trees. Now Protected And Restored.

#5  Tree Of Life – Olympic National Park, Washington

#6   A Tree's Root Spill Over The Sidewalk

#7   Nature FTW

#8   A Tree Growing Through Speed Limit Sign

#9  This Tree That Refuses To Die

#10  This Tree Still Has Its Leaves Because Of The Light Shining On It

#11  Life Finds A Way

#12  Tree Roots Extend Across A Gap To The Mainland For Nutrients

#13  Life Finds A Way

#14  Ta Promh Temple In Cambodia

#15  Striving

#16  Someone Hung His Skates On A Small Tree When He Was Younger. He Forgot He Had Left Them There And Found Them Years Later
#17  A Tree Growing On Another Tree

#18 This Tree Is Growing Out Of Another Tree

#19 This Tree Grew Out Of The Stump Of A Dead Tree And Then The Stump Rotted Away

#20 A Tree Grows From Third Floor Window

#21 Life Finds A Way

#22 I Spent Ages Staring At This Tree Before Taking This Pic. I Hope You Find It As Fascinating As I Did

#23 This Floating Island That Grew At The End Of A Partially Sunken Tree

#24 This Wooden Chair My Parents Bought Started Sprouting Leaves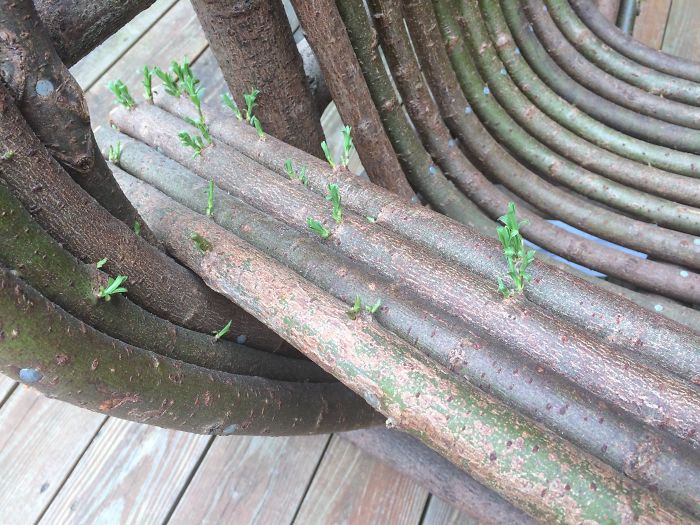 #25 The Old Piano Tree

#27 One Tree On My Street Refused To Accept Winter

#28 My Sister's Tree Is Eating Her Fence

#29 This Tree Growing Through A Fence

#30 Life,Uh… Finds A Way

This is the winning 2020 presidential ticket. In fact, the more Republicans and right of center groups claim this idea is preposterous, the more Left leaning voters should realize it's true!
Trump's election set precedent that a person not directly experienced with holding office can be elected President. The 2018 mid-terms have more than shown voters are agreeable to female candidates, and even female, Black candidates in the South!! Yikes! I wouldn't have thought this to be the case, but it is. The 2018 mid-term election has proven the American electorate is ready for women of any faith or color. Now is the time for Michelle Obama.
We all know President Obama brought America out of the brink of collapse, along with perhaps saving the entire world economy, so who better to associate with how to truly Make America the shining beacon of hope and posterity it once was under President Obama?  Michele Obama, that's who can lead the charge in 2020. Michele is the one who can break through that invisible male ceiling the presidency of the U.S. still supports; she is the one who can unite and bring out so many difference Democratic voters.
And what of Bernie Sanders as V.P. on the ticket with Michelle Obama for 2020? This is a slam dunk yes! Bernie calls for a health plan most Americans have come to favor; Bernie calls for living wages and real tax cuts American workers deserve. Any notion that Bernie's too old, or too socialist, or that, 'Michelle won't run,' is just bull crap being thrown from the Right, a group who literally trembles in fear of this Democratic ticket.
Get Michelle and Bernie on the ticket and America wins.
Elect Michelle and Bernie and Education gets a huge increase in spending; America's humanitarian efforts resume throughout the world; a living wage comes to fruition; real infrastructure rebuilding programs commence; renewable energy takes off in America and sparks a mass up-swing in employment and prosperity; health care becomes part of our society and not a leech upon on government and our worker's backs. These are all things American's want by massive majority numbers.
Get rid of illegal gerrymandering across America and the new world dawns through America's growth and undeniable will to succeed.
Listen up. Cast fear aside and get Michelle and Bernie on the same ticket for 2020.
Let's cast aside the party that has once again deregulated banks putting the U.S. in danger of another ,'bubble burst, ' as we had Under Bush . Jr. Let's dump the party that has striped America of much-needed environmental controls, who now drills in our National Parks threatening our famous, Heritage sites. We can beat back Republican corruption and the radical hate groups this party embraces; we can end the hate mongering President Trump seems so happy to spew on a nearly daily basis. We can end the seemingly endless stream of lies now being forced upon the American people from this current Republican administration.
It's a new day, baby. Democrats! Let's bring it home.
Franque23
Can you spare a minute?
This post may have started with the 9:09 PM starting time of the Milwaukee Brewer's and Dodger's game on Oct 16th. Why, for the love of anything you pick, would a game start at 9:09? Googling the question reveals that the TV time slot actually starts at 9 PM but announcers (and it's got to be ads) have stuff to say for, like, 9 minutes. Okay, but 9:09 still seems a bit random to me. Why not have announcers fart around for another 6 minutes to reach that even 9:15 PM time or, better yet, could they just shut the hell up and talk after the 9 PM game starts?
The Babe knew how to 'time' his swing…
Little things matter. People, fans, have enough to do work-wise and drinking-wise (This is , after all a Brewer game) to nail a 9:09 time slot. It's all wrong, but it gets worse. It turn's out a local High School has lunch scheduled at 12:17 PM and its normal school day ends at 2:37 PM. There's one for all you driven crazy by parenting driving pick-up moms to focus on. "I pick up the kids at 2:37; at 2:37; at 2:37." All over town mother's and dad's stare into a mirror and repeat this over and over the night before every school day.
Me and my guitar along time ago….
When did our ,'Minute Madness,' start? It vaguely seems correct to think minute madness origins can be found in airplane schedules. They always had weird departure and arrivals times but have you ever seen a plane land or takeoff ,'ON Time,' no matter what weird time they picked for either event? Me neither. Thing is, this every minute matters approach filtered down into our society like a fungus on tree bark. We're consumed by bizarre time punctuation. And here we are, a society semi-sprung from parts world-wide where the afternoon breaks for nappy's, wine or chatter used to be 3-ish or 4-ish to five-ish.
I guarantee Napoleon did not invade Paris at 3:13 PM. No, our paid, fired, hired or hounded by the minute life is not the stuff of history.  I've never read that Isaac Newton's brain-dent from an apple happened precisely at 1:02 PM.  Nope, survivors of the World now gone minute-mad call that an, "aha moment," and leave it at that. Can we just walk away, call a time-out, and avoid being hit by another apple in time?
Time-out. Now time for this or that, not enough time, time lost, time gained, saved or wasted, time spent, time-in, time forgotten, time can be so many things—that's the good news. The bad news is time is the task master of us all now-a-days. Worse, time not only exists in our heads, on phones, watches and punch-in clocks at work but it's especially adorned by Cuckoo clocks, and rightfully so. Never has a true unknown ever ruled over the world like our vague concept of time.
Salvador Dahi painted melting clocks
To be fair, man does have an AC/DC timeline in place… whoops,, I mean a BC/AD time line in place. ( BC=Before Christ and AD=After the Crucifixion)So sure, we know stuff happened before Christ was born and then lots after, but the trouble is when he was born can slide back and forth by ten years, some say twenty, others say up to sixty years or more! I ask you, how much of what we do today can be off by, like, thirty years? " I build houses and yours will be up sometime within the next thirty years.-That's a promise!" A man runs to catch his train but he's two minutes late getting to the station. The train is nowhere in sight so he asks the train station attendant, "Did the train leave?" The Train attendant looks over his records. " Yep. That train left about a week ago-sorry."
Time is based on nothing but agreement formed in the backrooms of history. Time truly denotes nothing but has the power of the leash and lash we've given to its practice. And wouldn't you know it, I asked one of our many volunteers at work tonight when she was leaving. "8:12," was her answer. I stared ahead in disbelief, knowing I'd write this glob and not ask her why, '8:12′?
You know, I finished this post in the nick-of-time….whew. That's called ,'split second timing.'
TV aired a show about people living off the grid and one fellow, a man with an engineering degree who'd been well employed as such, said the greatest thing about his life in the boonies was that he didn't wear a watch, and he had no idea what day, month or time it was.
My brother, Ed Franquemont,(Harvard Grad.) lived in Peru for ten years with his wife and children. Ed once told me the best thing about living as he did was that there was no specific time, only day and night, and the passing of the sun and moon in between.
once upon a time at our home on Long Island, Ed and I shoveled a lot of snow…
Hurry here; hurry there: this time thing is a madness, and we are all bound to this fever. Sad. Can we have a re-do and think this thing out one more time over a four-ish nappy and bottle of wine? We might find we get less done but we are much happier with all that progress.
Franque23 doesn't wear a watch , or have a, 'smart.' phone. I'm still dancing.
( added pictures below post…send me your pictures on FB=gerald franquemont)
My cousin's wife says it all for dog lovers the world over. That post of her's is included below.
But first, I've my own, 'Shadow,' a Catahoula Leopard who is my constant companion.
Shadow enjoys the flowers.
From my  parent's dog, Socks, to our family dogs over the years, I've rarely lived without having a dog making home life better.
Socks lived about 18 years.
Man's best friend: you can't say it any better.
Orion is one of my favorite, 'Reading Dogs,' at the library.
Our part Basenji, Toby, used to prance as he walked so we called him, 'Toby-Toes.'
Cheers, and a big thanks to Jessica for posting this wonderful piece. Sob; sighs and I understand. There's nothing like a dog's ability to love us back.  Here's Jessica's post, and just wow.
Jessica with her dog, Pedro.
Jessica Franquemont posted:
"My Buddy Pedro:
Your butt wiggle going down the stairs,
Your gentle bite when taking a treat,
Your wandering security walk along the fence line, 
Your short sunbathing nap by the water fountain followed by a good roll in the red bark to scratch your back with happy doggie snorting & all,
Your old man delay, non-threatening beagle bark, & "swagger run," when hearing Ellie bark before you at a possible thief/burglar/food thief/mail carrier/neighbor/pizza guy/cat/other dog/kid,
My first time sadness upon seeing an empty Chipotle burrito wrapper on the floor without my left over ½ burrito realizing you are taller than Ellie & can counter surf,
Your first time with me in the pet store when you stole a bone shaped treat off the bottom shelf, tried to eat it, & I had to do a pity purchase with the cashier,
Your sleeping on the couch with your face between the pillows,
Finding your head sticking out of my poofy pink Halloween tutu I left on my bed,
Your gentle mouth hold of a whole loaf of bread/pack of tortillas (& all things carbs) off the "no dog shelf" trying to saunter away,
Your slight pushiness after anyone sat down to proudly lay your 32 pounds in their lap & slip your beagle nose under their hand to prompt neck scratchies for a very long time then get up abruptly when said scratching stops,
Your & Ellie's patient waiting under messy Talia's dinner chair for any slight semblance of a crumb,
Your love of TP from any bathroom to your crate with one continuous very long stream of toilet paper,
Your binge on Beth's Scentsy samples that were only the food scented ones,
You & Tyler's love for each other,
You being my literal shadow & never letting me be in a room alone.
You lived 12 years & 117 days & we got to re-home you with us for 3 years 250 days. We are a more loving family because of you. Last Thursday a huge chunk of my heart had to say goodbye to you & since then I've been devastated & lonely without my short shadow following me. I know by having a loving pet, we as humans pay a price for having to make "that decision." But the animal lover in me would never have left you alone in your last minutes of your wonderful life. Knowing you had just a little more time & getting to rest my nose one last time on top the bridge of your nose is worth all the heartache. I love & miss you my Pedro Buddy."
It always come down to this: the love shared with a dog during their short lifetime is worth the pain of the loss no matter how long that lasts…
Cheers!
Franque23 loves dogs.
Here's a link to a previous glob I wrote in, 2009, about a dog's spirit.
https://franque23.wordpress.com/2009/08/26/red-dog-forever/
Shadow smiling.
Frank Lamont
 Andrew Faint's , Bo , with his son.
relatives Virginia Murphy Rotteveel…sleep tight.
My 'Shadow' writer…
Andrew Faint's, Frankie…
Shakespear, in OR recovery, Wendy Schneider…..
Yes, this is a hedgehog pet with, Spooky.  They live together. Part of ,Juut Von Franquemont's group.
There's a morning wind.
Today, from where I sit, the breeze will reach the sea some sixty miles off as it blows east. There, the translucent waves of green and blue roll beneath the calling gulls as the cooling, wet shore line comforts the feet of those strolling by. The shell white sand of the beach waits to be renewed or reclaimed by the pounding surf, and beyond it rises beige, wispy sea oats and dark green sea grapes that root in the dunes. A transforming landscape of sand and grass rises and falls to form a panorama that seems a dried mirror image of the ocean's undulating surface. The oats will sway in the breeze much like sea weed moves with the ocean current. Here, two realms so different remain joined as one. The wind will touch it all.
It's a peaceful thought as my coffee scents the air.
There was a time I thought I'd end up living along the shore, in the wind, with the sun, with the sounds and smells of the sea. Mom did as a child in, Recife', Brazil, and somehow I dreamed I'd be as lucky. She took me to the shore often and taught me the ways of the sea, the surf, the hot sand and how the tiniest shell could sometimes be the most spectacular of the lot found that day. There were those sand crabs to dig after as they burrowed only to be caught so they might wiggle in my palm. We went to the ocean as a family and soon that vast, blue lined horizon became as much a part of ours as dad's backyard apple blossoms.
Mom by the sea.
Sometimes I wonder if our dreams die like we do, or if they exist forever.
I've a good cup of coffee, but the memories are so much better. The wind entices me to wonder. When did I give up on that dream to live by the sea? I should have written the date somewhere.
But, I think I came to Florida in 1971 , in part, to be by the sea.
My wife and I have always visited the sea—our hearts beat with the waves, the light, the clouds and all those rolling, crashing waves.
A unique understanding comes when a person interacts with something as large as a mountain range, a desert, an expansive ocean or anything so vast as the diamond night sky. There's a sense of oneness with the pebble, sand or shell at your feet, or single star overhead——they are so much like the size of us when compared to the entirety of life.
Ask a mountain climber, a diver or those who love to walk the desert why they do what they do. They will think, 'Because I do', and then they will offer words about this or that, words that can never fully explain the gut of the matter. Perhaps, the best way to answer is to say, "The majestic helps clear the clutter."
Lake Bonaparte has a beauty each day, though different from one day to the next.  The views allow the heart to rest.
We all need to clear the clutter in our heads—the majestic world is our best reflection, our best chance to right the wrongs in our thinking. Our environment is us; say hello.
We need to make peace with ourselves.
Do you remember being ten and testing out a new pair of sneakers? How fast you ran; how you seemed to fly: you'd never be undone!
I'm the 8ish year old with his hand on his hip….and black speed-o
Growing up is fascinating and maybe we never stop owning that same self amazement throughout our lives. Maybe, internally, we all hunger for the truth, a correction in our way of thinking that sets us in place, a certain notion that helps identity our true sense of being in the universe.
My sister and I still meet at the ocean whenever we can…this is Roatan.
Maybe, this understanding is why we yearn to face the magnificent spectrum of life as it appears before us from place to place. It's more than humbling; it's being united.
Let's get together. Let's listen to the morning wind; it whispers the truth. Good morning.
Franque23.
Long before Elvis knew he'd be a star
Or, when Chuck Berry showed the world how to play guitar on Johnny Be Good…
Yes! Even before John Wayne saved the West…
The Morgamont genes were already in motion.
Simply…Two households, both not alike in dignity,
One in fair Iowa, where we lay our scene, and then to the lake,
From ancient grudge of dogs. Socks and Specks, break to new mutiny,
Where pirate blood makes Royal hands unclean.
From forth the fatal loins of these two friends
A slew of star-cross'd cousins take each other's beers;
Whole misadventured piteous throws in the lake
Do with their new sign bury their parents' strife. (As if…)*
So long ago, before their division, they stood in the same row, but without a boat between them.
My dad(far right) and his sister, Virginia,(middle) had grown from among the flowers in my Grandma's garden.
So near the Dutch Elm lined streets of Des Moines, Iowa.
And as to my father, neither he nor his dad and brother's knew before the war what fate lay ahead for their lives and their children's frolics. The sun shone on every face.
(My Dad, Max, is the oldest next to his dad…before WW 11)
Soon, the brothers split into different war divisions to fight for America. New uniforms were put on, new bonds were made and the flower of family grew beneath the struggle of separation.
My dad stood strong.
His sister, Virginia, met a soldier.
And during the war, the new families met at Grandma Franque's house in Iowa, or where they could.
My mom helps at the table in Des Moines while my sister, Sharon, seems quite happy!
Here is some very early evidence of the merge to come between the Morgan pirates and Royal Franquemonts!
The die was cast, as my Uncle Mo, Aunt Virginia, and the Roland and John Franquemont group conspire to create history. My grandparents stand helpless to stop it.
My Uncle John and Aunt Donna were too happy to notice how the drift of time was tumbling..
Only the very young, Robin and myself, crying as we were so aware, foresaw the coming, Franquemont, Morgan, Morgamont was near..
Bill and Buzz Franquemont stood in shock while Jim and Joe planned their escape on bikes…
Alas, those Morgans grew a cute bunch. Robin with his Bow tie and Joe with a look that could sell any car he'd driven into the river. Claudia a looker from the start and Ginny realizing she had her hands full.
Yep, in the end, I've come to love each and every last one of them—and I've met some in far off places…like the two wearing super funny hats…
.
As it turns out, what the Morgan pirates steal best is the theft of the heart.  So back in the day, I guess the grandparents, the parents, they all knew what they were doing and they could not have laid the bonds between our stars stronger.
Maybe the night sky at Lake Bonaparte whispered the truth loud enough so we could hear.
And to think, they're always there…
Yes, I think Lake Bonaparte can help show the light.**
From the old to the new. The lines will continue to grow together, and never apart.
On a night to remember Dave Morgan…
(around 1956)..(I'm the sexy kid in the Speedo)
We've come together many times at Lake Bonaparte. And of the last two times….
(2014)
(2018)
The full moon came over the Morgamont Dock for the first time. (July, 2018)
(Franquemont camp and dock is on the right—the Morgamont deck  is just above)
Cheers
Franque23
Read more Shakespeare
**Yes, these are actually night sky shots taken at Lake Bonaparte…Thanks for them, Ross Franquemont.