You are currently browsing the tag archive for the 'climate' tag.
Greta Thunberg sails to America. She breezes into town with a boiling luster of avid belief full of conviction. There are those who mock this sixteen-year old who dares to stand and speak her mind, strongly, frankly, without regard for the pitfalls honesty can sometimes bring when speaking to those thought to be superior. They're not.
Because I've worked in library services for almost twenty-five years now, this fired-up youth, Greta, conjures up memories of one of the bazillion books I've read—or at least in part scanned—over the years.
This book:
This book is a Juvenile Bio of a young man who really lived, Alexander Selkirk, though his true name was Alexander Selcraig. He was a Scott and it's thought the name deviance as recorded was perhaps due to poor spelling or a rocking boat during the time of transcript.  His relative is alive today and reports that his research suggests, "Selkirk (as a young lad) was a bit of a bastard, more respected in his absence than in his presence."*
My take is that Selcraig was a bit wild as a child, always in trouble, gifted in math and stubborn as the morning when it came to rising up to defend his right of opinion. Selcraig's troubled youth may be what led him to become a sailor—it was a means to get away from his past. For whatever the reason, this youth so filled with fury was the real Robinson Crusoe; he lived marooned on an island for four and one-half years, and mostly by his own doing. He chose his path fueled by his own determination, you can call it a hot headed mindset if you like, and thereby set his story forever in history.
This brief description of Selcraig, or Selkirk, the one whose life is now known as Robinson Crusoe, brings to mind Greta Thunberg. Think about it. Though Greta apparently didn't go around beating up people with sticks as Selcriag may have, she is, by her own admission, somewhat estranged from people by the very nature of her Asperger's condition.
When Greta headed out with this sign, she was alone with only the company of her determination.  Greta knows she is right when it comes to the issues surrounding climate change and she's willing to leave whatever she left behind to sail half way across the world to prove her point. Of course, Alexander Selkirk may have left his home to get away from his past while Greta has left home to make her future but, in the very least, the two seem to exhibit the same type of bold, unflinching spirit.
You see, Selkirk, in the year of 1704 approached his captain, Captian Stradling, while they moored by an uninhabited island and insisted the ship wasn't worthy to sail. He demanded that the crew go ashore and make needed repairs before setting sail. (It's reported that Selkirk was 28** and a worthy sailor and first mate of the vessel.)  Captain Stadling refused and the young lad, Selkirk, elected to remain behind on the desolate island rather than risk death at sea. It is recorded that, "Selkirk was put ashore with his bedding, a musket, pistol, gunpowder, hatchet, knife, his navigation tools, a pot for boiling food, two pounds of tobacco, some cheese and jam, a flask of rum and his Bible. He had made the biggest decision of his life. No longer just a complainer, he had taken action." No doubt our Robinson Crusoe to be thought another ship would sail by his island soon enough—that took four and one-half years to happen!
Greta has set herself out upon an island of belief surrounded by a sea of media attention, slashing rhetoric and attacking foes who fiercely disagree with her opinions. She made her decision. and watched the easier life she might otherwise have had set sail. Her standing ground is conviction—but is she right?
It should be noted that Selkirk was. "Dampier(the captian who saved Selkirk) told Selkirk the bittersweet news that he had been all too right about the decrepit Cinque Ports. Soon after abandoning the Scotsman in 1704 the ship sank off the coast of Peru, killing all but Stradling (The Captian who would not heed Selkirk's advice) and a dozen or so men, who wound up in Spanish prisons." In fact, that ship sank in a matter of two days after leaving Selkirk on the abandoned island.
It's also a sad truth that Selkirk became somewhat of a notoriety in England once his story became known, and he had more than enough money, but his life never lived up to the joy he found in solitude.  This is why Selkirk returned to the sea at age 44 to sail once again. However, fever soon took hold of much of the crew who died and they were thrown over board. It was recorded, "On December 13, 1721,………..North to northwest. Small Breeze and fair," it read. "Took 3 Englishmen out of a Dutch ship and at 8 pm. Alexander Selkirk . . . died."
Will Greta also find herself living a world she'd rather not see as time goes by? Will Greta Thunberg's greatest moment be that she set her sights on what is right, but only to see that her message is left behind?  These are turbulent times and it seems those more powerful than her may strand her intentions in a tide of lawyers, business and money. I hope not. I hope Greta Thunberg finds a sea of people ready to right her sail and lift her message as an ocean of truth.
I'm willing to row her boat. You?
The earth is our 'ship of state.'
Franque23
*For a more complete story
https://www.smithsonianmag.com/history/the-real-robinson-crusoe-74877644/
** Some facts differ from the book listed and the postings in the link. For one, Selkirk is said to be a young lad of 18 to 21  in the book when he was left on the island, not 28 as listed in the linked article. Here, I've deferred to the article linked.
*
A very blue wave.
A couple of thoughts to light up the season.
It's no secret Republicans took a whippin' in the 2018 mid-terms. The House of Representatives flipped blue by a large margin and likewise Republicans lost State representatives seats across the country. This was much more than a ,'standard,' mid-term correction vote. This vote was a cry heard loud and clear by both party's. Republicans were able to hold Texas, slip by Florida and out-right cheat to win Georgia, but over all, the party took a slogging at the polls.
What appeals to me most is this blue wave came about via standard rich donors as well as grass root donations. The tide is more than turning blue, the presence of foreign donations via secret PACS may be washing away, and gerrymandering will be re-whittled in many states. I'd say new people running for office—so many women—(Right? :-))along with Pelosi's help kept most races on point: on healthcare concerns, medicare and social security.  But there's still a lot of fog surrounding these issues and how best to drive them home in 2020.
2) The charge for climate change is well meaning but poorly framed for those hoping to gain a political leg up in 2020. It's a discussion that can't be won by scientifically based facts or mouth foaming, delusional thinking. Nope, the world has spun too many times for any of us to prove warming trends that spell disaster are part of natural course within the World's environmental history or not.
Nope, arguing over climate change is exactly what Trump wants his opponents to do.
If you like Trump, argue climate change.
If you hope Trump falls into an oil slick laden with Red Tide, argue pollution.
In fact, if you want to win in 2020 steer clear of climate change. Instead, ask voters to raise their hands if they want toxic drinking water? Do they want to swim in oil slick oceans? Let's count the hands. Do people want to bathe in fracking industrial waste or not? Let's hear ye! These are issues Trump's policies fail to address, worse, they add to the pollution of our living environment.  The beauty of focusing on pollution instead of harping about climate change is that IF we  get control over pollution we will actually be doing all Mankind can do to stem climate change. No, controlling pollution may not solve climate change, but attacking and ending pollution is the best we can do about it. Point: sidestep climate change in 2020.( Put a small boat in your backyard instead.)
Now, a prayer. I pray for wisdom we haven't seen when dealing with the marching South Americans. Some politicians are starting to ask why we are sending soldiers when we could have been sending help? Yes, the policies of Trump on this issue are plain wrong. If you see a problem coming there may be another way to solve it other than fighting it.
We need more Zen in our leadership.
America, BTW, is huge and loaded with tons of money and power.  America can and should have mobilized a huge peace force sort of coalition to march on down to our boarder via govt. funded fare to build housing for these people who flee for their lives and march to the U.S. If you're getting checks from the U.S. for not working, I say you're on the planes. We're going to use as many U.S. products as possible to build communities where these people can stay until entirely vetted, politically and health wise.  Bingo American industries of every sort—you just struck it rich by a huge government demand for every commodity you produce! They need food? Bingo, mid-west farmers! Your load of customers just arrived and our tax dollars will buy your food and ship it to where it's needed.
But where will the money come from to support a Hoover Dam type project to turn an unused place into a living space? It's called tax dollars—you know the ones our government wastes every day in about every way.
Idea! We could start finding the money needed to house these immigrants by dropping 50% less bombs around the world every day.  If we did stop our morbid need to bomb the world, our government coffers would be raining money instead of death and destruction.
Think about it: imagine. The U.S. actually accepts a large immigrant population wisely, securely, without shooting or jailing a single kid! America shows what must be done to support and help our migrating populations the world over!!! How neat it would be for America to become world leaders, the ones who saved the world once again!
There it is: thoughts and prayers done right, without guns but with brain power, might, will, huge amounts of money and a willing workforce. There it is: a booming economy led by successful life giving policy. There would be wrinkles to iron out, but this should have been our focus, not walls, closed boarders and an army.
The up and coming new lot of Democratic politicians understand that thinking straight is easy to do. Here's five examples of women who schooled together, stuck together and all won seats in Colorado  state Legislature in 2018.  This article is quite a read; a map to political success and strength.
https://people.com/politics/five-female-friends-state-senate-colorado-won/
Cheers
Franque23….Om
Please note…this ocean shot is from that ,'sh*t hole,' country, Mexico.
My wife recently told  a news story on T.V. to "Go Fund Yourself." It broke me out in fits of laughter….as my wife often does. She's smart, a wit-full companion that keeps me thinkin'. Thing is, my first editor of everything you've ever read from me is also sharp, and more helpful than you know…. Barbara sent me this tonight,, and I thought in our time of strife it might do us all good to take a look at the,'Will  to Survive'. It's in all of us, to fight for existence, and that we shall prevail…just look at the trees: they lead the way.
Enjoy, and thanks again to Barbara for the link.
Peace, Franque23
Trees have been around for about 370 million years, and as you can see from these incredible pictures, there's a good reason why they've survived for so long.  Whether they're growing in the middle of gale-force winds, on the tops of rocky platforms, inside concrete tunnels, or even growing out of each other, trees know how to survive in places that few living organisms can, which explains why the planet is host to around 3 trillion adult trees that cover an estimated 30% of the earth's land.  Considering that plants produce the vast majority of the oxygen that we breathe, we should all think ourselves very fortunate that trees are as resilient as they are.  We wouldn't even be here if they weren't.
#1  A Place Of Enchantment

#2  This Palm Tree Fell Over And Curved Right Back Up

#3  This Tree Fell Over And Grew 4 More Trees Out Of Itself

#4  The Only Tree That Survived The Tsunami In Japan Between 70,000 Trees. Now Protected And Restored.

#5  Tree Of Life – Olympic National Park, Washington

#6   A Tree's Root Spill Over The Sidewalk

#7   Nature FTW

#8   A Tree Growing Through Speed Limit Sign

#9  This Tree That Refuses To Die

#10  This Tree Still Has Its Leaves Because Of The Light Shining On It

#11  Life Finds A Way

#12  Tree Roots Extend Across A Gap To The Mainland For Nutrients

#13  Life Finds A Way

#14  Ta Promh Temple In Cambodia

#15  Striving

#16  Someone Hung His Skates On A Small Tree When He Was Younger. He Forgot He Had Left Them There And Found Them Years Later
#17  A Tree Growing On Another Tree

#18 This Tree Is Growing Out Of Another Tree

#19 This Tree Grew Out Of The Stump Of A Dead Tree And Then The Stump Rotted Away

#20 A Tree Grows From Third Floor Window

#21 Life Finds A Way

#22 I Spent Ages Staring At This Tree Before Taking This Pic. I Hope You Find It As Fascinating As I Did

#23 This Floating Island That Grew At The End Of A Partially Sunken Tree

#24 This Wooden Chair My Parents Bought Started Sprouting Leaves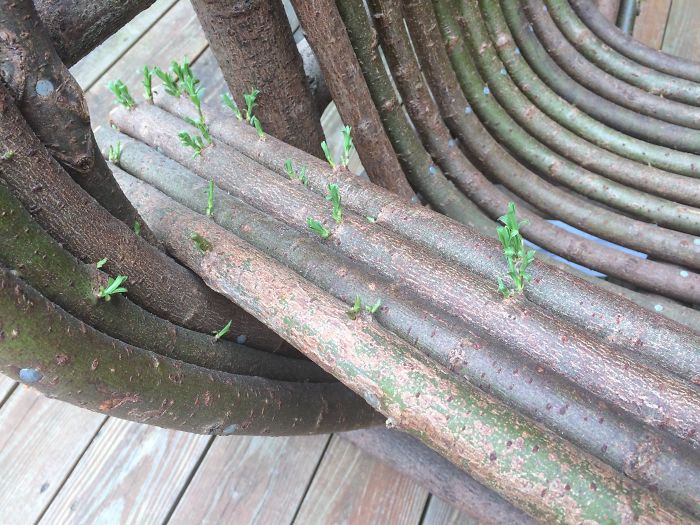 #25 The Old Piano Tree

#27 One Tree On My Street Refused To Accept Winter

#28 My Sister's Tree Is Eating Her Fence

#29 This Tree Growing Through A Fence

#30 Life,Uh… Finds A Way

I'm thinking eating an apple and then a banana could make a person fart? This could be trouble. I'm working the public service desk for the nest 5 hours and I just consumed both! If the answer to my first important question of the day is,'Yes,' I can only hope some service dogs come in. The good news? I'll be the first to find out the validity of the premise so I can quickly leave my area in search of a book or some other task.
Question two for today: Has our Supreme Court always been strictly a partisan affair and corrupted by outside interests? I didn't believe so as a child, but , then again, I also believed in Santa Clause.
My take of the Kavanaugh selection? The vote was 48 NO to 50 YES for confirmation. This means there were 48 correct votes and 50 wrong—that's about it. For liberals, the future for Supreme Court decisions looks bleak; that the Supreme Court no longer appears to have a swing voter might wreak havoc as decisions come down during the years ahead.
Third question: Why is the suffix, 'Jerry or Gerry,' such a derogation? We have the, 'Jerry's' (the German soldiers during world War 11) and, Gerrymandering, (Pretty much the sole corrupt political device that secured the election for many candidates throughout our country.) If something has been Jerry-rigged it won't work for long—we all know that. But did you know, "Jerry,' is another name for Chamber Pot!?!?!OH I know, a chamber pot was well received when needed, but it still seems to be a bottom-of-the-barrel sorta thing.
So why does all this matter? My name is Gerald, often turned to, Gerry, by family and friends, so I'm a bit sensitive to having a name associated with, 1)the enemy, 2)corruption, 3)something that won't be any good or, 4) a piss-pot and worse. This is why being called,'Franque,' by friends on athletic teams in High School was such a relief!
Fourth question: Since 1996, Medical Cannabis sales tax collection in states that have deemed the drug legal for medical use has totaled over, One billion, two hundred eighty-five thousand dollars. These are the medical sales. Imagine if the illegal usage sales and the tax charged were added to this figure? Why in any Capitalist's, rational head would it seem good to not legalize Pot?* Folks—we have a bunch of seeds and stems running our DOJ (Department of Justice). (Sessions is a jerk).
Fifth question: Why do so many men seem to hate women? Last time I looked, read or have been told, every man on the planet came by way of a woman. Or, is this alternative fact?
So many men lust for the same-sex they hate, demean, exclude from human rights that our world seems a whirling dervish of septic brain rot. For now, unfortunately, this is the good news. The over-all history of men's atrocities toward women makes our current societal condemnation of women an improvement of epic proportions. I've always had a,'soft-spot,'(meaning I care?) for the plight of the Native American's and for all indigenous people. Thing is, take any total number of any single group who has been wronged in history and put that figure against the number of over one-half of the world's population throughout history—that would be female—and imagine which number is larger. See? Women make up the largest group number of people tortured, used, abused, slaughtered and misaligned in the history of Mankind. And I do wonder about the term, 'Mankind.' Divide the word, Mankind,(Man—kind) and see that each half of the term is kinda off.
Sixth question: Why are so few patrons coming to the service desk? Hmmm. And no, that was a burp-I swear.
Franque23 loves bananas and apples.
*https://www.forbes.com/sites/andrewdepietro/2018/05/04/how-much-money-states-make-cannabis-sales/#28e12c8df181
There's a morning wind.
Today, from where I sit, the breeze will reach the sea some sixty miles off as it blows east. There, the translucent waves of green and blue roll beneath the calling gulls as the cooling, wet shore line comforts the feet of those strolling by. The shell white sand of the beach waits to be renewed or reclaimed by the pounding surf, and beyond it rises beige, wispy sea oats and dark green sea grapes that root in the dunes. A transforming landscape of sand and grass rises and falls to form a panorama that seems a dried mirror image of the ocean's undulating surface. The oats will sway in the breeze much like sea weed moves with the ocean current. Here, two realms so different remain joined as one. The wind will touch it all.
It's a peaceful thought as my coffee scents the air.
There was a time I thought I'd end up living along the shore, in the wind, with the sun, with the sounds and smells of the sea. Mom did as a child in, Recife', Brazil, and somehow I dreamed I'd be as lucky. She took me to the shore often and taught me the ways of the sea, the surf, the hot sand and how the tiniest shell could sometimes be the most spectacular of the lot found that day. There were those sand crabs to dig after as they burrowed only to be caught so they might wiggle in my palm. We went to the ocean as a family and soon that vast, blue lined horizon became as much a part of ours as dad's backyard apple blossoms.
Mom by the sea.
Sometimes I wonder if our dreams die like we do, or if they exist forever.
I've a good cup of coffee, but the memories are so much better. The wind entices me to wonder. When did I give up on that dream to live by the sea? I should have written the date somewhere.
But, I think I came to Florida in 1971 , in part, to be by the sea.
My wife and I have always visited the sea—our hearts beat with the waves, the light, the clouds and all those rolling, crashing waves.
A unique understanding comes when a person interacts with something as large as a mountain range, a desert, an expansive ocean or anything so vast as the diamond night sky. There's a sense of oneness with the pebble, sand or shell at your feet, or single star overhead——they are so much like the size of us when compared to the entirety of life.
Ask a mountain climber, a diver or those who love to walk the desert why they do what they do. They will think, 'Because I do', and then they will offer words about this or that, words that can never fully explain the gut of the matter. Perhaps, the best way to answer is to say, "The majestic helps clear the clutter."
Lake Bonaparte has a beauty each day, though different from one day to the next.  The views allow the heart to rest.
We all need to clear the clutter in our heads—the majestic world is our best reflection, our best chance to right the wrongs in our thinking. Our environment is us; say hello.
We need to make peace with ourselves.
Do you remember being ten and testing out a new pair of sneakers? How fast you ran; how you seemed to fly: you'd never be undone!
I'm the 8ish year old with his hand on his hip….and black speed-o
Growing up is fascinating and maybe we never stop owning that same self amazement throughout our lives. Maybe, internally, we all hunger for the truth, a correction in our way of thinking that sets us in place, a certain notion that helps identity our true sense of being in the universe.
My sister and I still meet at the ocean whenever we can…this is Roatan.
Maybe, this understanding is why we yearn to face the magnificent spectrum of life as it appears before us from place to place. It's more than humbling; it's being united.
Let's get together. Let's listen to the morning wind; it whispers the truth. Good morning.
Franque23.
Please, everyone who wants to, go burn every shoe you have then take a hike.
The question is simple. Is there any kind of war that's not happening now in America? Randomly, I'd say the only thing most American's agree upon is that ice cream is at least okay.
All the rest, the North, the South, the Bread Basket zones and Coastal cities, the whites, blacks, minorities against minorities or not, the radical right, left, with the melting pot Brillo-ed out, the rich against the poor, the old in the way of the young, the war on fat or too thin, the what kind of man are you?, what bathroom to use or slate to clean?, no guns or fire away, it's all up in air lifted and swirled by misunderstanding, hate, fear, mockery and assault.
We're yelling at ourselves!?!?
Some days, I sit and listen to this song and dance in the living room just to get away from the mess of our society, never mind what I'm wearing. https://www.youtube.com/watch?v=JiQIisyncY0
(Want to feel better? Listen to Fogerty's song in the link in this glob and watch the fall clip at the end…cheers! And oh, please forward! Thanks.)
Is America being undone? Or, is American being re-tooled by internal disorder that will lead to a more perfect union? Don't ask me—I asked you!
Me? I might be in favor of how the Democratic party seems to be changing while I flat-out hate the way the Republican party is heading. Currently, cramming the hearing making process of a Supreme Court nominee down the throats of legislators who in the recent past couldn't get their guy a hearing for almost a year feels wrong.  It brings to mind warm poop for breakfast. (or anything else as disgusting-use your imagination.)
Yum.. (please tell me this is ice cream.)
On a side, just a thought, has anyone noticed that Trump keeps saying Mueller's investigation is a , "Witch Hunt," but only Warlocks have been arrested? So, maybe, Trump should leave women out of this—just saying.
Who else thinks herding teams of lawyers into a padded cell won't help America out of our grid lock-and-load? How about using a bunch of pandering gerrymandering partisan warring politicians? Yeah, not that either. What to do?
Idea!
We eat ice cream, like all together. American's should declare a huge Eat Ice Cream day; just do it, and gain weight.
Don't give up, no matter what, eat the ice cream. Let the ice cream wars begin!
Then we could have a long, 1/2 of a day when we all diet together for a moment. We could skip afternoon snacks, maybe. The bonding we need would begin!
This might not work, but then again think about this: what if American's saved whatever they could over the course of one year (whahahha, this a funny thought.) and spent it on buying stock in ice cream companies. Then, we all could agree to buy ice cream stocks over the course of one week just prior to Universal Ice Cream Day! Boom! The stocks rocket up; American's sell their ice cream stock and buy our representatives brooms so they can fly away higher than the stocks before they crash!?!?! Okay, this won't work either. Why? The plan is perfect but for 1/3 of all working American's have no savings at all, while another 1/3 of working Americans have 1000 dollars saved.
Basically, American's have been screwed for so long nails might go out of business.
Bonus picture shows the Beatles traveling in a van doing gigs before anyone knew they liked ice cream too.
Oh sigh, it's time to study our problems in this country and find solutions. But, it must be hard being a teacher now-a-days. Imagine going from teaching one year that anyone can be president to the next and having to explain why the president is a compulsive liar.
But, change isn't new in America. Women couldn't vote at one time and now they get groped by preachers on national T.V.* This sort of change is part of my life, too. I used to drive through a tunnel going to New York City and I marveled at the cops standing on the underground walkways by the road. It all made me feel safe; protected.
Years later, I went back to the city and drove through the same tunnel only to find the cops had been replaced by hookers! It was as if Mad Magazine had come alive. I now have a case of bad tunnel vision.
Oddly, I can't find a single picture of prostitutes walking these isles as I saw later on…go figure? Thing is, I wondered right then, how did people stop to pick them up?  It never made sense to me.
Relax-eat some ice cream and dream you've gone to heaven, or maybe we're in heaven and meant to enjoy the glitches? If you're old enough, you might recall a popular song that asked, "What if God were one of us?
But, what if God is all of us?
Even Trump likes ice cream.//wait? What?
Anyway-have the best days you can. And, maybe, chill with the video below. Fall's a-coming!
Cheers,
Franque23
Shakespeare wrote, "All are punished." Dang it if it doesn't seem Shakespeare's right, though I suspect the poor suffer more than the rich.
(The market crash of 1929 helped us meet our neighbors.)
And maybe, it doesn't matter which party has been in control of Congress or the Presidency—we all suffer.
I'd like us to focus here.
The most recent shell game of exchanging reality for peanuts has come in the form of stock market envy. Everything we hear or read almost everyday is about the stock market and how it's doing once the slop about government fiasco is pushed aside.
The stock markets up! Hurrah! The headlines couldn't be bigger and the news any brighter!!!!
Really?
Funny, how stock news is floated out through every news journal on a daily basis. It's so important, right? Wrong! Ye God's and little dill pickles, as my dad used to say, 54% of American's don't own stocks whatsoever! For 54% of Americans, the newspapers and TV reports might as well say the neighbor down the street bought another Rolls Royce no one can ride in rather than report the stock market.
Think about that.
I guess this is good news for 54% of Americans-if the market crashes they won't get hurt at all!!
Somehow, the media, the owners of America, have tricked the American workers into thinking the stock market going up makes their life better—it doesn't. Only a small percentage of Americans benefit from stock market changes, and they all are in the wealthiest 16% of America's families.
Fact: 10% of American's own 84% of ALL stocks…so a roaring stock market does nothing for more than 54% of all Americans who own NO stock whatsoever and very little for those who might own a small nest egg of stocks.
Stock market gains are an illusion for almost all of American workers. You can't judge our economy, our quality of living by the stock market-–but the rich would like the impoverished middle class of America workers to think those gains in the market reflect a gain in their own life experience. Hog-wash!
Good paying jobs make life possible and help the quality of life for most Americans, not stocks.
Owners and market managers make out like bandits on soaring stock markets, though sometimes, like in 1929, even their investments can fall like a rock.
I read that no one actually committed suicide over the 1929 market crash, but this guy looks dead to me?!?!
The stock market is for most Americans a circus they watch but will never join. American's pay to watch the stock market game at their place of work by accepting lower wages without benefits that push corporate profits and stuff the linings of rich pockets. Stocks go up! Profits soar! Wages go down!!! What a racket; what a bad deal for the working class.
It's easy to get side-tracked when the center ring of our political arena is a freak show in every sense of the word.  Since when has such a dearth of bamboozled toxic concoctions called representatives led America to this extent of deteriorating deficiency?  Thing is, it's easy to believe once you flip through the ghastly pages of America history that the answer to this question may be, 'since forever,'!
Keep in mind, this less than stellar view of American society and politics isn't keenly based upon the fact that 4 former U.S. Presidents were shot dead and that someone or group plotted to kill fourteen others. No, the fact that nearly 2/3 of all America Presidents were either killed or some political group in America wanted them dead is not the defining point that brings American society to the dismal depth we're back-floating on today.
The lies American citizens have been told almost since the start of our nation is what makes our paths so difficult to walk now. Let's just say, the crazy stories about the Native, wild Indians, the reasons for the Civil War, the Tea time at the Tea Pot Dome, the so-called Black Emancipation , Women's Right's successes, (please add all the reasons for America's involvement in any war or anything called the ,'Good-Ol'-Days,') and it's easy to see there's a pile of crap on our heads.* How can any working American find a good footing now-a-days?
Some questions are difficult to answer.
But, let's get back to now-a-days! Only 64% of Americans own their houses and all but for 16% of Americans have little or any stock investments. Workers are losing pensions; the government attacks Medicare and Medicaid and hints at removing preexisting conditions for medical health coverage.  This should be the daily headlines in papers, not how the stock market is doing for the rich, top 2% of Americans!
But the media dazzles the eyes with stock figures daily and we all pay to watch. NO WAIT! American workers aren't watching this three-ring circus! We are the ones being paraded in it while the rich sit and order caviar, campaign, dresses that cost 50 thousand dollars, top coats of silk and smoke fat, imported cigars from those so-called ,'shit-hole,' countries they frequently fly to while on permanent vacations.
Yes, I see it all now. The middle class thinks we're watching a circus when we've actually been turned into one for kicks.
In the end, it's easy to see how all might be punished if corporate profit remains more important than the worker's welfare. Heads have rolled before for this very sort of reason throughout history! I'm not hoping for that repeat. I'm hoping for a new awakening in voters and politicians alike. I'm hoping this current wreck-of-a-circus we call society gets closed down in an orderly fashion—through election—and a new one opens that's a hell of a lot more fun for everyone.
Things might get worse if we can't vote in change.
The notion that investors and corporate profits matter more than the workers who bring profit to organizations is the plague of our society now.
Here's to the mothers, the women, the workers and everyone who knows better.
2018
2020
Franque23
*and the government made up figure called the CPI(consumer price index)which in turn drives annual increases to social security and other benefits.
(Click the pic for a larger view.)
Not many people grow gardens, at least not in my neighborhood and this amazes me. People certainly can see the food I grow if they happen to walk by. But let's take a look for ourselves!
Of course, the gardenia is this way and it's a wonderful place to visit any time of day, especially when it's blooming.
Yep! Shadow's there to block our way. I said, "To the garden!" and Shadow's like, "What?"
That's better! Just past the fig tree (on the left) is our destination.
A few musings as we go: I often share the fruits of my labor with neighbors throughout the year. Our oranges bear November thru April and various garden grown veggies come in during the spring and fall!
My back Florida room is often filled with pickings…these are oranges and grapefruit-the last pick of the season. Greening is a disease that is wiping out much of Floridan's citrus crop and several of my trees, the Valencia especially, are affected as well. I tried mixing some of the green oranges in with good ones for juice but, really, those are a loss.
Hello! Writing books while surrounded by the last orange pick as herbs dry on tin foil behind me.
We all read headlines about the chemicals used on many store-bought foods as well as the gigantic recalls of food for different reasons, so why wouldn't people want to grow their own food as much as possible and skirt around chemical usage? Of course, more and more naturally grown  food options are becoming available, but unless you're at a farmer's market there's a shipping time to consider when it comes to the freshness of the food you buy.*
Hmmm, we're almost at the garden. The one minute walk is quicker than any car drive I might make to a nearby store; there are no lines to stand and wait on in a garden, but there's another VERY important point to growing food. Recent studies show the actual nutritional value of store-bought produce has declined over the years.**
Here we are.  A perimeter row of marigolds are nice to see and may help cut down on the aphid population. (To the left of the post is an orange mint herb plant…wonderful. Parsley, sage, basil, rosemary, thyme, oregano and dill grow nearby.)
Because I'm crusty old, stubborn—maybe stupid—I still water my garden using two sprinklers set five feet high on opposite corners…I figure the water falls like rain so what's not to like? There's so much more to write here. Briefly, I figure rain is the natural growing environment for any plant, with the rain drops stimulating the leaves as they fall, so why do studies show underground irrigation and other newer techniques of watering give higher yields? Maybe, the water amount is the only major factor in growth, period.
So if you click on the picture above you might see several very large leafy plants(one near middle post) that are collard greens. I point these out because they were actually planted last September and have been yielding greens ever since last October! The taller tomatoes in the background are about six feet tall.
Below, just off-center to the right, is a broccoli plant that was planted along with the greens and it has also been giving broccoli for the past 8 months.
Shadow used to help me weed and dig the garden AND eat green beans right off the plants as I picked them. This went on for his first two years of life. Now, he seems to know he's a dog and simply lets me do all the work and turns his nose up at fresh green beans. Still, he can't help but lick his lips when we go out there. Me, too!
You know? I think I'll go smell those gardenia flowers, again.
Cheers- thanks for stopping by!
Franque23
** http://www.nbcnews.com/id/37396355/ns/health-diet_and_nutrition/t/nutritional-value-fruits-veggies-dwindling/#.Wv8JQDQvzcs
Wait! What were you thinking? Oh, guttered brained chatter makes the most noise, right?
No, not this kind of a…
I know this is a loaded statement few bring up often but now that it's out in the open we should talk. No matter how you look at it's hard to look away. Some will find this easy to handle, others, not so much.
We have a movement in hand.
This ,'dick-thing,' may be the point of Japan's annual celebration, but it's not the point of this post.
Okay, the picture pointed the way. Once a work associate who is married to a fellow named,  Richard, threw us all into laughing fits when she exclaimed, "I do love my, Dick!"
Anyway–Dick's is the  Hunting Outfit chain who dropped selling AR-15's today to help motivate our Representatives to do the right thing when it comes to gun legislation so they deserves our business.
How did America get to where we are? The madness at the top-our Congress seems not interested in following the will of the majority but only the will of their donors. Heck, the President even refuses to recognize the will of Congress who overwhelmingly voted to apply more sanctions on Russia for interfering with our 2016 election, but Trump won't do it!
People also ask why the Republicans have taken so many local and state elections in the  past.
Well, that's complicated but gerrymandering is one main reason the Republicans have done so well at the polls during the last twelve years
See? This is a voting district in Texas–someone needs a ruler, right? But even with this Republican shaped district a long-standing Republican Representative from it is not going to run again!
Democrats fell asleep at the wheel while in power and the Republicans went to work drawing up voting districts that could challenge any Dali piece of art. Plus, the core of America feels more conservative than Liberal,(it's not.) but not crazy like Trump and his agenda!
Many say Liberal's are too Liberal; that they don't represent most Americans. But remember this: Trump and his agenda lost the popular vote to Hillary by almost 3 million people!
I have no idea what makes people in large cities and near the coast lines lean liberal rather than conservative …odd. The heartland is so beautiful, serene, so I get those living there not wanting too much change. Thing is, right now the Republicans in power are too crazy for office and may well be in Russia's pocket.  Polls show this is the opinion of the majority of people in America today, right now.
It's about 100% sad what the NRA has done with the second amendment in terms of interpretation….the assault weapon problem here in America is huge and may well flip the Congress blue. So far 9 out of 11 special elections have come up blue, and some were in places where a deep tradition of voting Republican stood. 37 seats have flipped blue since 2016 in local and National elections.
Am I in love with everything Liberal ? Maybe not, but I do love these kids for speaking out about guns, and the women for organizing against a moron of a President who embraces throwback environmental ideas….and those sex comments….?
The tide may be turning blue; We'll see….
And now, tonight we can add Wal-Mart's name to the list of good guys! They are pulling all assault rifles off their store shelves, even children's toys that resemble those guns, and raising the age to 21 for purchases.
We all should wonder: is today's press conference where President Trump seemed to back opponents of the NRA a symptom of what's to come? Has Trump seen the voter's will play out enough in recent elections that he thinks he has to at least straddle the gun issue and not side with the NRA? We'll see…but there's this:
I lived through the Nam protests and movement against Nixon. This is feeling the same and for one uttermost important reason—we were right about the Nam war then and these kids are right about America needing to adopt much tighter gun laws now.
The side of right will win, we just never know exactly when. So here's to Dick's everywhere, to all the companies who have already changed their relationship with the NRA and now to Wal-mart. This is called a movement. It's time to reach out and grab the moment.
We need to keep it up! ( oh gosh….)
Franque23
Heads up! Please copy and paste this to your friends and associates.
Mike Byerly* has written an informative letter alerting all those who live within Alachua County that regulations protecting our air and water quality are once again under attack. Developers are seeking to reduce Alachua County's air and water standards.
The meting is scheduled for Jan. 23 at 5 PM. Obviously, a Tuesday meeting held at 5 PM in the county's Administration building makes it difficult for those who work 9 to 6 or 8 to 5 PM to attend. I suggest those who wish to let their voices be heard or their presence seen at this meeting request an early leave from work on Jan. 23 so they might attend this 5 PM meeting.
One more thing–why not request that any further meetings that address any changes to our county's air, water or land use be scheduled on weekend days or no earlier than 6:30 PM on week days so voters can attend?
Here's Mike Bylery's letter:
"If you have only enough time or motivation to attend one government meeting in 2018 in defense of our environment, make it Jan. 23rd, 5 PM, at the County Administration building. The stakes are high, and turnout could make the difference.
Alachua County is a "charter county." That means we have a charter, sort of like a constitution, that is the ultimate law on certain matters, and it can only be changed by popular vote. Back in 2000, Alachua County voters overwhelming approved an amendment to its charter that authorized the County to establish countywide minimum protections for water and air. Then, for 18 years, nothing happened. Finally, after several years of analysis and an exhaustive outreach campaign with stakeholder groups, the County is poised to adopt two important new water quality regulations that would substantially reduce the harmful impacts of future development. But this effort may die on the vine.
First up, and the subject of the January meeting, is simply a proposal to extend the County's current wetland protections to the entire County. Currently, they only apply in the unincorporated County. The County's standards are significantly stronger than the default state standards in use by most of the County's municipalities, which allow developers to simply pay to destroy wetlands. Consequently, a number of large landholders have annexed into adjacent municipalities in recent years in an attempt to evade the County's wetland protections. Plum Creek/Weyerhaeuser is the most glaring example, with large annexations into Hawthorne and to the north of Gainesville.
Second, later this spring, the County will consider whether to adopt new standards for future growth that would reduce the pollutants in storm water runoff that foul our streams, springs, and drinking water supplies. I'll provide more information on this as the date for action approaches.
Characteristically, the meetings so far have been during the day and largely unpublicized, so the only feedback that County Commissioners and staff have received has been from paid representatives of the folks opposed to any new law: developers and the smaller municipalities. The County Commission needs to learn whether the public at large cares. Also characteristically, the threat is not so much that the County Commission will do nothing, but that they'll accept so many "fine print" compromises that the final law is completely neutered, in ways that only the professionals can understand.
The time has come to translate talk into action. The Commission is divided on whether to act. Please attend, and bring a friend."
Good job Mike Byerly! Now it's up to the people of Alachua County to respond by showing up at this Jan 23rd meeting, 5 PM in the downtown Administration building…See you there!
Franque23
Gerald Franquemont.
*Who is Mike Byerly?
http://www.gainesville.com/opinion/20160729/mike-byerly-standing-up-for-sustainability