You are currently browsing the tag archive for the 'coming of age' tag.
It's simple in the most complex way. How something tied within can run from the tongue or written word to announce its preponderance is miraculous. But, again, words don't work; I just have to try—
I'd been walking through a forest; walking forever…
I often walked to familiar places though no walk could be the same. No, rather than feeling redundant, each walk resembled a reoccurring dream that shifted ever so slightly in my head. Once, when I was young, the leaves held a glistening magic beyond compare and the stars above sang love songs. Breath came and went with a whisper of steam in the winter or without a notice in summer. A night bird's call held a special treat for every step of the way.
The moon would rise—that was in the air, too.
Places presented a universe of change but that variance was apart from the heart of the matter. What was the heart of the matter? When I walked as a boy and walk now as a man there is one secret, one truth I print with each step I take. When any of us walk, we are searching for what we hope to find—this is the heart of the matter.
One day, I began the walk I had to make.
There were bushes, sticks and vines to push aside as I walked. Streaks of red and yellow stretched across a light-blue sky softly lit to a sun-licked amber hue I'd never seen before. The landscape seemed a mirror that span before me but I couldn't see myself in it, and certainly not within the darkened places or behind the boulders that lay ahead.
Quiet noise drummed my ears to the beat of my heart. One foot-fall followed the other and mashed a fresh scent of pine from the needles that had fallen from the trees above. A breeze passed as a tap on the shoulder that turned me around again to see if someone was there.
I was alone.
Oh, I loved the twists and turns of life. The ups and downs of Life, the rag-tag moments of laughter that still echoed in my head and tears spent that had run dry to leave a trace upon my cheek were never to forget. I held my life near and dear; it was all I really had. I bent down to pick up a pine cone, took a breath and then moved on beneath a glorious sun-set sky.
There, in an instant quicker than a slip, a clearing appeared. This flowing, smoothly swept, warm as a blanket on a winter's night place had a voice of its own set in a timbre no ear could deny. Its mysterious opening abruptly ended the maze of life I'd struggled to pass; it was an awakening of peace within my weary heart. The place turned my head, lifted my steps and lightened the tightness in my back. I turned around to make sure I'd left the brambles behind and come to a new place, a new clearing with only the truest of view.
The time turned to rest. All my effort, all the decisions random or not, all the painful struggle and haphazard joys of my journey had led me to this place.
It was amazing.
I'd found my way home to a place I'd never seen before.
Somehow, my heart just knew.
How does the heart know so much? How can the thing we always feel but never touch know the way to travel, the places to see and the people to hold? Love, the heart's messenger, is startling when it comes whether that's in the first minute when meeting someone or not. Mellowed by time or arriving in a split second, Love opens the flood gates of the soul so that we pour into a sea of understanding. Some people say being in love is like floating on air. Maybe. To me, Love is finding the ground I was meant to stand upon.
Of course, the clearing I found that day forty-seven years ago was you. I'm so thankful you had made it.
Thank you for being you.
This is the heart of the matter.
Franque23
To Dale, my wife of 40 years of marriage as of 1/3/2020-
(A Morgan-Franquemont reunion about 1951) Click the pic for a larger view.
Maybe I thought my sister might drop me—why else would I be crying?—pretty sure that's my best diaper.
Remember being young for just a minute. There's no hassle waiting to destroy the next minute, no bus, train, plane to catch or deadline to meet. No, you're just young. Your skin is soft without a blemish and your hair shines like  grass after a brief rain.  You've learned to comb your hair but your not exactly sure why you do it. There's no need to worry and everything feels right once your parents are home; the fire place sets itself and your dog is always fed. T.V. goes on past bedtime but you've seen everything you wanted to see and the day has come and gone like any other. Dreams come and go like the wind without cause or problem or forecast direction.
Everything just is. Do you remember now? Shoes or belts seemed useless unless you were playing dress-up.
(Our Son-in-Law running after his son.)
The world is an empty beach to run with dad close behind.
The sky is endless and full of mysterious clouds to watch as they drift by.
(My cousin's son, Ross Franquemont, takes a selfie as he flies by the Northern lights in his U-2 plane.)
Remember the first time you stared at the clear night sky and realized there were more and more stars to see up above as your eyes adjusted to the blackness. Remember the morning dew on your bare feet. This is about the time you discovered ,'brain-freeze.'
There was so much to take in and share with your cousins and friends.
A la speed-o suit; that's me.(Morgan dock at Lake Bonaparte-about 1956) ( AND… the person who edits this glob weekly* asked a good question: why am I the only one wearing a bathing suit? The dock is clearly wet?!?! Hmmmm)
Days come as easily as picking up a pencil. The scribbling on the paper wears a smile and it seems your masterpiece is, in fact, a heroic depiction of something meaningful to older folks—it's some miraculous sketch of objects you've yet to see or a panorama of places everyone hopes to go. It's good to be loved. Daylight loves you; nighttime is a blanket. The rain sounds loud upon the window pane and snow dances in street lights with winds that come from the moon you can't see.  The pets always sleep on your bed.
Everyday is safe. Every night is cozy. You get along with other  kids, even with those who seem so different!
Being young harbors within it a certain kind of peaceful hope.
(View of Lake Bonaparte from our 'half-way' dock.)
Without notice, you assume the older folks will always be here.
Life seems a garden of acceptance.
You can wear any hat you want when you're young!
(And on Youth Services hat day because we could.)
Routines begin to form. If it rains, you stay inside. If it is sunny you go out. Parents rush off in the morning and come back later after your nap but you're never really alone, not that you've noticed or ever thought about. Tooth brushing is a daily important thing, not the best, but you watch as globs of toothpaste slide out of your mouth onto your cheeks around your out-stretched smile in the mirror and it tastes sweet. Tooth paste types change from being white, then striped, sometimes dotted or with a hidden line of stuff surrounded by white. You just do it.
You think broccoli may kill you but not if you eat just a bit. Vegetables are stupid but they're the gateway to dessert.
I once thought food first filled my feet, legs, then my middle section, then my arms and finally my head: that's when I was full. I made sure to save room in my head for dessert.  People talked over dinner but mostly we all came to eat. Someone would say something funny and we'd laugh but always, without fail, my dog's head was near my lap, soft, warm, nudging my legs occasionally for that bit of something I didn't care to eat or wanted to slip him anyway.
I hadn't a care when I was young. Music filled the air and dancing had no steps, just movement.
Of course, I learned later in life that my life was not a universal experience. No, while I was in college there were children in Vietnam who awoke in the night to run out of their homes in fear Napalm bombs would hit their homes and burn them alive as it had some of their friends the night before. And other children weren't lucky enough to live at all but died without ever knowing what a refrigerator was. Somehow, learning the truthful horror about some life on earth during my twenties put much of my childhood experience in a time-capsule that I cemented in a corner stone of myself.  My memories were too good sometimes to be shown in the face of another's reality.
I'd been given so much and never knew. I'd been raised in the midst of modest but successful homes full of choices, flavors, designs, music,  friends and surrounded by mowed yards and shoveled driveways all owned by smiling people.
If you're life was like mine, it's okay. It's okay that we may have been born some of the luckiest people on earth. Thing is, now it's our time to give thanks. Now, if we haven't already, it's time for us to payback life anyway we can.  We have to fight for what we believe is best for this earth and give thanks to those who died for our right to do so. If we have something to teach, we have to do it. I think Thanksgiving has never seen a generation who has more to be thankful for than mine. Now, more than ever before, it's time for my generation to stand up and speak about what we feel is right.
My generation owes the World a difference.
We can do this. It's time to be young again, strong, wide-eyed, questioning and full of spirit. Spirits don't age like our bodies, not really. Look in that mirror as you did as a child and see your face, see your smile and remember who you really are. You're one who can make a difference.
We all can get along; we have to get along and help each other prosper—this is our task and purpose.
Franque23—Happy Thanksgiving.
*Barbara Mullenix gets all the credit for anything spelled correctly in these globs and none of the blame for all the rest….
Greta Thunberg sails to America. She breezes into town with a boiling luster of avid belief full of conviction. There are those who mock this sixteen-year old who dares to stand and speak her mind, strongly, frankly, without regard for the pitfalls honesty can sometimes bring when speaking to those thought to be superior. They're not.
Because I've worked in library services for almost twenty-five years now, this fired-up youth, Greta, conjures up memories of one of the bazillion books I've read—or at least in part scanned—over the years.
This book:
This book is a Juvenile Bio of a young man who really lived, Alexander Selkirk, though his true name was Alexander Selcraig. He was a Scott and it's thought the name deviance as recorded was perhaps due to poor spelling or a rocking boat during the time of transcript.  His relative is alive today and reports that his research suggests, "Selkirk (as a young lad) was a bit of a bastard, more respected in his absence than in his presence."*
My take is that Selcraig was a bit wild as a child, always in trouble, gifted in math and stubborn as the morning when it came to rising up to defend his right of opinion. Selcraig's troubled youth may be what led him to become a sailor—it was a means to get away from his past. For whatever the reason, this youth so filled with fury was the real Robinson Crusoe; he lived marooned on an island for four and one-half years, and mostly by his own doing. He chose his path fueled by his own determination, you can call it a hot headed mindset if you like, and thereby set his story forever in history.
This brief description of Selcraig, or Selkirk, the one whose life is now known as Robinson Crusoe, brings to mind Greta Thunberg. Think about it. Though Greta apparently didn't go around beating up people with sticks as Selcriag may have, she is, by her own admission, somewhat estranged from people by the very nature of her Asperger's condition.
When Greta headed out with this sign, she was alone with only the company of her determination.  Greta knows she is right when it comes to the issues surrounding climate change and she's willing to leave whatever she left behind to sail half way across the world to prove her point. Of course, Alexander Selkirk may have left his home to get away from his past while Greta has left home to make her future but, in the very least, the two seem to exhibit the same type of bold, unflinching spirit.
You see, Selkirk, in the year of 1704 approached his captain, Captian Stradling, while they moored by an uninhabited island and insisted the ship wasn't worthy to sail. He demanded that the crew go ashore and make needed repairs before setting sail. (It's reported that Selkirk was 28** and a worthy sailor and first mate of the vessel.)  Captain Stadling refused and the young lad, Selkirk, elected to remain behind on the desolate island rather than risk death at sea. It is recorded that, "Selkirk was put ashore with his bedding, a musket, pistol, gunpowder, hatchet, knife, his navigation tools, a pot for boiling food, two pounds of tobacco, some cheese and jam, a flask of rum and his Bible. He had made the biggest decision of his life. No longer just a complainer, he had taken action." No doubt our Robinson Crusoe to be thought another ship would sail by his island soon enough—that took four and one-half years to happen!
Greta has set herself out upon an island of belief surrounded by a sea of media attention, slashing rhetoric and attacking foes who fiercely disagree with her opinions. She made her decision. and watched the easier life she might otherwise have had set sail. Her standing ground is conviction—but is she right?
It should be noted that Selkirk was. "Dampier(the captian who saved Selkirk) told Selkirk the bittersweet news that he had been all too right about the decrepit Cinque Ports. Soon after abandoning the Scotsman in 1704 the ship sank off the coast of Peru, killing all but Stradling (The Captian who would not heed Selkirk's advice) and a dozen or so men, who wound up in Spanish prisons." In fact, that ship sank in a matter of two days after leaving Selkirk on the abandoned island.
It's also a sad truth that Selkirk became somewhat of a notoriety in England once his story became known, and he had more than enough money, but his life never lived up to the joy he found in solitude.  This is why Selkirk returned to the sea at age 44 to sail once again. However, fever soon took hold of much of the crew who died and they were thrown over board. It was recorded, "On December 13, 1721,………..North to northwest. Small Breeze and fair," it read. "Took 3 Englishmen out of a Dutch ship and at 8 pm. Alexander Selkirk . . . died."
Will Greta also find herself living a world she'd rather not see as time goes by? Will Greta Thunberg's greatest moment be that she set her sights on what is right, but only to see that her message is left behind?  These are turbulent times and it seems those more powerful than her may strand her intentions in a tide of lawyers, business and money. I hope not. I hope Greta Thunberg finds a sea of people ready to right her sail and lift her message as an ocean of truth.
I'm willing to row her boat. You?
The earth is our 'ship of state.'
Franque23
*For a more complete story
https://www.smithsonianmag.com/history/the-real-robinson-crusoe-74877644/
** Some facts differ from the book listed and the postings in the link. For one, Selkirk is said to be a young lad of 18 to 21  in the book when he was left on the island, not 28 as listed in the linked article. Here, I've deferred to the article linked.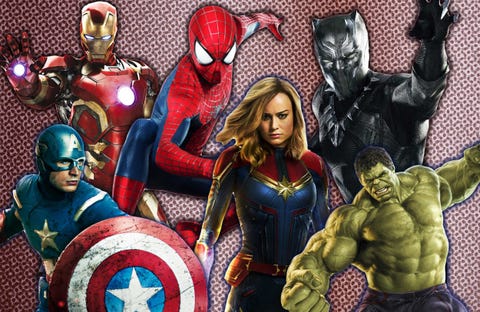 The reason few people talk about this movie's end is no one knows what the hell happened! That's about it for my spoiler alert but for anything that could've happened did, and still might. Christians consider Death the ultimate beginning while Hinduism, Jainism, Buddhism, and Sikhism (and other religions)think we come back around over and over again. If you ask me, this movie was produced by all of these religions during an all night drankin' party. Whatever, I recommend the party and the viewing. But what's this all about a "weird loop"?
The Weird Loop.
Okay, the Weird Loop as promised, but first about, Stan Lee. To me, there are few people in the history of Mankind who have touched as many lives as this comic book creator, writer, editor and publisher. Along with the help of two associates, Stan Lee gave the world superheroes—Spider–man, X-men, Iron Man, Thor, the Hulk, the Fantastic four, Black Panther, Daredevil, Doctor Strange, Scarlet Witch and lovable the Ant-man. There are a few generations of kids who have grown up believing they might be as great as these superheroes in their own way! Really, only the entire network of Disney can rival the success and influence of Stan Lee when it comes to his impact upon our children and, I think, society. These superhero's have woven our dreams, our hopes and aspirations.
It's also important to note with regard to my interest, I spent the past 13 years distributing the comics throughout our Library district on a monthly basis, as well as shelving and maintaining this collection at the branch where I work. So call me dialed up when it comes to Marvel superheroes.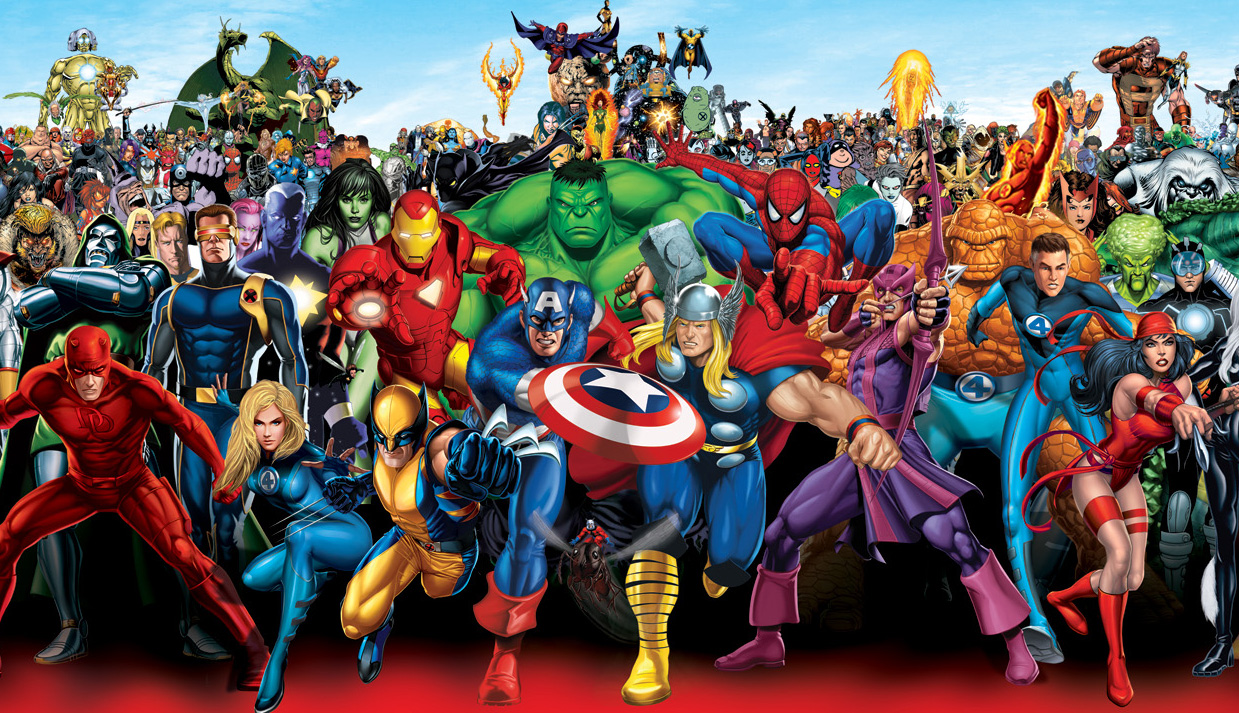 Well, almost randomly, by luck, my wife and I planned to go see the new Avenger movie this afternoon along with my wife's half-brother, Jim, and his wife, Cindy.  By the end of this movie, I'd guess most viewers were left with a euphoric smile on their face and a body that felt like a truck had run it over. I was no different as we waited for Jim to pull his car up to the curb to save us a dash through the rain.  We shared idle chat while waiting.
"I  met and knew, Stan Lee." I heard the words but thought it must have been a thunder-clap. Did Cindy, a person I've known for over thirty years, just casually mention she knew Stan Lee?
"Wait! What? (Kapow!) You've met Stan Lee?" This was rattlin' my Skrull!  Holy Kree! I'm the one who's met by chance or otherwise a plethora of famous people, not Cindy!* "What the hell?" My open mouth caught rain drops.
"Yes. I was in college in the 70's at New Port, California and took class from, Professor Townsend, author of, Boundaries." Quiet Cindy continued. "They threw a dress-up, surprise party for Professor Townsend for his birthday. Jim and I dressed up as(something like Romeo and Juliette—mind you, my mind was blown) and in walks Stan Lee!"
Oh how I wished I'd asked what Stan Lee had dressed up as…can you imagine?!?!?
"So wait, the real Stan Lee was in the room, at the party and stuff?"
Cindy casually went on not realizing I'd melted into the side-walk of alternative reality. "He stayed all night, laughing, sharing jokes and other stuff…"( "Other stuff,' is code for whatnot's at parties in the 70'S.)
Okay, 'I'm standing next to someone who has spent time with one of the most influential people on earth and I never knew it until now?' Cindy kept talking about the party but I was wondering how I might rub my shoulder into hers! When would Uatu arrive and cease my endless watch for reality? I was in hyperspace warp yelling, "You wouldn't like me when I'm angry!"
I pretty much blabbed gibberish(my readers are nodding, Yes!)the rest of the drive home. I thought about jumping on the car hood and yelling, "Why did I not know this, Cindy!!!" Zap! Blam! Would I ever piece together what was left of my former self?
Nope.
But then I remembered: "Just because someone stumbles and loses their path, doesn't mean they can't be saved." I had to re-group and note,, 'you can find friends in super unexpected places.' Cindy's experience and interest in Marvel characters had come from ,'left field.' Her story had only proved, 'The door is more open than it appears…we can walk through it, and sometimes run.'***
Have a super flight through Life….
Franque23
*Here's the deal on some of my history.  Seeing the Avenger's: End Game with someone who knew Stan Lee without me knowing it is much like the rest of my life. For one example, walking randomly down East Hampton's Beach with a  new gal friend and having Paul McCartney drive a dune buggy up with his wife and say hello. Of course , it turned out my new gal-friend was seeing Simon….so much more of this in my life, but that's for another glob.
** https://www.amazon.com/Boundaries-Henry-Cloud/dp/0310241804
*** These are just Seeing the Avenger'sof good quotes in Marvel Comics…
The movie version…
Here's an interesting, reflective post by a family member. I love her use of observation and reasoning to reach her conclusion. All of us need to reflect and observe more: how were things and how are they now.  Why have things changed for the worse and how can we make things better?  Well founded conclusions need to be followed up with effective action. America, we can do this. I think a posting by the famous actress, Jennifer Lawrence,*(linked here and below https://www.youtube.com/watch?v=pr5BPRYp8Mw) offers a glimpse into a successful process to bring about change.
Meanwhile, a family member, Cassie Anderson, wrote:
"I remember very clearly when I first noticed this. I was a home health nurse, in a patient's house and they were watching the news. I hadn't had cable tv for 14 years and back then the news consisted of the local Portland news stations. I remember my jaw dropping in disbelief as I heard FOX news in the background as I was doing wound care. I couldn't believe the utter disrespect and tactless comments the people were saying about the president, (at that time, Obama). They were accusing him of being a Muslim (like it was a bad thing) and talking about his birth certificate, it was crazy to me! This patient was so engulfed in this channel that he had it on almost 24 hours a day. To him, this was normal and to me it was surreal. I thought news reporters reported unbiased facts and it was then I realized that this was clearly not the case. I continued to observe this pattern as I worked as an impatient nurse at the hospital. People would turn on their tv, directly to these "news" stations. They were used to this background noise of people arguing and debating fact less theories or the most recent gossip. Now it appears as though people are normalized to the blatant disrespect in the media and they don't demand facts or evidence, false statements are forgotten and forgiven as soon as they are said. it's still crazy to me. Now we have a President, The Leader of the United States, that is a walking example of this blatant lack of respect & dignity. Sadly, this is ok to many because they call it courage. To me, courage is the ability to filter yourself. Courage is the ability to do the research before you blabber. Courage is looking at all sides of a situation and seeking guidance from your cabinet and using your resources to seek truth and facts (not firing everyone around you that opposes you). Courage is taking that pause to do what's ethically right and I think we have the media to blame for this shift on respect. Turn off your TV people! Save money and stop paying those ridiculous cable bills. It's all propaganda and a form of brainwashing. Teach your kids respect, be kind to strangers and those that are less fortunate. Be thankful for what you have and actually try to improve the world around you. Go to Church or find some form of spiritual healing. It will change your perspective, for the better. This is what we need to focus on and stop buying into the crap on tv!"
Thanks again , Cassie, for posting.
Cheers
Franque23
My wife recently told  a news story on T.V. to "Go Fund Yourself." It broke me out in fits of laughter….as my wife often does. She's smart, a wit-full companion that keeps me thinkin'. Thing is, my first editor of everything you've ever read from me is also sharp, and more helpful than you know…. Barbara sent me this tonight,, and I thought in our time of strife it might do us all good to take a look at the,'Will  to Survive'. It's in all of us, to fight for existence, and that we shall prevail…just look at the trees: they lead the way.
Enjoy, and thanks again to Barbara for the link.
Peace, Franque23
Trees have been around for about 370 million years, and as you can see from these incredible pictures, there's a good reason why they've survived for so long.  Whether they're growing in the middle of gale-force winds, on the tops of rocky platforms, inside concrete tunnels, or even growing out of each other, trees know how to survive in places that few living organisms can, which explains why the planet is host to around 3 trillion adult trees that cover an estimated 30% of the earth's land.  Considering that plants produce the vast majority of the oxygen that we breathe, we should all think ourselves very fortunate that trees are as resilient as they are.  We wouldn't even be here if they weren't.
#1  A Place Of Enchantment

#2  This Palm Tree Fell Over And Curved Right Back Up

#3  This Tree Fell Over And Grew 4 More Trees Out Of Itself

#4  The Only Tree That Survived The Tsunami In Japan Between 70,000 Trees. Now Protected And Restored.

#5  Tree Of Life – Olympic National Park, Washington

#6   A Tree's Root Spill Over The Sidewalk

#7   Nature FTW

#8   A Tree Growing Through Speed Limit Sign

#9  This Tree That Refuses To Die

#10  This Tree Still Has Its Leaves Because Of The Light Shining On It

#11  Life Finds A Way

#12  Tree Roots Extend Across A Gap To The Mainland For Nutrients

#13  Life Finds A Way

#14  Ta Promh Temple In Cambodia

#15  Striving

#16  Someone Hung His Skates On A Small Tree When He Was Younger. He Forgot He Had Left Them There And Found Them Years Later
#17  A Tree Growing On Another Tree

#18 This Tree Is Growing Out Of Another Tree

#19 This Tree Grew Out Of The Stump Of A Dead Tree And Then The Stump Rotted Away

#20 A Tree Grows From Third Floor Window

#21 Life Finds A Way

#22 I Spent Ages Staring At This Tree Before Taking This Pic. I Hope You Find It As Fascinating As I Did

#23 This Floating Island That Grew At The End Of A Partially Sunken Tree

#24 This Wooden Chair My Parents Bought Started Sprouting Leaves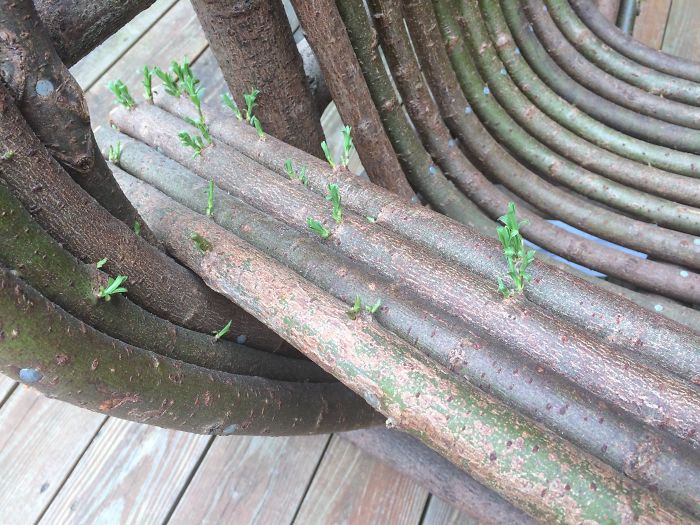 #25 The Old Piano Tree

#27 One Tree On My Street Refused To Accept Winter

#28 My Sister's Tree Is Eating Her Fence

#29 This Tree Growing Through A Fence

#30 Life,Uh… Finds A Way

This is the winning 2020 presidential ticket. In fact, the more Republicans and right of center groups claim this idea is preposterous, the more Left leaning voters should realize it's true!
Trump's election set precedent that a person not directly experienced with holding office can be elected President. The 2018 mid-terms have more than shown voters are agreeable to female candidates, and even female, Black candidates in the South!! Yikes! I wouldn't have thought this to be the case, but it is. The 2018 mid-term election has proven the American electorate is ready for women of any faith or color. Now is the time for Michelle Obama.
We all know President Obama brought America out of the brink of collapse, along with perhaps saving the entire world economy, so who better to associate with how to truly Make America the shining beacon of hope and posterity it once was under President Obama?  Michele Obama, that's who can lead the charge in 2020. Michele is the one who can break through that invisible male ceiling the presidency of the U.S. still supports; she is the one who can unite and bring out so many difference Democratic voters.
And what of Bernie Sanders as V.P. on the ticket with Michelle Obama for 2020? This is a slam dunk yes! Bernie calls for a health plan most Americans have come to favor; Bernie calls for living wages and real tax cuts American workers deserve. Any notion that Bernie's too old, or too socialist, or that, 'Michelle won't run,' is just bull crap being thrown from the Right, a group who literally trembles in fear of this Democratic ticket.
Get Michelle and Bernie on the ticket and America wins.
Elect Michelle and Bernie and Education gets a huge increase in spending; America's humanitarian efforts resume throughout the world; a living wage comes to fruition; real infrastructure rebuilding programs commence; renewable energy takes off in America and sparks a mass up-swing in employment and prosperity; health care becomes part of our society and not a leech upon on government and our worker's backs. These are all things American's want by massive majority numbers.
Get rid of illegal gerrymandering across America and the new world dawns through America's growth and undeniable will to succeed.
Listen up. Cast fear aside and get Michelle and Bernie on the same ticket for 2020.
Let's cast aside the party that has once again deregulated banks putting the U.S. in danger of another ,'bubble burst, ' as we had Under Bush . Jr. Let's dump the party that has striped America of much-needed environmental controls, who now drills in our National Parks threatening our famous, Heritage sites. We can beat back Republican corruption and the radical hate groups this party embraces; we can end the hate mongering President Trump seems so happy to spew on a nearly daily basis. We can end the seemingly endless stream of lies now being forced upon the American people from this current Republican administration.
It's a new day, baby. Democrats! Let's bring it home.
Franque23
I'm thinking eating an apple and then a banana could make a person fart? This could be trouble. I'm working the public service desk for the nest 5 hours and I just consumed both! If the answer to my first important question of the day is,'Yes,' I can only hope some service dogs come in. The good news? I'll be the first to find out the validity of the premise so I can quickly leave my area in search of a book or some other task.
Question two for today: Has our Supreme Court always been strictly a partisan affair and corrupted by outside interests? I didn't believe so as a child, but , then again, I also believed in Santa Clause.
My take of the Kavanaugh selection? The vote was 48 NO to 50 YES for confirmation. This means there were 48 correct votes and 50 wrong—that's about it. For liberals, the future for Supreme Court decisions looks bleak; that the Supreme Court no longer appears to have a swing voter might wreak havoc as decisions come down during the years ahead.
Third question: Why is the suffix, 'Jerry or Gerry,' such a derogation? We have the, 'Jerry's' (the German soldiers during world War 11) and, Gerrymandering, (Pretty much the sole corrupt political device that secured the election for many candidates throughout our country.) If something has been Jerry-rigged it won't work for long—we all know that. But did you know, "Jerry,' is another name for Chamber Pot!?!?!OH I know, a chamber pot was well received when needed, but it still seems to be a bottom-of-the-barrel sorta thing.
So why does all this matter? My name is Gerald, often turned to, Gerry, by family and friends, so I'm a bit sensitive to having a name associated with, 1)the enemy, 2)corruption, 3)something that won't be any good or, 4) a piss-pot and worse. This is why being called,'Franque,' by friends on athletic teams in High School was such a relief!
Fourth question: Since 1996, Medical Cannabis sales tax collection in states that have deemed the drug legal for medical use has totaled over, One billion, two hundred eighty-five thousand dollars. These are the medical sales. Imagine if the illegal usage sales and the tax charged were added to this figure? Why in any Capitalist's, rational head would it seem good to not legalize Pot?* Folks—we have a bunch of seeds and stems running our DOJ (Department of Justice). (Sessions is a jerk).
Fifth question: Why do so many men seem to hate women? Last time I looked, read or have been told, every man on the planet came by way of a woman. Or, is this alternative fact?
So many men lust for the same-sex they hate, demean, exclude from human rights that our world seems a whirling dervish of septic brain rot. For now, unfortunately, this is the good news. The over-all history of men's atrocities toward women makes our current societal condemnation of women an improvement of epic proportions. I've always had a,'soft-spot,'(meaning I care?) for the plight of the Native American's and for all indigenous people. Thing is, take any total number of any single group who has been wronged in history and put that figure against the number of over one-half of the world's population throughout history—that would be female—and imagine which number is larger. See? Women make up the largest group number of people tortured, used, abused, slaughtered and misaligned in the history of Mankind. And I do wonder about the term, 'Mankind.' Divide the word, Mankind,(Man—kind) and see that each half of the term is kinda off.
Sixth question: Why are so few patrons coming to the service desk? Hmmm. And no, that was a burp-I swear.
Franque23 loves bananas and apples.
*https://www.forbes.com/sites/andrewdepietro/2018/05/04/how-much-money-states-make-cannabis-sales/#28e12c8df181
Gerald, the farmer. That's not a title I ever thought I might stand by but, in some respects, it's here now with me.
No, from the get go I announced as a small boy of four and then for some years after that I was, in fact, Gerald the Great! I'd march around our house with my wooden sword held high while my friends herded behind me proclaiming that, "I am Gerald the Great!"
There could be no doubt about my title. It was so well forecast by my mom's natural golden shining hair and red lipped sweet smiles. My dad's ever present smooth countenance, a demeanor so calm he could part the red sea with a single whisper, this man, too, had such a force his words gave swords to my armies.
I paraded armies of plastic men about the house for years, moving huge numbers of troops from room to room seeking the high 'couch' ground to gain advantage over an invisible foe. In fact, I directed and starred in these plastic men battles for so long I'm sure my mom must have wondered if, "The Nut case!", should be added to the title, "Gerald the Great!"
I could never know the joy my first baby girl would give me.
Back then, I had to listen to the birds; the wind. I'd run across fields of dandelion knowing my song was in the air, that the sparkle in the dew upon the grass called. It was never hard to climb our apple trees highest limbs, catch, hit or throw the ball or balance precariously to walk across a 2X4 beam laid upon the ground. Life came easy..
Most mornings, the house rang of piano music played by my beautiful red-haired sister or mother whose apple pies usually scented the air by 10 AM. Perhaps, this is why when it came time for me to go to school I confidently announced that I wasn't going to go. Of course, this is the first time I had to realize being, Gerald the Great, had its kinks.
I was the daydreamer in school; the birds were still singing. The white clouds seemed so much more appealing to see than the chalk streaks upon the black board. Schools friends were like brothers and the girls, so much smarter and with long hair, were fascinating.
 Sixth grade graduation…I'm in the back row, 6th from the right.
I drafted behind my brother's spotless lead and fell into sports, wrestling from 3rd grade on, jostling lacrosse sticks on the field and running the football behind great blockers.
Ed placed third in the Nationals while wrestling for Harvard.
.
Music gave me a push, too. Wait!!! Whahaha, this is a very old photo and worn around the top left but if you click on it the picture seems to show my head smoking!!!!
It was my freshmen year of high school when my best friend, Bob Russo, and I attended a camp in Marlboro, Vermont, as counselors. One night, he slipped beneath the lake waters and never came back up. I'd been there, on the shore, but in the full moon light I was unable to locate his call for help. As daunting as that moment was to carry from then on, Gerald the Great, didn't exactly go to the bottom of that lake with my friend that night, not entirely.  It's  true, a part of me never left that shore line, but the burning embers of new love kept my glow alive through most of my remaining High School years. Thing is, Gerald the Great, did lose that night and I may have never found my way back.
Death has a nasty habit of sticking around, forever.
Life has a great way of moving on whether you're ready to or not.
It seems we run to our shadows as we live.*
It's years later, now, after the death of my friend. Of course, like most of us who live to my age, I've seen quite a few loved ones pass. I'm not sure if I see them best in the sunrise now or find them coming back most often during the sunset hours.  It's all a wonder.
I had a renter, Ralph, a Vietnam combat vet who struggled with chemical poisoning. I liked, Ralph, and visited him often for no reason but friendship. One day like any other, he sat me down in his living room and told me this.
"Gerry, I appreciate your help here with the trailer; living here has been great. I've been going to the VA for several years now and they say my time is up. This is why I moved up here; to go to the VA.  Why I watch these damn combat dramas I don't know." Ralph turned off his TV set off. "Thing is, I was  in Sunrise , Florida, before I came here and one morning I decided to walk from my place all the way over a long bridge and make my way to the ocean. I saw a beautiful sunrise and heard a voice tell me that I'd make something out of my life yet. Now, I'm just dying; I've done nothing."
I liked, Ralph. I hated to see his sunken shoulders, to hear his words. During my 14 years in retail I'd had complete strangers come up to my leather stands and announce they were dying, but this was Ralph, my friend. That I never knew his situation hit me like a dagger.
"Listen, Ralph, none of us can say what we have done when it comes to other lives. It's that old image of a pebble being thrown into a pond; we ripple our lives through others in ways we don't know." We talked for hours.
 I found myself hoping I'd created waves with my life.
Funny, but I never went on to tell him how he'd rippled through me, and most of that I didn't even hold at the time. Ralph passed two weeks later.
So, the point for, Gerald the Great, as the throes of life and death have surrounded me, is it came as no surprise to learn later on that I'd actually come from a long line of famous soldier regiments that fought around the world back in the 1750's.
This is the palace where Von Franquemont's were trained in math and warfare.
No, for me, I guess this time called life has always been a battle to win. Maybe, did I win? I have to think.
The rain came lightly down today as I picked our garden with the company of Shadow, my ever-loving dog.
I thought about a great friend, Anne, who just this past month told me the doctors had said she'd be dead by then. Her smile was no less bright; the warmth and compassion from her is no less spectacular than anything that ever was. Sometimes, this battle called life seems too much.
Anne is so much to so many. It feels as though she could never leave. She's a tsunami of joy for the living spirit world.
I came in to leave this storm of thought carrying my produce to wipe the rain off my brow, pat down my dog and have some tea. It was time to regroup; time to kindle flames. It's time to find the high ground, hit the couch, maybe read. I still hear the birds.
The young give me hope.
One day, Gerald the Great, may march around this house once more and if I do I'll have to proclaim, "I never saw so much coming."
Warm cheers for May
Franque23
*This is my son-in-law and our grandson.
It's happening today all over America and it happened in Gainesville, Florida, too. Crowds of people got out to say enough is enough! We want to ban large magazines, assault type weapons used most often in mass shooting, demand background checks for all gun purchases at any venue of sale-retail, guns shows and online sales.
We want the mass shooting to stop; thoughts and prayers are not enough!
The message once was, Peace. Today it's, Stop Killing Us!
Bands played throughout the first 3 hour session of speeches and I couldn't help but think of two guys that had a lot to do with my awakening—if not the World's—to the idea of peace.
 Waaay  young John Lennon and George Harrison…
By 1:30 the number pushed well over one thousand and all the time the messages that belong to this movement were heard loud and clear.
Then it was time to march but first we gathered all the students together in the center to applaud their work on this issue.
I think it's of historical significance to note that the Nam war protests were led by students mostly college age. It was the young that led the way then as our younger students are leading the way now.* Politicians who scoff at the age of those leading this gun reform movement have failed to pay attention to history.  This group right here, the ones attacking the NRA led agendas in our country, are going to win. The politicians who put their chips down on the NRA are done, over-finished.
So how big was the Gainesville crowd…well, the line stretched nearly 1/2 mile long, and many deep. Old folks, father's, mother's, adults of every age, families, people pushing babies, skipping children, a huge amount of school age people and people pushing wheelchairs made the numbers bigly.
The chants continued:
March for Life!
Say No to NRA! Vote them out!
It was great to see friends there…**
The line of marching people felt endless, and my heart hopes so.
As some of the speakers today knew one, two or all of the dead from the Parkland shooting personally, some signs also had a personal touch.
No, today didn't feel like ,'another,' event. The words, the feelings expressed, the messages and energy collectively gathered today represent a nation-wide movement that will continue. This time  America's guns laws and the meaning of  the Right to Bear Arms will change. It's the Nam protest day's force all over again and these younger folks will not let go.
But what messages today let's me know the time's are a changin'?
We are in this together. And we will vote. Politicians who have so far refused to heed the call to disarm our society are already scurrying for a way to hide or re-invent their position.
A huge movement is coming around to think the NRA as it stands today is a real threat to American society.
Sending thoughts and prayers to the parents and loved ones over the death of their loved ones won't work again, never again. All the so-called kids here today had this on their minds,
and they won't forget.
Today we had an elegant speaking 11-year-old ask our Representatives one question? "Do you think we are stupid?"
Some Representatives do, and some have belittled the age of these protestors…. Trust me, the time is coming to end the office of those who do.
Power to the People no matter their age is alive and well-
Cheers 
Franque23
*Thanks to dale for this connection and for all of the pictures…
** Thanks to Joey and Debbie for their pictures as well.