You are currently browsing the tag archive for the 'dogs love' tag.
(Click the pic for a larger view)
My Mom and Dad visited Lake Bonaparte often before and after I was born. Luckily, they got to spend about 30 summers at the lake after their employment days. Talk about memories!?!? I wonder which ones mom recalled most of all during her last summer on Bonaparte?
You know they had fun! (With our next door neighbors, the Sherman's.)
My Dad trained for WW II at Fort drum and rested many days long after sitting across the lake from that training Camp's location. He loved to see the planes fly over.
This is an old map of Bonaparte…(our camp built in 1970 isn't listed.)
There are so many beautiful days at Bonaparte.
(Picture taken from our overlook of Porter's Bay)
And cool summer nights to enjoy with family and friends.
(In the Muse Lodge porch camp)
Or stay warm by a fire…
We love our fireplace—overhead fans above the flames circulate the warm air.
Lake Bonaparte has a knack for getting cold. The one span of three days I visited during mid January the night temperatures hit 40 below twice and then warmed up to 30 below.
Even while casting images in a glass window while overlooking Nagasaki, Japan, the memory of  daytime snows falling on our daughter in Natural Bridge, New York, stayed with me.
And speaking of fires by the lake on those skinny dippin' nights—what was I thinking!?!?! I've looked at this ol' timey picture by Priests for years and years,
AND, mom snagged this Northern right in our bay! Like how many teeth of a good reason is this not to skinny dip?
Forgive me  if you know, but I feel we all should know Cody got bit on the leg in front of the Sherman Boat house in Porter's bay (broad daylight) by a bass so large he had to go to the hospital! Just maybe, it was this fish I caught about 15 years later?
Fishin' at the lake. Love it!
Perhaps many don't know my brother Buz, (Ed Franquemont) helped build the first house on Round Island? He owned Bare Bones, a building outfit.
Here's the team that built that house….!
My brother, Ed. (This shot taken elsewhere)
However, this shot below is on location on Birch Island where my ex-brother-in-law, Paul Doherty, lived with Meta for 30 plus years. My niece's husband, Craig Carlock, was in charge of nibbling down trees to clear for pathways on that Island long ago and everyone should know. We still call him 'Beaver Man,' though he also does the best drankin' loon call you've ever heard.
This is Craig watching our dog, Shadow, clear 22 feet off our dock going for a ball….and we've built that dock again since.
Have you noticed, lake people wave back?
It's all too much fun! There's always some to do or think thing about…
Beware of Pirates…..at the lake! Them Morgan clan folk.
I'm thinkin' even our dog Shadow is looking for fish!
Impossible not to love.
While at the Lake, my sister, Sharon Franquemot, with a book published in nine languages, You Already Know What To Do, remains humble with me about our family's  Kingly Heritage.
(really….our ancestor's home is below. Karl Eugen ruled as Duke over most of Germany and Southern France in 1750)
So, the thing about visiting this one of five castles Karl Eugen had… sure it's large but,….it was hard to find the bathroom.
(Karl Eugen's largest home in Ludwigsburg, Germany)*
Anyway, I take my love for Lake Bonaparte back home to where I work in Florida and share it on bulletins boards at the Headquarter's branch of the Alachua County Library district….
What a place to know, right? Lake Bonaparte:
Random shot of another bulletin board and one of Dan Franquemont…at the lake. (Muse Lodge)
So much—
Bye for now.
Franque23 loves Lake Bonaparte—The place and people we never forget.
*https://www.google.com/search?q=ludwigsburg+germany&oq=Ludwigsburg+germany&aqs=chrome.0.0l8.5814j0j7&sourceid=chrome&ie=UTF-8
(A Morgan-Franquemont reunion about 1951) Click the pic for a larger view.
Maybe I thought my sister might drop me—why else would I be crying?—pretty sure that's my best diaper.
Remember being young for just a minute. There's no hassle waiting to destroy the next minute, no bus, train, plane to catch or deadline to meet. No, you're just young. Your skin is soft without a blemish and your hair shines like  grass after a brief rain.  You've learned to comb your hair but your not exactly sure why you do it. There's no need to worry and everything feels right once your parents are home; the fire place sets itself and your dog is always fed. T.V. goes on past bedtime but you've seen everything you wanted to see and the day has come and gone like any other. Dreams come and go like the wind without cause or problem or forecast direction.
Everything just is. Do you remember now? Shoes or belts seemed useless unless you were playing dress-up.
(Our Son-in-Law running after his son.)
The world is an empty beach to run with dad close behind.
The sky is endless and full of mysterious clouds to watch as they drift by.
(My cousin's son, Ross Franquemont, takes a selfie as he flies by the Northern lights in his U-2 plane.)
Remember the first time you stared at the clear night sky and realized there were more and more stars to see up above as your eyes adjusted to the blackness. Remember the morning dew on your bare feet. This is about the time you discovered ,'brain-freeze.'
There was so much to take in and share with your cousins and friends.
A la speed-o suit; that's me.(Morgan dock at Lake Bonaparte-about 1956) ( AND… the person who edits this glob weekly* asked a good question: why am I the only one wearing a bathing suit? The dock is clearly wet?!?! Hmmmm)
Days come as easily as picking up a pencil. The scribbling on the paper wears a smile and it seems your masterpiece is, in fact, a heroic depiction of something meaningful to older folks—it's some miraculous sketch of objects you've yet to see or a panorama of places everyone hopes to go. It's good to be loved. Daylight loves you; nighttime is a blanket. The rain sounds loud upon the window pane and snow dances in street lights with winds that come from the moon you can't see.  The pets always sleep on your bed.
Everyday is safe. Every night is cozy. You get along with other  kids, even with those who seem so different!
Being young harbors within it a certain kind of peaceful hope.
(View of Lake Bonaparte from our 'half-way' dock.)
Without notice, you assume the older folks will always be here.
Life seems a garden of acceptance.
You can wear any hat you want when you're young!
(And on Youth Services hat day because we could.)
Routines begin to form. If it rains, you stay inside. If it is sunny you go out. Parents rush off in the morning and come back later after your nap but you're never really alone, not that you've noticed or ever thought about. Tooth brushing is a daily important thing, not the best, but you watch as globs of toothpaste slide out of your mouth onto your cheeks around your out-stretched smile in the mirror and it tastes sweet. Tooth paste types change from being white, then striped, sometimes dotted or with a hidden line of stuff surrounded by white. You just do it.
You think broccoli may kill you but not if you eat just a bit. Vegetables are stupid but they're the gateway to dessert.
I once thought food first filled my feet, legs, then my middle section, then my arms and finally my head: that's when I was full. I made sure to save room in my head for dessert.  People talked over dinner but mostly we all came to eat. Someone would say something funny and we'd laugh but always, without fail, my dog's head was near my lap, soft, warm, nudging my legs occasionally for that bit of something I didn't care to eat or wanted to slip him anyway.
I hadn't a care when I was young. Music filled the air and dancing had no steps, just movement.
Of course, I learned later in life that my life was not a universal experience. No, while I was in college there were children in Vietnam who awoke in the night to run out of their homes in fear Napalm bombs would hit their homes and burn them alive as it had some of their friends the night before. And other children weren't lucky enough to live at all but died without ever knowing what a refrigerator was. Somehow, learning the truthful horror about some life on earth during my twenties put much of my childhood experience in a time-capsule that I cemented in a corner stone of myself.  My memories were too good sometimes to be shown in the face of another's reality.
I'd been given so much and never knew. I'd been raised in the midst of modest but successful homes full of choices, flavors, designs, music,  friends and surrounded by mowed yards and shoveled driveways all owned by smiling people.
If you're life was like mine, it's okay. It's okay that we may have been born some of the luckiest people on earth. Thing is, now it's our time to give thanks. Now, if we haven't already, it's time for us to payback life anyway we can.  We have to fight for what we believe is best for this earth and give thanks to those who died for our right to do so. If we have something to teach, we have to do it. I think Thanksgiving has never seen a generation who has more to be thankful for than mine. Now, more than ever before, it's time for my generation to stand up and speak about what we feel is right.
My generation owes the World a difference.
We can do this. It's time to be young again, strong, wide-eyed, questioning and full of spirit. Spirits don't age like our bodies, not really. Look in that mirror as you did as a child and see your face, see your smile and remember who you really are. You're one who can make a difference.
We all can get along; we have to get along and help each other prosper—this is our task and purpose.
Franque23—Happy Thanksgiving.
*Barbara Mullenix gets all the credit for anything spelled correctly in these globs and none of the blame for all the rest….
(Click the pic for a larger view)
Imagine, you were born and once lived happily in a Levittown community on Long Island.
Your home town of Roslyn Heights was a Levitt built community….this pic is of a Levittown that was built further away from NYC out on the Island than your home, but it was the same type of community.
You didn't mind the winters and made piles (ahahah) of dough out of shoveling snow as a kid.
This was my life as I grew up.  Here is a picture of South Park, Roslyn Heights and the house I lived in. Back in the 1950's we got Nor'easters (snow storms) that blanketed the homes and streets and, thank God, stopped school!
But during college, maybe before, something snapped inside of me and I wanted wide open spaces….I wanted the wild, the untamed, the jungle or was it the wild west? Okay, I really wanted to see, Where the Boys Are*, in Fort Lauderdale and be one of those guys the gals were after. That worked out well and Florida became just that sort of jungle I was after.
I had no idea how Florida, land of melting sun, would attach itself to my soul but it did.
Now, I've lived here since ,errr,,, 1972ish?
I've had a wonderful time in the surf—I love to surf waves.
This is me catching a good ride.
My wife and I had a rabbit who lived out back in Micanopy in his cage. One morning we awoke to look out and find a bob cat on top of his cage…..that started me thinking….(Don't go out at night to pee…..)
Apparently, I'm not the only one to have found nature at my door step here in Northern Florida
Heck, I knew I loved this place of wonder, a place of untamed nature.
But I never lost my eye for the power of that nature as well… We landed on the moon, but maybe we don't control gators?
It's okay to count on fences to a certain degree…
So there's a beauty and danger to Florida none of us Floridians should forget.
How about a night dip in the pool?
And then, only twice, I saw in person and close up by mistake, a Great Horned Owl…They can fly up to 40 MPH and have been known to pick up and kill 60 pound pets!! Our dog, I suspect, was attacked twice by one in our fenced in backyard—where he never goes at night anymore.
This is a shot tripped by a night camera….
I was running in the woods about thirty years ago when I saw a beast of a bird…it seemed to stand more than three feet tall and when he took off his wing span was about five feet! Just wow. I once saw another Great Horned Owl as I drove down Rochelle Road outside of Micanopy. The bird took off before I reached him and traveled over the road for about one tenth of a mile right before our car. That bird's wing span seemed to almost reach from side to side of a double lane road–no joke. It was as if we were seeing a dinosaur.
I've fished the swamps for over ten years in my younger (err risky?) days….and there's a beauty to a swamp—not a McDonald's or Starbucks to be seen.
But always, there are gators. How many gators?
( Those eyes all belong to gators.)
This is the Alachua Sink in Alachua County, Florida. It's about  one mile from our home. And this shot, by John Moran got him nation wide PR. His photos have appeared in National Geographic, Life, Time, Smithsonian, the New York Times Magazine and on the cover of the National Audubon Society Field Guide to Florida. Dale and I were lucky enough to canoe down the Suwanee River with John, a time I'll never forget for many reasons but one of them was having a wart hog pushing against my head from the other side of our tent as I slept at night as he rooted for food.
So, I've rooted here in Florida. I love the ocean, always have. And, I love to grow food as my father from Iowa taught me to do. Of course, we have a garden as any Floridian with the space should.
At six months , Shadow, didn't know he wasn't me, or human, exactly, and he helped me weed…I miss that help now.
You might be able to see, but at one year old, Shadow figured he should eat green beans right off the plant as we did as we picked them! He stopped eating green beans at about age two.
Once, I was drying herbs out in the front yard in foil sheets when a cop came by, stopped, and walked my way with a grin and his hand on his gun…I smiled and said hello… He looked down at my tins of herbs and said, "What do you have here?".. "I'm drying herbs!" He wasn't convinced so I walked him over to the garden and showed him the plants…."Well, I thought I had you busted for pot!"
I can't blame him….but I didn't add that I might have learned the entire process by growing and drying pot in my twenties:-)
So, we grow pineapples, too….
Mounds of oranges and grapefruit, too.
It's all good. This city slicker found a home in the Northern Florida woodland, and I love it.
Heck, the tomatoes came in like a champ this year; Dale canned many.
From Levittown to the wilds of Northern Florida, I'm good. I don't miss the hustle up north, the quicker pace of life or the traffic. No, I'm good with the gators, bob cat, owls and other critters. The sky here is open to see, and the ocean wind still washes the peninsula by four or five each afternoon. Gainesville is just 60 milers north of the Sub Tropical line. We live in a jungle of 24/7 year round growing just about. The birds love it, and so do I.
Cheers– thanks for visiting.
Hope to hear from you soon!
Franque23
*https://www.imdb.com/title/tt0054469/
(Click the pic for larger view)
Have you ever noticed the Jimmy Durante* size nose on the front of your dog's snout?
That dog nose has it all over your nose; a dog can smell perfume from two miles away!
But what has this to do with Lake Bonaparte dog days? Well, it's true I've bragged plenty about the time three years ago when my dog, Shadow, leaped 28 feet off our dock for a ball!
This is the moment; a twenty-eight foot leap that we measured.
But I think this year Shadow took being a dog at the lake to a whole new level. Actually, it's scary. I mean he turned my four grandsons into dogs with a simple flick of his tail.
I've got them just where I want them….Shadow.
The next thing I knew, the boys were crawling around inside and out as if they were dogs! They were rolling around on the lawn, on all fours, barking and pointing like a bird dog…(Shadow, as a  Catahoula Leopard dog, is 1/4 blue tick hound).
I'll teach them my pointing tail trick...What happened to their tails, anyway?
I'm hoping they omitted the butt sniffing thingy dogs do—not sure, I mean these are boys!
Shadow is about 100% of the time guarding us, or is he keeping us in place?
Does Shadow imagine he's going to church?!?!
Who's the real captain of this boat?
I've got them reading…..
Okay, timeout for a hug…..
Wait, Isaiah's got it! Time to hug AND read!!! Shadow, the Great.
It can be tiring training four boys to be dogs.
Okay, this is my, 'They are really screwed up,' tail…..Shadow.
There's this magic allure that emanates from dogs even when they're drooling for your hot dog. Shadow is our dog, but sometimes I really have to wonder. Heck, he's got me scratching his belly night and day and holding doors open for him whenever he wants. I panic if his water bowl gets low and I've about sold my soul for all natural dog treats and food.
You are now under my power…like forever, dude. Shadow
I only carry your socks in my mouth because you think it's cute.
Guess how many times I've absolutely decided that this time, THIS TIME, I was going to drive away on an errand without him and then changed my mind?
Nope, your guess was waaay off…Start thinking about the figures in America's National debt and you're getting close.
Orange you gonna take me? Dude, I'm going with you, now get the keys…
Sure, I sleep in some days…when Shadow lets me. Who can sleep with a cold nose on your cheek? Unfortunately, I thought it was funny the first time I didn't budge from bed once awake and Shadow hiked up on the bed to trample my face. Now, I've got two choices in the morning—either I lie comatose in bed without opening an eye, keeping my breathing pattern sleep-like while daring not wiggling a toe the slightest bit OR I get face-dog-paw trampled until I get up.
I'm not gonna admit to being in the rain while walking Shadow or waiting for him to come back home. I know that person looked a lot like me, your honor, but it's a case of mistaken dog food, no, I mean identity.(Am I low on dog food?)
I do think dogs love to stick their heads out a moving car window for the rush or air, but they also are taking in an entire universe of smells as we speed along.  The book, Nubs,** is one of many amazing true stories about dogs who traveled unreal distances to reunite with their loved people—dogs have a uncanny sense about direction and life in general.
Of course, there's more…..
"Interactions between people and dogs can be beneficial for both species. Increases in β-endorphin (beta-endorphin), oxytocin and dopamine—neurochemicals associated with positive feelings and bonding—have been observed in both dogs and people after enjoyable interactions like petting,"https://www.scientificamerican.com/article/is-the-gaze-from-those-big-puppy-eyes-the-look-of-your-doggie-s-love/
Maybe one more doggie fact for those lake lovers who follow their dogs around…
"Accordingly, behavioral studies of dog cognition have revealed similarities of dog behavioral traits to humans. Dogs have been found to engage in gaze following similarly to human babies , exhibit selective imitation  similarly to human infants, (Dogs)….observe photos of faces roughly similarly to human adults and to link photos of objects to objects themselves .
https://www.ncbi.nlm.nih.gov/pmc/articles/PMC3641087/
This last finding in bold is why we have Shadow's picture on a magnet on the refrigerator at his eye level…I thought this picture made him happy when I first put it up and now I know it does.
There's no place like the lake for Bonaparte dogs, so I guess 'us people' followed?
Cheers
Franque23
*Jimmy Durante
*
How do you like me, now?
Bonus picture of us building the dock about 10 years ago…Sherman cool dock in background
(As always, click the pic for a larger view…)
If it weren't for the traffic on Rt 3 the place would be paradise—it got so bad this year I think I saw several cars pass by on a single ten mile drive to town! And, I guess I should mention the loon racket at night, especially between 10ish and midnight; will they ever shut up! Then there's the morning crows and chickadees, the afternoon blue jays, red wing black birds, those dang soaring eagles, cooing cranes, whistling hawks and late afternoon quackin' ducks to spoil any days nap. When will a guy ever get some sleep!
Even the view can keep a guy up!
There's a weird speed to time at the lake no one has yet to understand. It's like a horror show. You'd call time fast to pass at the lake but, then again, it never lets go. Nope, the memories, smiles, talks and moments fly by like the wind but sit like a immovable block in your soul as well. You can think what you like, but I'm saying there's no surgery that can take this massive thing out once it has seeped inside you. There's a devious kinda magic to those waters and reflective sky at Bonaparte that mirrors deep by day and night in the Mind's eye—it's sorta like a strangle hold on your senses you can't sue and win.
Lake friends last forever as well. Who has time for that?
The whole experience is torturous.
You catch a good fish a few years back and spend the next 7 trying to do it again….oh brother, what a bother…
It's been a while for me, being so busy with raising a family for oh so long, since I've had real time to make new friends or see old ones while up at the lake. This year was different. I got to know Kim and Steve and their ten inch high killer dog, Lola. I've never been afraid of dogs, but now that's over. I've struggled with our fireplace pull rods for over twenty years which is why having some strange guy named, Bill-the-Beatrus I think, fix the rods with a minutes' thought and about ten minutes time is problematic. My sense of self worth is gone forever, it's over, doctor, and those psychiatric bills won't be cheap.
Time spent with Toni, the two Michelle's, Forbes, Randy, Laura, Vicki and the Sherman's is always fun, but who let them out of the loony bin? To boot, now there's no cop on the lake. And now, with our Grandson making friends with our neighbors son pretty much any sense of normalcy that never existed here is entirely gone. Why keep dreaming about it?
It's also possible to take really bad shots up at the lake..(does anyone have a flashlight)
Hear's one of my thumb I took this year at the lake….perfect shot!
It's great to see Bill again; meeting anyone my ancient age or older has a special zing to it. There's like this on-going contest between the lake petrified folks to see who falls in the lake first and doesn't get out. I can tell Bill is watching me closely as I age and our fifty-foot bluff gets closer to the house. Some may not know it, but Grady-of -the-lake(now deceased) had nine lives and he spent one of them running towards this very same bluff. There was no blue moon the night before or heralding of angels in the morning of the afternoon when Grady, Dave Morgan and I sat on our porch before this steep drop off. All of a sudden, Grady gets up and starts running full speed toward the bluff as though he might do a high dive into the lake! Only a lunging hand to his ankles stopped his forward movement and saved a grave digger the effort. Mind you, this run of Grady's had nothing to do with beer(s), but rather the magical pull of our evil lake was at fault.
I'm telling ya, there's more than the best pure air up at Bonaparte—it's full of friendship forged through good time and bad. There's nothing like building a dock, camp or boat house and have the ice take it out the next winter; there's nothing like the bond of spending money like a drankin' sailor on lake side repairs. There's a saying; only buy a boat if you can afford to buy ten—maybe the Bonaparte camps are the same way.
But who cares when you're young, free and without a care like about none of us.
Still, those losses and efforts all make for great stories shared between a laughing, here's-to-the-lake crowd. (Beers help, too)The night sky is more than pay back for any expense. But, daytime swimming, soaking in the sun—did I fall asleep that long?—fishin', kayaking, bird watching, boating, tubin' ( I did see a skier), and even some sail boating also take the day to flight. The air is incredibly invigorating at the lake. Breathing there is sorta like breathing in an oxygen tent where ever you go. So, the loony's on the loose, the evil lake stare, the crazy birds, the alluring sunsets, the mesmerizing night stars and stormy five-foot high waves that tear docks and boats apart are all worth it. Why do I think this? Well, I'm nuts like the rest of you.
Cheers from the archives of franque23 Lake Bonaparte insanity logs.
Franque23
(clicking pics gives larger view)
The day had no way of knowing, it started off so differently. I still sat at the breakfast table when our four grandchildren, without any prompting, opted to chill and read in the morning light.
.
After working in a library for the past twenty five years-just wow.
But I had a plan.
There's nothing like a fishin' trip to spark up day! We'd gathered with high spirits along with some pensive moments: what would happen; how would do; would we come home fishermen or boaters?
We set course for  Mud Lake with broad smiling faces, multiple rods, bunches of hooks, buckets of smelly worms on board and soda's in hand. Plus, we had Shadow who knows at five that boat rides rock up and down and all around.
We had attitude, baby.
Guard Shadow had our side covered…
What would happen? Would we have any luck? And, would Shadow dive in after the loons, ducks, beavers and or fish? No one knew?
Bingo!!! Fish up!
Actually, more than 60 fish up. My right arm hurt at night from de-worming, and de-fish hooking for those a bit off on that. Hats keep most hooks out of heads, but fingers are hook magnets.
Okay, I'm not sure, but I think this is a ritual we will keep up after any successful fishing thingy.
Time to leave Mud Lake meant our sounder took position to safely lead our way.
We headed home a happy lot. We'd have fish for lunch and a bunch more books were waiting to be read. And, there was also yoga time.
But maybe showing off our catch to our new neighbor friends was the best of it all!
Then again, we're all neighbors at the Lake! Thanks for enjoying  a dream come true: fishin' time with the kids and doggie…Ya gotta love it!
Cheers from the lake with more to come!
Franque23
(Click the pic to enlarge.)
A thread on Face book today got this going. The points went back and forth about whether or not American's should be off work on Election day. Would this help bring out voters? Is it necessary to close businesses when we have early voting or mail-in with even prepaid postage in some states?
You know what? Screw work on election day.
Either call-in on Election Day, take the day off or have it off as a National Holiday. It doesn't matter if being off on Election Day would increase voting tun-out.  We have to stop the madness in America; we have to throw off this, 'work until you drop,' yoke American Big business has used to harness American workers.
American companies and big business have come to value profit more than life, and it's wrong.
American's should be off on Election Day–it shows and teaches respect for the process; the same for President's Day. Businesses should close and Americans should use President's Day to remember the leaders that have helped shape our country and World. Someone once said that actions speak louder than words. It's true, our children watch what we do at least as much as they listen to what we say. Look both ways; it's bed time; eat your veggies: how's all that jabbering working for you as a parent? No, leaders, parents, teachers, workers and politicians should show the way, walk the walk as well as talk the talk. We all need to stop making work the point.
The work ethic in America is bonkers, and we should keep all our Holidays and add Election Day and President's day to them. We should also throw in four, ' the weather is too nice to work,' days to boot. Farmer's knew their horses needed to rest; American workers need a rest, too.
What's nuts about having election Day off? Here's what's nuts: we used to not have just President's Day off when I was young, but Jefferson's, Washington's and Lincoln's birthdays off! It's true! These three days used to be school holidays and many businesses closed as well. More, every business, but for a very few, closed EVERY Sunday! That's right—just about no one worked on any Sunday—not ever.
The sky will not fall if America stops the madness and gives workers more time off during each work year.
The workers will drop if we don't give them more rest, not the sky.
Think! Our American society used to give workers more days off than it does now and what happened? America boomed; that's what happened. American workers were happier, they were better educated and they enjoyed our society.
Sixty years of decreased earnings (when adjusted for inflation), multitasking nightmares, skinnier staffs with additional work to do, the loss of pensions and less time off has reduced American workers to what we are now: an over worked under paid discontented work force.
The rulers, owners and greedy big businesses have been flushing American workers down the toilet for over sixty years now and it needs to stop.
Let's turn things and us around.
Let's take Election Day off so we can elect the right people to office. It's often said that change comes slowly. You know what? Maybe not.  Maybe change is right around the corner; maybe the sun will come up on America. Maybe American voters can stop the madness.
I hope so.
Franque23
My wife recently told  a news story on T.V. to "Go Fund Yourself." It broke me out in fits of laughter….as my wife often does. She's smart, a wit-full companion that keeps me thinkin'. Thing is, my first editor of everything you've ever read from me is also sharp, and more helpful than you know…. Barbara sent me this tonight,, and I thought in our time of strife it might do us all good to take a look at the,'Will  to Survive'. It's in all of us, to fight for existence, and that we shall prevail…just look at the trees: they lead the way.
Enjoy, and thanks again to Barbara for the link.
Peace, Franque23
Trees have been around for about 370 million years, and as you can see from these incredible pictures, there's a good reason why they've survived for so long.  Whether they're growing in the middle of gale-force winds, on the tops of rocky platforms, inside concrete tunnels, or even growing out of each other, trees know how to survive in places that few living organisms can, which explains why the planet is host to around 3 trillion adult trees that cover an estimated 30% of the earth's land.  Considering that plants produce the vast majority of the oxygen that we breathe, we should all think ourselves very fortunate that trees are as resilient as they are.  We wouldn't even be here if they weren't.
#1  A Place Of Enchantment

#2  This Palm Tree Fell Over And Curved Right Back Up

#3  This Tree Fell Over And Grew 4 More Trees Out Of Itself

#4  The Only Tree That Survived The Tsunami In Japan Between 70,000 Trees. Now Protected And Restored.

#5  Tree Of Life – Olympic National Park, Washington

#6   A Tree's Root Spill Over The Sidewalk

#7   Nature FTW

#8   A Tree Growing Through Speed Limit Sign

#9  This Tree That Refuses To Die

#10  This Tree Still Has Its Leaves Because Of The Light Shining On It

#11  Life Finds A Way

#12  Tree Roots Extend Across A Gap To The Mainland For Nutrients

#13  Life Finds A Way

#14  Ta Promh Temple In Cambodia

#15  Striving

#16  Someone Hung His Skates On A Small Tree When He Was Younger. He Forgot He Had Left Them There And Found Them Years Later
#17  A Tree Growing On Another Tree

#18 This Tree Is Growing Out Of Another Tree

#19 This Tree Grew Out Of The Stump Of A Dead Tree And Then The Stump Rotted Away

#20 A Tree Grows From Third Floor Window

#21 Life Finds A Way

#22 I Spent Ages Staring At This Tree Before Taking This Pic. I Hope You Find It As Fascinating As I Did

#23 This Floating Island That Grew At The End Of A Partially Sunken Tree

#24 This Wooden Chair My Parents Bought Started Sprouting Leaves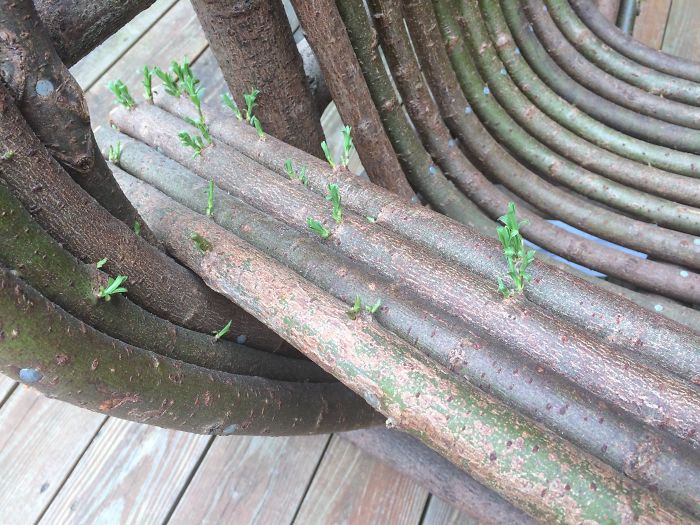 #25 The Old Piano Tree

#27 One Tree On My Street Refused To Accept Winter

#28 My Sister's Tree Is Eating Her Fence

#29 This Tree Growing Through A Fence

#30 Life,Uh… Finds A Way

( added pictures below post…send me your pictures on FB=gerald franquemont)
My cousin's wife says it all for dog lovers the world over. That post of her's is included below.
But first, I've my own, 'Shadow,' a Catahoula Leopard who is my constant companion.
Shadow enjoys the flowers.
From my  parent's dog, Socks, to our family dogs over the years, I've rarely lived without having a dog making home life better.
Socks lived about 18 years.
Man's best friend: you can't say it any better.
Orion is one of my favorite, 'Reading Dogs,' at the library.
Our part Basenji, Toby, used to prance as he walked so we called him, 'Toby-Toes.'
Cheers, and a big thanks to Jessica for posting this wonderful piece. Sob; sighs and I understand. There's nothing like a dog's ability to love us back.  Here's Jessica's post, and just wow.
Jessica with her dog, Pedro.
Jessica Franquemont posted:
"My Buddy Pedro:
Your butt wiggle going down the stairs,
Your gentle bite when taking a treat,
Your wandering security walk along the fence line, 
Your short sunbathing nap by the water fountain followed by a good roll in the red bark to scratch your back with happy doggie snorting & all,
Your old man delay, non-threatening beagle bark, & "swagger run," when hearing Ellie bark before you at a possible thief/burglar/food thief/mail carrier/neighbor/pizza guy/cat/other dog/kid,
My first time sadness upon seeing an empty Chipotle burrito wrapper on the floor without my left over ½ burrito realizing you are taller than Ellie & can counter surf,
Your first time with me in the pet store when you stole a bone shaped treat off the bottom shelf, tried to eat it, & I had to do a pity purchase with the cashier,
Your sleeping on the couch with your face between the pillows,
Finding your head sticking out of my poofy pink Halloween tutu I left on my bed,
Your gentle mouth hold of a whole loaf of bread/pack of tortillas (& all things carbs) off the "no dog shelf" trying to saunter away,
Your slight pushiness after anyone sat down to proudly lay your 32 pounds in their lap & slip your beagle nose under their hand to prompt neck scratchies for a very long time then get up abruptly when said scratching stops,
Your & Ellie's patient waiting under messy Talia's dinner chair for any slight semblance of a crumb,
Your love of TP from any bathroom to your crate with one continuous very long stream of toilet paper,
Your binge on Beth's Scentsy samples that were only the food scented ones,
You & Tyler's love for each other,
You being my literal shadow & never letting me be in a room alone.
You lived 12 years & 117 days & we got to re-home you with us for 3 years 250 days. We are a more loving family because of you. Last Thursday a huge chunk of my heart had to say goodbye to you & since then I've been devastated & lonely without my short shadow following me. I know by having a loving pet, we as humans pay a price for having to make "that decision." But the animal lover in me would never have left you alone in your last minutes of your wonderful life. Knowing you had just a little more time & getting to rest my nose one last time on top the bridge of your nose is worth all the heartache. I love & miss you my Pedro Buddy."
It always come down to this: the love shared with a dog during their short lifetime is worth the pain of the loss no matter how long that lasts…
Cheers!
Franque23 loves dogs.
Here's a link to a previous glob I wrote in, 2009, about a dog's spirit.
https://franque23.wordpress.com/2009/08/26/red-dog-forever/
Shadow smiling.
Frank Lamont
 Andrew Faint's , Bo , with his son.
relatives Virginia Murphy Rotteveel…sleep tight.
My 'Shadow' writer…
Andrew Faint's, Frankie…
Shakespear, in OR recovery, Wendy Schneider…..
Yes, this is a hedgehog pet with, Spooky.  They live together. Part of ,Juut Von Franquemont's group.
Okay so I'm not talkin' about the boob-heads in Congress, but, to be thoroughly transparent, the ones that go walking by—not that I've ever noticed.
So, let's get this straight, or straighter.(yes-I'm a guy)
It is all about what we know and hope to learn. Otherwise, we might as well live inside a brown bag and bang about in it for the time we live. Either we look out and try to learn from history  as well as the present or we live like a snail clinging to the side of a Grand Canyon wall without a clue.
But, what does this have to do with boobs?
I'm not sure when we all started to notice…
(1957- Sophia Loren glimpses an eye-full of Jane Mansfield.)
Back in my day (and on another planet) the expressions we used to endear ourselves to our friends as we corrected their thinking often didn't sound so friendly. Thing is, they were. When we called someone a,'boob,' what we meant was,'Hey-you're wrong, but you're part of our group so get it right.' My world of friends moved along with a crap load of expressions that somehow cheered us up! "Hey, brain dent," was a nice way of saying hello. "You're a mistake looking to happen," could ring loud and clear at any moment along with, jerk, dope, bozo, buffoon, schmuck, doofus, klutz, nincompoop, nimrod(predecessor of dick-head if you ask me) and, of course, boob-head. Yep, the lingo connected us all through a barrage of slander and smiles. And thank goodness I was born when pillock and snollygoster had gone out of fashion-that would've been embarrassing.
"You boob!" first bounced its way into our visceral in the book, Tropic of Cancer, in 1930. My time meant Play Boy was propping up large Boobs. That lit a racy fire laced by a litany of terms: twins, headlights, leaders, points, jugs was common, hangers never made sense in my young crowd, sweater puppies worked but, strawberry cream? No, I don't think so… Hooters, yes, and way before the chain so call us all psychic.
It's not just men that celebrate the boob.
This is a picture of a young Marilyn  Monroe. Is there anything missing?
I'm really not sure;
I am sure she had to bare all to make the movie scene.
And Dolly,( 'I have not had surgery') yeah, she seemed to grow.
Notice any difference?
Just asking?
Yep. I do think it was when I was young that the preference for large breast took hold in our society…and I have to wonder, no, I know, how that made/makes a large percentage of girls and women feel about themselves.
It's all completely wrong, almost an obscene blight in our society that how one aspect of a women can define their over all appeal. But, it may have always been this way. Way back in the day—like 250 years ago or so—large (we call them voluptuous) women were all the rage. The skinny women of today would be outcast, shamed, no matter the size of their breast. So, it's all odd…
No, these breasts aren't natural……
Thing is, this entire post isn't about breast, and what their size has done to us as a society, and the people it's hurt…
Okay-here's the point.
According to a report released by the American Association of Plastic Surgeons, 279,143 breast augmentations were performed in 2015. For those who are keeping track, that's a 31% increase from the number performed back in 2000. Yes, the American obsession with abundance has officially gone 'breastal'.
"http://www.alternet.org/sex-amp-relationships/big-boob-love-what-life-large-breasts"
According to the American Society of Plastic Surgeons, breast implants are now the number one cosmetic procedure in the United States. How ironic is it then that a procedure that is undertaken to supposedly enhance a woman's self-esteem has resulted in a finding that women who get breast implants are at least three times more likely to commit suicide.
"http://www.salon.com/2013/08/17/9_weird_facts_about_breasts/">http://www.salon.com/2013/08/17/9_weird_facts_about_breasts
See? This breast thing is a mess. I'm thinking this whole 'MeToo' movement will get us out of this dumb, fascination with breast and help us guys, at least, focus on the female's being. That would be nice, enlightening, a step in the right direction.
Heck, we might even drop one hundred terms men use for breasts and call them, well, breasts. Men are sometimes called, 'dick-head,' for a reason.
A gown for the awards..okay?
But, can man ever learn not to afflict a physical attribute on to a woman and attached it to what she is worth? This is the question and trial for the next generation…..good luck. I'm on your side but, for now, boobs R us.
Franque23