You are currently browsing the tag archive for the 'Donald Trump' tag.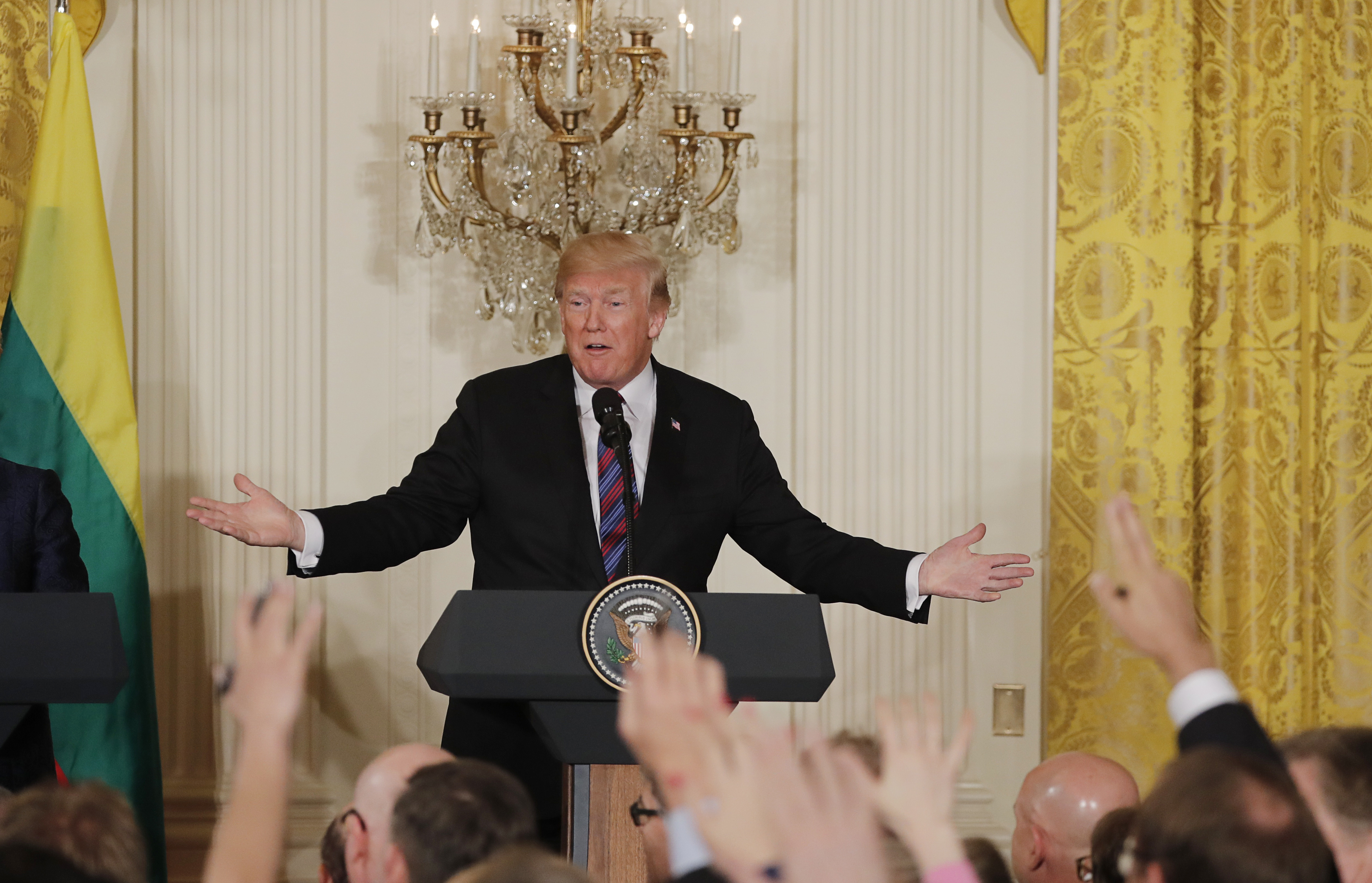 One of the first things you learn in library service is to ask good questions—this can save so much time when it comes to helping patrons. So, in the spirit of helping America, here's 30 questions I wish someone would ask before the press core is drummed out of the White House.
Trump golfs so much, why is he fat?
If Trump has nothing to hide, why does he hide everything?
Why does Trump lie so much?
Will Trump be arrested before or after he is out of Office?
Why didn't Trump want to have fun at making money rather than losing it?
Why has Trump gone bankrupt so many times?
What is Trump's waist size?
Did Trump get a STD from sleeping with a porn star without using a rubber?
Has Trump stopped grabbing women by the pussy?
Why Is Trump in love with Putin?
Is Trump really bisexual?
Why did Trump tell his first medical physician what to write in his health exam medical report?
Why is Trump a bad speller?
Is Trump stupid like people say?
What were Trump's real grades in college and why does he keep them secret?
Why has Trump and his businesses been sued over 3500 times?
Did Trump really kiss a man?
Is it true that Trump was caught in a bathroom stall with another man?
Why did Trump make-up fake news?
Why did Trump call radio shows and pretend to be someone else?
Why doesn't Trump believe in God?
Why does Trump live in fear?
Why does Trump hire so many foreigners?
Why is Trump so over weight?
Trump gives athletes fast food hamburgers; is this what he likes to suck down his pie hole?
Why does Trump cry so often?
How much money has Trump stolen from his 2016 campaign funds?
Why was Trump afraid to fight in our military?
Does anyone know why Trump hasn't been arrested?
Why hasn't Trump been arrested?
Just asking to help clear the air…
Franque23
why is a cheap SOB to sport athletes
I worry. I do worry for Trump's safety.
"He can blow me!" I've heard it said.
"I love the man." I've seen it written.
"Make America great again!" Everyone heard the call that was confusing to some, but it rallied voters.
Thing is, Trump's successful romp through bankruptcies,  scores of litigation, forthright allegations of sexual abuse and a new world's record of flip-flops, no wait, of merely not making any position he has clear but that he'd build a wall that Mexico would pay for (except we would pay for it), is a montage of miraculous wonderment.  WTH?!?!
There are few groups left Trump hasn't lambasted, outed in tweeter rants or belittled. Muslims love the guy, right? China is excited about his position on Taiwan. Some Mexican's might love to have the guy for dinner-literally. The disabled feel ridiculed-did a man running for President actually imitate a disabled person while on stage?-and women may have to stop wearing skirts when he's in the room. Of course, with the NRA in America and world-wide wholesale weapon sales, a few of these groups may have guns. Right?
There's a right and wrong way to get what you want in America-ask Bonnie and Clyde. Trump needs to understand this basic principle.
Then again, it takes guts to right a wrong as the first woman to run in the Boston Marathon found out.
Good intentions, truth, what is right shines from within, and no amount of misguided thought can dim that light.
And it all could be so different if only Donald would leave his combatant life style behind and embrace his new-found success. He's pushed through enough electoral votes to win the Presidency of the United States. Now is not the time for him to dice up the country as though he was engineering a hostile business merger-a take over.
The people surrounding Donald Trump aren't helping him transition in a successful way.
Trump bites back when he needs to cajole his opponents, not contest them. Trump  needs to persuade, not invade other people's ideas. When he needs to inveigle people, he enrages them.  For every wheedle he should make, he needles the point instead and makes people sore. Where he should coax, he's a backwash of shellac; a call for charm seems to prompt him to cause harm, to be verbally abusive, almost child-like, a school yard bully in uppity clothes.
Why? Why can't Trump relax in his new skin and put on the cloak of negotiation?
Trump needs to wear a new set of clothes.
Effective methods used to gather America's greatest thinkers and politicians alike would yield Trump real power. If I learned one thing from being a head negotiator for a powerful union it is this: true power does not come from discord, but from keeping your friends close and your enemies closer.*
Someone in the know, for Trump's sake, for America's sake , needs to talk to the new President elect and make him see the world in a different light-turn on the light  so to speak.
Trump needs to change if he is to become a successful President.  No one can bankrupt a country and enrage the world and walk away with the profits.
Trump can change. It's never too late to change. Thing is, Trump has to change.
The world can only hope. For more on this, here's  a link to an article that says this all better than I could hope to.
https://www.nytimes.com/2017/01/18/opinion/retweeting-donald-trump.html?&moduleDetail=section-news-3&action=click&contentCollection=Opinion®ion=Footer&module=MoreInSection&version=WhatsNext&contentID=WhatsNext&pgtype=article&_r=0
Franque23.
*Sun-tzu
Chinese general & military strategist (~400 BC)
""You know, it really doesn't matter what the media write as long as you've got a young, and beautiful, piece of ass."  Donald Trump.
Recently, a series of articles are claiming that Donald Trump may have had sex with an under age girl or girls. Of course, at this point, the question has to be asked: is this true? And it has to be noted that being charged of  crimes in America does not presume guilt-we stand as a society upon the presumption of innocence.
But what are the charges at hand? This is from an article published today and  linked below…..
"A brief precis: 'Jane Doe', the plaintiff, alleges that in 1994 she was held as a sex slave in an apartment belonging to Jeffrey Epstein (the second defendant in the case). 'Jane Doe' alleges that on one occasion, Trump tied her to a bed, exposed himself and then "proceeded to forcibly rape" her. When she pleaded with him to stop, she says he struck her in the face and yelled that he would do what he wanted. 'Jane Doe' also alleges that Epstein vaginally and anally raped her following the assault by Trump, physically striking her in the head at one point while screaming at Trump that it was he, rather than Trump, who should have been the one to "take her virginity".
For the record, Trump's lawyer has dismissed the allegations as "categorically untrue, completely fabricated and politically motivated." But as Bloom points out, there are compelling reasons for the mainstream media to at least consider them worthy of reporting. First, there's the fact that Jeffrey Epstein is a convicted pedophile and Level 3 registered sex offender with a preference for underage girls. There is also the matter of his ongoing, documented friendship with Trump – just prior to Epstein's conviction, Trump had this to say about the man he had known for 15 years: "Terrific guy. He's a lot of fun to be with. It is even said that he likes beautiful women as much as I do, and many of them are on the younger side. No doubt about it, Jeffrey enjoys his social life."
But more concerning even than that is the fact that 'Jane Doe' claims to have a witness. 'Tiffany Doe' (both women have, with the court's approval, exercised their right to anonymity for fear of retaliation given the high-profile nature of the case) worked for a number of years for Epstein, and says part of her job was to lure underage girls to these aforementioned parties. In documents filed to the court, 'Tiffany Doe' says, "I personally witnessed four sexual encounters that the Plaintiff was forced to have with Mr. Trump during this period, including the fourth of these encounters where Mr. Trump forcibly raped her despite her pleas to stop." She says she continues to live in "mortal fear" of Trump.
Untested though they may be, the allegations are damning. That by itself should be enough to have the mainstream media at least somewhat interested in reporting on them, never mind the fact they are being leveled against a person who may soon become the leader of the free world. Keeping in mind the fact that Trump, like anyone, is entitled to a presumption of innocence when facing criminal allegations, the media still has an obligation to report on such matters. Why the silence? Is this just another form of the protection given to people with power, and powerful men in particular?"
http://www.dailylife.com.au/news-and-views/dl-opinion/the-presumption-of-innocence-isnt-a-free-pass-for-powerful-men-to-avoid-scrutiny-20160703-gpxp28.html
As powerful as these charges seem, I'm a bit more fascinated, call it stuck, on the trumped up charges Trump has laid at the feet of the American voters. His first main call to fame and leadership during this election cycle has been to, "Make America Great Again!"  Say what? I say America is still great in sooo many ways. Or, is it the contention of Trump supporters that America is the arm pit of the world? The freedom to chose, protest, lead or not, work, our huge GNP, own a home, our union won 40 hour work weeks, vacations, Holidays,  schools, a National road network, our military might, voting rights, the freedom of speech and to dress and act in a huge variety of ways are just some of the ways America is Great, and has been for so long. So just who, or what, is Trump going to "make great again?" There's a question I'd like directly answered.
Trump is supported by a fringe element in our society that truly makes no sense when their ideologies are tied down to the facts they protest. The entire Trump movement has been scammed by , "Trumped up Charges," full of slippery rhetoric, emotional pleas laced with violent tendencies, outrageous name calling and bogus facts.
I'd say the bottom line of this election cycle is that Hillary wins by a landslide. My prediction lies upon a belief that 99% of Black voters don't like Trump; 99% of women voters should hate the man; All immigrants must puke at the man's image; all democrats will not vote for Trump; and, like it or not, Hillary is better looking than Trump. It is my firm belief that racists, lunatics, gun nuts and dim-wits combined with die-hard Republicans and the religious 'right' do not out number the people contained in the list above.
To the rich and powerful who may salivate over the possibility of Trump's election I offer this- yes, Trump will do whatever business wants like a puppy who begs for a bone, but the ruling class has simply not given the working class citizens enough cash over the course of the last forty years to make a radical change attractive. The economic squeeze from the top tier of American wealth has drained the juice out of any base support those in power may hope to get from the free thinking working class.
To this end, the rich and powerful will continue to try to erode the educational systems in our country until they have enough voters who are willing to swallow the Trumped up Charges…..For now, those numbers don't add up to a victory in November. Plus, the recent charges laid against Trump may not be Trumped up? Time will tell….
Franque23
Thanks to my wife for this glob's great title…..

The Avatar Magic series is out on Kindle now….here are the three links to each book..I do hope you'll spread the word and enjoy these writings.
(Please don't miss the footnote…..)
Disastrous  social change does not always start with a bang, gong, bells ringing or sirens issuing warnings. No, social upheaval usually starts with a whimper, a few soft-spoken words that touch a nerve. No leader of what is to become mass hysteria starts with the words, "I will crush you." At first there are gatherings that turn into patriotic parties and then feel good stickers, hats and flags are passed out. Uniforms might follow.
I've heard people ask if Trump could really become another Hitler. Well, that seems a stretch, or does it? More, is the question already answered? Are the social pressures the same in America today as they were in Germany when the charismatic leader of the German Worker's Party fully took over in 1933? It would seem so. Are the words Trump uses today to unite his followers much like those used by Hitler in 1931? Yes.*(Interesting facts in this footnote.)
In 1931, when Hitler began to draw crowds to his meetings, Germany's middle class was in upheaval. Basic food necessities out striped what workers could earn in a week, while a well to do class, the Jewish shop keepers, intelligentsia and mid-government/management officials were better off than most. Plus, there was the hated Gypsies, an outside group, who were held responsible for most crime that took place throughout the country.  Most German's wanted their country to be what it once had been-a society dominated by law,  economic fairness in the work place and upward mobility.
Hitler with Ford—he was not always hated.
Trump promises to make America great again while blasting immigrants, pointing to corruption among bankers, management and know nothing intellectuals and berating Congress—he says all are the true causes of America's decline. "I love the poorly educated." Donald Trump. (2/2016)**
When Hitler spoke of the New Reich it gave Germany's frustrated workers a place to believe in once more. By 1933, children followed their parent's lead without question.
On the night of January 30, 1933, Nazis held parades and cheered for Adolf Hitler, Germany's  new Chancellor. Two months later, Germany's Reichstag-the equivalent of America's Congress-gave the new chancellor dictatorial powers above and beyond that of the aging President.
At first, the good-hearted souls of united Germany sang songs of protest in front of shop owners thought guilty of charging too much for their goods. It was a protest and few , if any, could conceive of gassing people to death for their wrongdoing…that wasn't in the picture below.
At first, Nazis members merely sang songs and stood in lines to protest the wrongs of society.
Soon, a forced unification began throughout Germany that joined all groups, civic or political, as Nazis or they were disband.(1933)
The rallies grew in number and attendance. Common workers, men, women and children were awed by the promise of a new Germany. But first, the emphatic speaker, Hitler, made clear that all enemies of Germany had to be removed if the plan to improve Germany was to succeed. The roving bands of Gypsy criminals were the first to be collected. One arrest led to the next…
The fervor for success and prosperity spread throughout Europe.
Crowds can be misleading; charismatic speakers dangerous.  The rest of what happened for those who mistakenly followed Hitler is a history we all know. Will history be repeated? The times of social unrest in America seem to make it possible. Americans perhaps now more than ever before need to tread lightly, and vote with an awareness of life's possibilities.
 a man who could be so successful, for a time.
Or the 1st  Warsaw uprising massacre….
And so much worse-
The new surging call for change in America can be crippling or helpful to our country. Do you trust your candidate? What have the candidate's said; what do they say now? If elected, what might that candidate do? Come November, it will be gut check time for Americans.
Peace-vote in November with caution.
Franque23.
*It's interesting to read about Hitler's rise to power in light of Trump's rise to power, and with regard to how many of us truly can't comprehend Trump supporters. Did you know that in 1920 Hitler had been convicted of Treason, but, through situations, spent less than a year in jail, and in 1930 Goebbels was tried for High Treason? The Nazi's party and it's power took time to grow, but one spring board was the Treaty of Versailles-the populace didn't like the terms of the agreement( though different in construct-think NAFTA) and most of Hitler Brown Shirts, the SA, were ex-soldiers who fought in WW ll. By 1930, most Germans thought the Gypsies were responsible for the majority of crime in the country.(think Mexican's and Muslims) In the end, what proved to be a beginning, a head of Hitler's SA was shot in 1930 by a leftist who thought the strong leaning Nationalists(Nazi's) were crazy. Three years later Hitler came to full power. He disband the Parliament which everyone thought/knew was corrupt(think our congress) and had himself appointed leader of Germany. All the time, his Brown shirts, ex-military, did the muscle work he needed to get done to gain control. So maybe not over night, but in time, movements can come to fruition, and one assassination can flip any amount of sense to madness.
**http://nationalreport.net/banned-berlin-donald-trumps-remarks-get-tossed-germany/
Really?
The Avatar Magic series is out on Kindle now….here are the three links to each book..I do hope you'll spread the word and enjoy these writings.
Thing is, Trump uses a tactic throughout his speeches that is near and dear to my heart. It's called, 101 Retail, or, How To Sell. The basic principles of selling came to me by way of observation, first hand experience and lesson.  The steps that lead to the transfer of another's energy to yours are basically always the same.
The first thing any good salesman does is size up his target buyer. Their age, do they have money, do they seem intelligent, emotional, in need, disinterested, distracted, focused, determine, in a hurry or not. This may seem involved, but it's all about observation, and if a seller pays attention they'll get most of these answers right after a five-minute discussion with the prospective buyer. Once the target is identified, the seller claims to have the same thoughts, needs, problems and desires. "We are rowing the same boat, friend."
The next thing to do in 101 Retail is identify everything that may challenge what you are about to sell and then tear that thing to shreds immediately and continually throughout the sale. It's sorta along the premise that a Hero or Heroine can only be as great as the villain is bad in any story. A seller has to vet out any idea the buyer has about what they want if it isn't what he hopes to sell. Slander, lies, storytelling, misdirection, dangers associated with the cursed item, nothing is too much when establishing the dregs of anything that might compete with the item being sold–this is called foundation work. "I think that item is in recall?"
Once the dire destruction building blocks of any  competitive product are in place, the salesman focuses on the attributes of what he's selling. So much better, superior in every way, the comparisons are easy to see, the price is a no brainer once you see the difference.  A smile, some humor, maybe a glance or soft pat on the back makes us all trusted friends. "Why, I'd never mislead you."
If, for some rare reason, the buyer does know something,"I know a thing or two", that conflicts with what has been said it's easy to note—I meant to say, what I mean,  the truth is, the facts don't change, in the long run, or, some say that, but most, the majority of people and articles disagree.
1)Trump is a business man and has approached the primaries in 101 sales pitch fashion. He's one of us…How rich is he? "I am very, very rich." He claims this because he knows deep in the heart  most American's want to be rich, too. The money bragging then works as a weird, I am like you though only through your dreams while I live the life. As for sizing up his electorate, that had been well documented by countless polls and articles about the far right before Trump started to run.
2)What were Trump's challenges? It amazes me how many Republicans complain about name calling or semi-slanderous Meme's when their candidate of choice is Trump? Has there ever been a looser lipped Presidential candidate than Trump? Answer: no. Every Republican in the primary has been given a trash term by Trump!!! Any one who challenged him was bleeding from places unknown, a cripple, or a loser of epic proportions.(BTW–Trump has gone bankrupt how many times?/)
3) The Republican field has been shredded successfully and now Trump is busy claiming he never said that, didn't meant that, forgets, it was so long ago, he's been misrepresented , misunderstood, disrespected by the media?(hahahha), he's only telling the truth, and he's the only product left standing. The last thought-true.
I'm watching Republicans circle their wagons around a huge misstep for the party that is named, Trump. Fortunately for Americans, Trump has assured us. "I'm not stupid!" he said. Odd, that a possible candidate for presidency the United States would have to say the words?!?!? Worse, why did a politician from London make the claim? Actually, I don't want to get into that in this glob—there are too many reasons; too much to discuss.
"I'm not Stupid!" That's from the Gettysburg Address, right? No, wait! Reagan said that! Actually, only Trump….figures.
Franque23
The Avatar Magic series is out on Kindle now….here are the three links to each book..I do hope you'll spread the word and enjoy these writings.