You are currently browsing the tag archive for the 'environmental' tag.
(Click the pic for a larger view)
Imagine, you were born and once lived happily in a Levittown community on Long Island.
Your home town of Roslyn Heights was a Levitt built community….this pic is of a Levittown that was built further away from NYC out on the Island than your home, but it was the same type of community.
You didn't mind the winters and made piles (ahahah) of dough out of shoveling snow as a kid.
This was my life as I grew up.  Here is a picture of South Park, Roslyn Heights and the house I lived in. Back in the 1950's we got Nor'easters (snow storms) that blanketed the homes and streets and, thank God, stopped school!
But during college, maybe before, something snapped inside of me and I wanted wide open spaces….I wanted the wild, the untamed, the jungle or was it the wild west? Okay, I really wanted to see, Where the Boys Are*, in Fort Lauderdale and be one of those guys the gals were after. That worked out well and Florida became just that sort of jungle I was after.
I had no idea how Florida, land of melting sun, would attach itself to my soul but it did.
Now, I've lived here since ,errr,,, 1972ish?
I've had a wonderful time in the surf—I love to surf waves.
This is me catching a good ride.
My wife and I had a rabbit who lived out back in Micanopy in his cage. One morning we awoke to look out and find a bob cat on top of his cage…..that started me thinking….(Don't go out at night to pee…..)
Apparently, I'm not the only one to have found nature at my door step here in Northern Florida
Heck, I knew I loved this place of wonder, a place of untamed nature.
But I never lost my eye for the power of that nature as well… We landed on the moon, but maybe we don't control gators?
It's okay to count on fences to a certain degree…
So there's a beauty and danger to Florida none of us Floridians should forget.
How about a night dip in the pool?
And then, only twice, I saw in person and close up by mistake, a Great Horned Owl…They can fly up to 40 MPH and have been known to pick up and kill 60 pound pets!! Our dog, I suspect, was attacked twice by one in our fenced in backyard—where he never goes at night anymore.
This is a shot tripped by a night camera….
I was running in the woods about thirty years ago when I saw a beast of a bird…it seemed to stand more than three feet tall and when he took off his wing span was about five feet! Just wow. I once saw another Great Horned Owl as I drove down Rochelle Road outside of Micanopy. The bird took off before I reached him and traveled over the road for about one tenth of a mile right before our car. That bird's wing span seemed to almost reach from side to side of a double lane road–no joke. It was as if we were seeing a dinosaur.
I've fished the swamps for over ten years in my younger (err risky?) days….and there's a beauty to a swamp—not a McDonald's or Starbucks to be seen.
But always, there are gators. How many gators?
( Those eyes all belong to gators.)
This is the Alachua Sink in Alachua County, Florida. It's about  one mile from our home. And this shot, by John Moran got him nation wide PR. His photos have appeared in National Geographic, Life, Time, Smithsonian, the New York Times Magazine and on the cover of the National Audubon Society Field Guide to Florida. Dale and I were lucky enough to canoe down the Suwanee River with John, a time I'll never forget for many reasons but one of them was having a wart hog pushing against my head from the other side of our tent as I slept at night as he rooted for food.
So, I've rooted here in Florida. I love the ocean, always have. And, I love to grow food as my father from Iowa taught me to do. Of course, we have a garden as any Floridian with the space should.
At six months , Shadow, didn't know he wasn't me, or human, exactly, and he helped me weed…I miss that help now.
You might be able to see, but at one year old, Shadow figured he should eat green beans right off the plant as we did as we picked them! He stopped eating green beans at about age two.
Once, I was drying herbs out in the front yard in foil sheets when a cop came by, stopped, and walked my way with a grin and his hand on his gun…I smiled and said hello… He looked down at my tins of herbs and said, "What do you have here?".. "I'm drying herbs!" He wasn't convinced so I walked him over to the garden and showed him the plants…."Well, I thought I had you busted for pot!"
I can't blame him….but I didn't add that I might have learned the entire process by growing and drying pot in my twenties:-)
So, we grow pineapples, too….
Mounds of oranges and grapefruit, too.
It's all good. This city slicker found a home in the Northern Florida woodland, and I love it.
Heck, the tomatoes came in like a champ this year; Dale canned many.
From Levittown to the wilds of Northern Florida, I'm good. I don't miss the hustle up north, the quicker pace of life or the traffic. No, I'm good with the gators, bob cat, owls and other critters. The sky here is open to see, and the ocean wind still washes the peninsula by four or five each afternoon. Gainesville is just 60 milers north of the Sub Tropical line. We live in a jungle of 24/7 year round growing just about. The birds love it, and so do I.
Cheers– thanks for visiting.
Hope to hear from you soon!
Franque23
*https://www.imdb.com/title/tt0054469/
My wife recently told  a news story on T.V. to "Go Fund Yourself." It broke me out in fits of laughter….as my wife often does. She's smart, a wit-full companion that keeps me thinkin'. Thing is, my first editor of everything you've ever read from me is also sharp, and more helpful than you know…. Barbara sent me this tonight,, and I thought in our time of strife it might do us all good to take a look at the,'Will  to Survive'. It's in all of us, to fight for existence, and that we shall prevail…just look at the trees: they lead the way.
Enjoy, and thanks again to Barbara for the link.
Peace, Franque23
Trees have been around for about 370 million years, and as you can see from these incredible pictures, there's a good reason why they've survived for so long.  Whether they're growing in the middle of gale-force winds, on the tops of rocky platforms, inside concrete tunnels, or even growing out of each other, trees know how to survive in places that few living organisms can, which explains why the planet is host to around 3 trillion adult trees that cover an estimated 30% of the earth's land.  Considering that plants produce the vast majority of the oxygen that we breathe, we should all think ourselves very fortunate that trees are as resilient as they are.  We wouldn't even be here if they weren't.
#1  A Place Of Enchantment

#2  This Palm Tree Fell Over And Curved Right Back Up

#3  This Tree Fell Over And Grew 4 More Trees Out Of Itself

#4  The Only Tree That Survived The Tsunami In Japan Between 70,000 Trees. Now Protected And Restored.

#5  Tree Of Life – Olympic National Park, Washington

#6   A Tree's Root Spill Over The Sidewalk

#7   Nature FTW

#8   A Tree Growing Through Speed Limit Sign

#9  This Tree That Refuses To Die

#10  This Tree Still Has Its Leaves Because Of The Light Shining On It

#11  Life Finds A Way

#12  Tree Roots Extend Across A Gap To The Mainland For Nutrients

#13  Life Finds A Way

#14  Ta Promh Temple In Cambodia

#15  Striving

#16  Someone Hung His Skates On A Small Tree When He Was Younger. He Forgot He Had Left Them There And Found Them Years Later
#17  A Tree Growing On Another Tree

#18 This Tree Is Growing Out Of Another Tree

#19 This Tree Grew Out Of The Stump Of A Dead Tree And Then The Stump Rotted Away

#20 A Tree Grows From Third Floor Window

#21 Life Finds A Way

#22 I Spent Ages Staring At This Tree Before Taking This Pic. I Hope You Find It As Fascinating As I Did

#23 This Floating Island That Grew At The End Of A Partially Sunken Tree

#24 This Wooden Chair My Parents Bought Started Sprouting Leaves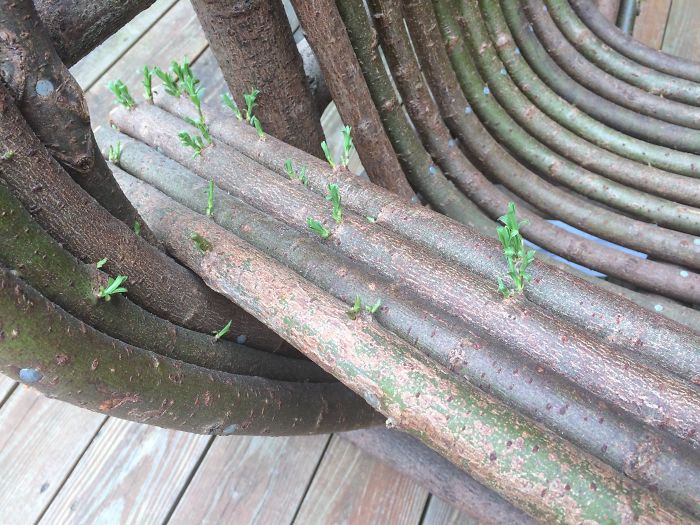 #25 The Old Piano Tree

#27 One Tree On My Street Refused To Accept Winter

#28 My Sister's Tree Is Eating Her Fence

#29 This Tree Growing Through A Fence

#30 Life,Uh… Finds A Way

This is the winning 2020 presidential ticket. In fact, the more Republicans and right of center groups claim this idea is preposterous, the more Left leaning voters should realize it's true!
Trump's election set precedent that a person not directly experienced with holding office can be elected President. The 2018 mid-terms have more than shown voters are agreeable to female candidates, and even female, Black candidates in the South!! Yikes! I wouldn't have thought this to be the case, but it is. The 2018 mid-term election has proven the American electorate is ready for women of any faith or color. Now is the time for Michelle Obama.
We all know President Obama brought America out of the brink of collapse, along with perhaps saving the entire world economy, so who better to associate with how to truly Make America the shining beacon of hope and posterity it once was under President Obama?  Michele Obama, that's who can lead the charge in 2020. Michele is the one who can break through that invisible male ceiling the presidency of the U.S. still supports; she is the one who can unite and bring out so many difference Democratic voters.
And what of Bernie Sanders as V.P. on the ticket with Michelle Obama for 2020? This is a slam dunk yes! Bernie calls for a health plan most Americans have come to favor; Bernie calls for living wages and real tax cuts American workers deserve. Any notion that Bernie's too old, or too socialist, or that, 'Michelle won't run,' is just bull crap being thrown from the Right, a group who literally trembles in fear of this Democratic ticket.
Get Michelle and Bernie on the ticket and America wins.
Elect Michelle and Bernie and Education gets a huge increase in spending; America's humanitarian efforts resume throughout the world; a living wage comes to fruition; real infrastructure rebuilding programs commence; renewable energy takes off in America and sparks a mass up-swing in employment and prosperity; health care becomes part of our society and not a leech upon on government and our worker's backs. These are all things American's want by massive majority numbers.
Get rid of illegal gerrymandering across America and the new world dawns through America's growth and undeniable will to succeed.
Listen up. Cast fear aside and get Michelle and Bernie on the same ticket for 2020.
Let's cast aside the party that has once again deregulated banks putting the U.S. in danger of another ,'bubble burst, ' as we had Under Bush . Jr. Let's dump the party that has striped America of much-needed environmental controls, who now drills in our National Parks threatening our famous, Heritage sites. We can beat back Republican corruption and the radical hate groups this party embraces; we can end the hate mongering President Trump seems so happy to spew on a nearly daily basis. We can end the seemingly endless stream of lies now being forced upon the American people from this current Republican administration.
It's a new day, baby. Democrats! Let's bring it home.
Franque23
All the righties are typing today that the now famous nothing burger 'memo' exonerates Trump the Herald–this is insane*, and I've felt often this past year that many Republican voters are living on the tip of—crazy…but it's not like they believe the world is flat, I've asked. (hmm, this is a sad commentary—right?)* 
Weirdest thing is over the years I kept hearing from the Republican voters I know (right but mostly wrong) that the Republicans are fiscally Conservative while the Democrats only want to spend, spend, spend…. so then President Turnip comes along with his tax cut for the rich and a bogus super expensive wall and they don't budge an inch of loyalty!!!(
The report said the border wall could cost nearly $70 billion to build and $150 million a year to maintain. An internal report by the Department of Homeland Security said the wall could cost about $21.6 billion, not including maintenance.
Apr 18, 2017)
These two provisions will bankrupt our country to the point where most programs designed to help the middle class or the less fortunate will lose funding. And one small but meaningful tangent of Trumpet's  Sound! entire immigration quagmire means we all can't wait to pick lettuce, celery, most vegetables and all of our fruit! These are the jobs American's are waiting for! Hip, Hip Hurrah? Make us all pick strawberries so we can be 'Great' again?!?!?
 Analysis:   
"President Trump has made 1,628 false or misleading claims over 298 days"
So the point is, Republican voter's 'loyalty' really has nothing to do with the agendas of the Republican Party, it's something deeper… perhaps an ingrained mindset that Liberals are bad no matter what??? And then there's an invisible line between those who are prejudice and those who are not, and that line seems to align and lie to some degree between the Democrat and Republican voters.
Two different party names match two different mindsets.
 Two different people.
Rrrump's family fortune was founded on running a whore house, stop dancing around it…let's say that's okay, a long time ago, right? But Donald Trump has been accused of 19 counts of assault and/ or rape by 19 different women,(here's a complete list…**) plus, he's been taped as saying he grabs women by the pussy when he wants. That's your pussy, (any female reading this….). Are you okay with Donald thinking he can grab your pussy whenever he wants? If so, exactly what is your  religious affiliation? I can't think of a one that would say, claim, grabbing women's pussies is okay…So why do you support this man? Just answer while talking about this man, Donald Dump, don't give me any side shuffle to Hillary or anywhere but to THIS man-who he is, and what he said on tape. Again, why do you or anyone besides the super rich stand by this lump of a shlump man?
Trump is a dumpster fire of mind-numbing proportions.  This is why his hair looks like wisps of smoke.
To be clear, it's not how Plump looks or what he's done as a bully during his life that turns me against just about everything he says or does. It's the agenda President Chump pushes as a wedge to divide American voters and America from the world about us that bothers me. Is it time to mention World War III? Hopefully, when the White house was last renovated someone had the good sense to disable that phone  in the oval office that Grump can supposedly use to call for nuclear launches. That would be prudent.
"Oy Vey, why me?" is often a call asked of God. I say, "Oy Vey, why Trump?"  And all this at the time when the world is about to progress to wind and solar and other types of clean energy. When the world is about embrace a world-wide unity brought on by the event of Facebook and the internet. Just when the world is in dire need of peacemakers we get Trump who seems hell bound on the destruction of so much American's hold dear: Liberty and our Constitution.
Trump has made a mockery of our beloved American way. At best, Trump is a crap-shoot in every sense of the word.
Franque23
links to two articles, one written outside this country and one written in the US….
**https://www.npr.org/2016/10/13/497799354/a-list-of-donald-trumps-accusers-of-inappropriate-sexual-conduct
Heads up! Please copy and paste this to your friends and associates.
Mike Byerly* has written an informative letter alerting all those who live within Alachua County that regulations protecting our air and water quality are once again under attack. Developers are seeking to reduce Alachua County's air and water standards.
The meting is scheduled for Jan. 23 at 5 PM. Obviously, a Tuesday meeting held at 5 PM in the county's Administration building makes it difficult for those who work 9 to 6 or 8 to 5 PM to attend. I suggest those who wish to let their voices be heard or their presence seen at this meeting request an early leave from work on Jan. 23 so they might attend this 5 PM meeting.
One more thing–why not request that any further meetings that address any changes to our county's air, water or land use be scheduled on weekend days or no earlier than 6:30 PM on week days so voters can attend?
Here's Mike Bylery's letter:
"If you have only enough time or motivation to attend one government meeting in 2018 in defense of our environment, make it Jan. 23rd, 5 PM, at the County Administration building. The stakes are high, and turnout could make the difference.
Alachua County is a "charter county." That means we have a charter, sort of like a constitution, that is the ultimate law on certain matters, and it can only be changed by popular vote. Back in 2000, Alachua County voters overwhelming approved an amendment to its charter that authorized the County to establish countywide minimum protections for water and air. Then, for 18 years, nothing happened. Finally, after several years of analysis and an exhaustive outreach campaign with stakeholder groups, the County is poised to adopt two important new water quality regulations that would substantially reduce the harmful impacts of future development. But this effort may die on the vine.
First up, and the subject of the January meeting, is simply a proposal to extend the County's current wetland protections to the entire County. Currently, they only apply in the unincorporated County. The County's standards are significantly stronger than the default state standards in use by most of the County's municipalities, which allow developers to simply pay to destroy wetlands. Consequently, a number of large landholders have annexed into adjacent municipalities in recent years in an attempt to evade the County's wetland protections. Plum Creek/Weyerhaeuser is the most glaring example, with large annexations into Hawthorne and to the north of Gainesville.
Second, later this spring, the County will consider whether to adopt new standards for future growth that would reduce the pollutants in storm water runoff that foul our streams, springs, and drinking water supplies. I'll provide more information on this as the date for action approaches.
Characteristically, the meetings so far have been during the day and largely unpublicized, so the only feedback that County Commissioners and staff have received has been from paid representatives of the folks opposed to any new law: developers and the smaller municipalities. The County Commission needs to learn whether the public at large cares. Also characteristically, the threat is not so much that the County Commission will do nothing, but that they'll accept so many "fine print" compromises that the final law is completely neutered, in ways that only the professionals can understand.
The time has come to translate talk into action. The Commission is divided on whether to act. Please attend, and bring a friend."
Good job Mike Byerly! Now it's up to the people of Alachua County to respond by showing up at this Jan 23rd meeting, 5 PM in the downtown Administration building…See you there!
Franque23
Gerald Franquemont.
*Who is Mike Byerly?
http://www.gainesville.com/opinion/20160729/mike-byerly-standing-up-for-sustainability
Yep– the loyal Republicans who have clamored for decades about States Rights verses a strong central Government of rampant legislation now approve the concealed weapon permit from one state to another no matter how any state's populace has voted on the issue. Wow…
How's about all the taxes 'righties' have clamored against for sooo long but now their guys in Congress are all 'feel good' about double taxation! Yes, that's right…er it's wrong, but whatever,…Thing is if you limit the deductions of ANY state paid states or local taxes than people's earnings that paid those taxes will once again be taxed as income–a second time, get it? So Republicans now promote double taxation! Let's all stand up and cheer…right? Or, should we all take a knee?
Trump's team of slurred meaning slips up to the idea that Trump's Mar A Lago estate in Palm County is the so-called, "Southern White House."  But that's "Not true," say every sense of reality. Trump owns this semi-palace and he has Doubled the fees paid by public users since his election!!! Gee–wait, what? Is Trump profiting from his Office?!??! Er, duh!
A zillion meme's and posted notes have expressed despair at the over-all doings of this current administration-cutting the knees out from under the needy, undermining our healthcare system and stashing billions of tax cuts for the rich into his next run for office.  And then we have this administration increasing taxes on anyone not extremely wealthy via a misnomer-ed 'tax cut' that will really be a tax increase as years pass for anyone not in the top 1% of tax payers.
But I felt this reader, (okay-my wife) said a few things very well in this….
"It is a dilemma. I know that I generally do tend to think that people who don't see things my way are wrong. But there is so much history to prove that the GOP solutions have never worked, and have been destructive, and have led to the economic disparity and shrinking of the middle class, I find it so hard to respect people who don't look at the history,or science, or have some agenda that I find offensive. Especially where bigotry and exclusion come into play. I prefer the motto "Humanity matters". It is hard to disagree and still maintain some semblance of a relationship. But that leads to further polarization. Arguing doesn't work, because minds are fixed. There is a belief that Trump will turn the economy around for everyone by bringing business back.If so, I hate the cost, and have a secret hope that businesses have learned the lessons of lawsuits when their lack of regulation led to illness and death. Everyone should re-visit Erin Brockovich. Things were not working for too many, especially in the rust belt, and there is a division between the needs of urban and rural voters. Maybe the world will move ahead in energy and conservation of resources without the GOP and US government. But I sure hate that about 30% of my income goes to taxes that ultimately do not provide me with a better quality of life, but a worse one,"
My way-smart wife….
Well, like it or not, the entire American work force is about to be , "Trickled down" upon…get towels.
The environmental blood bath featured by this administration is a wretched thing to behold. Somewhere, somehow, this group of right-winged Christians in Washington have forgotten it's our charge to care and nurture this God-given Earth…
It's been a great ninth year for this glob post; readers from sixty-four countries read this glob last year, a bit down from sixty-seven countries the previous year and I have to wonder: did a few countries get blown up or something? Hope not, but our ex-security head gives us a 3 in 10 chance of having a nuclear blow-out with North Korea. Who likes those odds? Not me.
I like Peace; love. How about you?
Much more to come this year. I've an entire side of my family you don't know much about and it's a wonderful, American story. Plus, I've loads of pictures from 2017 yet to post on gardening fun and family cheer!  See you soon….
We can do this thing. We can get our country together again, strong, back on track and be World Leaders once again.
Cheers for 2018.
Franque23
(Thanks to Tom Morgan, Greg and others who try to keep me up to speed…..)
That's right. This article re-post is from the BrietBart as sent to me from a 'Right' leaning cousin of mine who  I have quoted in globs before. I remain firm: each issue has more than two sides. This is why inquiring minds should be aware of as much information as possible when trying to pick a position to embrace-fact check, double-check, maybe wait a few days for 'things' to fall out before going whole hog one way or another.
Note- Me? I don't get into debating if Climate Change is real or not; let the Eons decide. The governmental issue we should be debating is whether or not we want to pollute our environment or not?!?!? Do we as a people think it wise to pour tons of pollutants into the air we breath and poison or lakes, rivers, streams, our drinking water or not?  Do we want EPA regulation or not? This should be our political debate today.
Thing is people get bogged down in something that can never be proven-Climate Change; this is my opinion on the matter. Still, I don't want to pollute our environment; this is my passion.
Here's the article from the 'Right', as promised when I posted the last glob, an article from the ,'Left.' *
"
Since then, that figure has risen to 400 scientific papers.
Can you imagine the misery and consternation and horror this is going to cause in the corrupt, rancid, rent-seeking world of the Climate Industrial Complex?
I can. It will look something like this.
Just to be clear, so the greenies can't bleat about being misrepresented, here is what these various papers say:
Modern temperatures, sea levels, and extreme weather events are neither unusual nor unprecedented.  Many regions of the Earth are cooler now than they have been for most of the last 10,000 years.

Natural factors such as the Sun (106 papers), multi-decadal oceanic-atmospheric oscillations such as the NAO, AMO/PDO, ENSO (37 papers), decadal-scale cloud cover variations, and internal variability in general have exerted a significant influence on weather and climate changes during both the past and present.  Detecting a clear anthropogenic forcing signal amidst the noise of unforced natural variability may therefore be difficult.

And current emissions-mitigation policies, especially related to the advocacy for renewables, are often costly, ineffective, and perhaps even harmful to the environment.  On the other hand, elevated CO2 and a warmer climate provide unheralded benefits to the biosphere (i.e., a greener planet and enhanced crop yields).
In other words, nobody is denying that climate changes, nobody is denying that the planet has warmed by 0.8 degrees C in the last 150 years, while only a handful deny that carbon dioxide (and other greenhouse gases) has the power to influence temperatures.
What they are saying in their different ways is that "global warming" – as in the big scare story that the planet is heating up at a catastrophic unprecedented rate because of man-made CO2 emissions – is bunk; or that the methods being used to combat the problem are bunk.
Here – courtesy of Kenneth Richard, who has waded through them all – are some examples of what they say.
It's the sun, stupid! (106 papers stress solar influence on climate)
It has been widely suggested from both climate modeling and observation data that solar activity plays a key role in driving late Holocene climatic fluctuations by triggering global temperature variability and atmospheric dynamical circulation
Periods with few sunspots are associated with low solar activity and cold climate periods. Periods with many sunspots are associated with high solar activity and warm climate periods.
The main driver of the large-scale character of the warm and cold episodes may be changes in the solar activity
Climate influenced by natural oscillation (eg El Nino; La Nina)
 It is well known that most short term global temperature variability is due to the well-defined ENSO natural oscillation
According to our results, the central Mexican climate has been predominantly controlled by the combined influence of the 20-year Pacific Decadal Oscillation (PDO) and the 70-year Atlantic Multidecadal Oscillation (AMO).
Our study demonstrated that floodfrequency and climate changes at centennial-to-millennial time scales in South Korea have been coupled mainly with ENSO activity
Modern climate in phase with natural variability
20th century precipitation variability in southern Tibet falls within the range of natural variability in the last 4100 yr, and does not show a clear trend of increasing precipitation as projected by models
Overall, the inter-annual and inter-decadal variability of rainfall and runoff observed in the modern record (Coefficient of Variation (CV) of 22% for rainfall, 42% for runoff) is similar to the variability experienced over the last 500 years (CV of 21% for rainfall and 36% for runoff). 
Volcano/Tectonic Influence on Climate
This yields a coefficient of determination of .662, indicating that HGFA [high geothermal flux area] seismicity accounts for roughly two-thirds of the variation in global temperatures since 1979.
[M]ore than half of the agricultural crises in the study region can be associated with cooling caused by volcanism.
Greenhouse Effect Not the Main Driver of Climate
This paper demonstrates that globalwarming can be explained without recourse to the greenhouse theory
…No evidence is found that changes in atmospheric CO2 are related to fossil fuel emissions at an annual time scale.
 Our results permit to conclude that CO2 is a very weak greenhouse gas and cannot be accepted as the main driver of climate change
Climate Models are Unreliable/The Pause is Real
The science publication Nature Climate Change this year published a study demonstrating Earth this century warmed substantially less than computer-generated climate models predict. Unfortunately for public knowledge, such findings don't appear in the news.
Observations indicate that the Arctic sea ice cover is rapidly retreating while the Antarctic sea ice cover is steadily expanding. State-of-the-art climate models, by contrast, typically simulate a moderate decrease in both the Arctic and Antarctic sea ice covers.
 We conclude that climate bias-induced uncertainties must be decreased to make accurate coupled atmosphere-carbon cycle projections.
Despite the ongoing increase in atmospheric greenhouse gases, the global mean surface temperature (GMST) has remained rather steady and has even decreased in the central and eastern Pacific since 1998. This cooling trend is referred to as the global "warming hiatus"
Renewable Energy/Climate Policies are Failing
 [A] preindustrial climate may remain a policy goal, but it is unachievable in reality
While many modelled scenarios have been published claiming to show that a 100% renewable electricity system is achievable, there is no empirical or historical evidence that demonstrates that such systems are in fact feasible.
The total social costs of ethanol blends are higher than that of gasoline, due in part to higher life-cycle emissions of non-GHG pollutants and higher health and mortality costs per unit.
BEVs [Battery Electric Vehicles] are designed to obtain more environmental benefits, but the energy consumption and GHG emissions of BEV production are much larger than those of ICEV [Internal Combustion Engine Vehicles] production in China.
Wind Power Harming the Environment
Our resultssuggest that wind energy development may pose a substantial threat to migratory bats in North America.
The research indicates that there will be 43 million tonnes of blade waste worldwide by 2050 with China possessing 40% of the waste, Europe 25%, the United States 16% and the rest of the world 19%.
Numerous wind farms are planned in a region hosting the only cinereous vulture population in south-eastern Europe […]

[…] Even under the most optimistic scenario whereby authorized proposals will not collectively exceed the national target for wind harnessing in the study area (960 MW), cumulative collision mortality would still be high (17% of current population) and likely lead to population extinction.
In 2016 there were 500 peer-reviewed scientific papers published in scholarly journals (Part 1, Part 2, Part 3) challenging "consensus" climate science.
Together with these 400 new papers, that makes 900 science papers in the last two years casting doubt on global warming."
That's it for now…
Cheers.
Franque23
*     http://www.breitbart.com/big-government/2017/10/24/delingpole-now-400-scientific-papers-in-2017-say-global-warming-is-a-myth/
This Town's Walmart Was ABANDONED. What They Did Inside? Oh My Gosh!!!
(This article and the pictures written by another are from 2012. Maybe you've seen this, but if not I thought it too great to not pass along.)
This will be my last post for weeks, and it's fitting that it's about a huge Library of unusual circumstance. I've worked at our Library for the past 22 years and always have admired how we strive to keep the community informed through open access to information. This library in the story, like ours,  is a real  community effort, a great undertaking with surprising results. I hope you enjoy this feel good story.
"A lot of people, including myself, are fascinated with abandoned locations. We've been lucky enough to actually write about a few of them here at LittleThings: we've seen abandoned resorts, stadiums, psychiatric hospitals, and even train cars.
Many times, these buildings will just sit there untouched and slowly fall into ruin. They are often covered in graffiti, decked in spider webs, and they look like something out of a horror film.
McAllen is a town in the southern section of Texas that saw one of its Walmart locations go out of business and sit idle for many years. After the store shuttered, it eventually fell into the property of the city, and the decision was made to turn the building into a public library.
At the size of nearly two-and-a-half football fields, it is now the largest single location public library in the United States.
Learn more about the building by reading below, and please SHARE if you think libraries are a vital part of every city!
Photo Credit: ThinkStock/tupungato
The city had 124,500 empty square feet to utilize.
The firm of Meyer, Scherer and Rockcastle, Ltd. of Minneapolis was brought in to design the interior. The redesign was a smashing success among designers. It won the 2012 Library Interior Design Competition held by the International Interior Design Association.
The remodel was also a success for the library's business. Membership increased by 23 percent the year it opened. It has large children's sections, and even has its own sound proof room for teenagers.
It also features 14 study rooms, 64 computer labs, 10 computer labs for kids, two genealogy labs, and 15 public meetings spaces. It's hard to imagine the library being one of the coolest buildings in town, but that's what happened.
There's even a cafe, art gallery, and used book store.
An auditorium hosts screenings, classes, and lectures on a variety of subjects.
I've always loved the iconic New York Public Library, but this one might be even more impressive.
How many libraries actually have people lining up to get in?
It also hosts an immensely popular farmer's market on weekends. McAllen Farmers Market –     The library has become a major part of the community.
Don't you wish more abandoned spaces could be turned into wonderful things for the community. We definitely need more libraries!
McAllen Public Library!!! 
Community efforts bring such great joy. See you next time-
Franque23.
And oh, please enjoy some of the other 570 posts I've written since 2009 while I go 'Dark' for a few weeks. Byeeeeee
(click on the pic for a larger view.)
So it's not just about growing vegetables. I guess Dale and I grow about everything we can—the birds(we get to know generations of Cardinals), the flowers(this Old Man Beard's tree is a wonder every spring)*, the grass-why-oh-why?, 17 citrus trees, several orange varieties, two types lemons, figs, and we've one pineapple ripening now and four more forming with 32 planted. Of course, our pears only yield as squirrel food.  Oh yes, we grow squirrels, like it or not.
Bunch of lemons last year.
Feeding the Gold Finch who fly through in the Spring.
Right now, late August-early September, it's time here in Gainesville to plant the fall garden. I'll be hoping for green beans, potatoes, squashes, lettuce, the yellow squash, dark green zucchinis and tomatoes to come in for Thanksgiving and to freeze to use during the winter months.
The crops of spring or fall vary from year to year. Two years ago I picked 32 pounds of green beans, but this year's spring garden with the same planting produced about 5 pounds?!?! Ya just never know with gardening.
The Gardenia is wonderful, and huge—it's near our front door—but another more unusual planting is directly next to the front door. This indigenous Jasmine is not the kind you so often see growing in clumps around mail boxes or on fence lines. No, this Jasmine grows more like bamboo and even sometimes 12 feet high while dying off to the ground after cold weather. Located in front of our living room  bay window, this plant provides cover from the summer's sun while letting the winter daylight in. I often use the heavier stalks left leafless after a freeze for tomato stakes the next spring.
The night blooms fill the yard with a splendid aroma.
.
Oh, right, we're helping grow Grandchildren as well…
There is nothing like a yard ripened Pineapple.
The start of a pineapple garden.(I got the tops from a grocer.)
Life on the planet is truly amazing.
And although there's nothing like seeing works of man, like a magnificent Greek statue, some of them make me lose my appetite.
As with gardens, ya never know what might or might not pop up now-a-days.
Anyway—-back to appetites.
I'm hoping everything comes up roses this Fall for all of you who plant anything. There's nothing like taking time out to work your butt off beneath the sound of the birds, the wind through the trees and with the sweet smells of Life tickling your nose.
Cheers.
Franque23
*
(I received this letter my sister, Sharon Franquemont, had written to a cousin….as it is, our extended family is about 50/50 Democrat or Republican, though some would be libertarian/green party etc. It got me thinking that, as it should be, we are all together, living through trying times. Internal and external forces are always at work in every society and it remains of utmost importance that here, as Americans, and elsewhere that we keep our dialogues going, open, accepting and informative.)
Thanks, sis, for the read.
"A couple of weeks ago a work colleague who voted for and admires Trump and I had a debate about voter fraud.  What we soon discovered is that we both have completely different streams of news and facts. It was illuminating.
I wondered if our exchange was rooted in Russian generated disinformation campaign with the goal to create division and chaos in our country. Or was this stark reality difference guided by something more internal in USA?
BTW, I think chaos, confusion and undercutting of our Democracy was already in the Russian playbook,  regardless of who won the election. if Hillary had won, we'd be hearing about her email fraud, her corrupt murders and bribery, so I don't think this is a Trump issue. He is far worse than I expected and I expected pretty someone horrible—never believed he was a wise businessman capable of making 'deals' that would lead us through to the other side.
And, I never forget that many of my Republican friends were equally horrified by Obama's Presidency.
As to Climate Change, in 1993 I met my beloved friend and soul brother, David Berry. We worked collaboratively on the volunteer Prayer Vigil for the Earth in DC for 20 years.
At the time I met David, he was working for the Department of Interior and was interested in interdepartmental sharing of environment data  He formed an after hours working group across many of the departments and they began sharing data. This after hours working group eventually lead him to an assignment in the White House working directly for Katy McGinty's Council on Environmental Quality.  He later became known internationally and is now an honored elder member of the Balaton Group, an elite global sustainable group, and also chair of the USA Roundtable on Water.
Somewhere around 1999 he started very privately telling me and others that statistically there was no turning back. Humanity was over the edge and the Earth would become increasingly hot, seas would rise, and environmental degradation was already on the way.  I worked through a lot of horrible thoughts and feelings about this, but landed on this may or may not happen.  Thus far, it looks like it is happening.
Beyond David, Maurice Strong, the 'father' of global sustainability in that he convened the first UN global conversation on the issue in 1972, the 1992 Earth Summit in Rio and 1995 follow-up, and his wife Hanne Strong have been friends since 1995.  Although Maurice died a few years back, I've followed via them the perilous path of bringing these issues forward.
I have zero interest in debating Climate Change's reality with anyone. Ultimately, time will reveal the truth.  Will I stand for Climate Change work? Absolutely.  Do I think, given the state of everything now, Climate Crisis is on the horizon? Yes, I do and not sure what we can do about it, but acknowledge its high probability. Humans have amazing ingenuity and adaptability, so I remain more hopeful than many, yet preparing honestly for different future topography and weather patterns seems like a good idea.
But the issue with you is far broader than Climate Change. I have zero trust in the sources you've been quoting and advocating since we began our conversation. And, it even goes deeper than that. Our 2016 conversation on the dock reached for me a critical point when realized how very different our values are. From that perspective, I wasn't sure how useful our exchange could be for either of us, so was glad when we switched to saying that the systems were suspect.
You and I have been close for many decades and, perhaps lifetimes, if one believes in those things.  May I request that you stop lobbying me from Breitbart or similar news sources.  No, I don't believe in Bannon's philosophy or predictions for coming world wars, unless of course, he and the administration are instrumental in creating them.
I cannot fathom your and others continual support for Trump and his administration.  God help us.  I mean that literally.
With abiding affection from a different world and world view,"
Americans hold many world views and freedom of speech is a building block of our society. I have to say, it does bother me how those who oppose the views held by the Alt-right or Neo- Nazi ideologies are often referred to as Leftists in many columns. Thing is, while some who oppose the KKK and Alt-right may be leftists, the basic truth is many claims made by the alt-right, KKK, or Nazi sympathizers are not within the fundamental frame-work of ideas most thought to be American. Many who oppose the radical right marches are simply, Americans.
Peace-
Franque23(Thanks for the writing, sis.)