You are currently browsing the tag archive for the 'history' tag.
This isn't a political coup but a chicken coop. That's right, so far our GOP representatives who we desperately need to uphold the ideologies of a true conservative party are only interested in scratch—money that is, and what appears to be 'dirty' money as well. Money and the power it brings, basted with a heavy handed load of chicken-shit fear is what drives most of our GOP Senators and House members.
How low can you go to be elected to uphold the constitution and turn it into a verbiage of meaningless mosh-pit misdirection's as though it was used toilet paper from another era? The clucking never stops from our GOP representatives. Lindsey Graham alone has demonstrated how two faced a politician—a politician mind you!—could ever be.
Fact:
Now, Lindsey Graham blows all of Trump's crimes off as though they are nothing burgers, (his words,) but this wasn't always the case with Graham when it came to a president committing high crimes and misdemeanors.
How in the world can Lindsey twist out of his skin at night to sleep well and then twist back into it to be the slimy snake of a man he is by day?
Claim: U.S. Sen. Lindsey Graham argued in 1999 that a crime wasn't necessary for presidential impeachment.
Claimed by: Multiple Sources
Fact check by Snopes.com: True
To hear Lindsey Graham's own words on this subject. https://www.msn.com/en-us/video/t/lindsey-graham-once-said-not-complying-with-congressional-oversight-was-an-impeachable-offense/vp-BBWkoQQ
Now, according to Graham, trump can't be held accountable for any offense.
And, as astonishing as it might seem, Moscow Mitch McConnell out plays Lindsey Graham when it comes to being a two-bit liar wearing a Russian suit.
There isn't a prison cell small enough for the two of them. They are both traitors. They spit in the face of our constitution and relish living the lavish lifestyles they reap from their hoodwinked constituents.  Moscow Mitch often responds to questions about why he has held up over one hundred bills from coming to a vote on the Senate floor with: 'Because I can.' You see? Moscow Mitch doesn't even entertain the notion that he is motivated by a sense of duty to America and our constitution. Moscow Mitch and Lindsey-the- slippery are so far down in Russian pockets a dry cleaner couldn't get them out.
It's tempting to think the followers of these GOP chicken-shit leaders who tremble at the mere notion of having to endure Trump's scorn are worse than these non-leaders, but they aren't. No, voters get tricked, lied to, misled, dissed and crapped upon by elected officials all the time. Thing is, the lying elected officials do know what they're doing and saying; their corruption is in their mirror every morning for them to see.
Moscow Mitch and a side-kick on a good day.
No one can count on these chickens to hatch anything but money for themselves.
The corruption within this current GOP Senate and House of Representatives makes the Tea Pot Dome scandal look like a tea party. Basically, these GOP representatives who fail to rebuke Trump are akin to whores serving us chicken gumbo: they take trump's appointments, as well as the appointment of their wives to other positions, and then do whatever he wants in return for position and money.  Trump's unconstitutional obstruction of justice, his willingness to incite riots or worse in America, his wanton sidestep of the emolument clause and obscene bullying and alienation of America from the world is beyond repugnant.
Talk about a rotten egg—trump has made a killing in causing business and personal bankruptcies.
As ex-GOP Senator, Jeff Flake, said this week*…. "he (Flake) wrote: "Trust me when I say that you can go elsewhere for a job. But you cannot go elsewhere for a soul." Flake entitled his op-ed, "There's still time to save your souls."  This pronouncement should ring a bell in the minds of Christians and pseudo-Christians alike: it's time for all of us to stop dancin' with the devil and run to a higher, moral ground.
Googling ,'Trump and ganster,' brings up 21 million hits.
Chicken-crap politicians need to be plucked from Congress and put in a cell with a cot and pot. Vote these lying chicken-cluckers out of office in 2020. America has lost jobs, lost food production, is selling nuclear secrets to the Saudi's and is now polluting our drinking water and rivers.  This administration and GOP Congress is not a nothing' burger, but simply one big splattered chicken-egg of failure and lies.
We don't deserve this chicken-shit stew Trump has put us in.
Take a leap of faith and vote in 2020 like America depends upon this upcoming election: it does.
Cheers-have a nice day. GOP=chicken gumbo.
Franque23.
*https://www.foxnews.com/media/jeff-flake-republicans-save-soul-trump-impeachment
(Click to enlarge the pic!)
That's how we watched the TV series back in the day: in black and white. Thing is, we can argue about the color of Jesus all centuries long but The Lone Ranger, the real deal, was a black man named, Bass Reeves.
Reeves is on the left—the real Lone Ranger.
This revelation started when I couldn't get the theme music of the Lone Ranger TV series, William Tell Overture, out of my head while at work! It took another day of brain churning for me to figure out why. As a kid, I believed in this masked man who sought to right the wrongs in the world. My white hero in his white hat, guns blazing while riding a huge, white horse was sorta like a horse ridin' Superman. Now, I suspect the music came back to me due to all the troubles we have in our country, and from an internal longing that someone other than Mighty Mouse( come on—he's not real!) would come save the day!
Anyway, This pestering racket of a theme song lead me to look into the history of the show.
Just wow… I was amazed to find this….
"What Reverend Haskell James Shoeboot, the 98-year-old part-Cherokee Indian, was about to tell Burton(the man researching the Lone Ranger) would persuade Burton he'd stumbled upon one of the greatest stories never told.
Born in 1838, Bass Reeves was a former slave-turned-lawman who served with the US Marshals Service for 32 years at the turn of the 20th century in part of eastern Oklahoma and western Arkansas known as Indian Territory. Though he was illiterate, Reeves became an expert tracker and detective…"*
Reeves as a slave took his owner's name. Near the end of the war (he fought for the south) Reeves traveled to Oklahoma doing odd jobs and learned several Native American languages.(I suspect this is when he learned to track.) The government appointed 300 marshal's to tame the west and—Reeves was one of them…
Reeves, you guested it, is in the red circle.
"…Federal law dictated that deputy US marshals had to have at least one posseman with them whenever they went out in the field and often, the men who assisted Reeves were native Americans".*
Soon, it became evident that this Reeves fella could out shoot, out ride and captured criminals better than any lawman in the west. He wore a white hat unlike most other marshals and beneath him galloped a huge white horse.
He gained a swagger as his arrests piled up. How many arrests? It's written this one man captured over three thousand men who'd gone bad out west. In one day, as the history goes, he arrested thirteen men at one time!
These three thousand criminals all went to Chicago's prison and it's there guards learned about Reeves from the inmates. The first radio show about, The Lone Ranger, was produced in Chicago in 1933.
But how did Reeves become so successful?!?! We all have heard about how, Tonto, the Lone Ranger's sidekick helped him track criminals.  Well, 'Yes Virginia, there is a Santa Claus!'
This is the only magnificent picture I could find of the real Lone Ranger and Tonto together. Tonto was said to be a Potawatomi Indian – the same tribe that was forced to move to Oklahoma.
Bass Reeves was famous for wearing disguises to help in his investigations and arrests. He dressed as beggars, hobos, farmers, city slickers and lunatics to get his men and it paid off. One night, he walked 28 miles to a homestead where two wanted men were said to be staying. For authenticity's sake, Bass dressed as a man who'd been robbed at gun point and lost everything. He put three bullet holes in his hat, wore worn out shoes and scuffed up clothing. The mother of the two wanted men answered her door and Reeves quickly got inside with his story and stayed for dinner. Soon, the women's two sons returned and they all had a time talking. Reeves was asked to stay the night.  He handcuffed the two criminals while they slept and walked them 28 miles back to his camp with their mom yelling and cussing at Reeves all the time. But, why did Reeves go to so much trouble!!! The reward for these two men was Five-Thousand dollars….a huge sum back then, and Reeves left nothing to chance.
This is Reeves with his wife; he spent his money wisely on her attire, don't you think?
So there was a Lone Ranger and a Tonto…
But they never looked like this. They may, however, had conversations like this IF the nicknames used on the TV show were fact based.
Loosely translated, Tonto might mean, 'You don't know much…' and Kimosabe,… "In Apache, it means "white shirt." Who knows — maybe Tonto also had to do the Ranger's laundry and was actually constantly reminding him to avoid grass stains. In Navajo, on the other hand, "kemosabe" translates as "soggy shrub."**
Of course, TV producers heard the stories and wanted a show. Thing is, Reeves was the wrong color for a TV hero back then. The solution was to introduce him in black face, which they did. The original black mask worn by the first actor portraying, The Lone Ranger, nearly covered his entire face. It was policy at the time for a white man to wear a 'black face' or black mask of some kind when portraying a black man on stage.
The whiter The lone Ranger became by legend, they smaller his black mask.
There it is! Bass Reeves was a truly extraordinary hero for law enforcement in the history of the west.  And, oh, one more thing—about those silver bullets the Lone Ranger was said to leave as calling cards. Actually, Bass Reeves left silver dollars. Really! Bass had that much money.
Hi-Ho Silver… Bass made a killing at law enforcement. He died a peaceful death in 1910. I suspect, as a master of disguise, he never cared that no one knew who he was. He got the criminals, the gal and the money—that had to be enough.
This statue honoring Bass Reeves was recently put up in Fort Smith, Arkansas. The statue is bronze, but our 'white' hero, the Lone Ranger, was definitely Black.
Franque23 rides away until another day!
*https://www.telegraph.co.uk/culture/film/10131675/Was-the-real-Lone-Ranger-black.html
**http://www.word-detective.com/2011/07/kemosabe/
*
A very blue wave.
A couple of thoughts to light up the season.
It's no secret Republicans took a whippin' in the 2018 mid-terms. The House of Representatives flipped blue by a large margin and likewise Republicans lost State representatives seats across the country. This was much more than a ,'standard,' mid-term correction vote. This vote was a cry heard loud and clear by both party's. Republicans were able to hold Texas, slip by Florida and out-right cheat to win Georgia, but over all, the party took a slogging at the polls.
What appeals to me most is this blue wave came about via standard rich donors as well as grass root donations. The tide is more than turning blue, the presence of foreign donations via secret PACS may be washing away, and gerrymandering will be re-whittled in many states. I'd say new people running for office—so many women—(Right? :-))along with Pelosi's help kept most races on point: on healthcare concerns, medicare and social security.  But there's still a lot of fog surrounding these issues and how best to drive them home in 2020.
2) The charge for climate change is well meaning but poorly framed for those hoping to gain a political leg up in 2020. It's a discussion that can't be won by scientifically based facts or mouth foaming, delusional thinking. Nope, the world has spun too many times for any of us to prove warming trends that spell disaster are part of natural course within the World's environmental history or not.
Nope, arguing over climate change is exactly what Trump wants his opponents to do.
If you like Trump, argue climate change.
If you hope Trump falls into an oil slick laden with Red Tide, argue pollution.
In fact, if you want to win in 2020 steer clear of climate change. Instead, ask voters to raise their hands if they want toxic drinking water? Do they want to swim in oil slick oceans? Let's count the hands. Do people want to bathe in fracking industrial waste or not? Let's hear ye! These are issues Trump's policies fail to address, worse, they add to the pollution of our living environment.  The beauty of focusing on pollution instead of harping about climate change is that IF we  get control over pollution we will actually be doing all Mankind can do to stem climate change. No, controlling pollution may not solve climate change, but attacking and ending pollution is the best we can do about it. Point: sidestep climate change in 2020.( Put a small boat in your backyard instead.)
Now, a prayer. I pray for wisdom we haven't seen when dealing with the marching South Americans. Some politicians are starting to ask why we are sending soldiers when we could have been sending help? Yes, the policies of Trump on this issue are plain wrong. If you see a problem coming there may be another way to solve it other than fighting it.
We need more Zen in our leadership.
America, BTW, is huge and loaded with tons of money and power.  America can and should have mobilized a huge peace force sort of coalition to march on down to our boarder via govt. funded fare to build housing for these people who flee for their lives and march to the U.S. If you're getting checks from the U.S. for not working, I say you're on the planes. We're going to use as many U.S. products as possible to build communities where these people can stay until entirely vetted, politically and health wise.  Bingo American industries of every sort—you just struck it rich by a huge government demand for every commodity you produce! They need food? Bingo, mid-west farmers! Your load of customers just arrived and our tax dollars will buy your food and ship it to where it's needed.
But where will the money come from to support a Hoover Dam type project to turn an unused place into a living space? It's called tax dollars—you know the ones our government wastes every day in about every way.
Idea! We could start finding the money needed to house these immigrants by dropping 50% less bombs around the world every day.  If we did stop our morbid need to bomb the world, our government coffers would be raining money instead of death and destruction.
Think about it: imagine. The U.S. actually accepts a large immigrant population wisely, securely, without shooting or jailing a single kid! America shows what must be done to support and help our migrating populations the world over!!! How neat it would be for America to become world leaders, the ones who saved the world once again!
There it is: thoughts and prayers done right, without guns but with brain power, might, will, huge amounts of money and a willing workforce. There it is: a booming economy led by successful life giving policy. There would be wrinkles to iron out, but this should have been our focus, not walls, closed boarders and an army.
The up and coming new lot of Democratic politicians understand that thinking straight is easy to do. Here's five examples of women who schooled together, stuck together and all won seats in Colorado  state Legislature in 2018.  This article is quite a read; a map to political success and strength.
https://people.com/politics/five-female-friends-state-senate-colorado-won/
Cheers
Franque23….Om
Please note…this ocean shot is from that ,'sh*t hole,' country, Mexico.
Pumpernickel was the most foreign thing around the neighborhood back in my childhood days. A salted Frito was the a vanguard chip and guacamole remained a word hard to pronounce or spell. Now? That long ago time resides on the far side of a poorly mark rut in the road of life.
Certainly, I grew up in a part of America awash in feel good innocence. Then, it was a time of hope for those who lived under the disappearing shadow of World War II. We were the champions of the free world; the winners.
Grandpa was proud of his four boys who all fought in WW II (Dad is second from left.)
Flash: think no computers, no cordless phones of any kind, no internet, no chat, no what's up, no what's anything but for phones in phone booths or in homes that featured a brand new item: a tube TV  with about 3 to 13 channels. Now, I wonder what we all did all day?
Morality was a given…
Every kid knew to cross their fingers if they were going to lie; every guy knew girls were not only softer than boys, but annoyingly smarter as well. Still, none of us perceived a battle of the sexes or a societal wrong that had to be righted. Heck no, elementary school years were filled with just people—guys I palled around with and girls I was thinking about getting to know.
Things started to change in Junior High. (1960ish). The fall out of line and get hung out to dry clicks appeared. Guys and gals mostly formed into three groups: the hoods, the sport rats and the way smart what's up with that group.
Now, the hoods were bad people because some of them smoked cigarettes and they often wore black shirts. (Really not kidding, and I could almost add, they chewed gum in school) The sport rats, the group I belonged to, never smoked cigarettes and we wore saddle shoes.
Clearly, these huge differences were cause for great concern and animosity. Oddly this huge division between the Hoods and Sport Rats meant the gals had to decide which group to belong to and those lines once drawn rarely, if ever, changed through High School. I once ,'hit it off,' with a gal from the hoods in history class and we became fast buddies. But, when I suggested a soda, she told me, terrified, "Oh no, I could never do that. My group would go nuts. Plus, you don't know what I do." So, I realized she smoked cigarettes….sad.
It was an innocent time compared to the likes of today.
Of course, I was young, free to smell the dandelions as I ran across our neighbors' yard. I was free to imagine that near about everything America stood for and did was good and right. I was free of a bombardment of contraptions that now give us real-time access to things that are happening beyond our sight!
Please, if you are semi-young, like under 40, Imagine this: there was no news until the six o'clock T.V. broadcast; there was no minute-by-minute news of your friends, no daily breaking political sirens. Even the stock market could rally or crash without a peep until evening. Every thing, every day, was on hold until evening. People went to work without worry or care about daily events until nighttime, until they'd gone home and had a cocktail, a smoke or rest.
In many ways, the multitasking, tied to your smart phone generation is cursed with too much information.
Call me old fashion? Maybe try hiking or camping and leaving, God forbid, your smart phone at home. There's a world waiting for you to discover, one I grew up in, a world of be here now without interruption from things you can't change anyway.  There's a world of freedom waiting for you but for one thing: you can't put that smart phone down.
If the world today were to sculpt a representative statue of Mankind it wouldn't be, The Thinker.
No, it would be a person looking down at their smart phone or taking a, 'Selfie.'
The interactions that sooo many studies show are healthy for us—the eye contact, the smiles, the greetings—are now lost to bent heads looking at smart phones…
No, I'm not old fashion: I'm right. Put your phone down for at least one day per week and see how many eyes look your way. The worlds' presence will once again be yours to see, and it is amazing.
Franque23 dares you to do it…
Simply amazing.
My wife recently told  a news story on T.V. to "Go Fund Yourself." It broke me out in fits of laughter….as my wife often does. She's smart, a wit-full companion that keeps me thinkin'. Thing is, my first editor of everything you've ever read from me is also sharp, and more helpful than you know…. Barbara sent me this tonight,, and I thought in our time of strife it might do us all good to take a look at the,'Will  to Survive'. It's in all of us, to fight for existence, and that we shall prevail…just look at the trees: they lead the way.
Enjoy, and thanks again to Barbara for the link.
Peace, Franque23
Trees have been around for about 370 million years, and as you can see from these incredible pictures, there's a good reason why they've survived for so long.  Whether they're growing in the middle of gale-force winds, on the tops of rocky platforms, inside concrete tunnels, or even growing out of each other, trees know how to survive in places that few living organisms can, which explains why the planet is host to around 3 trillion adult trees that cover an estimated 30% of the earth's land.  Considering that plants produce the vast majority of the oxygen that we breathe, we should all think ourselves very fortunate that trees are as resilient as they are.  We wouldn't even be here if they weren't.
#1  A Place Of Enchantment

#2  This Palm Tree Fell Over And Curved Right Back Up

#3  This Tree Fell Over And Grew 4 More Trees Out Of Itself

#4  The Only Tree That Survived The Tsunami In Japan Between 70,000 Trees. Now Protected And Restored.

#5  Tree Of Life – Olympic National Park, Washington

#6   A Tree's Root Spill Over The Sidewalk

#7   Nature FTW

#8   A Tree Growing Through Speed Limit Sign

#9  This Tree That Refuses To Die

#10  This Tree Still Has Its Leaves Because Of The Light Shining On It

#11  Life Finds A Way

#12  Tree Roots Extend Across A Gap To The Mainland For Nutrients

#13  Life Finds A Way

#14  Ta Promh Temple In Cambodia

#15  Striving

#16  Someone Hung His Skates On A Small Tree When He Was Younger. He Forgot He Had Left Them There And Found Them Years Later
#17  A Tree Growing On Another Tree

#18 This Tree Is Growing Out Of Another Tree

#19 This Tree Grew Out Of The Stump Of A Dead Tree And Then The Stump Rotted Away

#20 A Tree Grows From Third Floor Window

#21 Life Finds A Way

#22 I Spent Ages Staring At This Tree Before Taking This Pic. I Hope You Find It As Fascinating As I Did

#23 This Floating Island That Grew At The End Of A Partially Sunken Tree

#24 This Wooden Chair My Parents Bought Started Sprouting Leaves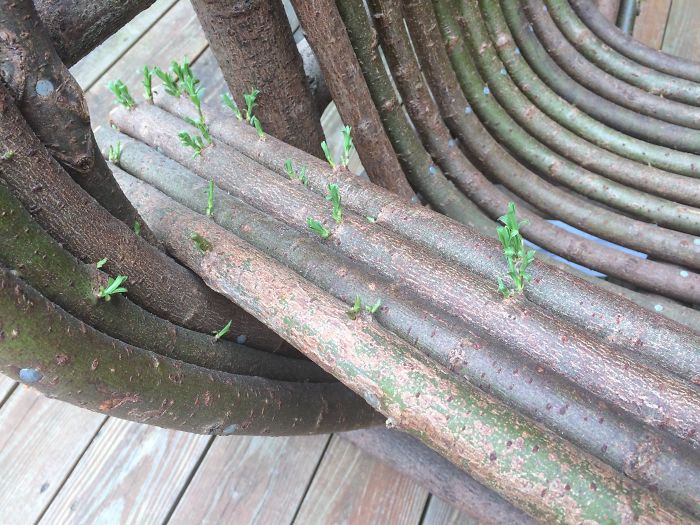 #25 The Old Piano Tree

#27 One Tree On My Street Refused To Accept Winter

#28 My Sister's Tree Is Eating Her Fence

#29 This Tree Growing Through A Fence

#30 Life,Uh… Finds A Way

I've always loved seeing movie footage of the past. It makes this short film below that more special in that I was born and raised just outside of The Big Apple and considered it my stompin' grounds during my High School days.
More, I've had a couple of odd coincidencedinks in life that revolve around my early years spent in New York City. I'd often spent time in  New York City, The Village,  roaming the walk down shops after munching on a seventy-five cent pizza slice. By far, the Leather shops were my favorite to visit. I was immediately attracted to the smell of finished leather goods, their shine, polished to deep warm browns or beige and tan colors.  One shop owner in particular was a bit more out going than most, and that was wrapped by a quick sense of humor all tied together by tremendous wit. His name was, Byan. He stood tall with penetrating dark eyes that glowed above the flash of  his smile. Our conversations were never long but they played in my head usually throughout the following days. Mysterious, that was the word for this fellow.
Fast forward eight or so years and I'm attending a bluegrass festival in Hog Town Creek, just outside Gainesville, Florida. I was singing lead for an agent at that time, traveling to gigs with one of the three bands he managed. I'm thinking my pay was about a flat 75 dollars per week. The music drew me to the festival and there the smell of leather goods at a nearby booth attracted my attention. Sure enough, it was, Byan, running a leather stand. It turned out his parents owned a ranch nearby and he'd left NYC to return to his family's home. He wanted to learn how to play guitar and I was intrigued with leather work… We traded skills and I ended up being a leather worker running three shops for the next 14 years.
Of course, there's more. I got to know my wife of 38 years while  learning the leather trade from, Byan. We made items for the local leather shops in Gainesville—there were about four of them in town. I often worked on sewing leather hats of all shapes and sizes. A few years later found my wife and I working into all hours of the night sewing wallets and visors as we started our first leather business. It was years later when all of this came to circle.
Thirty years later, my wife and I visited Denton, England, along with her Brother and his wife. It was there that my wife's family were once hatters. It turns out they started in Denton and finally made it to New York City and I suspect made ,'a killing,' as they say in retail. Why? Well just look at what everyone is wearing in the film below. Wow. The story of my wife's ,'Hatters,' family is also amazing, but that's for another time.
Enjoy this glimpse into another era; a time gone by.
One more thing: the air seems much more polluted in this film than it appears to be in New York City now. Maybe too much,'Clean,' coal back then?
Franque23
I'm thinking eating an apple and then a banana could make a person fart? This could be trouble. I'm working the public service desk for the nest 5 hours and I just consumed both! If the answer to my first important question of the day is,'Yes,' I can only hope some service dogs come in. The good news? I'll be the first to find out the validity of the premise so I can quickly leave my area in search of a book or some other task.
Question two for today: Has our Supreme Court always been strictly a partisan affair and corrupted by outside interests? I didn't believe so as a child, but , then again, I also believed in Santa Clause.
My take of the Kavanaugh selection? The vote was 48 NO to 50 YES for confirmation. This means there were 48 correct votes and 50 wrong—that's about it. For liberals, the future for Supreme Court decisions looks bleak; that the Supreme Court no longer appears to have a swing voter might wreak havoc as decisions come down during the years ahead.
Third question: Why is the suffix, 'Jerry or Gerry,' such a derogation? We have the, 'Jerry's' (the German soldiers during world War 11) and, Gerrymandering, (Pretty much the sole corrupt political device that secured the election for many candidates throughout our country.) If something has been Jerry-rigged it won't work for long—we all know that. But did you know, "Jerry,' is another name for Chamber Pot!?!?!OH I know, a chamber pot was well received when needed, but it still seems to be a bottom-of-the-barrel sorta thing.
So why does all this matter? My name is Gerald, often turned to, Gerry, by family and friends, so I'm a bit sensitive to having a name associated with, 1)the enemy, 2)corruption, 3)something that won't be any good or, 4) a piss-pot and worse. This is why being called,'Franque,' by friends on athletic teams in High School was such a relief!
Fourth question: Since 1996, Medical Cannabis sales tax collection in states that have deemed the drug legal for medical use has totaled over, One billion, two hundred eighty-five thousand dollars. These are the medical sales. Imagine if the illegal usage sales and the tax charged were added to this figure? Why in any Capitalist's, rational head would it seem good to not legalize Pot?* Folks—we have a bunch of seeds and stems running our DOJ (Department of Justice). (Sessions is a jerk).
Fifth question: Why do so many men seem to hate women? Last time I looked, read or have been told, every man on the planet came by way of a woman. Or, is this alternative fact?
So many men lust for the same-sex they hate, demean, exclude from human rights that our world seems a whirling dervish of septic brain rot. For now, unfortunately, this is the good news. The over-all history of men's atrocities toward women makes our current societal condemnation of women an improvement of epic proportions. I've always had a,'soft-spot,'(meaning I care?) for the plight of the Native American's and for all indigenous people. Thing is, take any total number of any single group who has been wronged in history and put that figure against the number of over one-half of the world's population throughout history—that would be female—and imagine which number is larger. See? Women make up the largest group number of people tortured, used, abused, slaughtered and misaligned in the history of Mankind. And I do wonder about the term, 'Mankind.' Divide the word, Mankind,(Man—kind) and see that each half of the term is kinda off.
Sixth question: Why are so few patrons coming to the service desk? Hmmm. And no, that was a burp-I swear.
Franque23 loves bananas and apples.
*https://www.forbes.com/sites/andrewdepietro/2018/05/04/how-much-money-states-make-cannabis-sales/#28e12c8df181
(Please note the book recommendation below this post.)
Of course, the President's so-called tax breaks are simply theft from the American workers to give more money to the already super wealthy—everyone knows this. And dropping controls on pollution dumping into our streams and rivers is completely stupid. Everyone knows this as well, even if they drink the, "Kool-aid." But,  why do some people support agenda's that they know are wrong?
Definition of brainwashing 
1: a forcible indoctrination to induce someone to give up basic political, social, or religious beliefs and attitudes and to accept contrasting regimented ideas(Merriam-webster)
That's right. People support ideas and practices that they know are wrong because they have been brainwashed to think differently about what they know is true. This is what has happened to the Trump supporters. And, really, I don't blame Trump's supporters for their beliefs as much as I want them to understand what has happened to them.  We need Trump's supporters to, 'Snap out of it.' We need our republican counterparts in this society to  wake up and smell the coffee; we need to understand that many of us have been indoctrinated to vote against our own well-being.
The GOP regime has relentlessly assaulted the American voters with a barrage of fear-loaded slogans that aren't true, (Immigrants are taking your jobs—not true.)slide-of- mouth motto's (America, love it or leave it—against all American principles!) Make America great again!—ha!, and the famously flawed,'Trickle Down theory'.) It's all a lie told over and over again,.
The verbose reiterated barrage against pollution controls, banking regulation, the U.N, the Gay, the Woman and less fortunate are all lies propelled into the minds of so many. And all of them by means of one simply truth: say anything well enough, long enough and often enough and it doesn't matter whether it's true or not—people will believe what they have been taught to believe through repetition.
But is Trump a fool? Many point to his mid-range popularity and say, "It ain't so." But here's the thing: Trump's standings, polling, none of that changes what he is: wrong in just about everything.
Trump's poor vision with regard to pursuing fossil fuel development verses renewable exploration and expansion, his disregard for increasing pollution, human rights, specifically women's rights and minorities, his attack on EAP standards and lack of support for science advancement are a few hot spots to focus on when it comes to thinking Trump a fool.
So much about this man is wrong and stupid, yet so many cheer him on??? I'm thinking a fool can win at cards, but not at life. I hope I'm right. Right now, we're in the mists of a Russian(and others) financed brain-washing campaign of the American people. The results aren't pretty.
Like it or not, our population has been worked on by powerful interests so that we've become divided from one another. We've been told that the under educated cannot reason or fend for themselves(not true); we've been told that 'Southerner's,' are racists and that blacks and minorities are somehow inferior(not true). And to what gain? Remember, United we stand; divided we fall. This is why some American's have been taught to hate and disregard reason. The powerful want to control us, use us, and all to their own gain at our cost.
The first thing to teach an indoctrinated, brainwashed person is that they have been. This is the first step back to reason.
Marching, yelling and sign holding might help identify our difference of opinion, but teaching and informing our populace about the tools being used in our society to cause us to work against our own interest is of utmost importance. We need to identify those mechanisms present in America that work to divide us and cause us to not protect our own welfare and root them out.
Now is a great time to understand we have been brainwashed as a people. Now is a great time for us to trump this brainwashing and get back together.
Franque23
History can teach us a lot and, Revolution is not a dinner Party, by Compesti, gives good insight into China's Mao zedong revolution..maybe at your local library…too.
https://www.amazon.com/Revolution-Dinner-Party-Chang-Compestine/dp/0312581491
About that Morgan-Franquemont conflict: The Royals verses the pirates.
It's a miracle any Morgan Pirates survive, with Joe Morgan driving off of bridges as a kid, with ladies running a muck who need,'How to wear hat lessons,'(This photo blocked by the Who knows Who) and Dave Morgan, now gone, bless his soul, who once fell into the brink at age three without a care in the world or knowledge of how to float. Ripley's Believe It or Not has maybe called me twice about this family,* but I've taken the high, Royal Road and decided to write this glob only.
To begin, it's obvious the Noble Franquemont line is ready to take control.
It's a Royal bunch…those who will lead us are pictured above and below.
We can rest assured of our humble Leadership.
And here is pictured the foundation of our Royal belief…our backyard entrance to our home's Nobel courtyard in Germany-*(Thanks to my wife for this wonderful shot.)
Should you dare step inside the courtyard of our ancestral home, you would see this.
And here are some of our joined generation that solidified the Franquemont (okay, Morgamont) victory at Lake Bonaparte.
But, truthfully, most Morgan pirates need to be in jail. NO, really, I think I could sell them time shares in prison!
It's not because of their politics, their thievery, their gluttonous drankin' and absolute aversion for just about anything normal, no,,,these are their very best parts. The worst of the lot lie in the shadows of innocent looks, half bent smiles and spineless attacks when the Royal Franquemont Guard is sleeping, or talking , or eating, or just fartin' around paying no attention to the Pirates.
Do you see how young the pirates begin to sneak their way into our unsuspecting hearts!
And Pirates the Morgan's be, every lad and lass of them, the worst sort. Call the cops! No, wait, he's one of them no good, double fistin' potato chip eating lot.
The fellow on the right is by marriage one of them, and he'll arrest anyone of us on the spot—the cop that he is. The middle man, Nick Morgan, be just that, a go between who claims the Morgan name but not the politics. And on the left, a Royal, Craig the Car-is locked,(Carlock) member who listens to all sides.
Well, at least the Morgan's will have trouble posting bail….oh wait, one of them was or still is a fierce bail's man guys?
The Morgan man at Dakota's back was once a bailsmen. Ben the Morgan is now an insurance guy. Ha! He wants to insure your life.
The Crime as witnessed this past July on the 24ish upon the dock of Innocence….
It was a clear day, the waters calm, as I stood unsuspecting on our new dock, recovering from three cracked/bruised ribs, a torn right leg and fatigue it'd cost me to build it**.  Mike the Smile, Pirate Murphy, as he's called, came kayaking up to me all, well, smiles. Aye, if I hadn't been in such a pleasant ruling mood I might have notice his smile seemed a bit skewed. Sure enough , our pleasant conversation was soon followed by Nick the Wicked and his protege, Blake, known as Blinko the Pirate, who laid my smiles to waist. I always take the high, Royal road so I never suspected foul play as Blinko raced up the stairs while Mike the Smile Murphy and I shared conversation. Moments later, Nick and Blinko hauled ass off in their kayak with my beers and soda's in hand!!! Yellin' all the while! This will forever be known as the Slithering Smile theft of 2018.
I'll have em' walkin' the steps to the lake when I catch up to them.
(Our half way dock steps.)
They took my very best beer—not to be replaced throughout the reunion—and some super soda I'd never miss. It was a horrible sight, and then Mike, the bad smilin' Murphy, slid like a snake away in his kayak to follow the pirates.
This is typical stuff from the Morgan Pirates; I have to cheer, Nick Morgan, however, who is smart to realize in his own words, "Trump is a con, a cheat and lizard eating suck head with no brains…"***So there is hope for the genes. Anyway, with our Franquemont Royal empathy I will spare the Morgan lot this time.
For now, let them eat ice cream!
(BTW-this is one shot of the new dock.)
The decree has been decried? It reads like this: "I don't know, something will happen in two years at our next reunion…dead fish in the frig…something." This man in a new Franquemont helmet guarantees it!
Meanwhile, I'll be checking passports when getting aboard from now on.
But there is one more thing. Through tough negotiations, tireless days and nights on scotch and beer, we have decided to claim the Morgamont dock, ( a half-way dock located between the bluff and lake as pictured four shots above), as a safe heaven from any intentional farting, photo bombing or fire burning, stuff like that. It's sorta like during World War 11 when countries agreed to not bomb special places like France's, Versailles, as they bombed and killed 60 million people else where.
We will, instead, follow this new helmet wearing man to the,'New,' Marina and camp ground…
It's all good.
Franque23
Calling me the absolute, forever King will do for now.
Not true….believe it or not.
**Our ancestral home in Germany.
***See previous glob—Bonaparte Dockin'
****This may not be an exact quote….