You are currently browsing the tag archive for the 'love' tag.
I'd found this note in a most unusual place.
Dusty and draped by a cobweb or two, the note obviously hadn't been read in some time. How long would that be? We'd moved into our house over eighteen years ago and others had enjoyed the house before us-how could it have been in place for so long without being noticed? I think it all a miracle!
It wasn't even a full piece of paper but just a part of a larger whole. Folded, yellowed and without line, it seemed marked, creased on its outside, by someones' firm handwriting.
There was no reason to not unfold the paper and read the note; curiosity would clutter my head until I did-I knew. Scanning the words gave me pause.
I fell in love with you at first sight. I knew it then. Nothing was going to keep me from being at your door until you opened it so I might stand by your side. Our faces remained lip-locked for most of that first year, and when we laughed we could feel each others warm breath.
We had no guarantees but for us. Still, that was enough. 
We began our journey into space without boundaries and time no clock could keep. We held hands in super markets-remember? We both loved the beach, the waves, sky and wind in our hair. We ran for miles together almost daily without fail; so much young energy poured from our souls, tingled our fingers and itched our legs that we just had to move. And, all the while, a love for you grew inside me that could never be moved.
You became my home.
Nothing much mattered when it came to things, whether we rented or eventually bought a house remained trappings to the core of us that I held on to so tightly. That soft, core place of love within me burned a fire that warmed each day and night. I worked with you in mind and slept easy with you by my side. 
Years, so many, have passed, and though we'll eventually leave here and find a new place I wanted to take this moment to thank you for being you. I want to thank you for those smiles you flash, that small laugh you often sport, for that all-seeing way you guide us to better places, and for your touch that means so much. And, I should mention the chocolate-chip cookies. 
I'm so glad I wrote you this note; now, if I can just keep track of it until I give it to you!
There was no signature…
I marveled at the words in this note. Who knows how many years it took this person to finally write them down? Had the other person ever read them? It's amazing how something this large in meaning might rest for so long inside a person. So much can be buried beneath a life-time of obligation, jobs, bills, some call it progress, beneath all those words that must be said on a daily basis. It seemed I understood it all; life has a way of moving people around their true meaning, the things that really drive them on.
I turned to bring this found treasure to share with my wife but realized that, of course, she was in Japan-a zillion miles away helping and visiting family. I had just me, my dog, and this note.  I began to fold the note for safe keeping to share later but the note had vanished! I looked everywhere! It hadn't fallen to the floor, slid under the kitchen table or scooted under a nearby tattered chair. No, the note had disappeared.
That's when I found the note in a most unusual place: the one place I hadn't thought to look.
Of course, the note was back deep inside of me.
Dale, I've loved you for forty-five years.
Happy New Year to all of you. Maybe, write a note this New Year's Day, and never put it away.
Peace and Love
Franque23
Merry Christmas and Happy Holidays…this is my seasonal bulletin board and seasonal card to you!
I remember too well the moment I entered my parents Christmas party to sing, Jingle Balls, Jingle balls, to a fit of laughing cocktail holding adults. This was to be my big debut (but why is this spelled like what it was for me?) Anyway, I was too young to take anything to heart, and I left knowing I sang the heck out of that song.
There were so many warm Christmas mornings at the Franquemont household on Long Island. I never lacked for anything; my eyes only looked out with hope, curiosity and with acceptance that I was given by my parents and siblings.  It was an easy breezy life as I ran down the stairs first in line ahead of my brother and sister to race to a present laden Christmas tree. Blocks, coloring books and rocket launchers were the stuff of Christmas. The stockings were stuffed with candy but for that one stupid apple Mom always put in the bottom. Then, I never understood that Mom had been raised on her father's mission in Recife, Brazil,  and an apple was a treasure to hoard for her. Of course, I'd give anything to find an apple put there by Mom in my stocking now, but she is seven years gone. She's a smile in the clouds, the rolling waves at any beach, the diamond stars up north at Lake Bonaparte on a clear, crisp night and the warmth of the beach sand that conforms to my body as seagulls call from above. She is so much of every Christmas.
I remember Dad torturing me by making my ten-year old hands shovel three feet deep to start a new garden. It seemed so wrong to be digging around Christmas, but now I've had gardens here in Florida for the past 40 years. And when I dig dad's eyes are looking through mine and his voice rings my ears with, "That a boy." I hear the eagle call from high above and I know he is there gliding, swooping, free.
Part of getting older is hording a ton of memories. Thoughts of years gone by and the people who stayed with them and left as well are a treasure chest buried deep within, one locked for safety by the heart. I've still journeys ahead, and so many behind. I'd like to think that I've grown wiser with the passing years–certainly I know Jingle Bells now. But, for whatever reason this Christmas day, I found myself walking through our garden and thinking about all the division the world over is experiencing today.
It may surprise you to know that I am several things beyond a library worker, a neighbor, a father, grandfather,gardener, writer of this glob and books on Kindle,a fisherman, builder, but also a minister who was lucky enough to perform the marriage of my niece.  I have a favorite passage in the Bible I try to follow,
Proverbs 3:6
Living Bible (TLB)
6 In everything you do, put God first, and he will direct you and crown your efforts with success.
If all of humanity were to take this message to heart the world would change. I'm certain it is in every  kind religious teachings; if only we could listen. I try to never forget these words as I thank God for every little thing I take time to notice as I go about my day.* Of course, I've fallen as short of this instruction as any could many times, but I try.
So this Christmas, the fertile garden, Mom's gentle smile and Father's certain voice led me to consider what my personal message might be this Christmas.
Here it is:
Being whatever gender or preference you are is a part of the natural passage of humans throughout our existence. We need to stop this fight of exclusion. This is Christmas, and it's a great time for everyone to come to this realization. The stars remind us that the light is within us-if we'd only let it shine. Acceptance feels good; expressing hate or rejection is bad for the soul. We need to let people be.
Sometimes I think the worst word in our language is, 'No.' Using no is quick and sometimes needed, but often it is used when taking the time to teach proactively why whatever is being asked or done is not a good idea would otherwise move the mind forward. The best word in our language is, 'Yes.' I'm going to try to use it more in 2019. I hope you join me. Cast aside hate. Raise hope and acceptance.
Cheers… hugs, and Merry Christmas!
Franque23
I most concur with the, 'God however known,' concept.
They next few minutes will amaze your mind.
The next few minutes will make you question your hearing.
The next few minutes will warm your heart.
How's this for starting off the season right?
Just listen….
Thanks to Barbara for sharing this with me…
Season's Greetings
Franque23 oh wait….now I see they have another and several more…this one's neat
*
A very blue wave.
A couple of thoughts to light up the season.
It's no secret Republicans took a whippin' in the 2018 mid-terms. The House of Representatives flipped blue by a large margin and likewise Republicans lost State representatives seats across the country. This was much more than a ,'standard,' mid-term correction vote. This vote was a cry heard loud and clear by both party's. Republicans were able to hold Texas, slip by Florida and out-right cheat to win Georgia, but over all, the party took a slogging at the polls.
What appeals to me most is this blue wave came about via standard rich donors as well as grass root donations. The tide is more than turning blue, the presence of foreign donations via secret PACS may be washing away, and gerrymandering will be re-whittled in many states. I'd say new people running for office—so many women—(Right? :-))along with Pelosi's help kept most races on point: on healthcare concerns, medicare and social security.  But there's still a lot of fog surrounding these issues and how best to drive them home in 2020.
2) The charge for climate change is well meaning but poorly framed for those hoping to gain a political leg up in 2020. It's a discussion that can't be won by scientifically based facts or mouth foaming, delusional thinking. Nope, the world has spun too many times for any of us to prove warming trends that spell disaster are part of natural course within the World's environmental history or not.
Nope, arguing over climate change is exactly what Trump wants his opponents to do.
If you like Trump, argue climate change.
If you hope Trump falls into an oil slick laden with Red Tide, argue pollution.
In fact, if you want to win in 2020 steer clear of climate change. Instead, ask voters to raise their hands if they want toxic drinking water? Do they want to swim in oil slick oceans? Let's count the hands. Do people want to bathe in fracking industrial waste or not? Let's hear ye! These are issues Trump's policies fail to address, worse, they add to the pollution of our living environment.  The beauty of focusing on pollution instead of harping about climate change is that IF we  get control over pollution we will actually be doing all Mankind can do to stem climate change. No, controlling pollution may not solve climate change, but attacking and ending pollution is the best we can do about it. Point: sidestep climate change in 2020.( Put a small boat in your backyard instead.)
Now, a prayer. I pray for wisdom we haven't seen when dealing with the marching South Americans. Some politicians are starting to ask why we are sending soldiers when we could have been sending help? Yes, the policies of Trump on this issue are plain wrong. If you see a problem coming there may be another way to solve it other than fighting it.
We need more Zen in our leadership.
America, BTW, is huge and loaded with tons of money and power.  America can and should have mobilized a huge peace force sort of coalition to march on down to our boarder via govt. funded fare to build housing for these people who flee for their lives and march to the U.S. If you're getting checks from the U.S. for not working, I say you're on the planes. We're going to use as many U.S. products as possible to build communities where these people can stay until entirely vetted, politically and health wise.  Bingo American industries of every sort—you just struck it rich by a huge government demand for every commodity you produce! They need food? Bingo, mid-west farmers! Your load of customers just arrived and our tax dollars will buy your food and ship it to where it's needed.
But where will the money come from to support a Hoover Dam type project to turn an unused place into a living space? It's called tax dollars—you know the ones our government wastes every day in about every way.
Idea! We could start finding the money needed to house these immigrants by dropping 50% less bombs around the world every day.  If we did stop our morbid need to bomb the world, our government coffers would be raining money instead of death and destruction.
Think about it: imagine. The U.S. actually accepts a large immigrant population wisely, securely, without shooting or jailing a single kid! America shows what must be done to support and help our migrating populations the world over!!! How neat it would be for America to become world leaders, the ones who saved the world once again!
There it is: thoughts and prayers done right, without guns but with brain power, might, will, huge amounts of money and a willing workforce. There it is: a booming economy led by successful life giving policy. There would be wrinkles to iron out, but this should have been our focus, not walls, closed boarders and an army.
The up and coming new lot of Democratic politicians understand that thinking straight is easy to do. Here's five examples of women who schooled together, stuck together and all won seats in Colorado  state Legislature in 2018.  This article is quite a read; a map to political success and strength.
https://people.com/politics/five-female-friends-state-senate-colorado-won/
Cheers
Franque23….Om
Please note…this ocean shot is from that ,'sh*t hole,' country, Mexico.
My wife recently told  a news story on T.V. to "Go Fund Yourself." It broke me out in fits of laughter….as my wife often does. She's smart, a wit-full companion that keeps me thinkin'. Thing is, my first editor of everything you've ever read from me is also sharp, and more helpful than you know…. Barbara sent me this tonight,, and I thought in our time of strife it might do us all good to take a look at the,'Will  to Survive'. It's in all of us, to fight for existence, and that we shall prevail…just look at the trees: they lead the way.
Enjoy, and thanks again to Barbara for the link.
Peace, Franque23
Trees have been around for about 370 million years, and as you can see from these incredible pictures, there's a good reason why they've survived for so long.  Whether they're growing in the middle of gale-force winds, on the tops of rocky platforms, inside concrete tunnels, or even growing out of each other, trees know how to survive in places that few living organisms can, which explains why the planet is host to around 3 trillion adult trees that cover an estimated 30% of the earth's land.  Considering that plants produce the vast majority of the oxygen that we breathe, we should all think ourselves very fortunate that trees are as resilient as they are.  We wouldn't even be here if they weren't.
#1  A Place Of Enchantment

#2  This Palm Tree Fell Over And Curved Right Back Up

#3  This Tree Fell Over And Grew 4 More Trees Out Of Itself

#4  The Only Tree That Survived The Tsunami In Japan Between 70,000 Trees. Now Protected And Restored.

#5  Tree Of Life – Olympic National Park, Washington

#6   A Tree's Root Spill Over The Sidewalk

#7   Nature FTW

#8   A Tree Growing Through Speed Limit Sign

#9  This Tree That Refuses To Die

#10  This Tree Still Has Its Leaves Because Of The Light Shining On It

#11  Life Finds A Way

#12  Tree Roots Extend Across A Gap To The Mainland For Nutrients

#13  Life Finds A Way

#14  Ta Promh Temple In Cambodia

#15  Striving

#16  Someone Hung His Skates On A Small Tree When He Was Younger. He Forgot He Had Left Them There And Found Them Years Later
#17  A Tree Growing On Another Tree

#18 This Tree Is Growing Out Of Another Tree

#19 This Tree Grew Out Of The Stump Of A Dead Tree And Then The Stump Rotted Away

#20 A Tree Grows From Third Floor Window

#21 Life Finds A Way

#22 I Spent Ages Staring At This Tree Before Taking This Pic. I Hope You Find It As Fascinating As I Did

#23 This Floating Island That Grew At The End Of A Partially Sunken Tree

#24 This Wooden Chair My Parents Bought Started Sprouting Leaves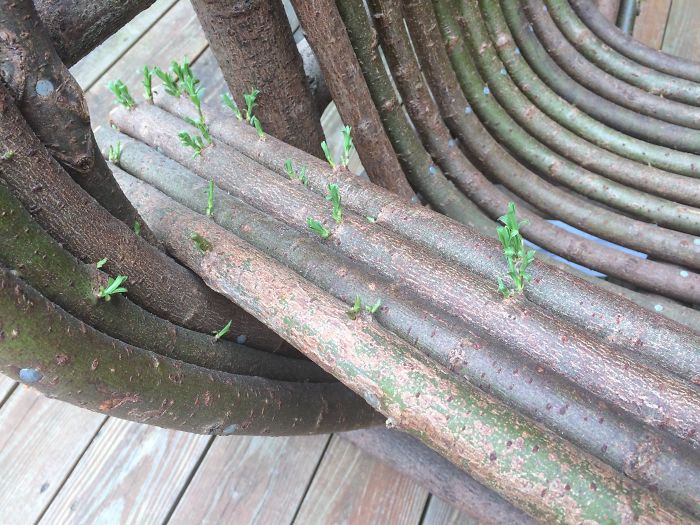 #25 The Old Piano Tree

#27 One Tree On My Street Refused To Accept Winter

#28 My Sister's Tree Is Eating Her Fence

#29 This Tree Growing Through A Fence

#30 Life,Uh… Finds A Way

I've always loved seeing movie footage of the past. It makes this short film below that more special in that I was born and raised just outside of The Big Apple and considered it my stompin' grounds during my High School days.
More, I've had a couple of odd coincidencedinks in life that revolve around my early years spent in New York City. I'd often spent time in  New York City, The Village,  roaming the walk down shops after munching on a seventy-five cent pizza slice. By far, the Leather shops were my favorite to visit. I was immediately attracted to the smell of finished leather goods, their shine, polished to deep warm browns or beige and tan colors.  One shop owner in particular was a bit more out going than most, and that was wrapped by a quick sense of humor all tied together by tremendous wit. His name was, Byan. He stood tall with penetrating dark eyes that glowed above the flash of  his smile. Our conversations were never long but they played in my head usually throughout the following days. Mysterious, that was the word for this fellow.
Fast forward eight or so years and I'm attending a bluegrass festival in Hog Town Creek, just outside Gainesville, Florida. I was singing lead for an agent at that time, traveling to gigs with one of the three bands he managed. I'm thinking my pay was about a flat 75 dollars per week. The music drew me to the festival and there the smell of leather goods at a nearby booth attracted my attention. Sure enough, it was, Byan, running a leather stand. It turned out his parents owned a ranch nearby and he'd left NYC to return to his family's home. He wanted to learn how to play guitar and I was intrigued with leather work… We traded skills and I ended up being a leather worker running three shops for the next 14 years.
Of course, there's more. I got to know my wife of 38 years while  learning the leather trade from, Byan. We made items for the local leather shops in Gainesville—there were about four of them in town. I often worked on sewing leather hats of all shapes and sizes. A few years later found my wife and I working into all hours of the night sewing wallets and visors as we started our first leather business. It was years later when all of this came to circle.
Thirty years later, my wife and I visited Denton, England, along with her Brother and his wife. It was there that my wife's family were once hatters. It turns out they started in Denton and finally made it to New York City and I suspect made ,'a killing,' as they say in retail. Why? Well just look at what everyone is wearing in the film below. Wow. The story of my wife's ,'Hatters,' family is also amazing, but that's for another time.
Enjoy this glimpse into another era; a time gone by.
One more thing: the air seems much more polluted in this film than it appears to be in New York City now. Maybe too much,'Clean,' coal back then?
Franque23
(Please note the book recommendation below this post.)
Of course, the President's so-called tax breaks are simply theft from the American workers to give more money to the already super wealthy—everyone knows this. And dropping controls on pollution dumping into our streams and rivers is completely stupid. Everyone knows this as well, even if they drink the, "Kool-aid." But,  why do some people support agenda's that they know are wrong?
Definition of brainwashing 
1: a forcible indoctrination to induce someone to give up basic political, social, or religious beliefs and attitudes and to accept contrasting regimented ideas(Merriam-webster)
That's right. People support ideas and practices that they know are wrong because they have been brainwashed to think differently about what they know is true. This is what has happened to the Trump supporters. And, really, I don't blame Trump's supporters for their beliefs as much as I want them to understand what has happened to them.  We need Trump's supporters to, 'Snap out of it.' We need our republican counterparts in this society to  wake up and smell the coffee; we need to understand that many of us have been indoctrinated to vote against our own well-being.
The GOP regime has relentlessly assaulted the American voters with a barrage of fear-loaded slogans that aren't true, (Immigrants are taking your jobs—not true.)slide-of- mouth motto's (America, love it or leave it—against all American principles!) Make America great again!—ha!, and the famously flawed,'Trickle Down theory'.) It's all a lie told over and over again,.
The verbose reiterated barrage against pollution controls, banking regulation, the U.N, the Gay, the Woman and less fortunate are all lies propelled into the minds of so many. And all of them by means of one simply truth: say anything well enough, long enough and often enough and it doesn't matter whether it's true or not—people will believe what they have been taught to believe through repetition.
But is Trump a fool? Many point to his mid-range popularity and say, "It ain't so." But here's the thing: Trump's standings, polling, none of that changes what he is: wrong in just about everything.
Trump's poor vision with regard to pursuing fossil fuel development verses renewable exploration and expansion, his disregard for increasing pollution, human rights, specifically women's rights and minorities, his attack on EAP standards and lack of support for science advancement are a few hot spots to focus on when it comes to thinking Trump a fool.
So much about this man is wrong and stupid, yet so many cheer him on??? I'm thinking a fool can win at cards, but not at life. I hope I'm right. Right now, we're in the mists of a Russian(and others) financed brain-washing campaign of the American people. The results aren't pretty.
Like it or not, our population has been worked on by powerful interests so that we've become divided from one another. We've been told that the under educated cannot reason or fend for themselves(not true); we've been told that 'Southerner's,' are racists and that blacks and minorities are somehow inferior(not true). And to what gain? Remember, United we stand; divided we fall. This is why some American's have been taught to hate and disregard reason. The powerful want to control us, use us, and all to their own gain at our cost.
The first thing to teach an indoctrinated, brainwashed person is that they have been. This is the first step back to reason.
Marching, yelling and sign holding might help identify our difference of opinion, but teaching and informing our populace about the tools being used in our society to cause us to work against our own interest is of utmost importance. We need to identify those mechanisms present in America that work to divide us and cause us to not protect our own welfare and root them out.
Now is a great time to understand we have been brainwashed as a people. Now is a great time for us to trump this brainwashing and get back together.
Franque23
History can teach us a lot and, Revolution is not a dinner Party, by Compesti, gives good insight into China's Mao zedong revolution..maybe at your local library…too.
https://www.amazon.com/Revolution-Dinner-Party-Chang-Compestine/dp/0312581491
( added pictures below post…send me your pictures on FB=gerald franquemont)
My cousin's wife says it all for dog lovers the world over. That post of her's is included below.
But first, I've my own, 'Shadow,' a Catahoula Leopard who is my constant companion.
Shadow enjoys the flowers.
From my  parent's dog, Socks, to our family dogs over the years, I've rarely lived without having a dog making home life better.
Socks lived about 18 years.
Man's best friend: you can't say it any better.
Orion is one of my favorite, 'Reading Dogs,' at the library.
Our part Basenji, Toby, used to prance as he walked so we called him, 'Toby-Toes.'
Cheers, and a big thanks to Jessica for posting this wonderful piece. Sob; sighs and I understand. There's nothing like a dog's ability to love us back.  Here's Jessica's post, and just wow.
Jessica with her dog, Pedro.
Jessica Franquemont posted:
"My Buddy Pedro:
Your butt wiggle going down the stairs,
Your gentle bite when taking a treat,
Your wandering security walk along the fence line, 
Your short sunbathing nap by the water fountain followed by a good roll in the red bark to scratch your back with happy doggie snorting & all,
Your old man delay, non-threatening beagle bark, & "swagger run," when hearing Ellie bark before you at a possible thief/burglar/food thief/mail carrier/neighbor/pizza guy/cat/other dog/kid,
My first time sadness upon seeing an empty Chipotle burrito wrapper on the floor without my left over ½ burrito realizing you are taller than Ellie & can counter surf,
Your first time with me in the pet store when you stole a bone shaped treat off the bottom shelf, tried to eat it, & I had to do a pity purchase with the cashier,
Your sleeping on the couch with your face between the pillows,
Finding your head sticking out of my poofy pink Halloween tutu I left on my bed,
Your gentle mouth hold of a whole loaf of bread/pack of tortillas (& all things carbs) off the "no dog shelf" trying to saunter away,
Your slight pushiness after anyone sat down to proudly lay your 32 pounds in their lap & slip your beagle nose under their hand to prompt neck scratchies for a very long time then get up abruptly when said scratching stops,
Your & Ellie's patient waiting under messy Talia's dinner chair for any slight semblance of a crumb,
Your love of TP from any bathroom to your crate with one continuous very long stream of toilet paper,
Your binge on Beth's Scentsy samples that were only the food scented ones,
You & Tyler's love for each other,
You being my literal shadow & never letting me be in a room alone.
You lived 12 years & 117 days & we got to re-home you with us for 3 years 250 days. We are a more loving family because of you. Last Thursday a huge chunk of my heart had to say goodbye to you & since then I've been devastated & lonely without my short shadow following me. I know by having a loving pet, we as humans pay a price for having to make "that decision." But the animal lover in me would never have left you alone in your last minutes of your wonderful life. Knowing you had just a little more time & getting to rest my nose one last time on top the bridge of your nose is worth all the heartache. I love & miss you my Pedro Buddy."
It always come down to this: the love shared with a dog during their short lifetime is worth the pain of the loss no matter how long that lasts…
Cheers!
Franque23 loves dogs.
Here's a link to a previous glob I wrote in, 2009, about a dog's spirit.
https://franque23.wordpress.com/2009/08/26/red-dog-forever/
Shadow smiling.
Frank Lamont
 Andrew Faint's , Bo , with his son.
relatives Virginia Murphy Rotteveel…sleep tight.
My 'Shadow' writer…
Andrew Faint's, Frankie…
Shakespear, in OR recovery, Wendy Schneider…..
Yes, this is a hedgehog pet with, Spooky.  They live together. Part of ,Juut Von Franquemont's group.
There's a morning wind.
Today, from where I sit, the breeze will reach the sea some sixty miles off as it blows east. There, the translucent waves of green and blue roll beneath the calling gulls as the cooling, wet shore line comforts the feet of those strolling by. The shell white sand of the beach waits to be renewed or reclaimed by the pounding surf, and beyond it rises beige, wispy sea oats and dark green sea grapes that root in the dunes. A transforming landscape of sand and grass rises and falls to form a panorama that seems a dried mirror image of the ocean's undulating surface. The oats will sway in the breeze much like sea weed moves with the ocean current. Here, two realms so different remain joined as one. The wind will touch it all.
It's a peaceful thought as my coffee scents the air.
There was a time I thought I'd end up living along the shore, in the wind, with the sun, with the sounds and smells of the sea. Mom did as a child in, Recife', Brazil, and somehow I dreamed I'd be as lucky. She took me to the shore often and taught me the ways of the sea, the surf, the hot sand and how the tiniest shell could sometimes be the most spectacular of the lot found that day. There were those sand crabs to dig after as they burrowed only to be caught so they might wiggle in my palm. We went to the ocean as a family and soon that vast, blue lined horizon became as much a part of ours as dad's backyard apple blossoms.
Mom by the sea.
Sometimes I wonder if our dreams die like we do, or if they exist forever.
I've a good cup of coffee, but the memories are so much better. The wind entices me to wonder. When did I give up on that dream to live by the sea? I should have written the date somewhere.
But, I think I came to Florida in 1971 , in part, to be by the sea.
My wife and I have always visited the sea—our hearts beat with the waves, the light, the clouds and all those rolling, crashing waves.
A unique understanding comes when a person interacts with something as large as a mountain range, a desert, an expansive ocean or anything so vast as the diamond night sky. There's a sense of oneness with the pebble, sand or shell at your feet, or single star overhead——they are so much like the size of us when compared to the entirety of life.
Ask a mountain climber, a diver or those who love to walk the desert why they do what they do. They will think, 'Because I do', and then they will offer words about this or that, words that can never fully explain the gut of the matter. Perhaps, the best way to answer is to say, "The majestic helps clear the clutter."
Lake Bonaparte has a beauty each day, though different from one day to the next.  The views allow the heart to rest.
We all need to clear the clutter in our heads—the majestic world is our best reflection, our best chance to right the wrongs in our thinking. Our environment is us; say hello.
We need to make peace with ourselves.
Do you remember being ten and testing out a new pair of sneakers? How fast you ran; how you seemed to fly: you'd never be undone!
I'm the 8ish year old with his hand on his hip….and black speed-o
Growing up is fascinating and maybe we never stop owning that same self amazement throughout our lives. Maybe, internally, we all hunger for the truth, a correction in our way of thinking that sets us in place, a certain notion that helps identity our true sense of being in the universe.
My sister and I still meet at the ocean whenever we can…this is Roatan.
Maybe, this understanding is why we yearn to face the magnificent spectrum of life as it appears before us from place to place. It's more than humbling; it's being united.
Let's get together. Let's listen to the morning wind; it whispers the truth. Good morning.
Franque23.
Please, everyone who wants to, go burn every shoe you have then take a hike.
The question is simple. Is there any kind of war that's not happening now in America? Randomly, I'd say the only thing most American's agree upon is that ice cream is at least okay.
All the rest, the North, the South, the Bread Basket zones and Coastal cities, the whites, blacks, minorities against minorities or not, the radical right, left, with the melting pot Brillo-ed out, the rich against the poor, the old in the way of the young, the war on fat or too thin, the what kind of man are you?, what bathroom to use or slate to clean?, no guns or fire away, it's all up in air lifted and swirled by misunderstanding, hate, fear, mockery and assault.
We're yelling at ourselves!?!?
Some days, I sit and listen to this song and dance in the living room just to get away from the mess of our society, never mind what I'm wearing. https://www.youtube.com/watch?v=JiQIisyncY0
(Want to feel better? Listen to Fogerty's song in the link in this glob and watch the fall clip at the end…cheers! And oh, please forward! Thanks.)
Is America being undone? Or, is American being re-tooled by internal disorder that will lead to a more perfect union? Don't ask me—I asked you!
Me? I might be in favor of how the Democratic party seems to be changing while I flat-out hate the way the Republican party is heading. Currently, cramming the hearing making process of a Supreme Court nominee down the throats of legislators who in the recent past couldn't get their guy a hearing for almost a year feels wrong.  It brings to mind warm poop for breakfast. (or anything else as disgusting-use your imagination.)
Yum.. (please tell me this is ice cream.)
On a side, just a thought, has anyone noticed that Trump keeps saying Mueller's investigation is a , "Witch Hunt," but only Warlocks have been arrested? So, maybe, Trump should leave women out of this—just saying.
Who else thinks herding teams of lawyers into a padded cell won't help America out of our grid lock-and-load? How about using a bunch of pandering gerrymandering partisan warring politicians? Yeah, not that either. What to do?
Idea!
We eat ice cream, like all together. American's should declare a huge Eat Ice Cream day; just do it, and gain weight.
Don't give up, no matter what, eat the ice cream. Let the ice cream wars begin!
Then we could have a long, 1/2 of a day when we all diet together for a moment. We could skip afternoon snacks, maybe. The bonding we need would begin!
This might not work, but then again think about this: what if American's saved whatever they could over the course of one year (whahahha, this a funny thought.) and spent it on buying stock in ice cream companies. Then, we all could agree to buy ice cream stocks over the course of one week just prior to Universal Ice Cream Day! Boom! The stocks rocket up; American's sell their ice cream stock and buy our representatives brooms so they can fly away higher than the stocks before they crash!?!?! Okay, this won't work either. Why? The plan is perfect but for 1/3 of all working American's have no savings at all, while another 1/3 of working Americans have 1000 dollars saved.
Basically, American's have been screwed for so long nails might go out of business.
Bonus picture shows the Beatles traveling in a van doing gigs before anyone knew they liked ice cream too.
Oh sigh, it's time to study our problems in this country and find solutions. But, it must be hard being a teacher now-a-days. Imagine going from teaching one year that anyone can be president to the next and having to explain why the president is a compulsive liar.
But, change isn't new in America. Women couldn't vote at one time and now they get groped by preachers on national T.V.* This sort of change is part of my life, too. I used to drive through a tunnel going to New York City and I marveled at the cops standing on the underground walkways by the road. It all made me feel safe; protected.
Years later, I went back to the city and drove through the same tunnel only to find the cops had been replaced by hookers! It was as if Mad Magazine had come alive. I now have a case of bad tunnel vision.
Oddly, I can't find a single picture of prostitutes walking these isles as I saw later on…go figure? Thing is, I wondered right then, how did people stop to pick them up?  It never made sense to me.
Relax-eat some ice cream and dream you've gone to heaven, or maybe we're in heaven and meant to enjoy the glitches? If you're old enough, you might recall a popular song that asked, "What if God were one of us?
But, what if God is all of us?
Even Trump likes ice cream.//wait? What?
Anyway-have the best days you can. And, maybe, chill with the video below. Fall's a-coming!
Cheers,
Franque23