You are currently browsing the tag archive for the 'nature' tag.
It's simple in the most complex way. How something tied within can run from the tongue or written word to announce its preponderance is miraculous. But, again, words don't work; I just have to try—
I'd been walking through a forest; walking forever…
I often walked to familiar places though no walk could be the same. No, rather than feeling redundant, each walk resembled a reoccurring dream that shifted ever so slightly in my head. Once, when I was young, the leaves held a glistening magic beyond compare and the stars above sang love songs. Breath came and went with a whisper of steam in the winter or without a notice in summer. A night bird's call held a special treat for every step of the way.
The moon would rise—that was in the air, too.
Places presented a universe of change but that variance was apart from the heart of the matter. What was the heart of the matter? When I walked as a boy and walk now as a man there is one secret, one truth I print with each step I take. When any of us walk, we are searching for what we hope to find—this is the heart of the matter.
One day, I began the walk I had to make.
There were bushes, sticks and vines to push aside as I walked. Streaks of red and yellow stretched across a light-blue sky softly lit to a sun-licked amber hue I'd never seen before. The landscape seemed a mirror that span before me but I couldn't see myself in it, and certainly not within the darkened places or behind the boulders that lay ahead.
Quiet noise drummed my ears to the beat of my heart. One foot-fall followed the other and mashed a fresh scent of pine from the needles that had fallen from the trees above. A breeze passed as a tap on the shoulder that turned me around again to see if someone was there.
I was alone.
Oh, I loved the twists and turns of life. The ups and downs of Life, the rag-tag moments of laughter that still echoed in my head and tears spent that had run dry to leave a trace upon my cheek were never to forget. I held my life near and dear; it was all I really had. I bent down to pick up a pine cone, took a breath and then moved on beneath a glorious sun-set sky.
There, in an instant quicker than a slip, a clearing appeared. This flowing, smoothly swept, warm as a blanket on a winter's night place had a voice of its own set in a timbre no ear could deny. Its mysterious opening abruptly ended the maze of life I'd struggled to pass; it was an awakening of peace within my weary heart. The place turned my head, lifted my steps and lightened the tightness in my back. I turned around to make sure I'd left the brambles behind and come to a new place, a new clearing with only the truest of view.
The time turned to rest. All my effort, all the decisions random or not, all the painful struggle and haphazard joys of my journey had led me to this place.
It was amazing.
I'd found my way home to a place I'd never seen before.
Somehow, my heart just knew.
How does the heart know so much? How can the thing we always feel but never touch know the way to travel, the places to see and the people to hold? Love, the heart's messenger, is startling when it comes whether that's in the first minute when meeting someone or not. Mellowed by time or arriving in a split second, Love opens the flood gates of the soul so that we pour into a sea of understanding. Some people say being in love is like floating on air. Maybe. To me, Love is finding the ground I was meant to stand upon.
Of course, the clearing I found that day forty-seven years ago was you. I'm so thankful you had made it.
Thank you for being you.
This is the heart of the matter.
Franque23
To Dale, my wife of 40 years of marriage as of 1/3/2020-
I'm trying to earn my keep here at work! I've repeated this board four times over the past 20 years or so. Originally, the scene was of a moose looking up at a winter's moon with its tracks in the snow–that was at Millhopper Branch Library in the late 90's. Sue Patterson worked there at the time and she helped me design the moose which is a difficult animal to get right when drawing—about that large nose of a head…Ha!
This is the 2013 version…
I carried the moose theme to the down town Headquarter's Branch Library in the early 2000's and 're-built' much of the background set of trees. This board offers an elaborate background scene that's time consuming to create so I saved all that work when the board came down a second time. To make this board cost efficient to tax payers, I've reused the background pieces of this board two more times, though the moose gave way to a deer and the largest tree has changed as well.
I'm thinking this may be the 2016 version….
You can see this years version in two pictures below or in the time lapse linked here. Stop the time lapse when you want to get a better look and feel for how the layering works in this design. This is a time lapse of my Holiday Board… stop it any time to see the progression…  Ho HO HO…..https://www.facebook.com/alachualibrary/videos/2470169859892438/?t=
So far, our media department (thank you Chris) has videoed a time lapse presentation of two boards I put up this year: a Halloween board and now this holiday board.
I like this board; it's a peaceful image that sets a good tone for our work space in Youth Services. I hope this board fills your thoughts and the minds of our little and big patrons with wonder while enhancing enjoyment of our public libraries! Visit your public library—they are ours to enjoy!
Have a safe, wonderful Holiday!
Franque23
2013
The moose was really fun to draw and I'm not certain which version of this bulletin board I like more: the Deer with a larger tree and different signage, or the moose in a smaller setting. The background color changes from silver to gold and there is a moon in some and not others….which do you like better? I have to tell you what I so like about this board. The frozen lake presented by the silver paper is actually vertical on the wall but it appears horizontal to add depth to the scene… I love it.
(A Morgan-Franquemont reunion about 1951) Click the pic for a larger view.
Maybe I thought my sister might drop me—why else would I be crying?—pretty sure that's my best diaper.
Remember being young for just a minute. There's no hassle waiting to destroy the next minute, no bus, train, plane to catch or deadline to meet. No, you're just young. Your skin is soft without a blemish and your hair shines like  grass after a brief rain.  You've learned to comb your hair but your not exactly sure why you do it. There's no need to worry and everything feels right once your parents are home; the fire place sets itself and your dog is always fed. T.V. goes on past bedtime but you've seen everything you wanted to see and the day has come and gone like any other. Dreams come and go like the wind without cause or problem or forecast direction.
Everything just is. Do you remember now? Shoes or belts seemed useless unless you were playing dress-up.
(Our Son-in-Law running after his son.)
The world is an empty beach to run with dad close behind.
The sky is endless and full of mysterious clouds to watch as they drift by.
(My cousin's son, Ross Franquemont, takes a selfie as he flies by the Northern lights in his U-2 plane.)
Remember the first time you stared at the clear night sky and realized there were more and more stars to see up above as your eyes adjusted to the blackness. Remember the morning dew on your bare feet. This is about the time you discovered ,'brain-freeze.'
There was so much to take in and share with your cousins and friends.
A la speed-o suit; that's me.(Morgan dock at Lake Bonaparte-about 1956) ( AND… the person who edits this glob weekly* asked a good question: why am I the only one wearing a bathing suit? The dock is clearly wet?!?! Hmmmm)
Days come as easily as picking up a pencil. The scribbling on the paper wears a smile and it seems your masterpiece is, in fact, a heroic depiction of something meaningful to older folks—it's some miraculous sketch of objects you've yet to see or a panorama of places everyone hopes to go. It's good to be loved. Daylight loves you; nighttime is a blanket. The rain sounds loud upon the window pane and snow dances in street lights with winds that come from the moon you can't see.  The pets always sleep on your bed.
Everyday is safe. Every night is cozy. You get along with other  kids, even with those who seem so different!
Being young harbors within it a certain kind of peaceful hope.
(View of Lake Bonaparte from our 'half-way' dock.)
Without notice, you assume the older folks will always be here.
Life seems a garden of acceptance.
You can wear any hat you want when you're young!
(And on Youth Services hat day because we could.)
Routines begin to form. If it rains, you stay inside. If it is sunny you go out. Parents rush off in the morning and come back later after your nap but you're never really alone, not that you've noticed or ever thought about. Tooth brushing is a daily important thing, not the best, but you watch as globs of toothpaste slide out of your mouth onto your cheeks around your out-stretched smile in the mirror and it tastes sweet. Tooth paste types change from being white, then striped, sometimes dotted or with a hidden line of stuff surrounded by white. You just do it.
You think broccoli may kill you but not if you eat just a bit. Vegetables are stupid but they're the gateway to dessert.
I once thought food first filled my feet, legs, then my middle section, then my arms and finally my head: that's when I was full. I made sure to save room in my head for dessert.  People talked over dinner but mostly we all came to eat. Someone would say something funny and we'd laugh but always, without fail, my dog's head was near my lap, soft, warm, nudging my legs occasionally for that bit of something I didn't care to eat or wanted to slip him anyway.
I hadn't a care when I was young. Music filled the air and dancing had no steps, just movement.
Of course, I learned later in life that my life was not a universal experience. No, while I was in college there were children in Vietnam who awoke in the night to run out of their homes in fear Napalm bombs would hit their homes and burn them alive as it had some of their friends the night before. And other children weren't lucky enough to live at all but died without ever knowing what a refrigerator was. Somehow, learning the truthful horror about some life on earth during my twenties put much of my childhood experience in a time-capsule that I cemented in a corner stone of myself.  My memories were too good sometimes to be shown in the face of another's reality.
I'd been given so much and never knew. I'd been raised in the midst of modest but successful homes full of choices, flavors, designs, music,  friends and surrounded by mowed yards and shoveled driveways all owned by smiling people.
If you're life was like mine, it's okay. It's okay that we may have been born some of the luckiest people on earth. Thing is, now it's our time to give thanks. Now, if we haven't already, it's time for us to payback life anyway we can.  We have to fight for what we believe is best for this earth and give thanks to those who died for our right to do so. If we have something to teach, we have to do it. I think Thanksgiving has never seen a generation who has more to be thankful for than mine. Now, more than ever before, it's time for my generation to stand up and speak about what we feel is right.
My generation owes the World a difference.
We can do this. It's time to be young again, strong, wide-eyed, questioning and full of spirit. Spirits don't age like our bodies, not really. Look in that mirror as you did as a child and see your face, see your smile and remember who you really are. You're one who can make a difference.
We all can get along; we have to get along and help each other prosper—this is our task and purpose.
Franque23—Happy Thanksgiving.
*Barbara Mullenix gets all the credit for anything spelled correctly in these globs and none of the blame for all the rest….
(Click the pic for a larger view)
Imagine, you were born and once lived happily in a Levittown community on Long Island.
Your home town of Roslyn Heights was a Levitt built community….this pic is of a Levittown that was built further away from NYC out on the Island than your home, but it was the same type of community.
You didn't mind the winters and made piles (ahahah) of dough out of shoveling snow as a kid.
This was my life as I grew up.  Here is a picture of South Park, Roslyn Heights and the house I lived in. Back in the 1950's we got Nor'easters (snow storms) that blanketed the homes and streets and, thank God, stopped school!
But during college, maybe before, something snapped inside of me and I wanted wide open spaces….I wanted the wild, the untamed, the jungle or was it the wild west? Okay, I really wanted to see, Where the Boys Are*, in Fort Lauderdale and be one of those guys the gals were after. That worked out well and Florida became just that sort of jungle I was after.
I had no idea how Florida, land of melting sun, would attach itself to my soul but it did.
Now, I've lived here since ,errr,,, 1972ish?
I've had a wonderful time in the surf—I love to surf waves.
This is me catching a good ride.
My wife and I had a rabbit who lived out back in Micanopy in his cage. One morning we awoke to look out and find a bob cat on top of his cage…..that started me thinking….(Don't go out at night to pee…..)
Apparently, I'm not the only one to have found nature at my door step here in Northern Florida
Heck, I knew I loved this place of wonder, a place of untamed nature.
But I never lost my eye for the power of that nature as well… We landed on the moon, but maybe we don't control gators?
It's okay to count on fences to a certain degree…
So there's a beauty and danger to Florida none of us Floridians should forget.
How about a night dip in the pool?
And then, only twice, I saw in person and close up by mistake, a Great Horned Owl…They can fly up to 40 MPH and have been known to pick up and kill 60 pound pets!! Our dog, I suspect, was attacked twice by one in our fenced in backyard—where he never goes at night anymore.
This is a shot tripped by a night camera….
I was running in the woods about thirty years ago when I saw a beast of a bird…it seemed to stand more than three feet tall and when he took off his wing span was about five feet! Just wow. I once saw another Great Horned Owl as I drove down Rochelle Road outside of Micanopy. The bird took off before I reached him and traveled over the road for about one tenth of a mile right before our car. That bird's wing span seemed to almost reach from side to side of a double lane road–no joke. It was as if we were seeing a dinosaur.
I've fished the swamps for over ten years in my younger (err risky?) days….and there's a beauty to a swamp—not a McDonald's or Starbucks to be seen.
But always, there are gators. How many gators?
( Those eyes all belong to gators.)
This is the Alachua Sink in Alachua County, Florida. It's about  one mile from our home. And this shot, by John Moran got him nation wide PR. His photos have appeared in National Geographic, Life, Time, Smithsonian, the New York Times Magazine and on the cover of the National Audubon Society Field Guide to Florida. Dale and I were lucky enough to canoe down the Suwanee River with John, a time I'll never forget for many reasons but one of them was having a wart hog pushing against my head from the other side of our tent as I slept at night as he rooted for food.
So, I've rooted here in Florida. I love the ocean, always have. And, I love to grow food as my father from Iowa taught me to do. Of course, we have a garden as any Floridian with the space should.
At six months , Shadow, didn't know he wasn't me, or human, exactly, and he helped me weed…I miss that help now.
You might be able to see, but at one year old, Shadow figured he should eat green beans right off the plant as we did as we picked them! He stopped eating green beans at about age two.
Once, I was drying herbs out in the front yard in foil sheets when a cop came by, stopped, and walked my way with a grin and his hand on his gun…I smiled and said hello… He looked down at my tins of herbs and said, "What do you have here?".. "I'm drying herbs!" He wasn't convinced so I walked him over to the garden and showed him the plants…."Well, I thought I had you busted for pot!"
I can't blame him….but I didn't add that I might have learned the entire process by growing and drying pot in my twenties:-)
So, we grow pineapples, too….
Mounds of oranges and grapefruit, too.
It's all good. This city slicker found a home in the Northern Florida woodland, and I love it.
Heck, the tomatoes came in like a champ this year; Dale canned many.
From Levittown to the wilds of Northern Florida, I'm good. I don't miss the hustle up north, the quicker pace of life or the traffic. No, I'm good with the gators, bob cat, owls and other critters. The sky here is open to see, and the ocean wind still washes the peninsula by four or five each afternoon. Gainesville is just 60 milers north of the Sub Tropical line. We live in a jungle of 24/7 year round growing just about. The birds love it, and so do I.
Cheers– thanks for visiting.
Hope to hear from you soon!
Franque23
*https://www.imdb.com/title/tt0054469/
It's impossible to miss the beauty. It was more than the three day drive up to the lake that split my head open as I looked at the lake during our first moment getting there. The colors of the lake displayed a vibrancy seldom seen in any urban center or sprawl. The  sky paled above the lake's deepest blue waters; the green landscape never appeared so inviting. The warming earth beneath my felt felt like home.
Every day, no, every hour up at the lake shakes out a different tone as the breeze rustles the trees. Each day features an ongoing exchange of wind and water that forces waves near and far to rise and fall or, at other times, and mostly at morning or night, flattens the lake's surface to the look of a mirror. This is when reflections take the lake's tapestry over and commands attention to every watery detail so neatly bound to the look of the shore.
Thanks to Susan  for this picture…
A crane lazily cuts across the sky; a school of nipping brown trout dot our bay's surface water as a darkened circle that moves left to right. A hawk whistles from above and turns my head up where I see the white wispy clouds streaming from the west are gaining size. The shoreline cedars blast scent and contrast to the whitest black and grey birch. The humming bird wings by to dot the, "Oh My!"
Aptly put, Lake Bonaparte is an onslaught of beauty to behold for the jumping young, strapping aged or the resting old. The lake is always game for the viewing. The sun-twinkled waters or rain laden storms that move across the lake spark the imagination and ignite an internal yearning to be closer to the nature of our life. The peace of the place seems all so easy to attain but so far away, and all at once. Do a cannon ball on that thought. I don't care who you are—a cannon ball into the lake will do you good; it'll put a smile upon your face.
We're facing the sunset…taken her down. a nightly ritual.
This shot seemed to burn the camera lens!
Sometimes, I just have to laugh. How could I be so lucky to be at Lake Bonaparte? How could all of us who abide by these shores be so fortunate? Life is a weave and there's a spin to it, a stitch of fate that sets us where we are. I'm so glad this thread is part of my life. For almost seventy years now via my parent's or my own footfalls I've made it here.  There's so much to be thankful for, right? There's so much to take in.
This has to be one of my favorite shots of Bonaparte…and I don't remember if I clipped this off another's posting or not? Forget.
I love the light in the clouds above.
From a few years back….
There are endless postcards of Lake Bonaparte to send, right? And all of them are kept safe inside—there's a comfort to this, trust me.
cheers
Franque23
(Click the pic for a larger view…)
Hi, Shadow's here to help me tell you about my year gardening since August 2018
It's one thing to plant citrus and a garden on your property; it's another to harvest. Of course, I love it all—I love to be in touch with the changing seasons, the sun angle, the forecast and amount of rainfall. Yep, I love it all. Why? I can't exactly say. It's work, that's for sure. The ins and outs of gardening and growing fruit trees takes time, attention and execution at the right time. These are things that don't wait for me to be ready but, rather, they have ways of telling me when they are. A farmer has to ,'snap-to,' when it comes to planting and harvest time.
Case in point, this first picture above. Thing is, it was a mild winter, but one day they put out a 28 degree forecast for extended hours(never came to be at all) So, I raced out after work (I work til about 9:15 PM)with flashlight held in my mouth as I picked a hundred plus tomatoes before they froze. I also picked the lemons, large and small, eggplant, sage and basil….it was a hard night that ended about at midnight. I put these green ones into large super market brown paper bags, about twenty or so in each, and they ripen in them….Some will rot, but if you check every few days and pull out the ripening ones to put on a counter, you'll get most of them ripe.
But that wasn't the start of the season, a planting that was made in mid August.
I got a soft(small) crop of bush green beans this fall(why? When I've yielded twenty-three pounds recently-that's farming) but the foot long Asian beans took off. Cheers for my one yellow squash! This was around Oct, 2018
I started an outside fence line of marigolds early on,,,and they might be part of the reason my tomato plants ended up nine feet tall with up to 25 tomatoes on them per bush in January..I'm not sure,, it may have been more due to this year's endless growing season.
About this season…from August 2018 until now, Feb. 2019…I've never seen anything like it…The garden is still producing lettuce, collard greens, kale , and eggplant and a tomato or three here and there.
BTW– have you ever looked at an eggplant flower? Here's one. I say hello.
Another gift of the weather is a robust growing season for the pineapples,,,.. I've about 40 plants growing here and there around the property,, and all from cutting off the tops of one's I bought, or from a box full from Ward's who gave me their top cutting on the day they cored their selection of pineapples for the public (you can call them to find out when they might have a box of cut-off tops)….do it.
To a great satisfaction, the pineapples may have done well so far this winter. They take two years to fruit, so getting thru a winter is a must for them… BTW– if you have never eaten a hand-picked ripe pineapple that's truly golden  deep yellow, you've never really tasted one. That's another thing that gardeners get back: the taste of fresh food ,, like the taste of food picked that day or a couple of days before eating is AMAZING…..much different than even from most farmer's markets….
and oh, the Camellias—how wonderful. We've red and white. We need a blue, right?
Herbs are easy to grow, and don't take much space. Pots on balconies work well, even. I do use mine fresh-that's best, but you can dry them on tin foil in the sun to keep year round… just get them totally dried, and crunch them up into old spice bottles..so far, after several years, I haven't had a problem with this method.
(Basil and a bit of Thyme)
Shadow follows me everywhere I go during the year,, whether I'm working the soil, picking oranges, or smelling flowers.. he is my, Shadow! How could I be so lucky to have gotten him?
Of course, when I read how much nutrients levels drop off from food so many days out of picking, or read about roundup being in our food chain, or any other added chemicals, it spurs me on to get the soil ready without chemical to plant, and then harvest. All of us in Florida, at least, should have a range of food planted around their dwellings—it really doesn't take much space; just work, patients and some hand done bug squashing.
There's nothing like listening to the birds chatter as hawks cry from above while being out there working the soil.
Greening is a major problem throughout much of the world now for citrus, and my small 2 acres or less is no exception.*  This means more work for me, and not only in that about 500 hundred citrus won't ripen this year, but guess who has to pick up all that fruit off the ground? Oh yeah, full-time job now. What had been a 1500 piece citrus crop two years ago is now about 1000, and it will only get worse until the trees only bear blooms(which are heavenly) and sour fruit. But this is what it is.
I bring fruit to work for my workmates several times per week, Nov 1st thru about March 1st;…My grandchildren and their parents get more than they can eat, I think.  My neighbors all get fruit and my doctors do as well! Even my Tax guy gets some:-)  The mail guys and garbage technicians do as well….this makes it all worth the effort.
Lately, I've been thinking of planting a pecan tree…seems reasonable. Yes, there are blue berries and pears and apples as an option but, so far, I've found the squirrels like those options as well…and they clean out the pickin's on them.
We recently put in Avocados and have two papayas growing that I hope make it.
Go ahead,,, look into planting this spring. Write me, if you like. Growth is a miracle; join in the effort.
Cheers, and keep growing.
Franque23
see you later…
*https://www.orlandoweekly.com/Blogs/archives/2016/10/12/citrus-production-continues-to-decline-in-florida
Merry Christmas and Happy Holidays…this is my seasonal bulletin board and seasonal card to you!
I remember too well the moment I entered my parents Christmas party to sing, Jingle Balls, Jingle balls, to a fit of laughing cocktail holding adults. This was to be my big debut (but why is this spelled like what it was for me?) Anyway, I was too young to take anything to heart, and I left knowing I sang the heck out of that song.
There were so many warm Christmas mornings at the Franquemont household on Long Island. I never lacked for anything; my eyes only looked out with hope, curiosity and with acceptance that I was given by my parents and siblings.  It was an easy breezy life as I ran down the stairs first in line ahead of my brother and sister to race to a present laden Christmas tree. Blocks, coloring books and rocket launchers were the stuff of Christmas. The stockings were stuffed with candy but for that one stupid apple Mom always put in the bottom. Then, I never understood that Mom had been raised on her father's mission in Recife, Brazil,  and an apple was a treasure to hoard for her. Of course, I'd give anything to find an apple put there by Mom in my stocking now, but she is seven years gone. She's a smile in the clouds, the rolling waves at any beach, the diamond stars up north at Lake Bonaparte on a clear, crisp night and the warmth of the beach sand that conforms to my body as seagulls call from above. She is so much of every Christmas.
I remember Dad torturing me by making my ten-year old hands shovel three feet deep to start a new garden. It seemed so wrong to be digging around Christmas, but now I've had gardens here in Florida for the past 40 years. And when I dig dad's eyes are looking through mine and his voice rings my ears with, "That a boy." I hear the eagle call from high above and I know he is there gliding, swooping, free.
Part of getting older is hording a ton of memories. Thoughts of years gone by and the people who stayed with them and left as well are a treasure chest buried deep within, one locked for safety by the heart. I've still journeys ahead, and so many behind. I'd like to think that I've grown wiser with the passing years–certainly I know Jingle Bells now. But, for whatever reason this Christmas day, I found myself walking through our garden and thinking about all the division the world over is experiencing today.
It may surprise you to know that I am several things beyond a library worker, a neighbor, a father, grandfather,gardener, writer of this glob and books on Kindle,a fisherman, builder, but also a minister who was lucky enough to perform the marriage of my niece.  I have a favorite passage in the Bible I try to follow,
Proverbs 3:6
Living Bible (TLB)
6 In everything you do, put God first, and he will direct you and crown your efforts with success.
If all of humanity were to take this message to heart the world would change. I'm certain it is in every  kind religious teachings; if only we could listen. I try to never forget these words as I thank God for every little thing I take time to notice as I go about my day.* Of course, I've fallen as short of this instruction as any could many times, but I try.
So this Christmas, the fertile garden, Mom's gentle smile and Father's certain voice led me to consider what my personal message might be this Christmas.
Here it is:
Being whatever gender or preference you are is a part of the natural passage of humans throughout our existence. We need to stop this fight of exclusion. This is Christmas, and it's a great time for everyone to come to this realization. The stars remind us that the light is within us-if we'd only let it shine. Acceptance feels good; expressing hate or rejection is bad for the soul. We need to let people be.
Sometimes I think the worst word in our language is, 'No.' Using no is quick and sometimes needed, but often it is used when taking the time to teach proactively why whatever is being asked or done is not a good idea would otherwise move the mind forward. The best word in our language is, 'Yes.' I'm going to try to use it more in 2019. I hope you join me. Cast aside hate. Raise hope and acceptance.
Cheers… hugs, and Merry Christmas!
Franque23
I most concur with the, 'God however known,' concept.
*
A very blue wave.
A couple of thoughts to light up the season.
It's no secret Republicans took a whippin' in the 2018 mid-terms. The House of Representatives flipped blue by a large margin and likewise Republicans lost State representatives seats across the country. This was much more than a ,'standard,' mid-term correction vote. This vote was a cry heard loud and clear by both party's. Republicans were able to hold Texas, slip by Florida and out-right cheat to win Georgia, but over all, the party took a slogging at the polls.
What appeals to me most is this blue wave came about via standard rich donors as well as grass root donations. The tide is more than turning blue, the presence of foreign donations via secret PACS may be washing away, and gerrymandering will be re-whittled in many states. I'd say new people running for office—so many women—(Right? :-))along with Pelosi's help kept most races on point: on healthcare concerns, medicare and social security.  But there's still a lot of fog surrounding these issues and how best to drive them home in 2020.
2) The charge for climate change is well meaning but poorly framed for those hoping to gain a political leg up in 2020. It's a discussion that can't be won by scientifically based facts or mouth foaming, delusional thinking. Nope, the world has spun too many times for any of us to prove warming trends that spell disaster are part of natural course within the World's environmental history or not.
Nope, arguing over climate change is exactly what Trump wants his opponents to do.
If you like Trump, argue climate change.
If you hope Trump falls into an oil slick laden with Red Tide, argue pollution.
In fact, if you want to win in 2020 steer clear of climate change. Instead, ask voters to raise their hands if they want toxic drinking water? Do they want to swim in oil slick oceans? Let's count the hands. Do people want to bathe in fracking industrial waste or not? Let's hear ye! These are issues Trump's policies fail to address, worse, they add to the pollution of our living environment.  The beauty of focusing on pollution instead of harping about climate change is that IF we  get control over pollution we will actually be doing all Mankind can do to stem climate change. No, controlling pollution may not solve climate change, but attacking and ending pollution is the best we can do about it. Point: sidestep climate change in 2020.( Put a small boat in your backyard instead.)
Now, a prayer. I pray for wisdom we haven't seen when dealing with the marching South Americans. Some politicians are starting to ask why we are sending soldiers when we could have been sending help? Yes, the policies of Trump on this issue are plain wrong. If you see a problem coming there may be another way to solve it other than fighting it.
We need more Zen in our leadership.
America, BTW, is huge and loaded with tons of money and power.  America can and should have mobilized a huge peace force sort of coalition to march on down to our boarder via govt. funded fare to build housing for these people who flee for their lives and march to the U.S. If you're getting checks from the U.S. for not working, I say you're on the planes. We're going to use as many U.S. products as possible to build communities where these people can stay until entirely vetted, politically and health wise.  Bingo American industries of every sort—you just struck it rich by a huge government demand for every commodity you produce! They need food? Bingo, mid-west farmers! Your load of customers just arrived and our tax dollars will buy your food and ship it to where it's needed.
But where will the money come from to support a Hoover Dam type project to turn an unused place into a living space? It's called tax dollars—you know the ones our government wastes every day in about every way.
Idea! We could start finding the money needed to house these immigrants by dropping 50% less bombs around the world every day.  If we did stop our morbid need to bomb the world, our government coffers would be raining money instead of death and destruction.
Think about it: imagine. The U.S. actually accepts a large immigrant population wisely, securely, without shooting or jailing a single kid! America shows what must be done to support and help our migrating populations the world over!!! How neat it would be for America to become world leaders, the ones who saved the world once again!
There it is: thoughts and prayers done right, without guns but with brain power, might, will, huge amounts of money and a willing workforce. There it is: a booming economy led by successful life giving policy. There would be wrinkles to iron out, but this should have been our focus, not walls, closed boarders and an army.
The up and coming new lot of Democratic politicians understand that thinking straight is easy to do. Here's five examples of women who schooled together, stuck together and all won seats in Colorado  state Legislature in 2018.  This article is quite a read; a map to political success and strength.
https://people.com/politics/five-female-friends-state-senate-colorado-won/
Cheers
Franque23….Om
Please note…this ocean shot is from that ,'sh*t hole,' country, Mexico.
Pumpernickel was the most foreign thing around the neighborhood back in my childhood days. A salted Frito was the a vanguard chip and guacamole remained a word hard to pronounce or spell. Now? That long ago time resides on the far side of a poorly mark rut in the road of life.
Certainly, I grew up in a part of America awash in feel good innocence. Then, it was a time of hope for those who lived under the disappearing shadow of World War II. We were the champions of the free world; the winners.
Grandpa was proud of his four boys who all fought in WW II (Dad is second from left.)
Flash: think no computers, no cordless phones of any kind, no internet, no chat, no what's up, no what's anything but for phones in phone booths or in homes that featured a brand new item: a tube TV  with about 3 to 13 channels. Now, I wonder what we all did all day?
Morality was a given…
Every kid knew to cross their fingers if they were going to lie; every guy knew girls were not only softer than boys, but annoyingly smarter as well. Still, none of us perceived a battle of the sexes or a societal wrong that had to be righted. Heck no, elementary school years were filled with just people—guys I palled around with and girls I was thinking about getting to know.
Things started to change in Junior High. (1960ish). The fall out of line and get hung out to dry clicks appeared. Guys and gals mostly formed into three groups: the hoods, the sport rats and the way smart what's up with that group.
Now, the hoods were bad people because some of them smoked cigarettes and they often wore black shirts. (Really not kidding, and I could almost add, they chewed gum in school) The sport rats, the group I belonged to, never smoked cigarettes and we wore saddle shoes.
Clearly, these huge differences were cause for great concern and animosity. Oddly this huge division between the Hoods and Sport Rats meant the gals had to decide which group to belong to and those lines once drawn rarely, if ever, changed through High School. I once ,'hit it off,' with a gal from the hoods in history class and we became fast buddies. But, when I suggested a soda, she told me, terrified, "Oh no, I could never do that. My group would go nuts. Plus, you don't know what I do." So, I realized she smoked cigarettes….sad.
It was an innocent time compared to the likes of today.
Of course, I was young, free to smell the dandelions as I ran across our neighbors' yard. I was free to imagine that near about everything America stood for and did was good and right. I was free of a bombardment of contraptions that now give us real-time access to things that are happening beyond our sight!
Please, if you are semi-young, like under 40, Imagine this: there was no news until the six o'clock T.V. broadcast; there was no minute-by-minute news of your friends, no daily breaking political sirens. Even the stock market could rally or crash without a peep until evening. Every thing, every day, was on hold until evening. People went to work without worry or care about daily events until nighttime, until they'd gone home and had a cocktail, a smoke or rest.
In many ways, the multitasking, tied to your smart phone generation is cursed with too much information.
Call me old fashion? Maybe try hiking or camping and leaving, God forbid, your smart phone at home. There's a world waiting for you to discover, one I grew up in, a world of be here now without interruption from things you can't change anyway.  There's a world of freedom waiting for you but for one thing: you can't put that smart phone down.
If the world today were to sculpt a representative statue of Mankind it wouldn't be, The Thinker.
No, it would be a person looking down at their smart phone or taking a, 'Selfie.'
The interactions that sooo many studies show are healthy for us—the eye contact, the smiles, the greetings—are now lost to bent heads looking at smart phones…
No, I'm not old fashion: I'm right. Put your phone down for at least one day per week and see how many eyes look your way. The worlds' presence will once again be yours to see, and it is amazing.
Franque23 dares you to do it…
Simply amazing.
My wife recently told  a news story on T.V. to "Go Fund Yourself." It broke me out in fits of laughter….as my wife often does. She's smart, a wit-full companion that keeps me thinkin'. Thing is, my first editor of everything you've ever read from me is also sharp, and more helpful than you know…. Barbara sent me this tonight,, and I thought in our time of strife it might do us all good to take a look at the,'Will  to Survive'. It's in all of us, to fight for existence, and that we shall prevail…just look at the trees: they lead the way.
Enjoy, and thanks again to Barbara for the link.
Peace, Franque23
Trees have been around for about 370 million years, and as you can see from these incredible pictures, there's a good reason why they've survived for so long.  Whether they're growing in the middle of gale-force winds, on the tops of rocky platforms, inside concrete tunnels, or even growing out of each other, trees know how to survive in places that few living organisms can, which explains why the planet is host to around 3 trillion adult trees that cover an estimated 30% of the earth's land.  Considering that plants produce the vast majority of the oxygen that we breathe, we should all think ourselves very fortunate that trees are as resilient as they are.  We wouldn't even be here if they weren't.
#1  A Place Of Enchantment

#2  This Palm Tree Fell Over And Curved Right Back Up

#3  This Tree Fell Over And Grew 4 More Trees Out Of Itself

#4  The Only Tree That Survived The Tsunami In Japan Between 70,000 Trees. Now Protected And Restored.

#5  Tree Of Life – Olympic National Park, Washington

#6   A Tree's Root Spill Over The Sidewalk

#7   Nature FTW

#8   A Tree Growing Through Speed Limit Sign

#9  This Tree That Refuses To Die

#10  This Tree Still Has Its Leaves Because Of The Light Shining On It

#11  Life Finds A Way

#12  Tree Roots Extend Across A Gap To The Mainland For Nutrients

#13  Life Finds A Way

#14  Ta Promh Temple In Cambodia

#15  Striving

#16  Someone Hung His Skates On A Small Tree When He Was Younger. He Forgot He Had Left Them There And Found Them Years Later
#17  A Tree Growing On Another Tree

#18 This Tree Is Growing Out Of Another Tree

#19 This Tree Grew Out Of The Stump Of A Dead Tree And Then The Stump Rotted Away

#20 A Tree Grows From Third Floor Window

#21 Life Finds A Way

#22 I Spent Ages Staring At This Tree Before Taking This Pic. I Hope You Find It As Fascinating As I Did

#23 This Floating Island That Grew At The End Of A Partially Sunken Tree

#24 This Wooden Chair My Parents Bought Started Sprouting Leaves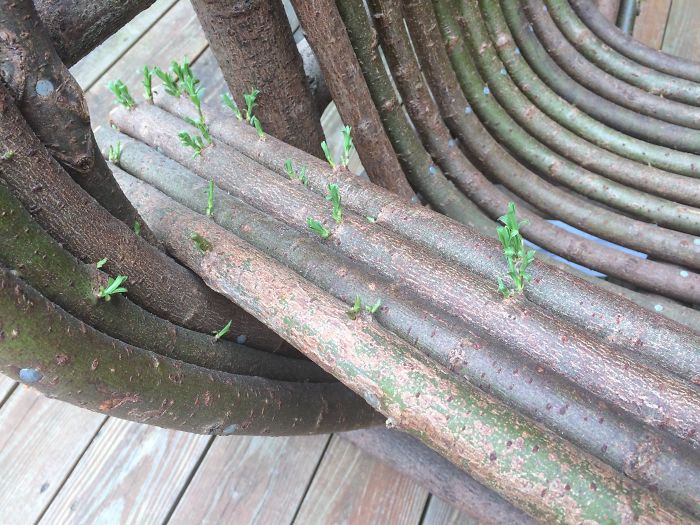 #25 The Old Piano Tree

#27 One Tree On My Street Refused To Accept Winter

#28 My Sister's Tree Is Eating Her Fence

#29 This Tree Growing Through A Fence

#30 Life,Uh… Finds A Way