You are currently browsing the tag archive for the 'wild life' tag.
People often say, "It's a zoo out there!"  And though people can be crazy, the pace hectic, traffic horrendous, the hour late and manners dead on arrival, zoo is the wrong word to use to describe the chaos that is our lives. Zoo's are full of caged animals, a far cry from the free animal world or that of most people. Thing is, in the usage of the word lies an undermining human trait many of us exhibit. We seem to hold little regard for wild species when it can be mowed over by that slippery-slope-of-a-term development. Developers have an unhinged sense of the word ,'Progress,' when it comes to the fate of anything but money. This is why so many species have vanished from the face of this earth in the recent past. "It could be a scary future indeed, with as many as 30 to 50 percent of all species possibly heading toward extinction by mid-century. "* It's all sad, and the method and madness of our growth as a species reveals a strong vein of stupidity in our making.
The signs of human stupidity are everywhere we look; there are so many it's not possible to list them.  Example:  Florida's developers, county planners and politicians ignoramus thinking since 1945 when it comes to Florida's entire east coast line. Welcome to a pile of soggy, tilted thinking. Hotels go up on the sea-side of major roads that block the view and devalue buildings on the west side of the same road! It's great for the buildings built on the east shore side of the road! But, is it!! What we have in Florida are high priced hotels that have replaced the entire sand dune network of a natural beach that is inherently designed to provide the land safety during hurricanes and major storms.  Who cares, right? Wrong. The result is major financial loss from hurricanes that in turn raises insurance rates for EVERY Floridian whether they live on the shore or not! More, If Florida had only developed on the west side of major sea-side roads, those building would incur much less loss during storms AND provide a World-Renown view of a vast sand dune expanse people would pay zillions to see and experience! Just imagine Florida's entire east coast line being a natural beach, full of dunes, sea oats, sea grape vines, birds, wild life. See? Ka-ching!  It's a no-brianer no one could envision. Kaput goes the register.
But let's move on…wow….Why would people be feeding gators by the side of the road on Payne's Prairie in Florida?!?!?
**This is a current picture taken at the prairie where some people fish and others, well, I guess, feed gators? Peek-a-boo….I've got an idea; run away! This is a huge gator. The gator's head may be eight times the size of whatever you're thinkin'.
**Okay, this isn't enlarged for viewing. The estimate is a 12 foot or bigger gator. Again, recent picture from road embankment at Payne's prairie where people stand and fish.
You have to wonder. Question: is the lack of knowledge a form of stupidity, the quest of laziness, the curse of low-curiosity or just bad luck?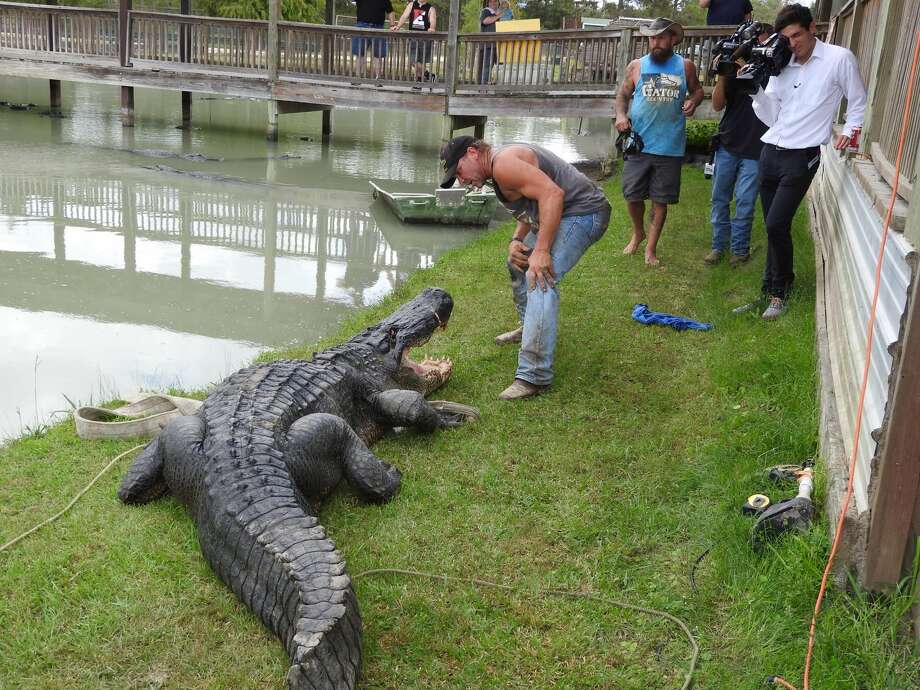 Sometimes, I think the term, 'Human Intelligence,' is much like the term, jumbo shrimp! It's an oxymoron for the human species.
I once owned a leather shop inside the Silver Springs attraction and watched some tourist stand about fifteen feet from a gator who was sunning as they took pictures. None of them knew gators can run 30 miles per hour for short periods (bursts) of time.  If any had asked me, I would have told them their lives were in danger. NO one did since, I guess, the entire world must be a zoo to them? Gators bite fast, roll the victim, and drag—say something like deer—back into water to drown them all the time. Have you ever seen a deer run? Still, I've seen enough of what's left of deer carcass along swamp shorelines to know many deer wish they'd been a bit faster. And, gators can spring out of the water a good ways….While fishing a local swamp my buddy and I were admiring the plumage on a wild bird resting on the water… It took off but a gator came from beneath it and lifted a good six feet out of the water and nailed the bird mid-air….The huge gator splashed back down and only feathers were left to float in the air.
Believe it or not, gators have the strike of a snake.
Parts of the world are still not zoos, and it's good to know. I always root for wild life, and often question the brights of many of our fellow humans, myself included. Remember, I was fishing in a ten foot John Boat watching a huge gator bust out of the water my boat was floating on.  I need to think about something else. I'm outta here. See ya!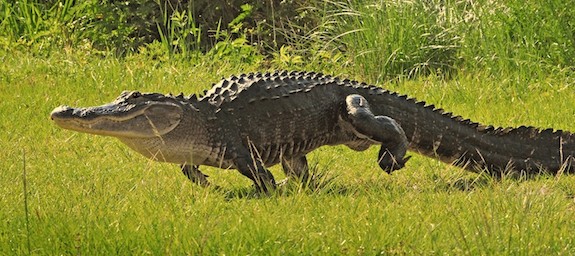 Franque23
*https://www.biologicaldiversity.org/programs/biodiversity/elements_of_biodiversity/extinction_crisis/
** these two pictures taken by Jan Johnson as posted on a Micanopy web-site. Thanks, Jan!